Novo Nordisk has reported their 2nd quarter results.
Financials
For the 2nd quarter sales were DKKm 30,006 (-0%), gross profit was DKKm 25,234 and operating income was DKKm 13,838 (+3%).
In the US GLP1 for diabetes increased by 19%, whereas insulin decreased by 34%.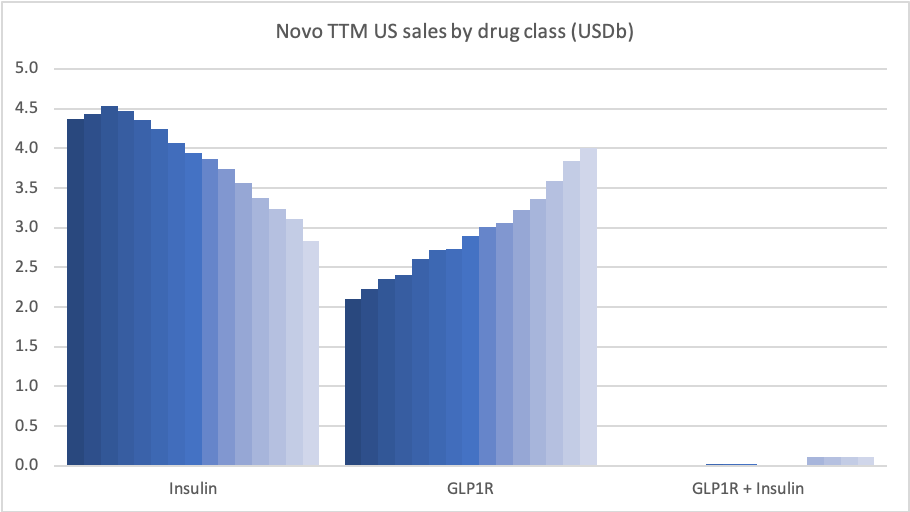 CEO Lars Fruergaard Jørgensen

"The U.S. sales decline was driven by lower realized prices due to an unfavorable channel mix, rebate enhancements, the launch of additional affordability programs and changes in coverage gap legislation."
Sales of Ozempic® increased in the US and EMEA, whereas sales of Levemir® and Victoza® decreased in the US.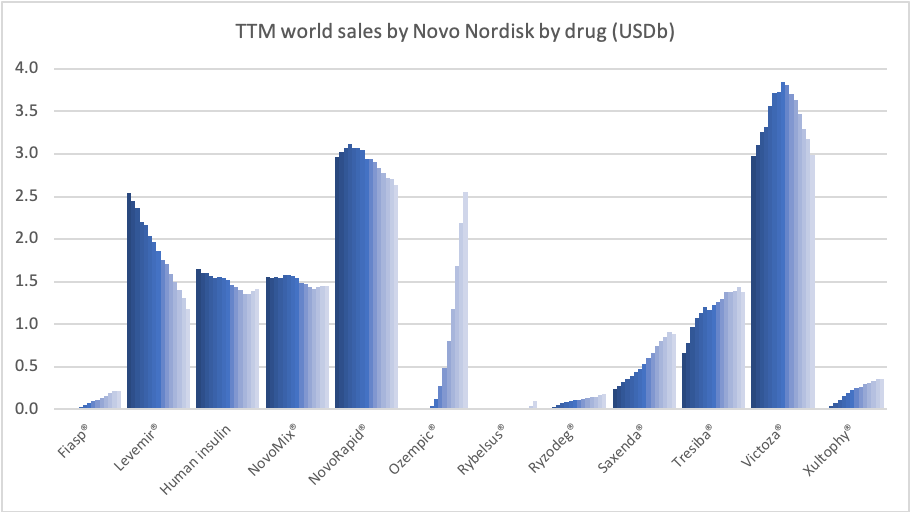 Diabetes – GLP1s – Ozempic® and Victoza®
In the US once-weekly injected GLP-1 Ozempic® grew (93%) at the expense of once-daily Victoza® (-34%). In EMEA sales of Ozempic® increased by more than 200% to DKKm 604. Sales of Ozempic® were registered for the first time in China, where Victoza® currently has more than of 90% of the GLP-1 market share by value.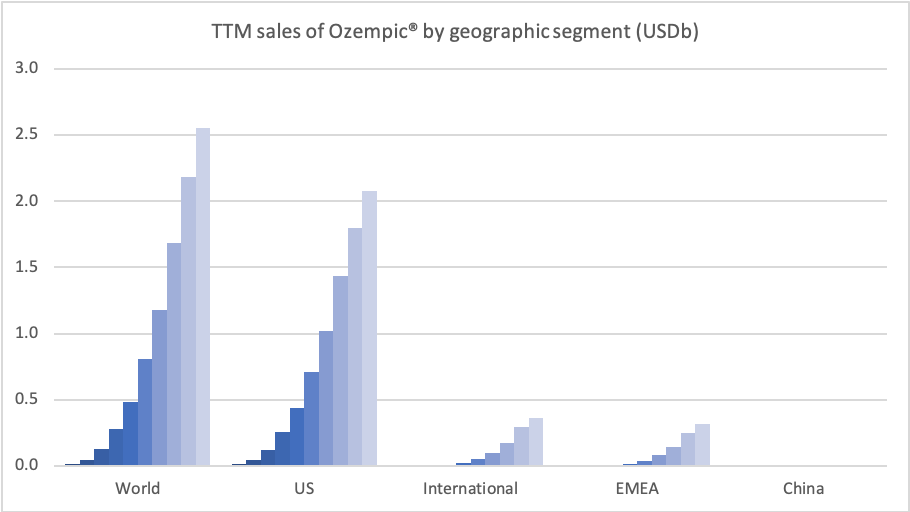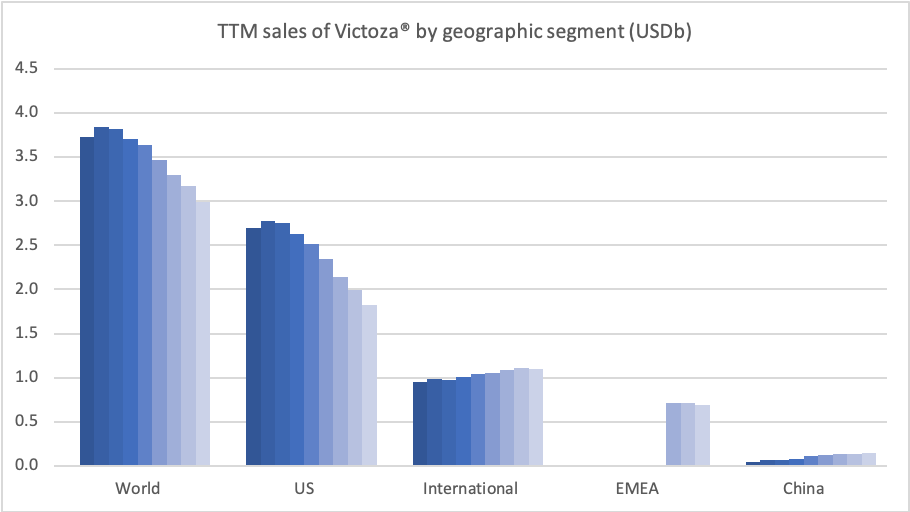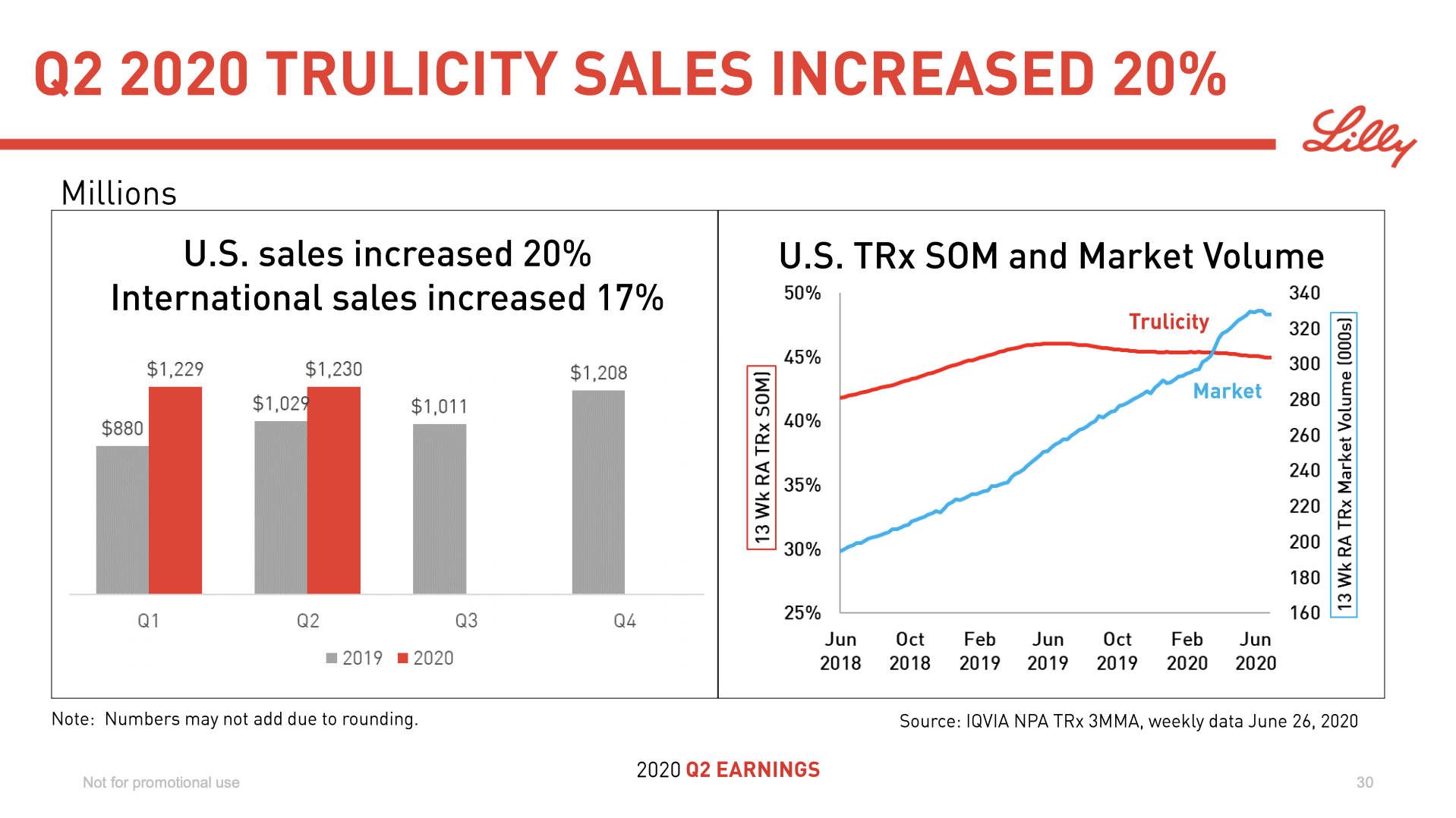 Insulins – Levemir® and Tresiba®
In the US the insulins Levemir® (-57%) and Tresiba® experienced negative growth of -57% and -37%, respectively. Sales of Levemir® decreased by approximately 20% in EMEA.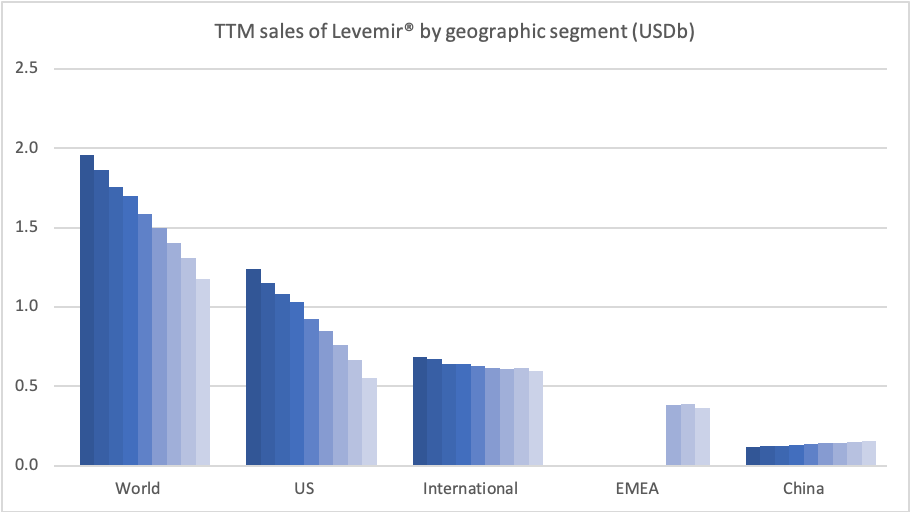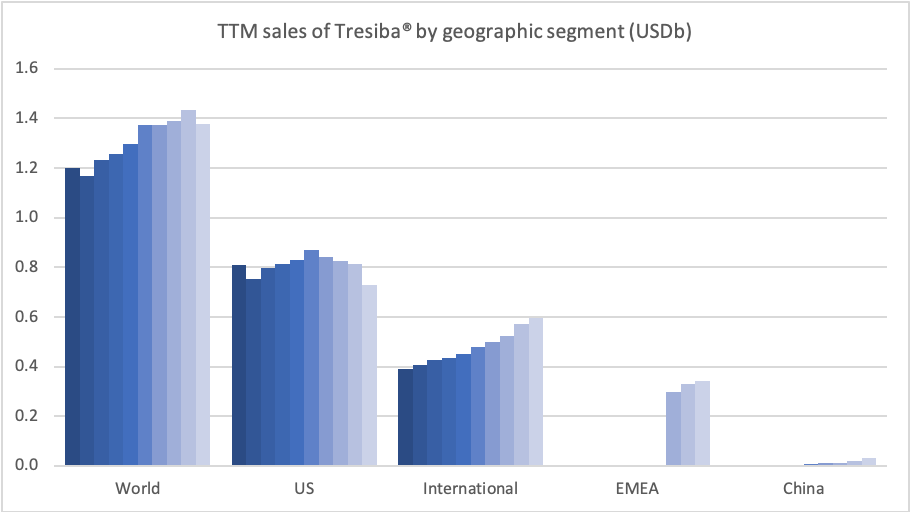 Diabetes – GLP1 – Rybelsus®
Rybelsus® (oral semaglutide) was approved for the treatment of adults with type 2 diabetes in the US on September 20th, 2019, in the EU on April 4th, 2020 and in Japan on June 29th, 2020. Sales have not yet exceeded $100M.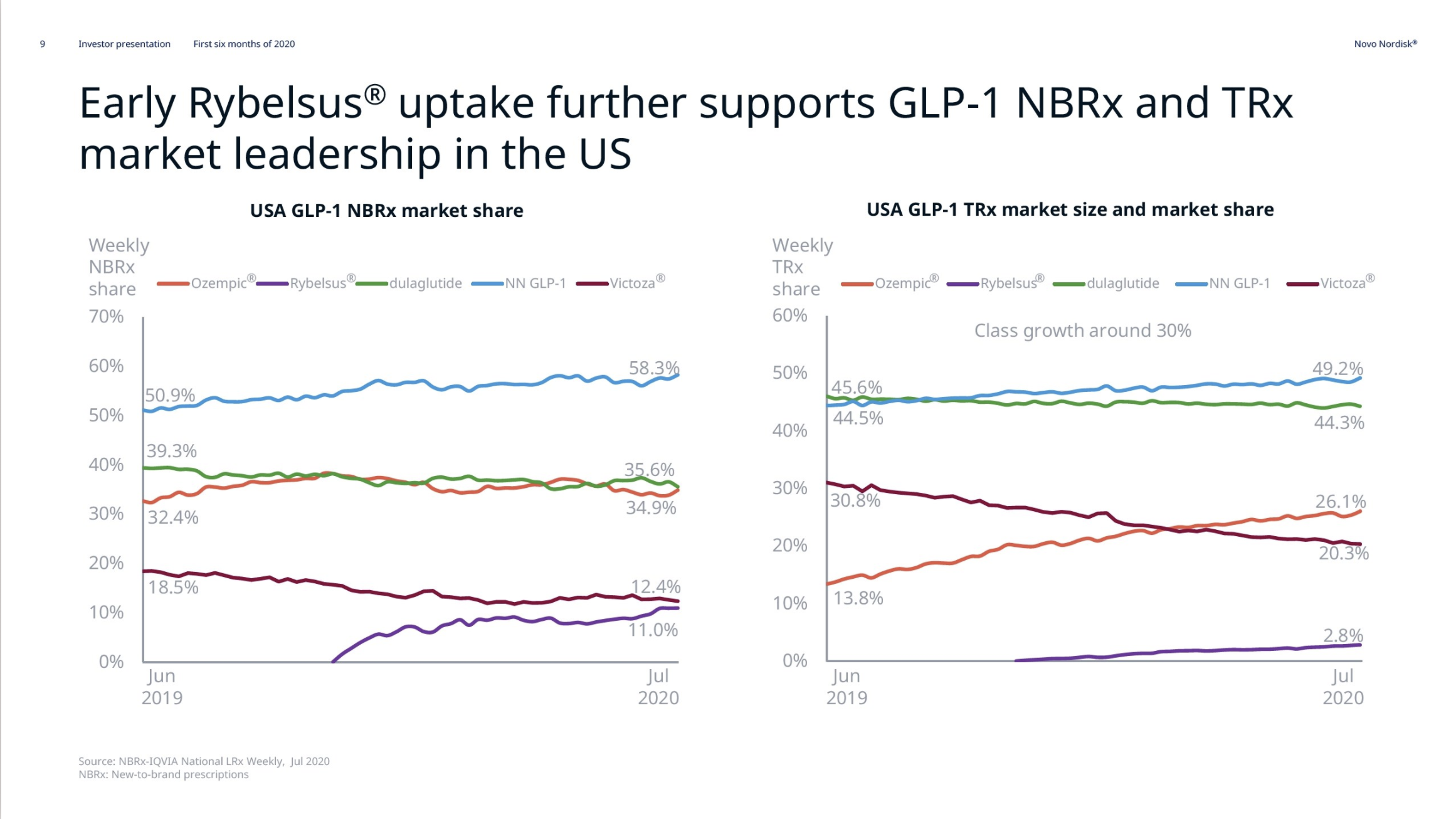 Obesity – GLP1 – Saxenda®
Novo Nordisk thanks to Saxenda® has a market share of 60.5% of the global obesity prescription drug market. Saxenda® was impacted by fewer patients initiating treatment due to COVID-19. New guidelines in Canada are the first to recognize obesity as a chronic illness, which if followed by the US and others could grow the market value significantly; a market which Novo Nordisk expects to at least double.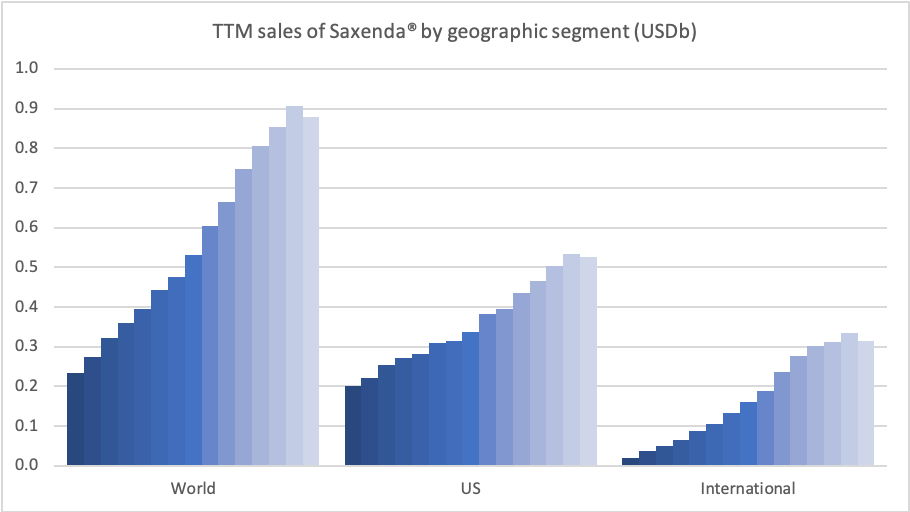 CEO Lars Fruergaard Jørgensen

Sales growth was negatively impacted by fewer patients initiating treatment due to COVID-19. Our strategic aspiration is to move to more than is to more than double sales in obesity by 2025. In support of that, Saxenda has been launched in 48 countries globally, and we continue to invest in market development activities.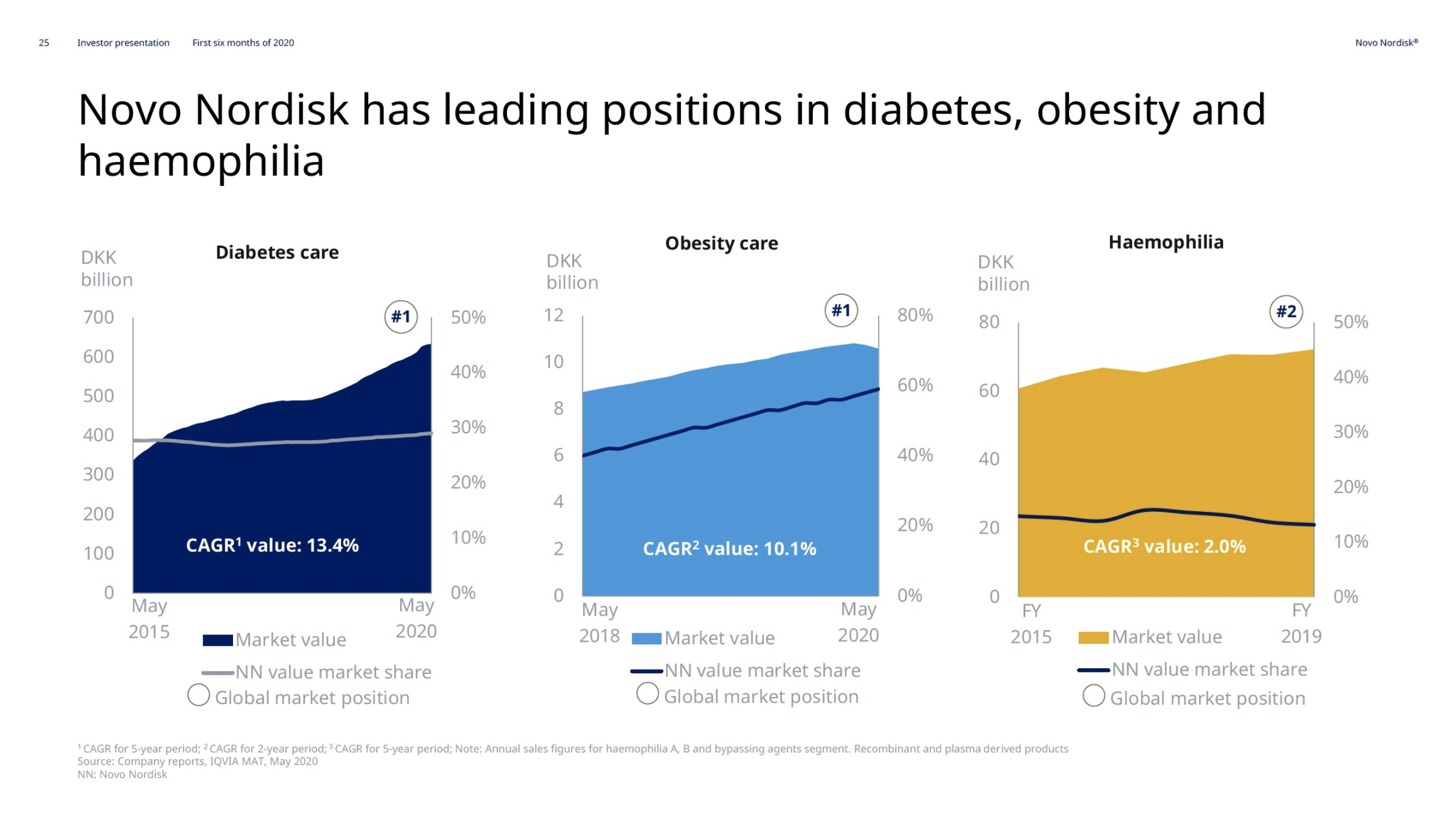 Hemophilia – NovoSeven® and NovoEight®
The market share in hemophilia is mostly decreasing due to the growth of Hemlibra® from Roche rather than the decline of NovoSeven® and NovoEight®.
CEO Lars Fruergaard Jørgensen

For hemophilia, the declining sales of 1% were driven by lower NovoSeven sales, partly reflecting reduced elective surgeries and bleedings due to lockdowns, but partly offset by the continued global rollout of the new products, Refixia and Esperoct.
Pipeline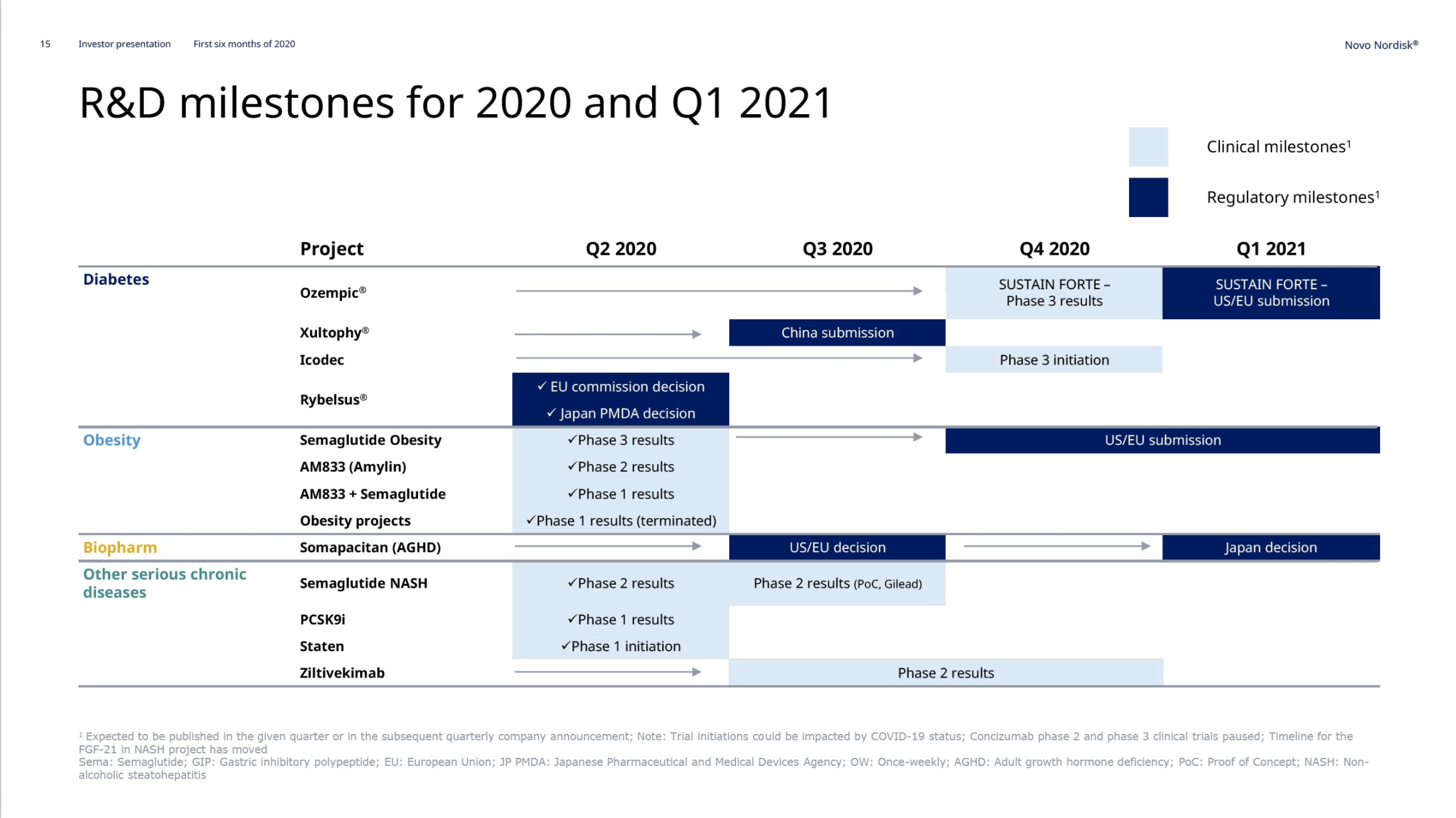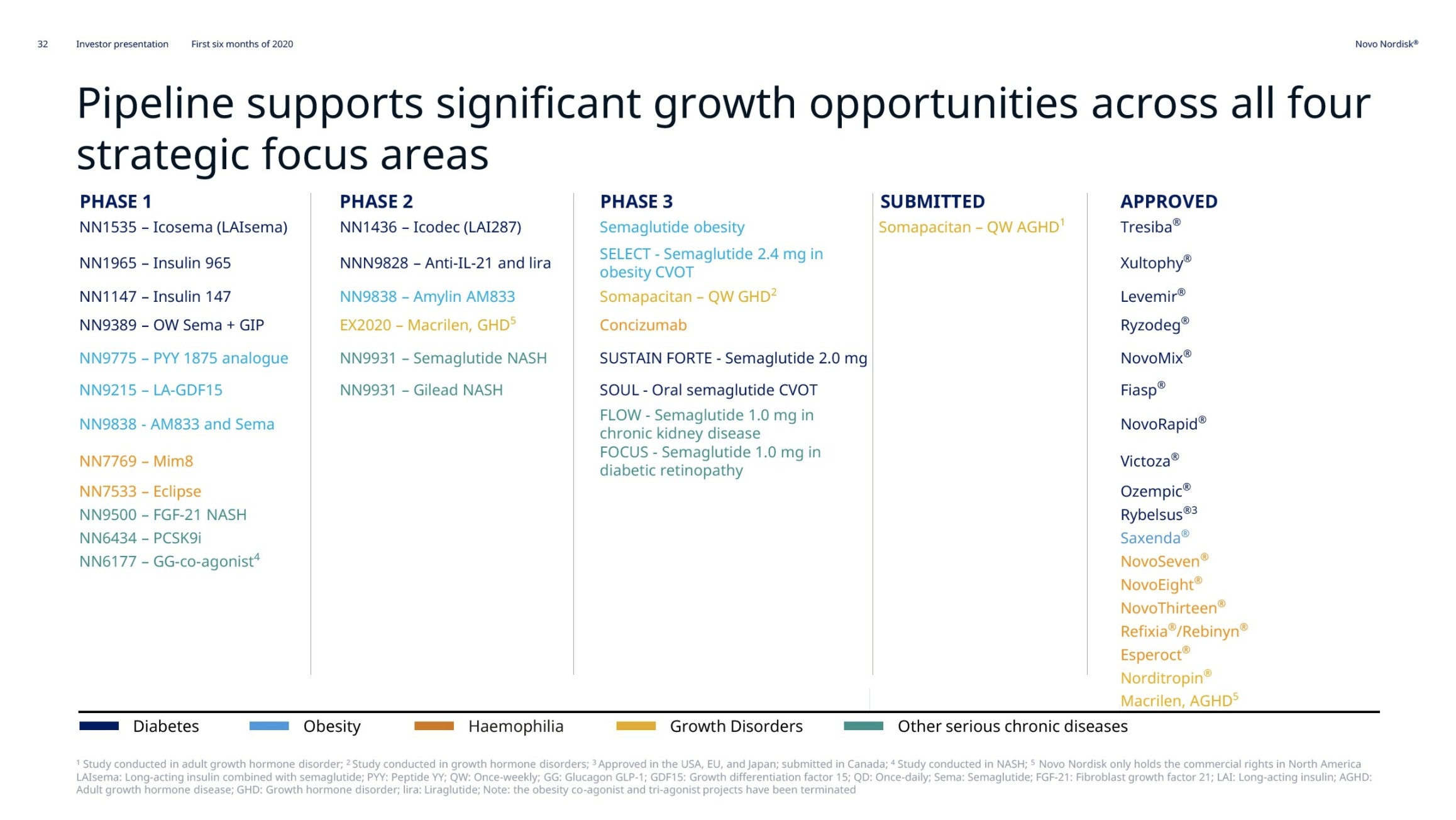 Obesity – Semaglutide
In May and June the weight loss results from the previously discussed STEP1, STEP2, STEP3 and STEP4 phase 3 trials on injected semaglutide for obesity were released. Injected semaglutide for obesity could happen in 2021. The SELECT trial (NCT03574597) regarding cardiovascular outcomes is estimated to be completed by 2023.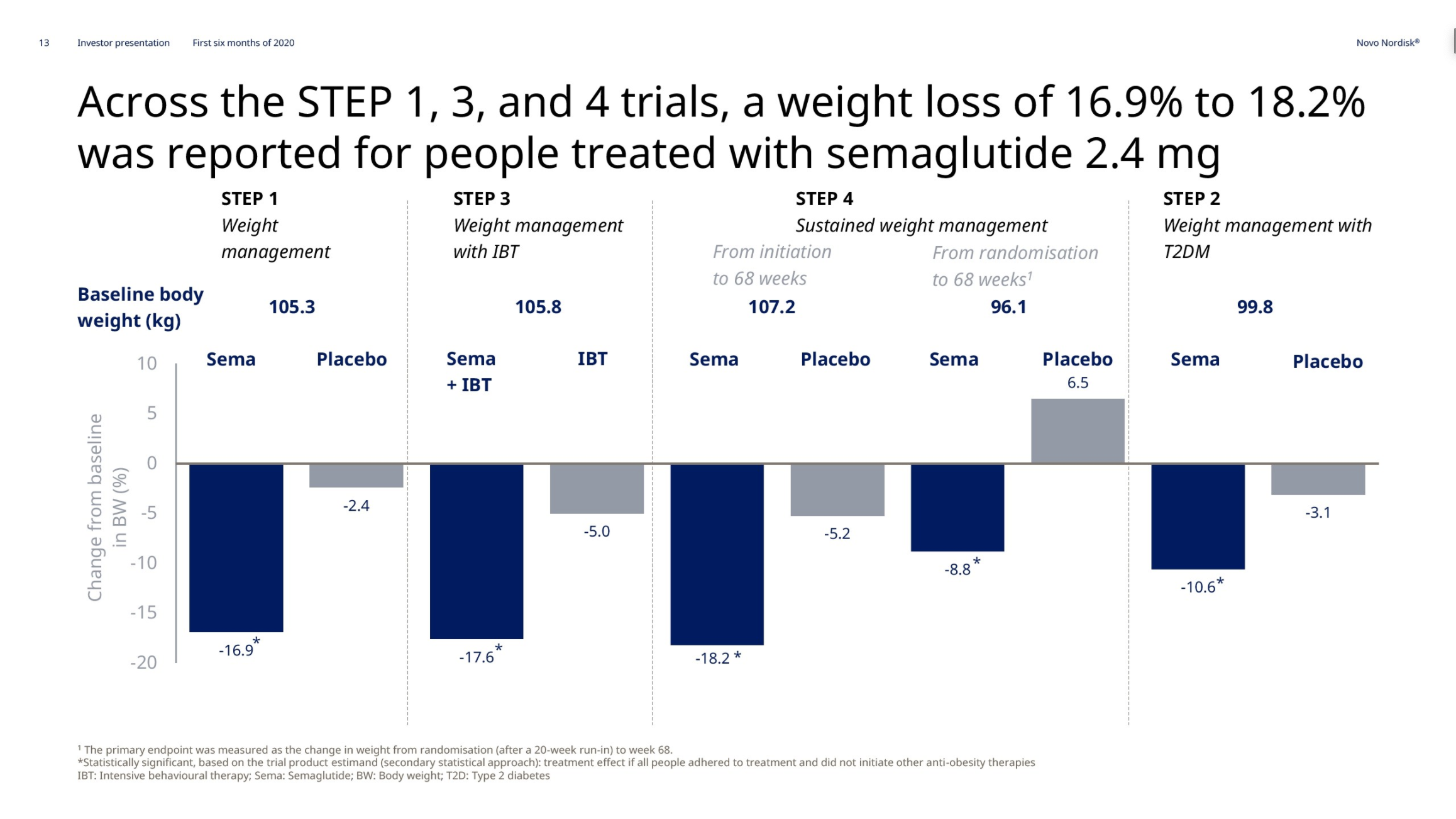 The SUSTAIN FORTE study (NCT03989232) compares the effect of two doses of semaglutide (1.0 mg and 2.0 mg) in people with type 2 diabetes (T2D) and results are expected in Q4.
CSO Mads Krogsgaard Thomsen

So I can say with the confidence that the SUSTAIN FORTE trial, in my mind, will show a very powerful lowering both of glucose and body weight.
Obesity – AM833 and AM833+semaglutide
On June 18th Novo Nordisk reported on the completion of the AM833 phase 2 trial and the AM833+semaglutide phase 1 trial. The weight loss with the peptide AM833 exceeds that of liraglutide. The weight loss with AM833+semaglutide exceeds that of semaglutide alone.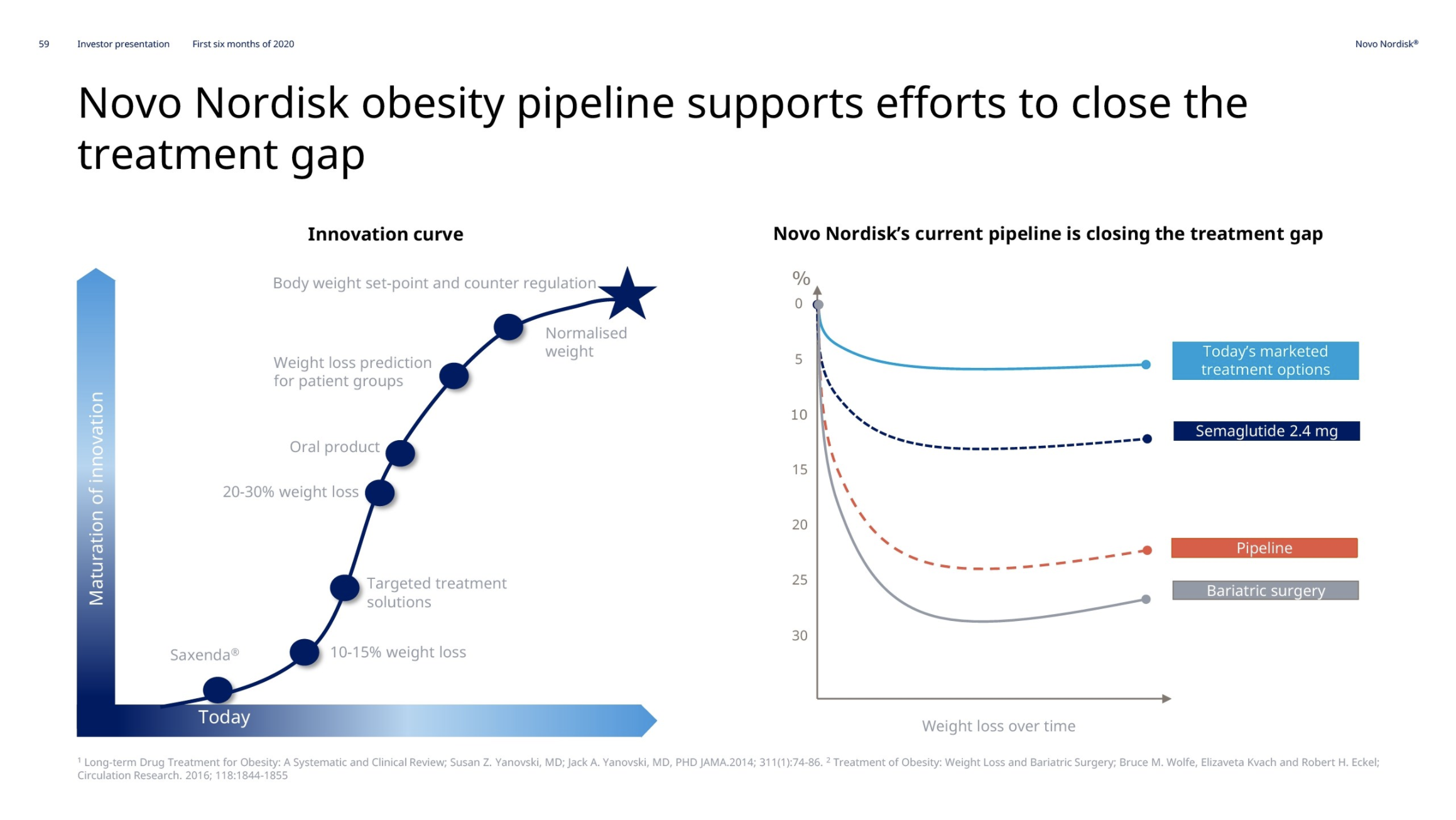 Novo Nordisk has discontinued trials on their co-agonist and tri-agonist.
Novo Nordisk CSO Mads Krogsgaard Thomsen

Regarding some other GLP-1-related clinical obesity projects we've been pursuing, namely, the coagonist and tri-agonist projects, we've decided to terminate both projects. This decision is based on the strong obesity data obtained for semaglutide and AM833 that, in aggregate, have raised the innovation bar for future Novo Nordisk obesity care and we've, therefore, prioritized our resources accordingly to achieve the best possible patient outcomes and product benefit risk profile.
This follows the discontinuation of the oral GLP-1 analogue OG2023SC in 2019Q3 because of better oral formulations of semaglutide. At Eli Lilly the dual GIP/GLP1 agonist Tirzepatide is in phase 3 (diabetes and obesity) and phase 2 (NASH). The phase 3 tirzepatide cardiovascular outcome study SURPASS-CVOT has been initiated.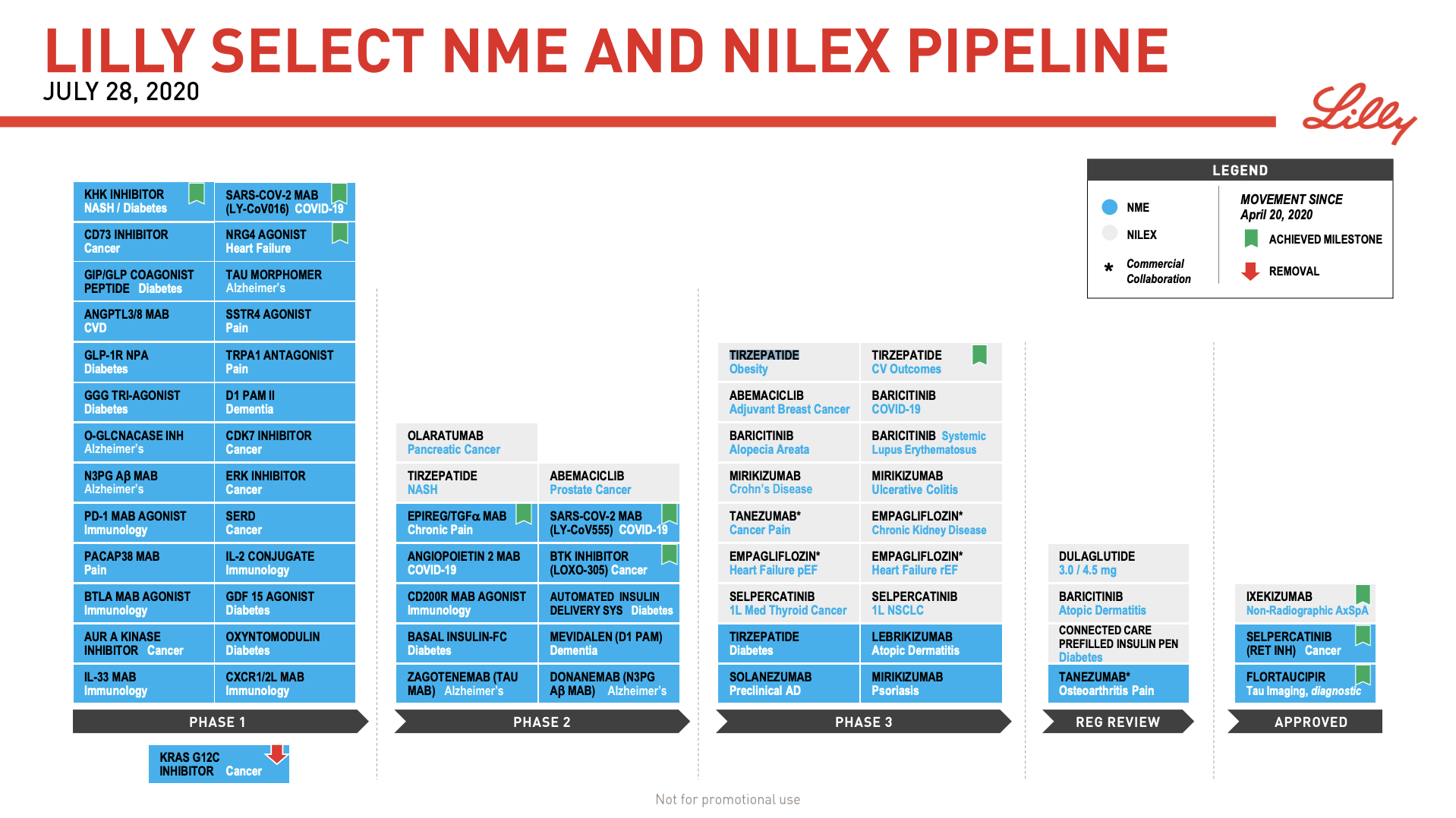 Tirzepatide was mentioned on both the Novo Nordisk and Eli Lilly earnings calls.
Eli Lilly SVP Michael B. Mason

For tirzepatide, we're glad to see that you were wowed by our type our Phase II data in for patients living with type two diabetes. I think the best thing really to do is to go back and take a look at the Phase II clinical studies. I mean we saw at the 15-milligram dose up to 2.4% A1c reduction and weight loss up to 12.7% versus placebo in just six months of study. So we're excited to see how tirzepatide can perform in this patient population and longer studies in Phase III. There's nothing to tell us that we won't see exciting data coming out of the Phase III. We don't have any new information that suggests otherwise. So we are incredibly confident about tirzepatide, not only in type two diabetes, but also we're excited to see its potential in NASH and obesity. So our enthusiasm remains very, very high.
Novo Nordisk CSO Mads Krogsgaard Thomsen

Obviously, tirzepatide being a GLP-1/GIP agonist will, in my mind, based on data we've seen so far, unlike the combination of AM833 and sema, which is an amylin analogue and a GLP-1 analogue, there will probably be additivity of the GI side effect profiles of the GIP and the GLP-1 components. At least this is what we have seen both in a trial we've conducted ourselves years back with MAR709, our dual-agonist, but also so far in the trial in Phase II and the escalation trials that our colleagues at Eli Lilly have done. But we will see the data late this year and I guess during the course of next year.
Hemophilia A – Mim8 and gene editing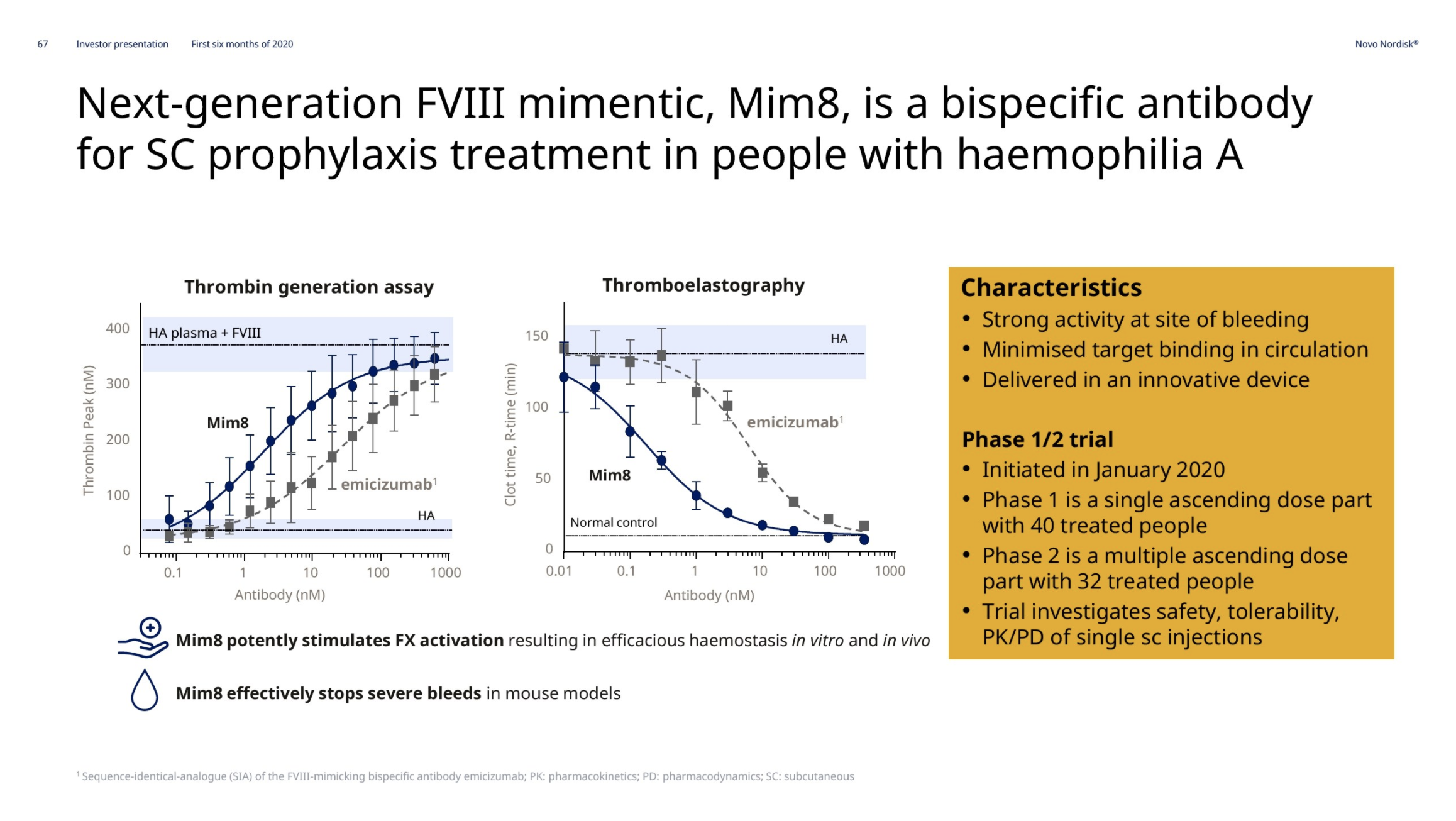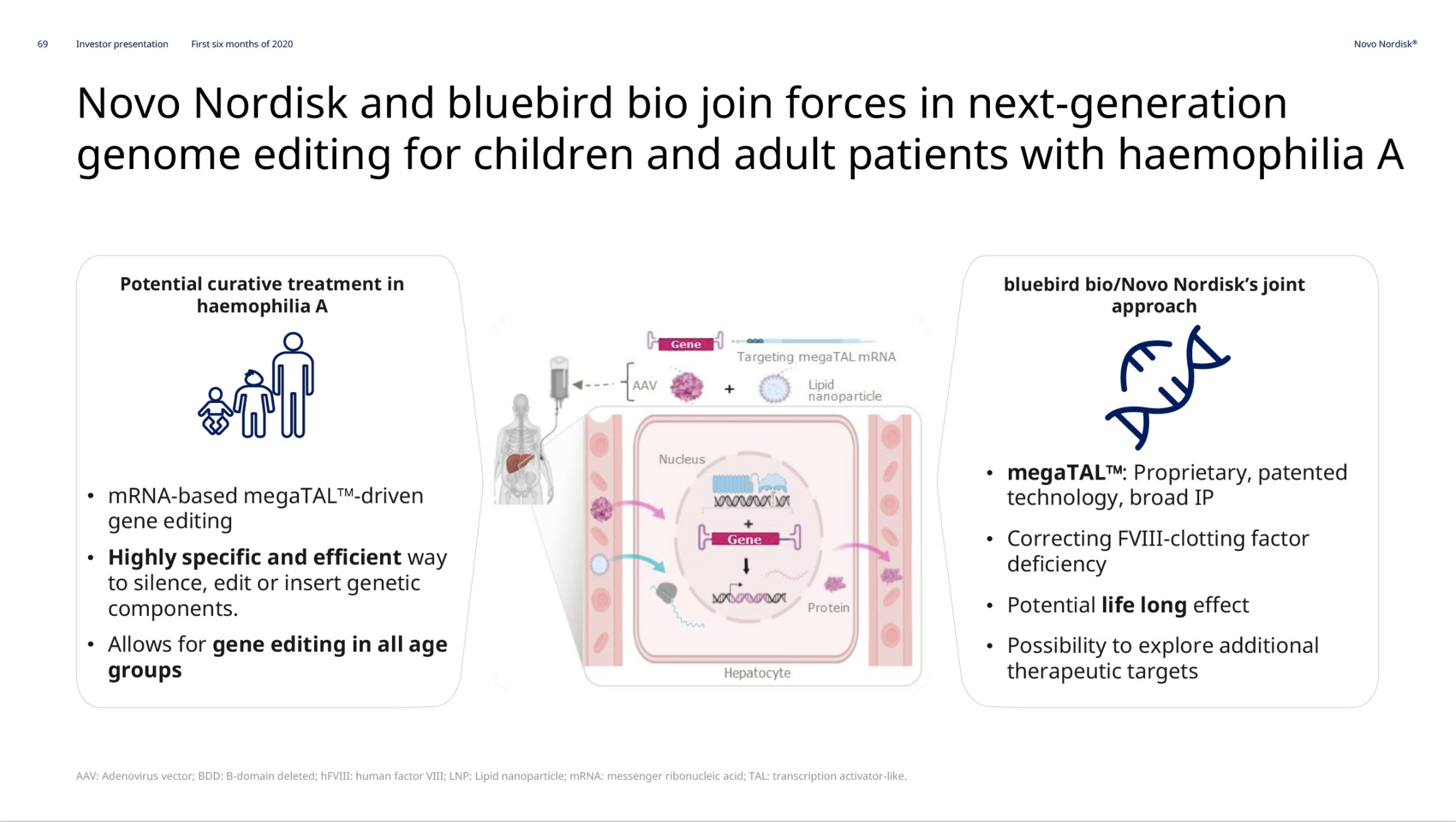 Growth hormone deficiency – Somapacitan
Novo Nordisk thanks to Norditropin® remains the leader in the human growth hormone disorder market with a value market share of 34.2%. Somapacitan has entered phase 3 (REAL4 and REAL5 trials).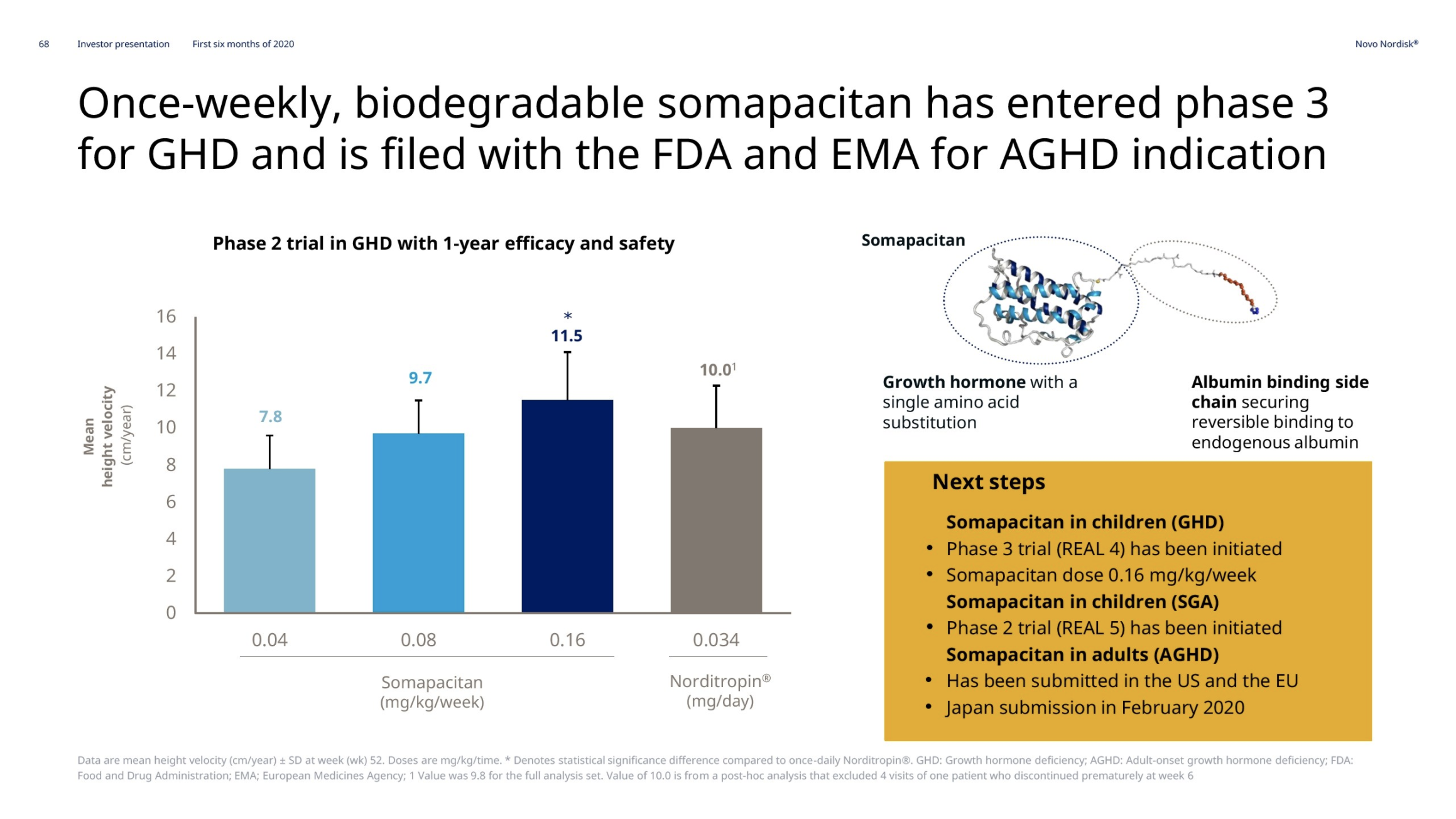 Diabetes – Insulin Icodec
The phase 3 trial on once-weekly insulin icodec is expected to start before the end of the year. On June 14th Novo Nordisk reported that once-weekly insulin icodec showed comparable efficacy and safety to once-daily insulin glargine U100 in phase 2 trial.
Acquisitions
On June 11th Novo Nordisk announced the $2.1B acquisition of Corvidia Therapeutics and their lead candidate ziltivekimab, which is a monocloncal antibody targeting IL-6 and reducing cardiovascular events.
This follows the agreements in Q4 of 2019 with Dicerna to discover and develop RNAi therapies for liver-related cardio-metabolic diseases and with bluebird bio to develop in vivo genome editing candidates for hemophilia and other severe genetic diseases.
Appendix