Introduction
The 2023 banking crisis has led to the collapse of some prominent regional banks, raising concerns about the future of this sector. This post will explore the reasons behind the collapse of Silicon Valley Bank ($SIVB), Signature Bank ($SBNY), and First Republic Bank ($FRC), and analyze whether other regional banks such as Pacific Western ($PACW) and Western Alliance ($WAL) are at risk.
The Collapse of Silicon Valley Bank, Signature Bank, and First Republic Bank
Silicon Valley Bank ($SIVB) collapsed in March as part of the 2023 banking crisis due to the overweight of held-to-maturity securities on its balance sheet and a withdrawal of deposits not insured by the Federal Deposit Insurance Corporation (FDIC).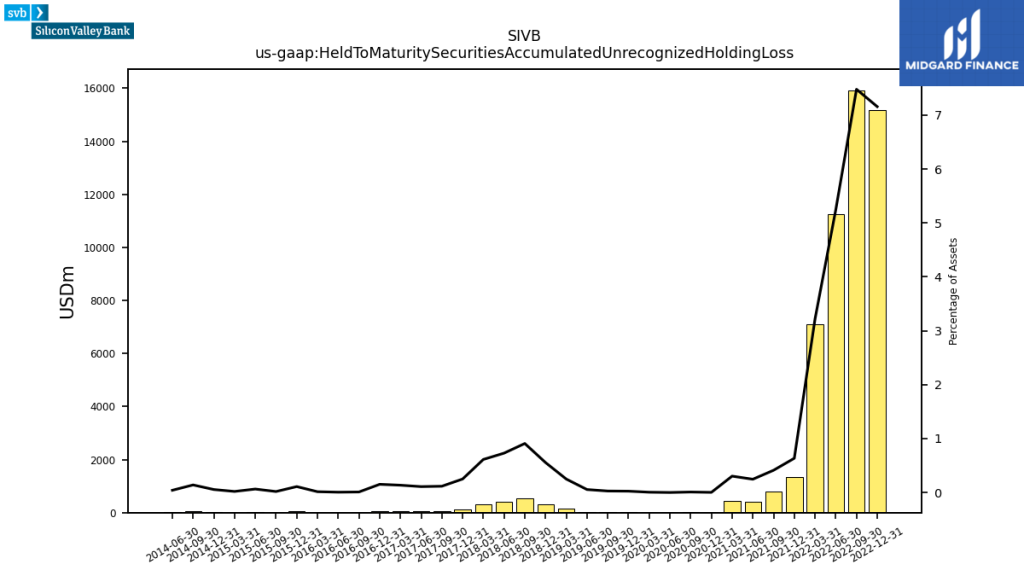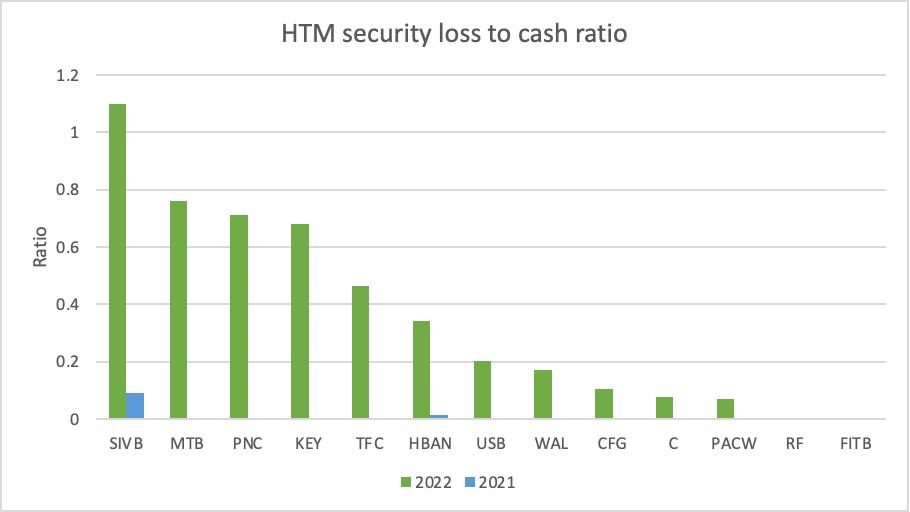 Silicon Valley Bank was acquired by First Citizens Bank ($FCNCA). Signature Bank ($SBNY) quickly followed suit for the same reason and was acquired by New York Community Bank ($NYCB). And just a week ago the majority of assets of First Republic Bank ($FRC) were acquired by JPMorgan ($JPM).
All three collapsed banks were components of the S&P 500 and large in terms of asset size.
Leading up to the collapse and in the aftermath the share price of many regional local banks has also suffered.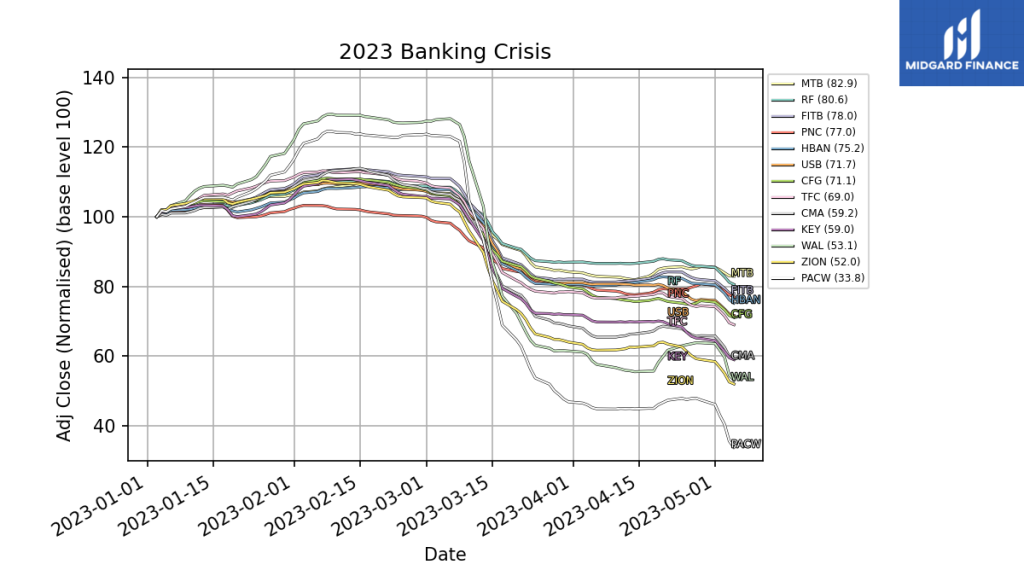 Does that mean all regional banks are poor investments? And are banks such as Pacific West ($PACW) and Western Alliance ($WAL) particularly vulnerable? Both banks this week had to deny rumors about their imminent sale.
The Financial Times' report today that Western Alliance is considering a potential sale of all or part of its business is categorically false in all respects. There is not a single element of the article that is true. Western Alliance is not exploring a sale, nor has it hired an advisor to explore strategic options.It is shameful and irresponsible that the Financial Times has allowed itself to be used as an instrument of short sellers and as a conduit for spreading false narratives about a financially sound and profitable bank.We are considering all of our legal options in response to today's article.

Western Alliance press release from May 4th
The bank has not experienced out-of-the-ordinary deposit flows following the sale of First Republic Bank and other news. Core customer deposits have increased since March 31, 2023, with total deposits totaling $28 billion as of May 2, 2023 with insured deposits totaling 75% vs. 71% at quarter end and 73% as of April 24, 2023. In addition, the company recently paid down $1 billion of borrowings with our excess liquidity. Our cash and available liquidity remains solid and exceeded our uninsured deposits, representing 188% as of May 2, 2023.

Pacific West press release from May 3rd
And since the end of 2022 both banks have increased their proportion of insured deposits (both to 73%) and increased their uninsured deposit liquidity coverage ($WAL to 158% and $PACW to 180%). And since March 20th both banks have actually seen deposits increase despite a further reduction in uninsured deposits.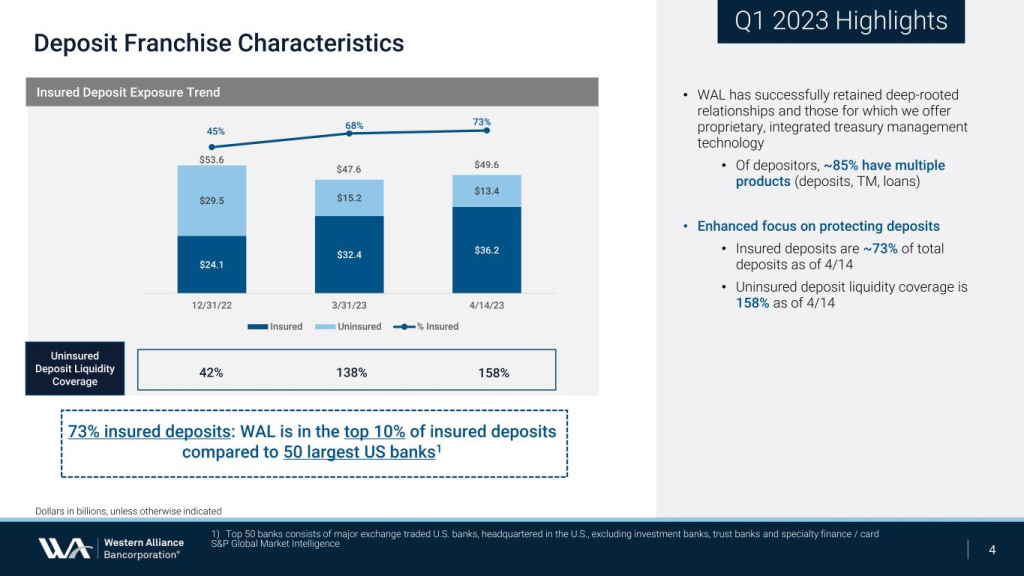 Furthermore it is unlikely that the FED will increase interest rates aggressively from here and add further press to the fair value of HTM securities.
If no solution is found to the debt ceiling issue, then all bets are off the table. But otherwise based on all of the above I find it unlikely that $PACW and $WAL will collapse the same way their share price has. I also find it unlikely they will be acquired at their current low prices. But whether they will thrive going forward is less certain, as there has been some reshuffling and sales of assets. And congress might impose legislation upon the banks following the recent failures.
Jamie Dimon likewise predicted no further banks will collapse. Below quotes from the May 1st conference call following the acquisition of First Republic Bank.
Well, no crystal ball is perfect. But, yes, I think the banking system is very stable. You guys have reported already on tons of regional banks who actually had good results, very modest outflow. A lot of the deposit outflow was because of quantitative tightening, it wasn't because people are having runs.

There are only so many banks offsides this way and I think this is – there may be another smaller one, but this pretty much resolves them all. But this part of the crisis is over. That does not – down the road, there are rates going way up, real estate, recession – that's a whole different issue, but for now, everyone should just take a deep breath.

I was reading all the regional bank reports from you and some of the analysts out there. They're all mostly – some of the banks are down 2% or 3% – a lot had to do with QT. They were not having runs. The runs were really limited to the people who had too big uninsured deposits and money that can move very quickly and stuff like that. So, yeah, I think that's over. And obviously, there's always future issues, but I think that's mostly over.

Jamie Dimon – May 1st on conference call following the acquisition of the remnants of First Republic Bank by JPMorgan.
Warren Buffett has perhaps expressed the sentiment amongst investors towards banking the best.
I don't like the banking business as much as I did before.

Warren Buffett – April 12th 2023 on CNBC after selling the majority of the shares of BNY Mellon ($BK) and US Bancorp ($USB) in the third and fourth quarter of 2022 previously held by Berkshire Hathaway.
Conclusion
Based on the analysis, it does not seem very likely to me that regional banks like $PACW and $WAL will collapse or be acquired at their current low prices. However, their future performance remains uncertain as they face challenges such as potential legislation and market changes. The 2023 banking crisis has undoubtedly shaken investor confidence in the banking sector, as Warren Buffett's recent comments reflect.