Press releases regarding first quarter results have been issued from diabetes competitors Novo Nordisk, Eli Lilly, Sanofi and others. Four of the main antidiabetic drug types manufactured by these pharmaceutical companies are insulin, GLP-1 receptor agonists, SGLT2 inhibitors (gliflozins) and DPP4 inhibitors (gliptins). The development in each of the four drug categories is covered in separate sections belows. Revenue market share is shifting from insulin to GLP1 and it is happening faster in the US than the rest of the world.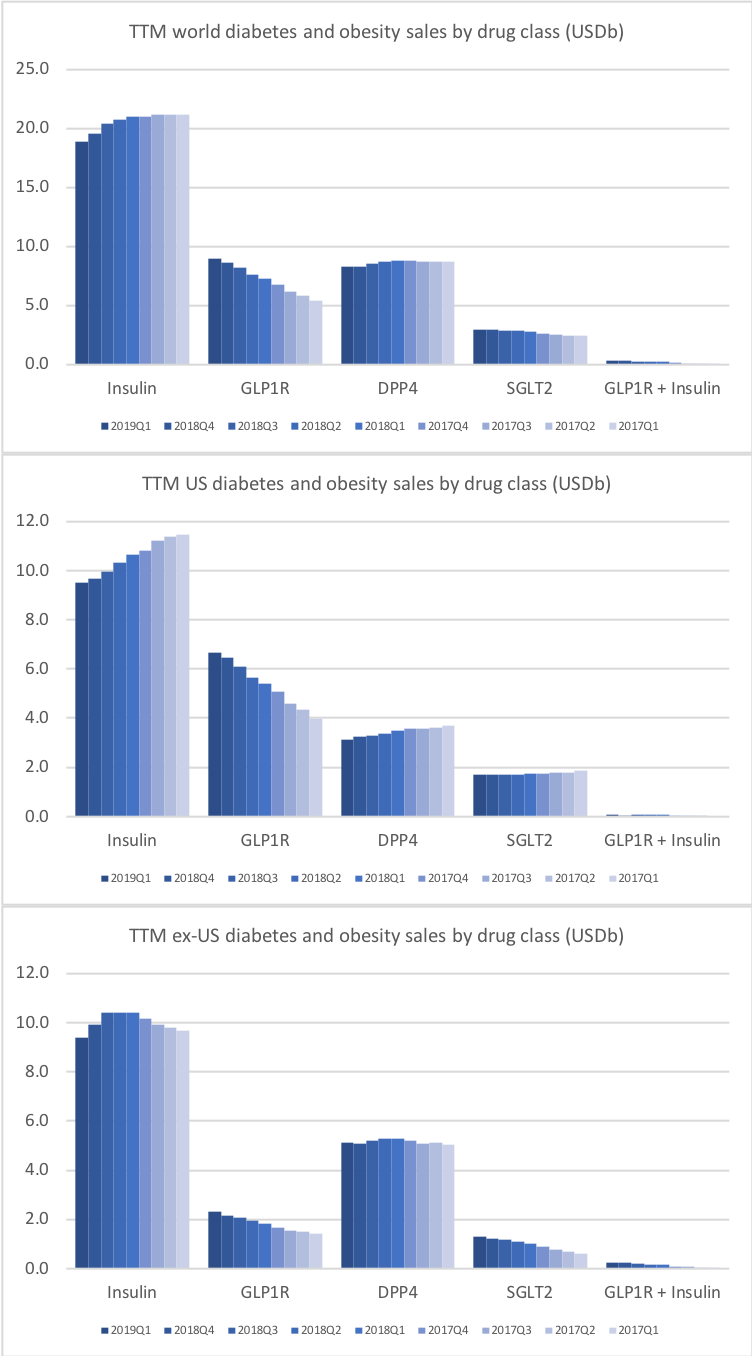 GLP-1 receptor agonists
Victoza® (daily injection GLP1R agonist liraglutide) from Novo (-18% YoY in the US) is competing with the weekly injection GLP1R agonists Trulicity® from Lilly (+26% YoY and -9% QoQ in the US) and in particular Ozempic® from Novo itself (+41% QoQ in the US).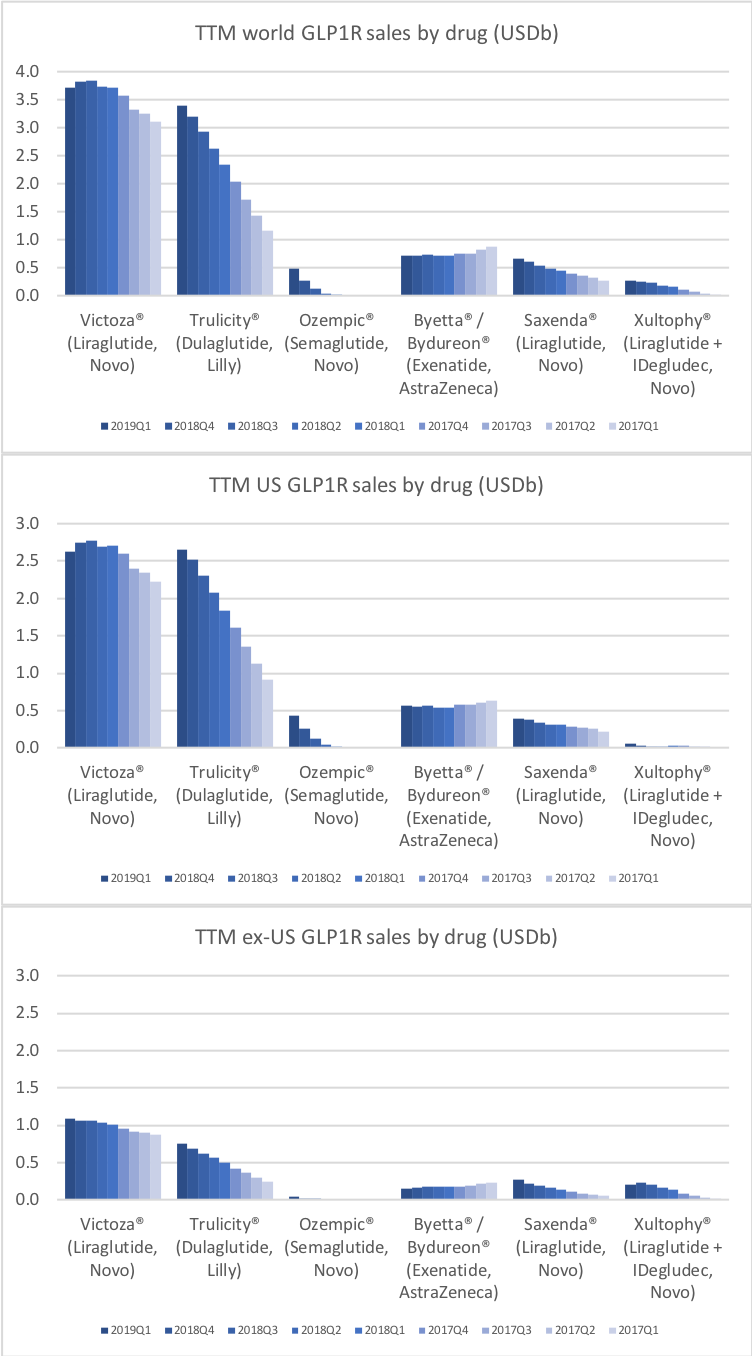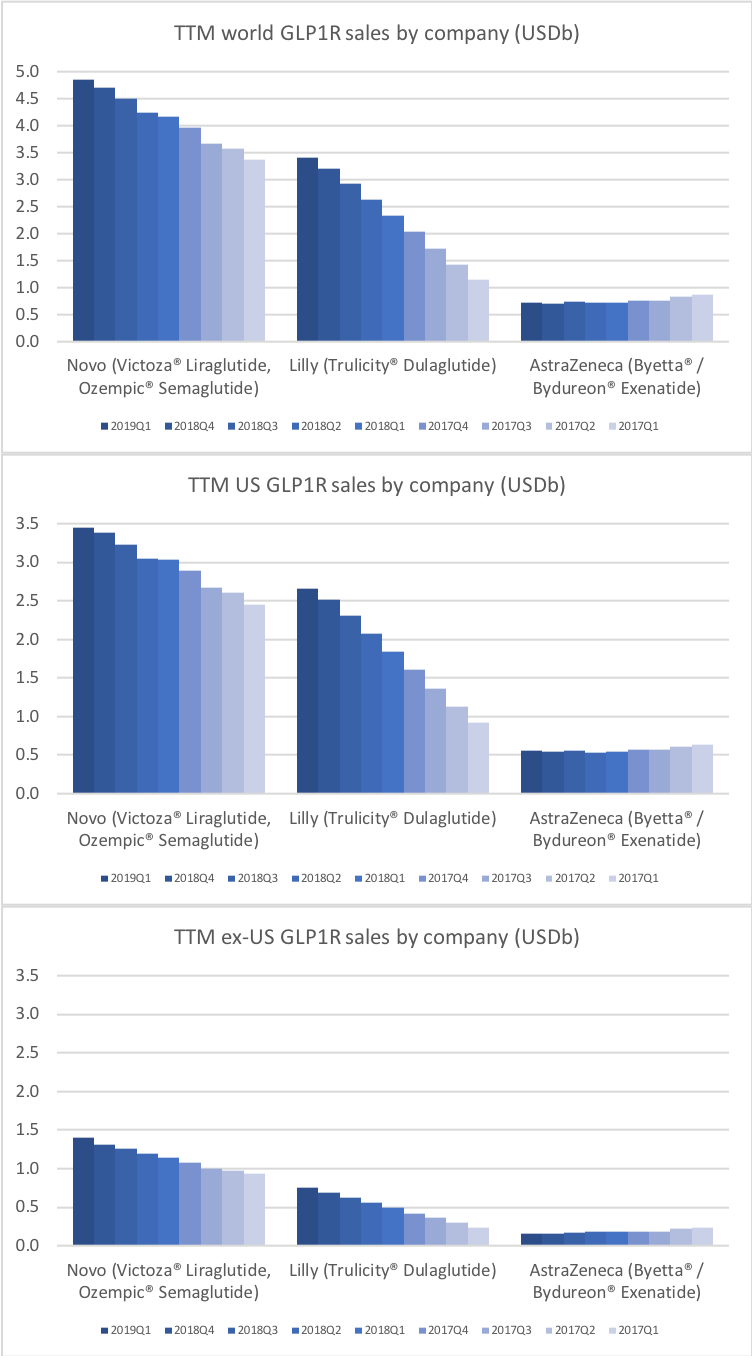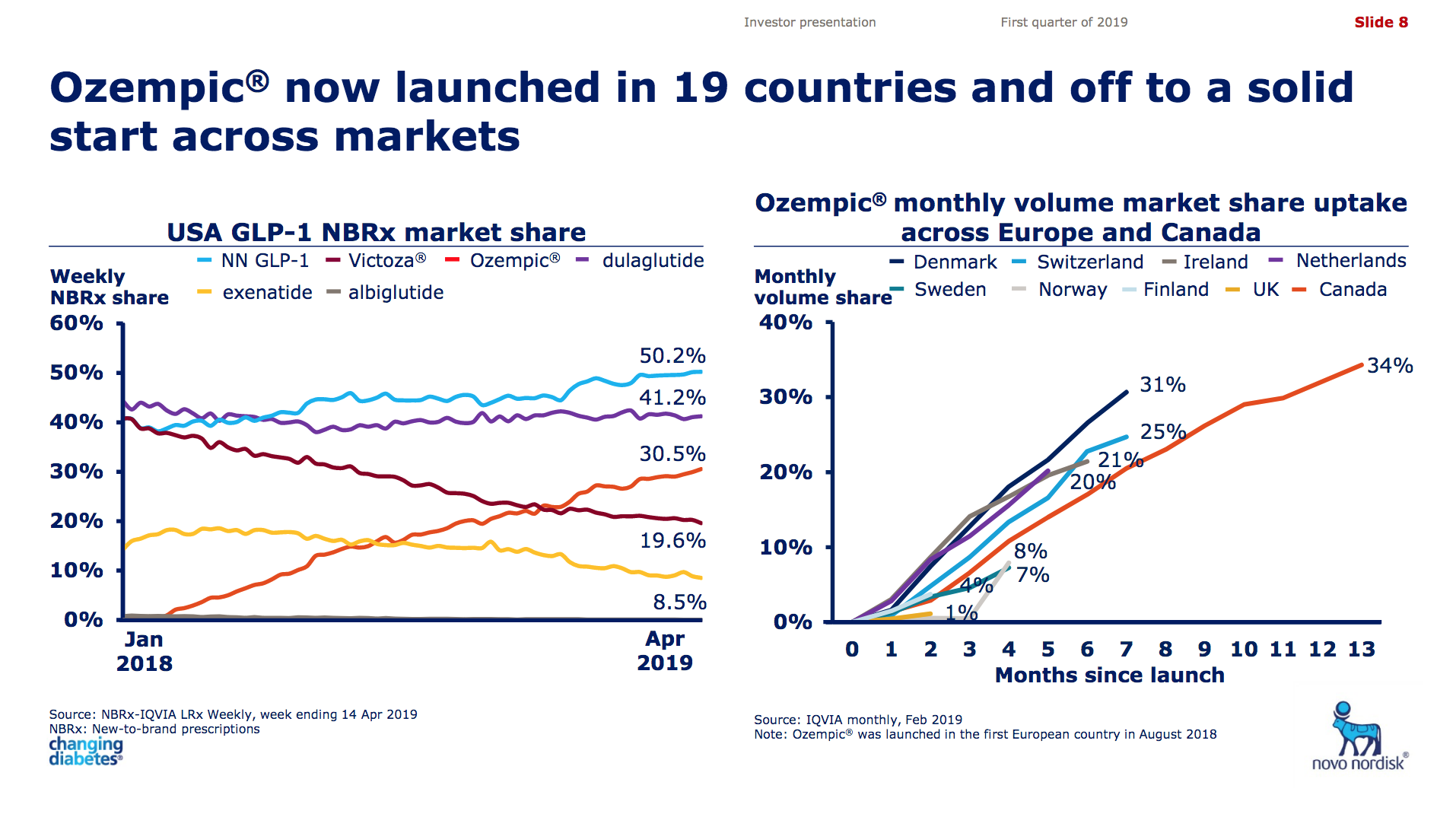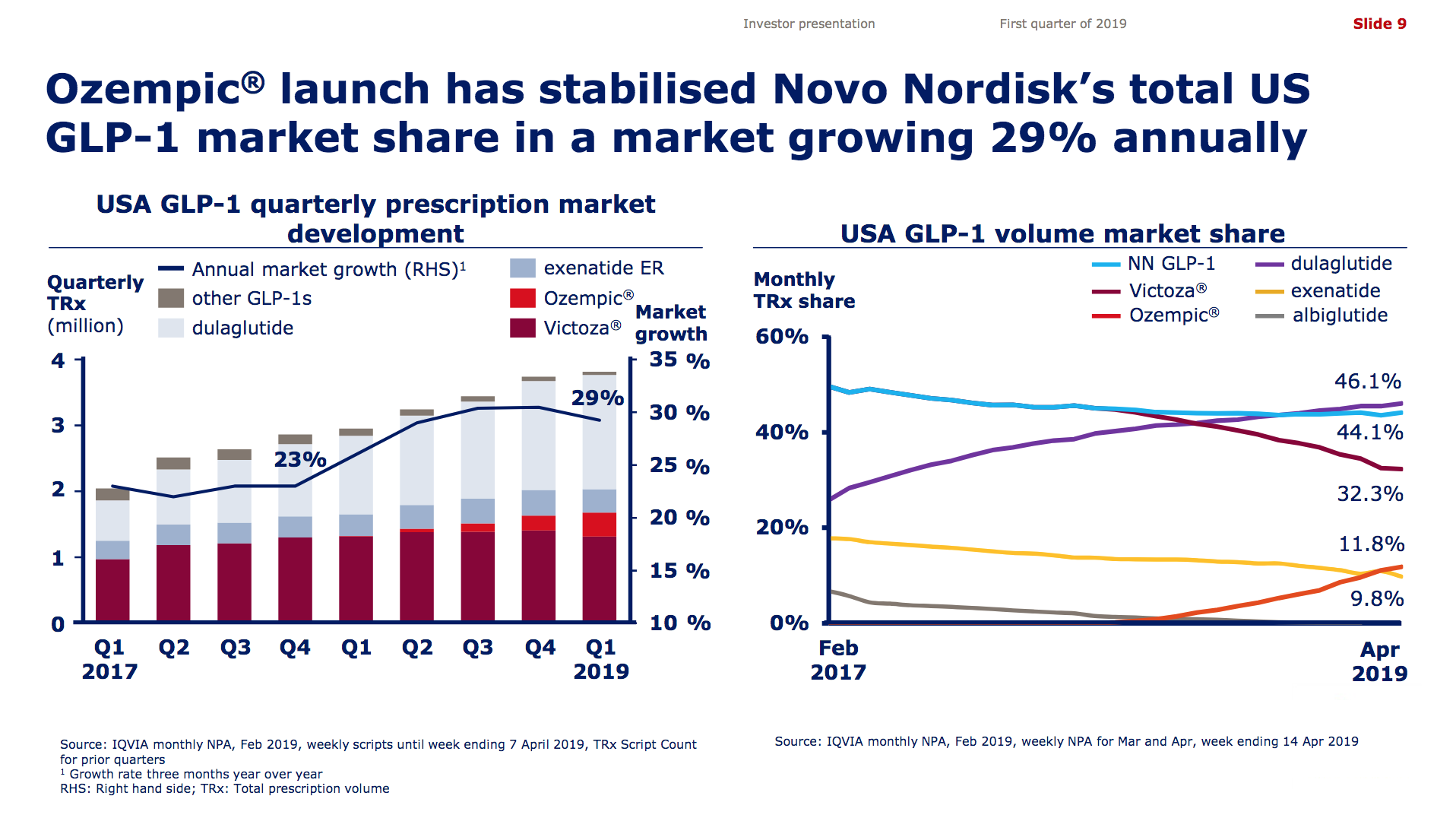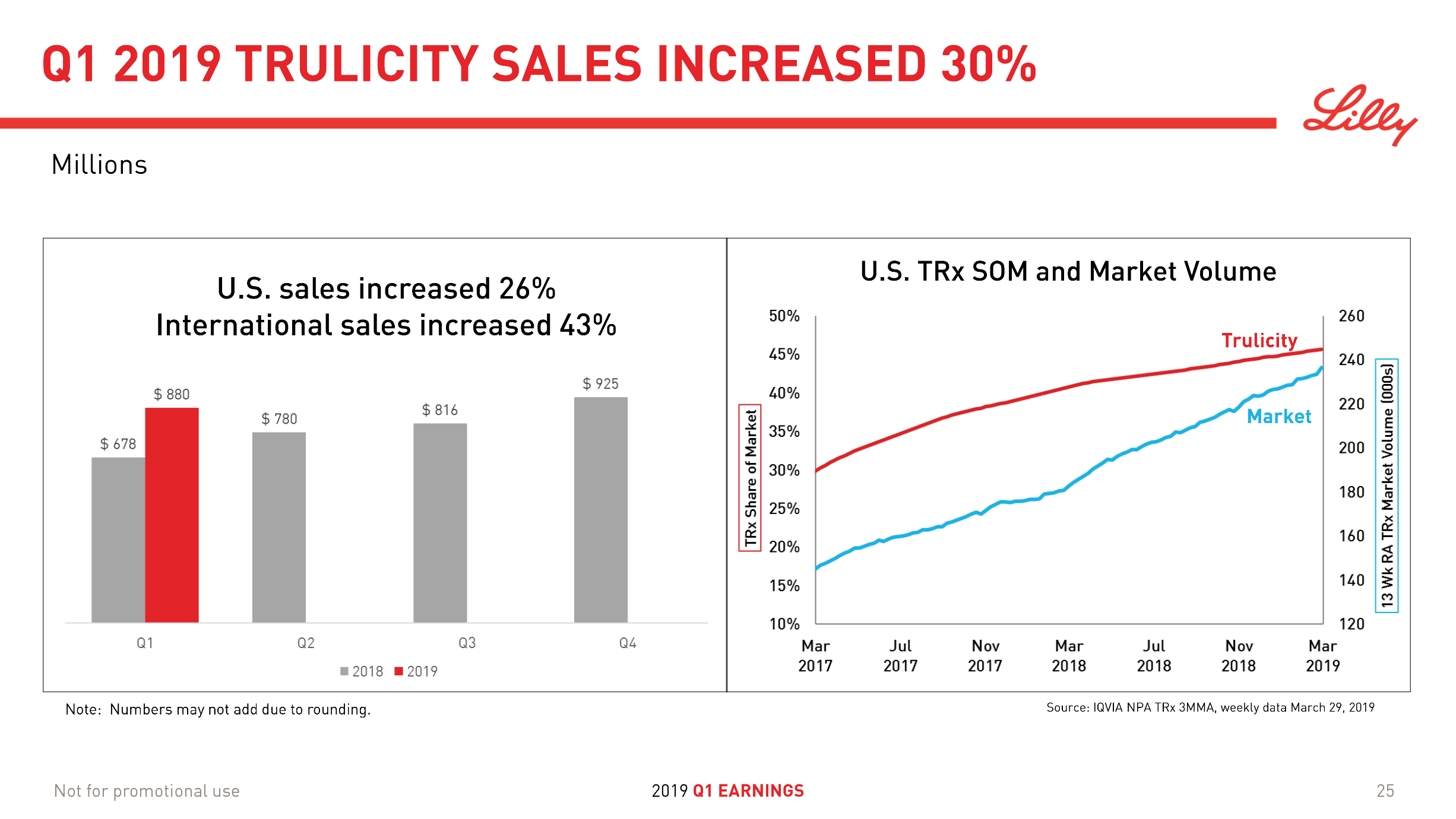 It is not unreasonable to expect GLP1 to further gain value share of the total diabetes market going forward given the expected approval of oral semaglutide following the PIONEER studies and the expiration of patents on insulins Lantus®, Levemir® and Humalog®.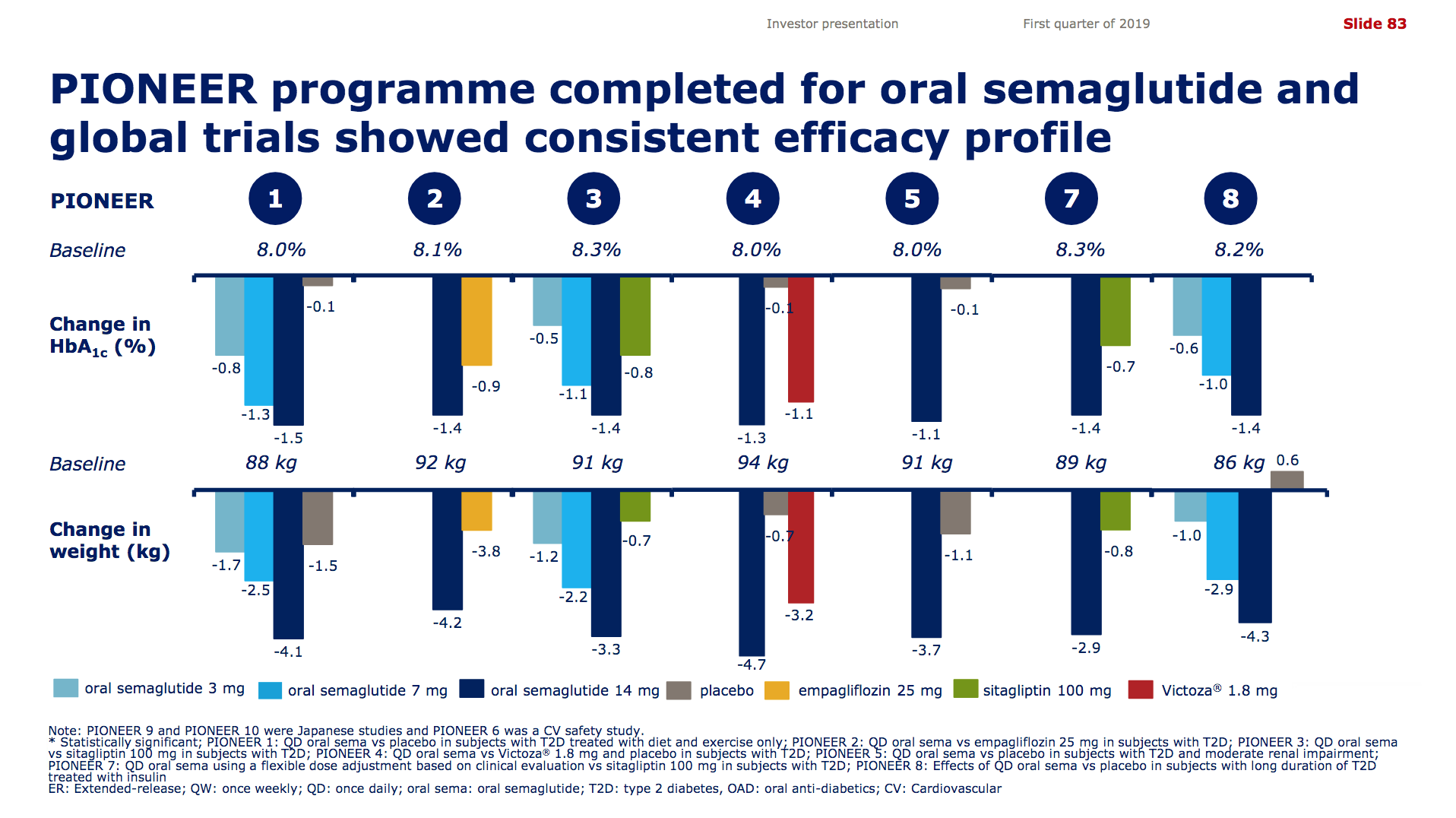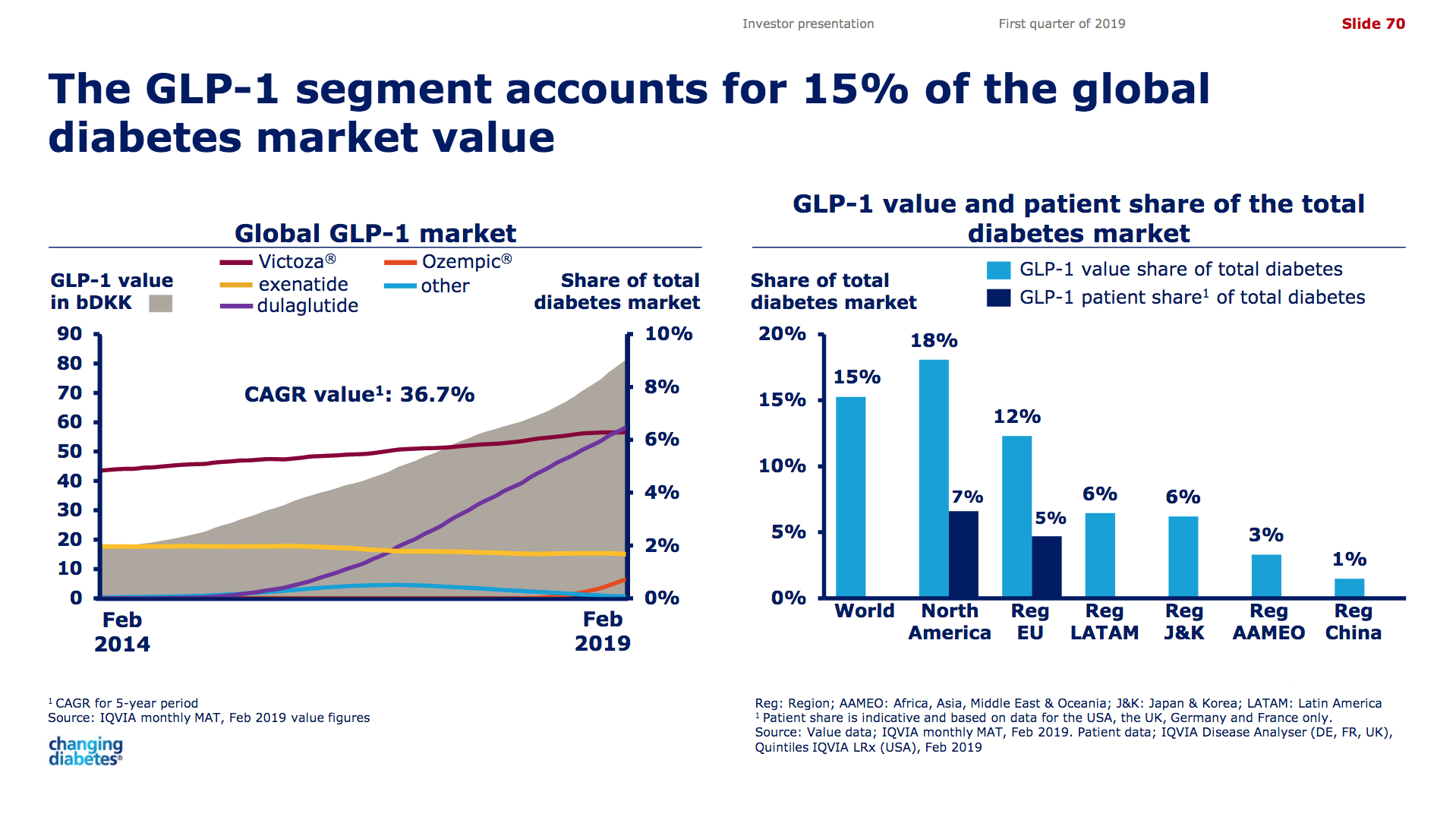 The dual agonist Tirzepatide (LY3298176) for the treatment of diabetes has progressed to phase 3 and Lilly is currently recruiting for the clinical trials SURPASS-3 (versus insulin degludec – Tresiba®) and SURPASS-4 (versus insulin glargine – Lantus®).
Saxenda® (liraglutide) from Novo has quickly become the best selling anti obesity drug in the world (+47% YoY).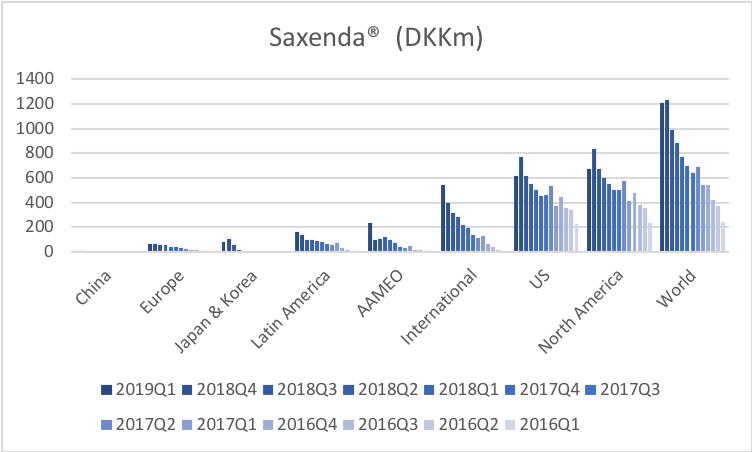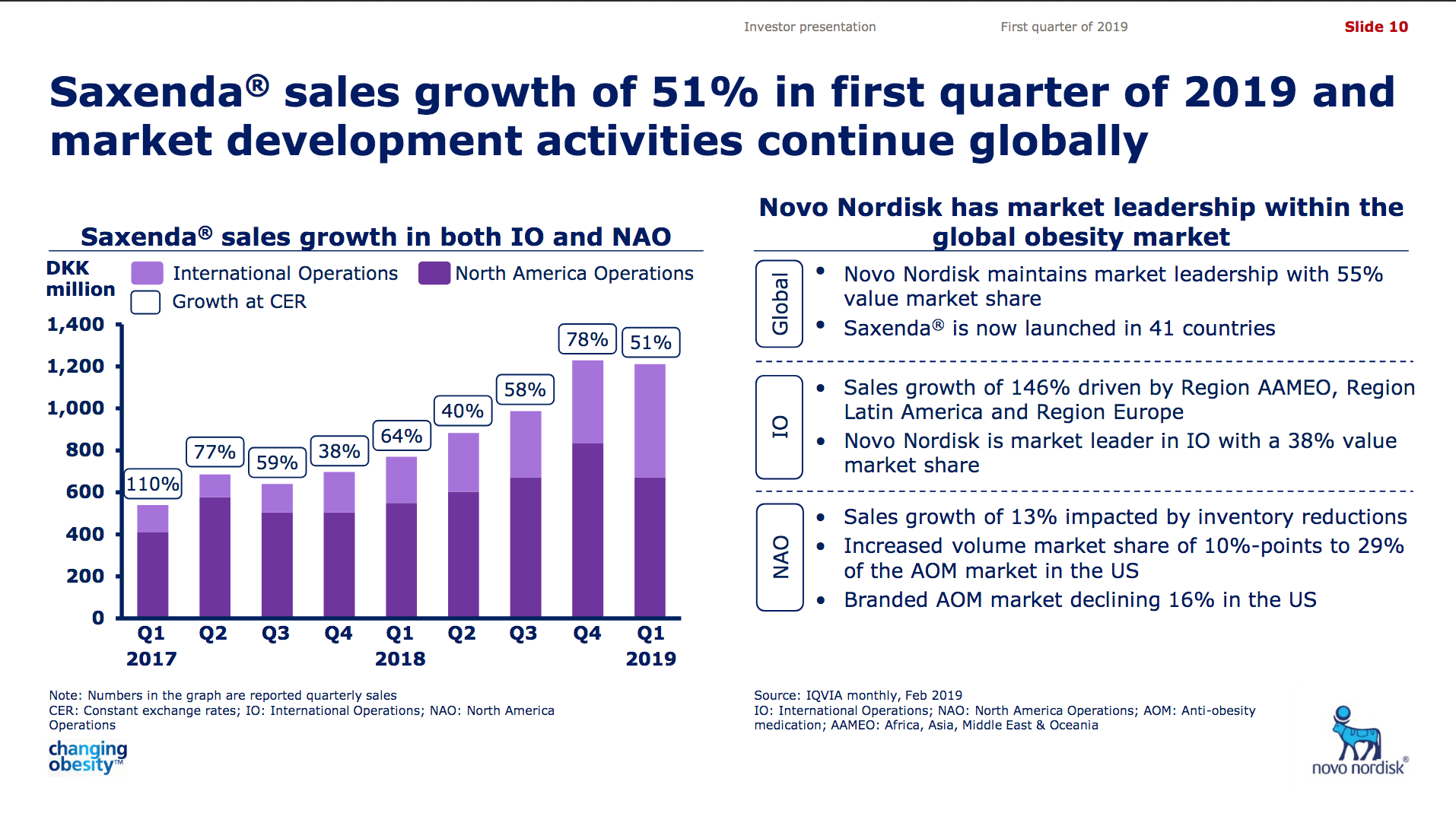 Insulin
Lantus® (insulin glargine) from Sanofi (-37% YoY in the US) is competing with the biosimilar Basaglar® (+56% YoY in the US) from Lilly.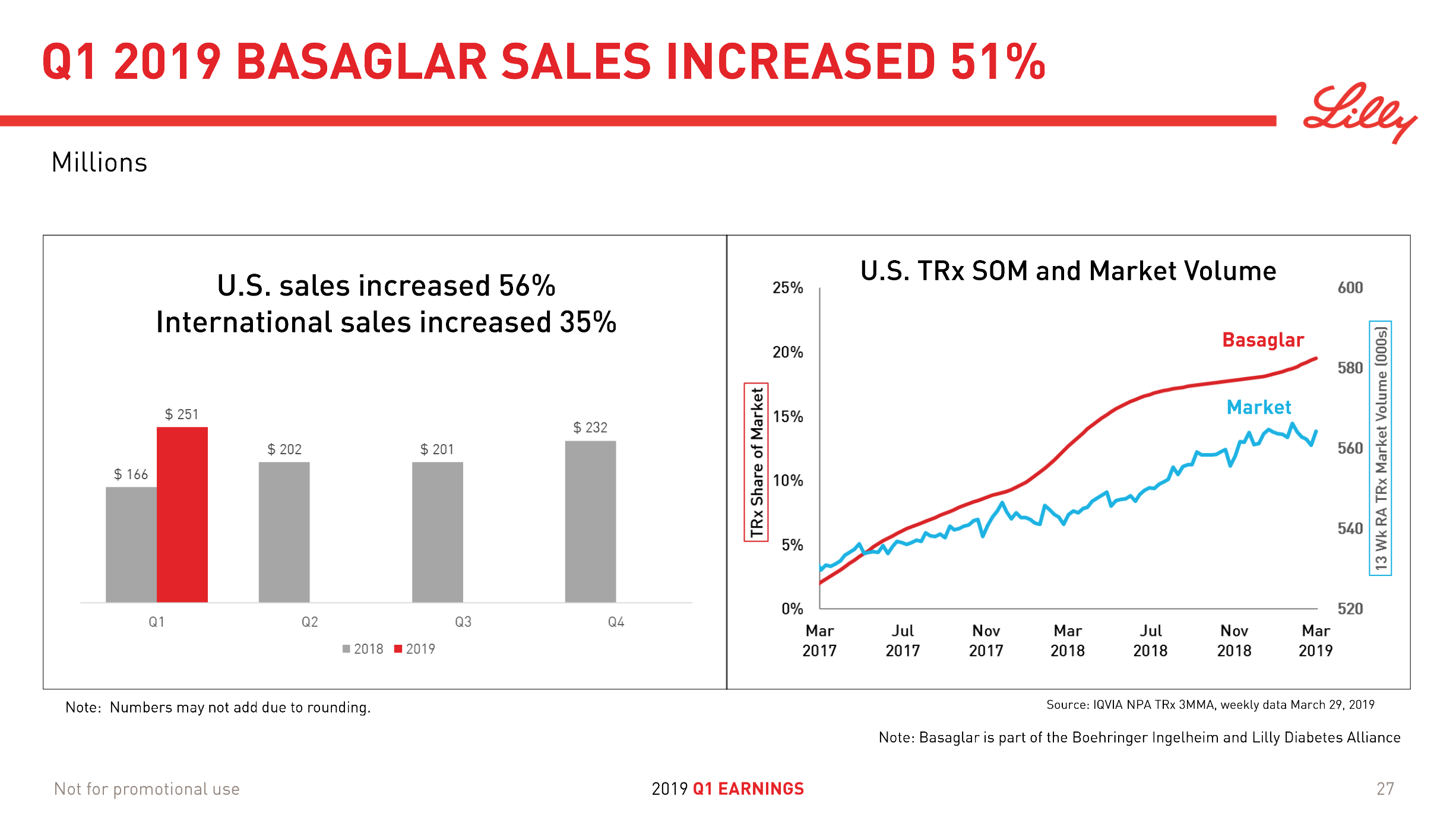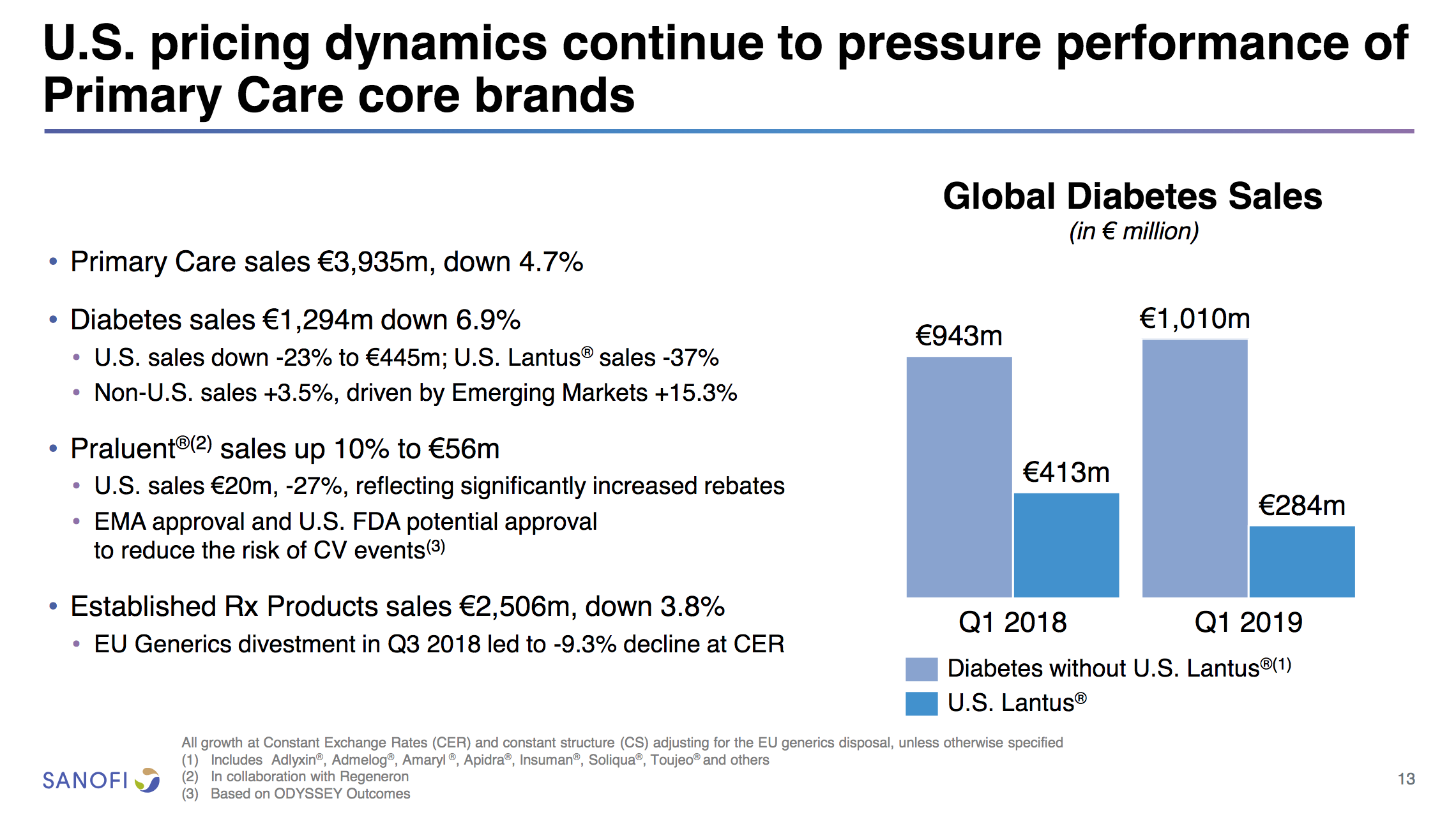 Humalog® from Lilly (-11% YoY in the US) will be competing with the biosimilar Admelog® from Sanofi (+18% QoQ in the US) and the recently launched generically labeled insulin lispro at half price from Lilly itself.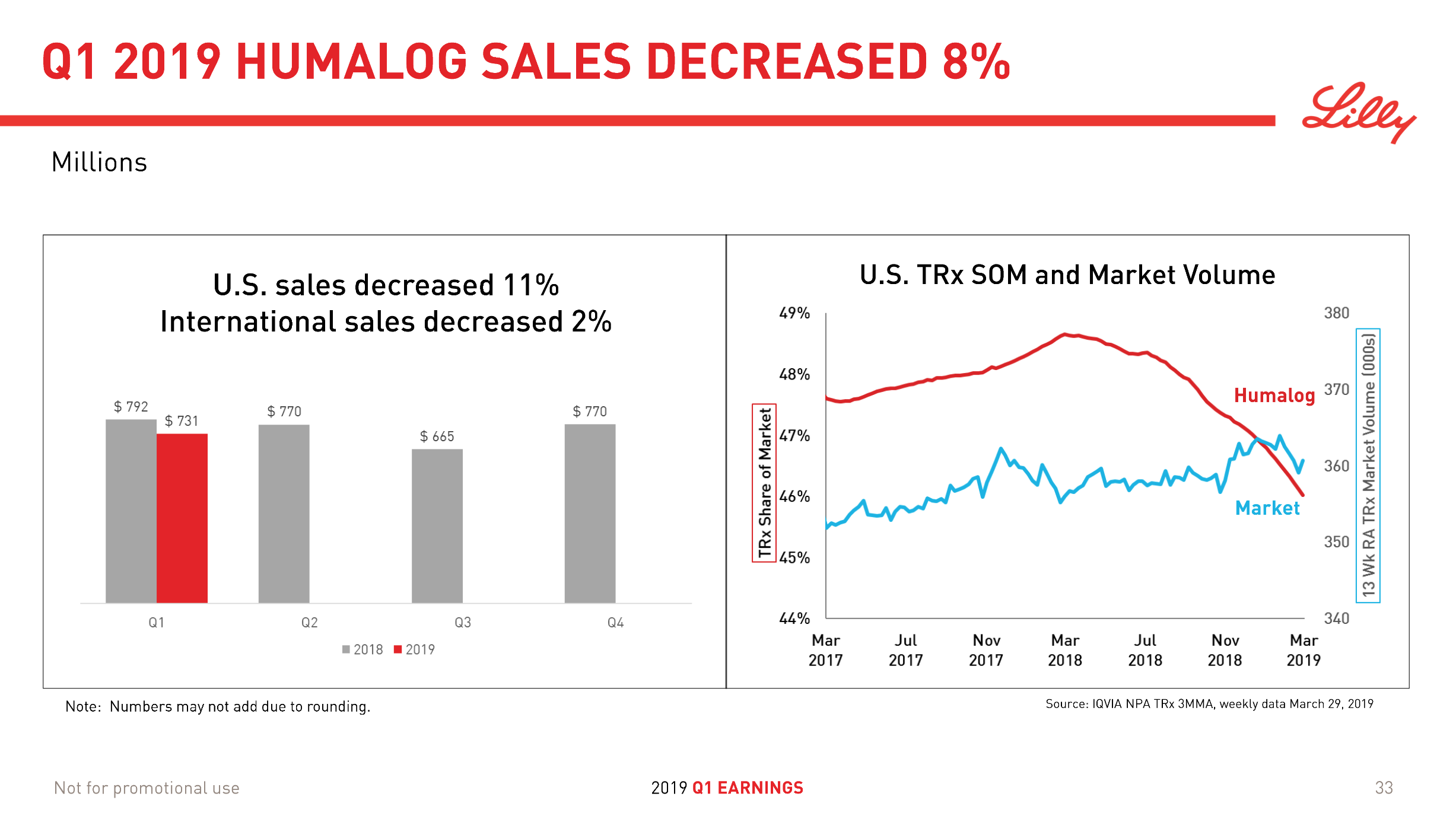 Despite the price pressure on insulin, Tresiba® from Novo displayed positive growth (+21% YoY and +5% YoY in the US). The ultralong-acting daily injected Tresiba® (insulin degludec) reduces the risk of hypoglycaemia.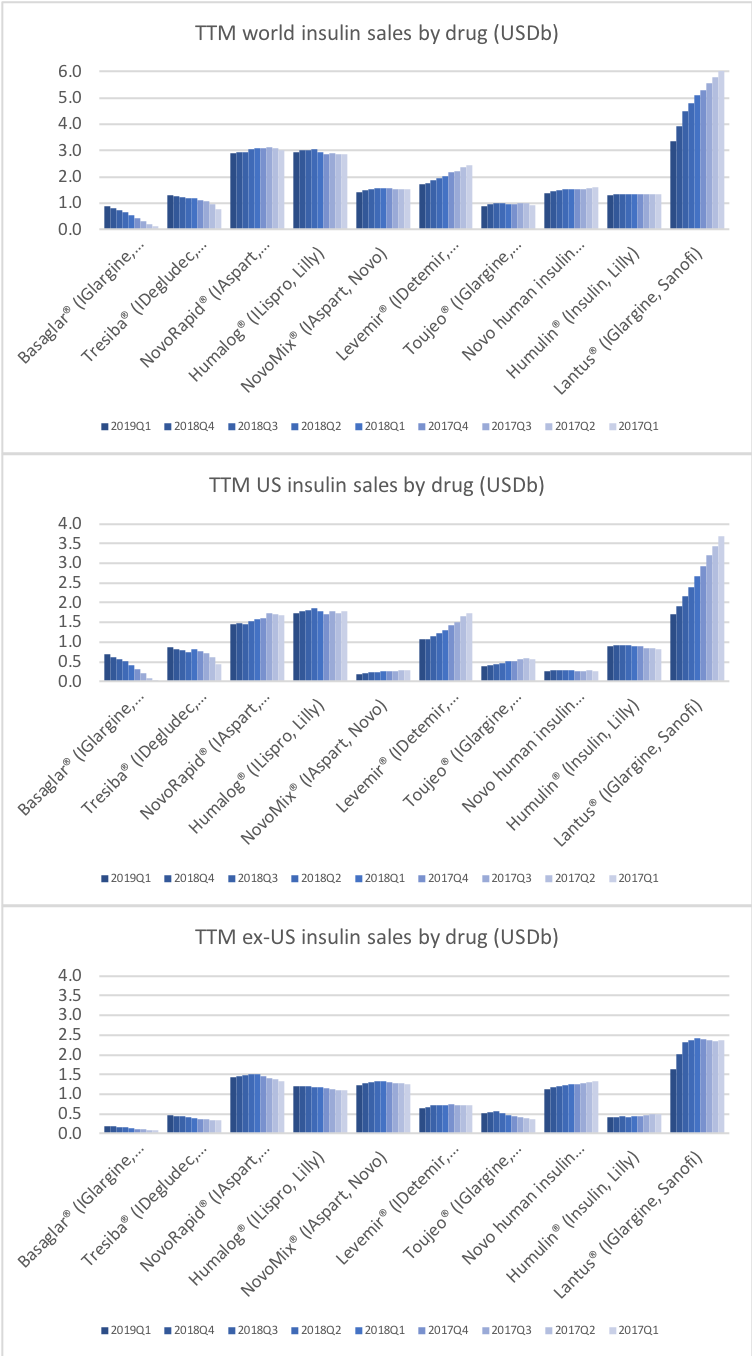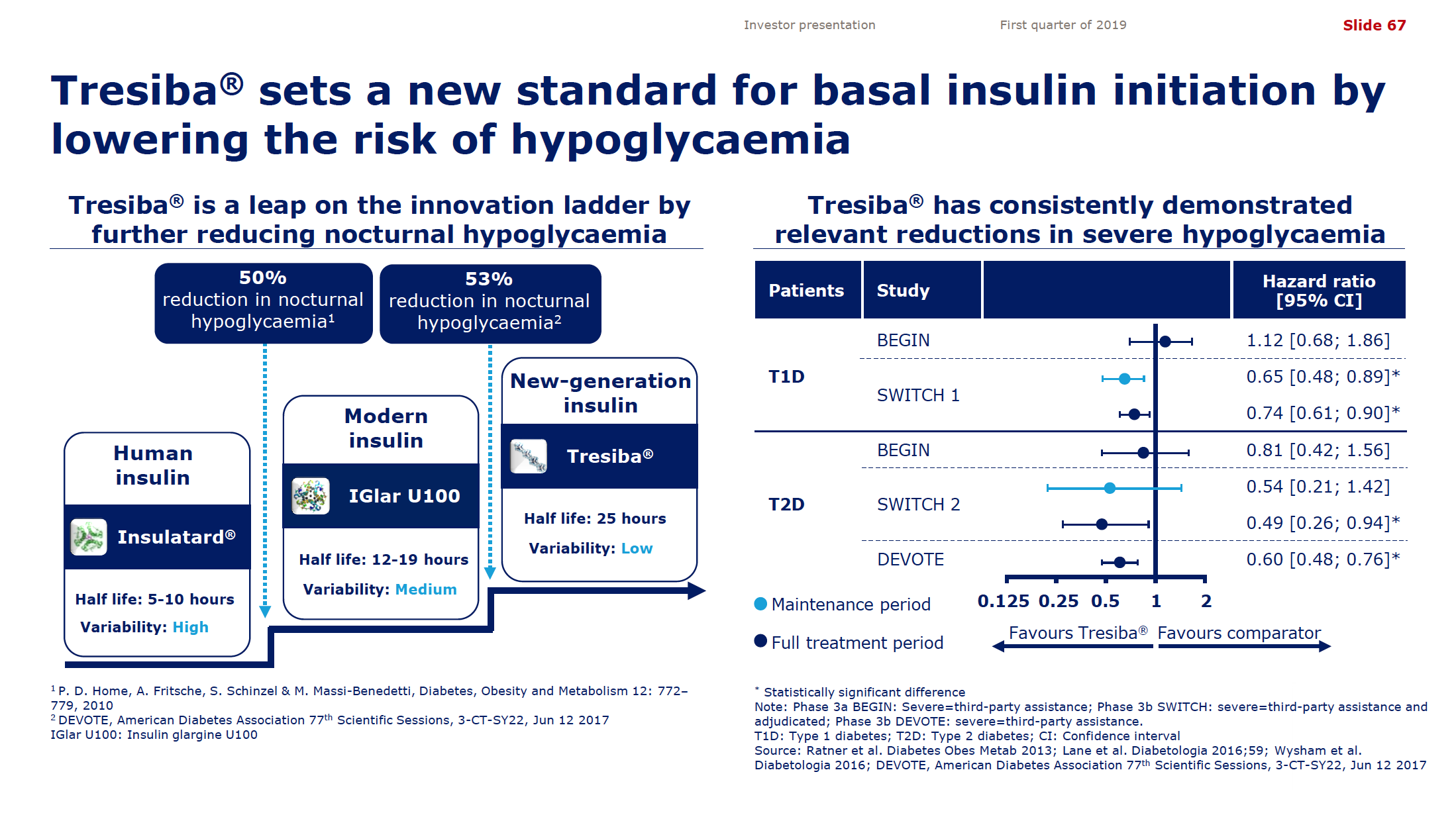 But despite the growth from Tresiba® Novo experienced negative growth in the insuling segment because of NovoMix® (-20% YoY), NovoRapid® (-6% YoY), Levemir® (-8% YoY) and human insulin (-17% YoY). Furthermore Levemir® faces patent expiration in 2019. Sanofi experienced negative growth because of Lantus® (-37% YoY in the US), whereas Lilly experienced positive growth because of their biosimilar Basaglar® (+56% YoY in the US).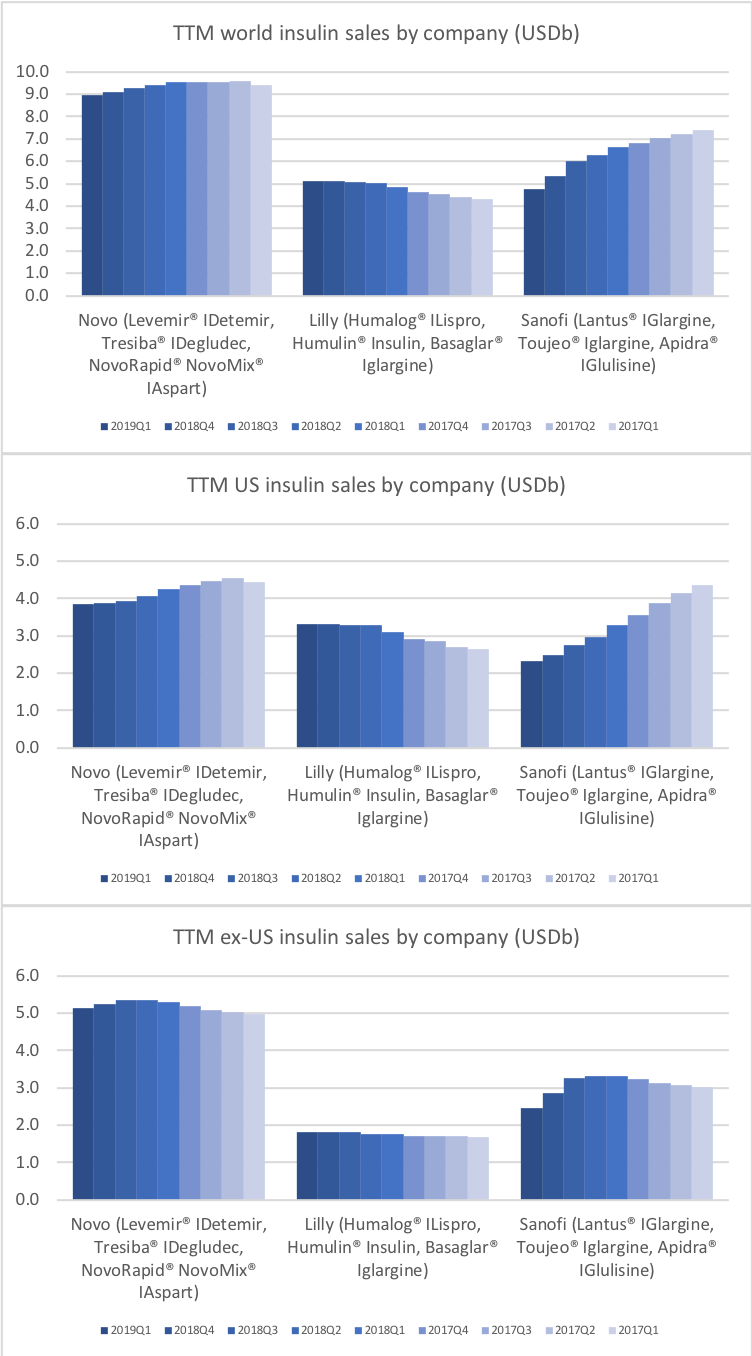 SGLT2 ihbitors (gliflozins)
The SGLT2 inhibitors however have side effects that oral semaglutide does not have. But Farxiga from Astra and Jardiance® experiences growth (+17% and +35% YoY respectively) while FDA approval of oral semaglutide is pending.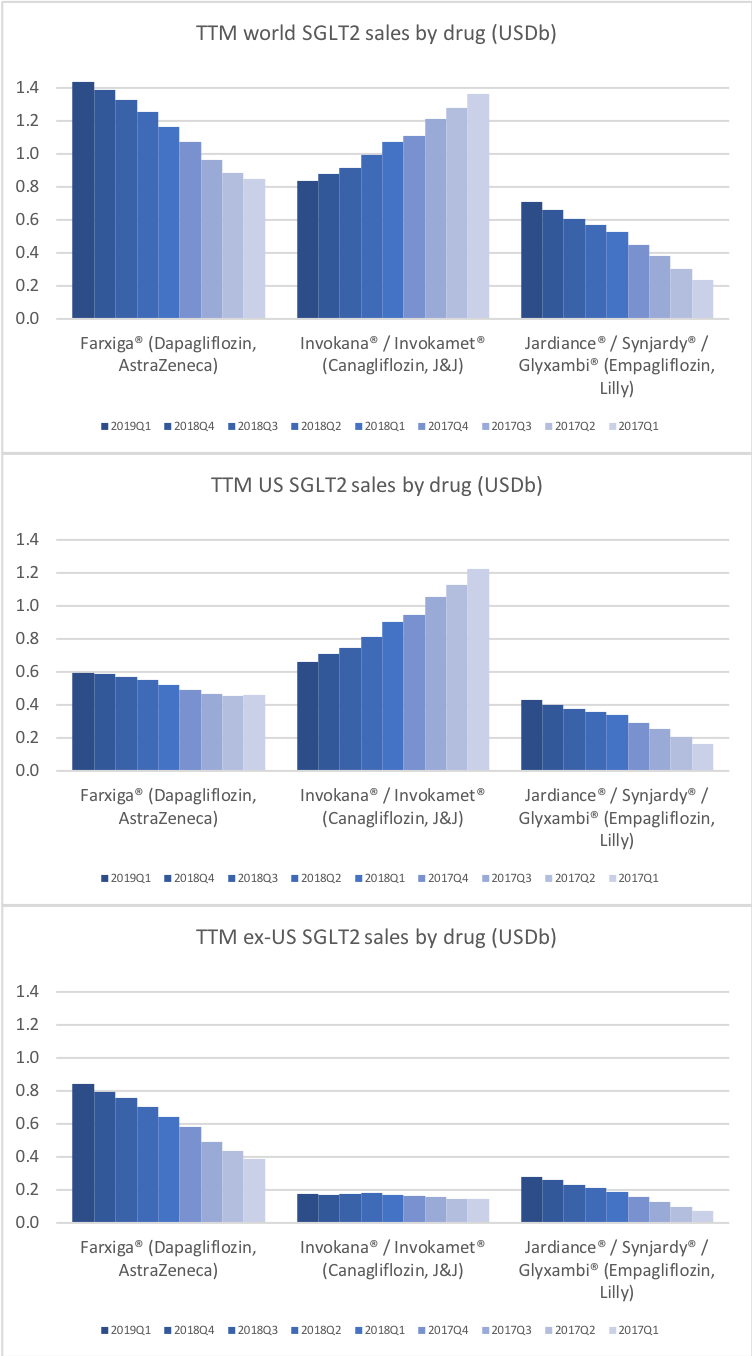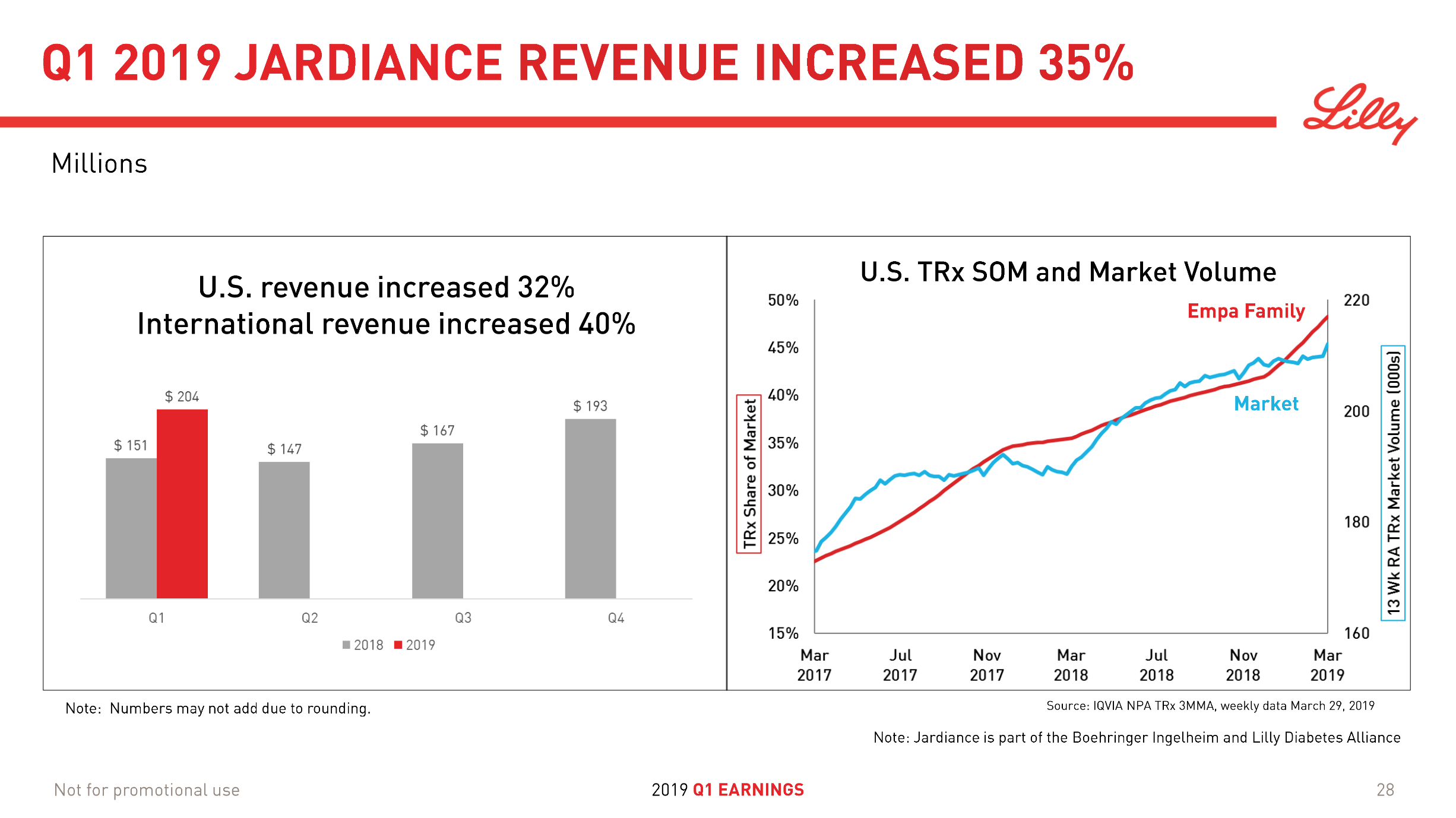 DPP4 inhibitors (gliptins)
Boehringer Ingelheim and Lillyannounced in February, that the CAROLINA cardiovascular outcome trial of Trajenta® met its primary endpoint of non-inferiority compared with glimepiride.
Merck wrote in their earnings press release, that sales of Januvia®/Janumet® "declined slightly due to continuing pricing pressure in the United States, which more than offset strong demand from international markets."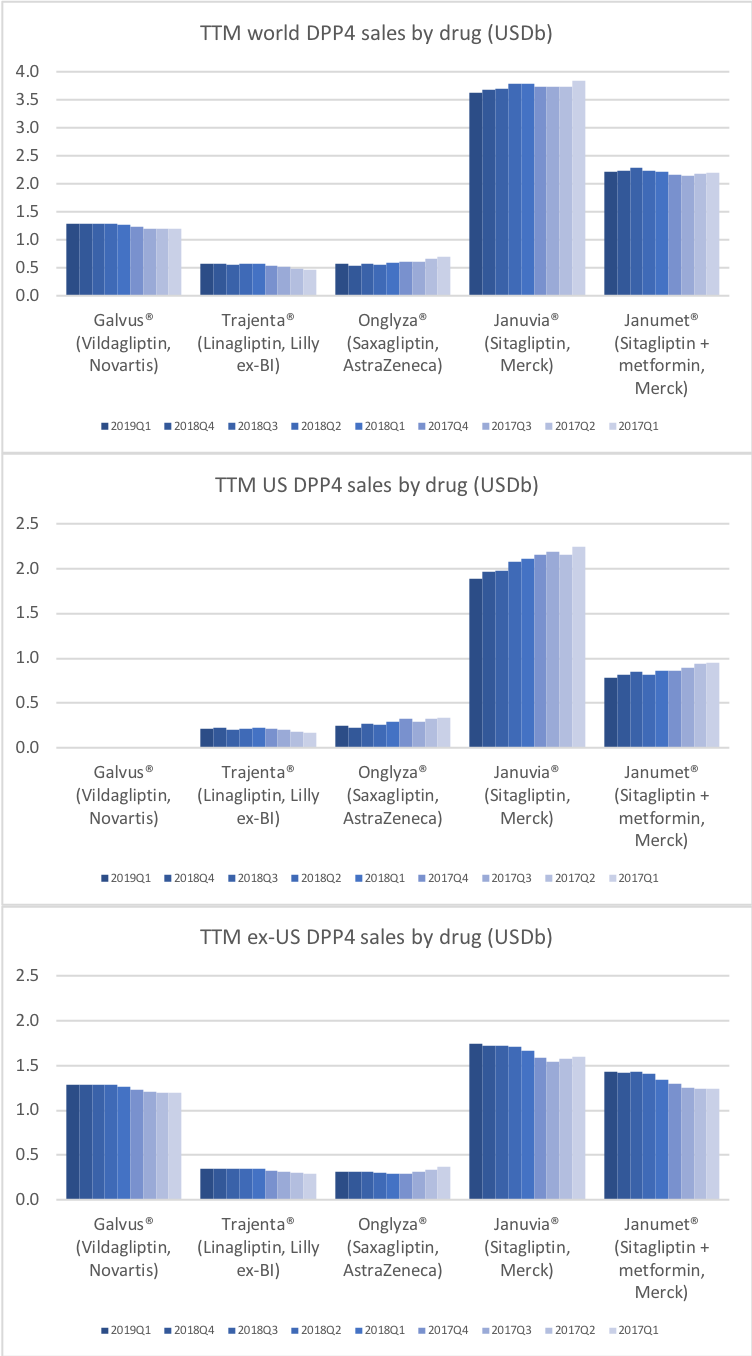 Below are headlines from the press following the earnings releases:
Bloomberg: Eli Lilly CEO on 1Q Results, Drug Pricing, Pharma Margins
Reuters: Eli Lilly misses estimates for top-selling diabetes drug Trulicity, shares slip
Reuters: Novo Nordisk profit tops forecast as new diabetes drug shines