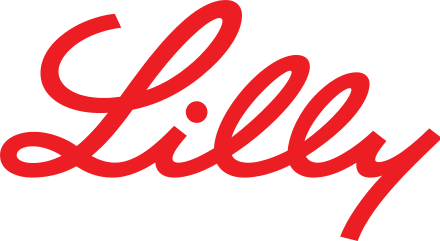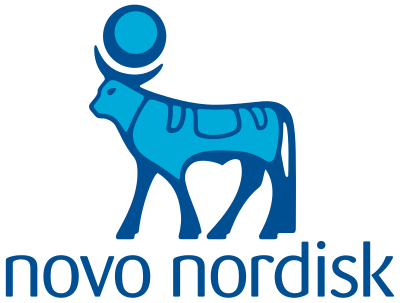 Novo Nordisk and Eli Lilly have both reported their Q3 results. Below are some of the headlines related to their diabetes business.
Novo Nordisk

OG2023SC, an oral GLP-1 analogue, has been discontinued based on encouraging results for an enhanced oral semaglutide formulation.
US FDA decision on cardiovascular indication for Rybelsus® is expected in the first quarter of 2020.

Eli Lilly

The European Commission approved an expansion of the Trulicity® label to include results from the REWIND cardiovascular outcomes trial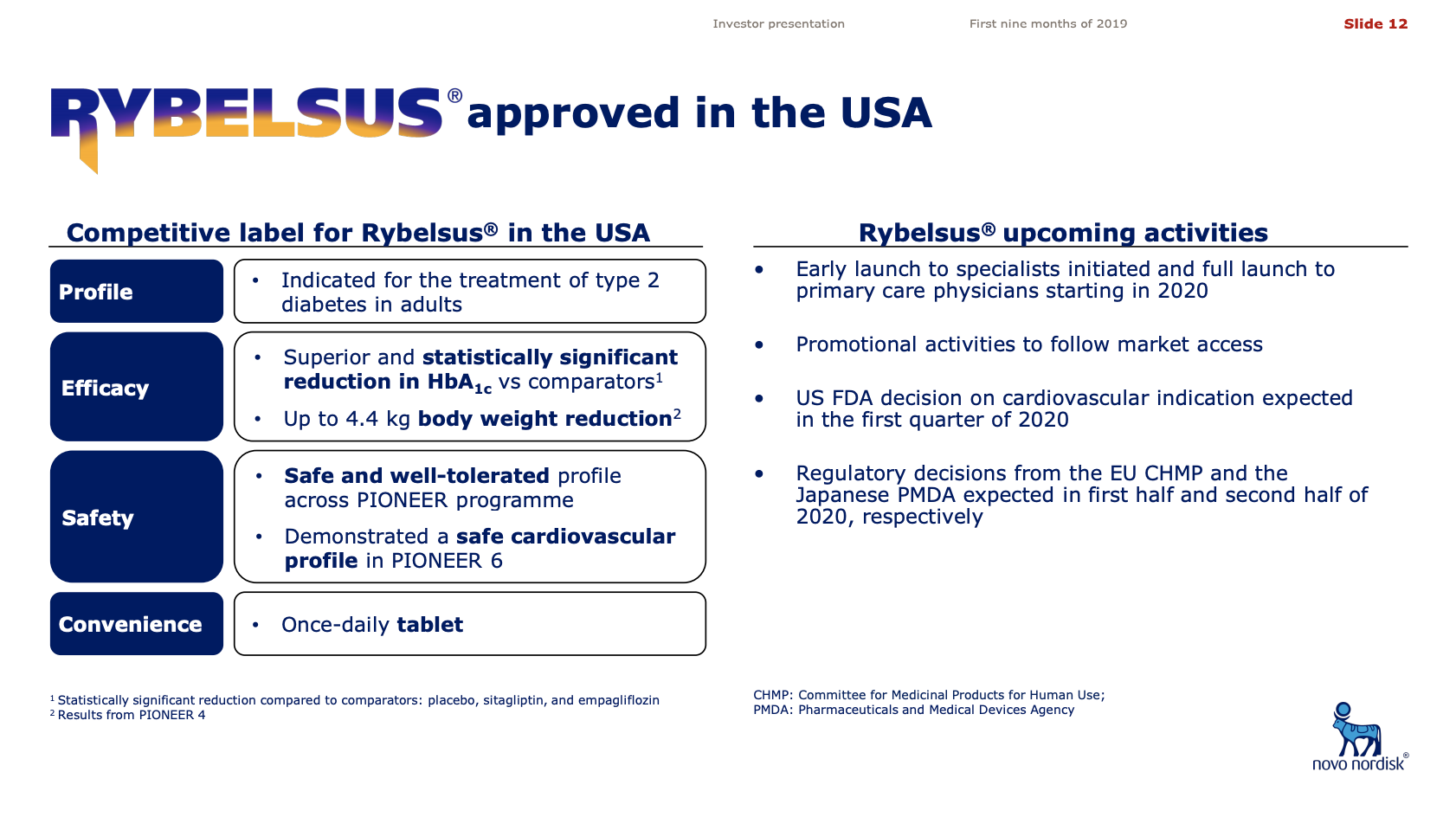 The figures below summarise sales and sales growth by product and geography for Novo Nordisk and Eli Lilly.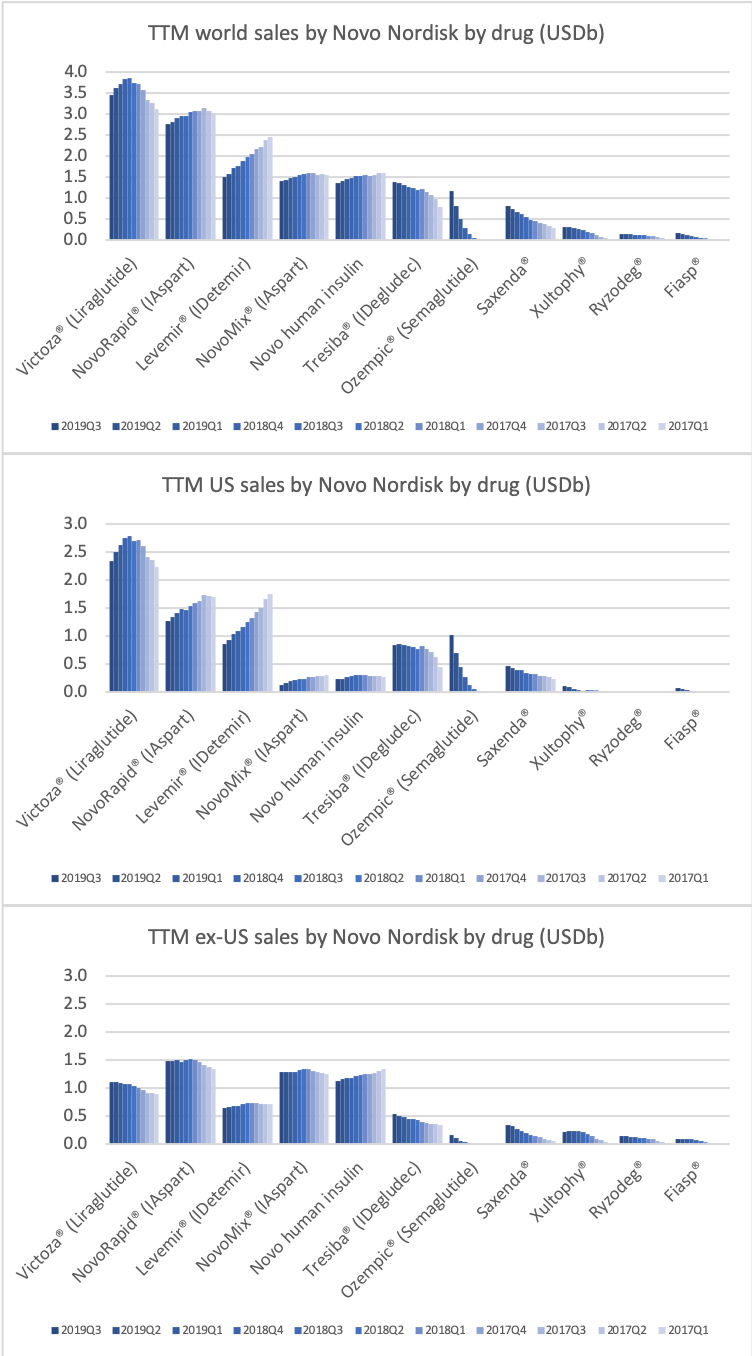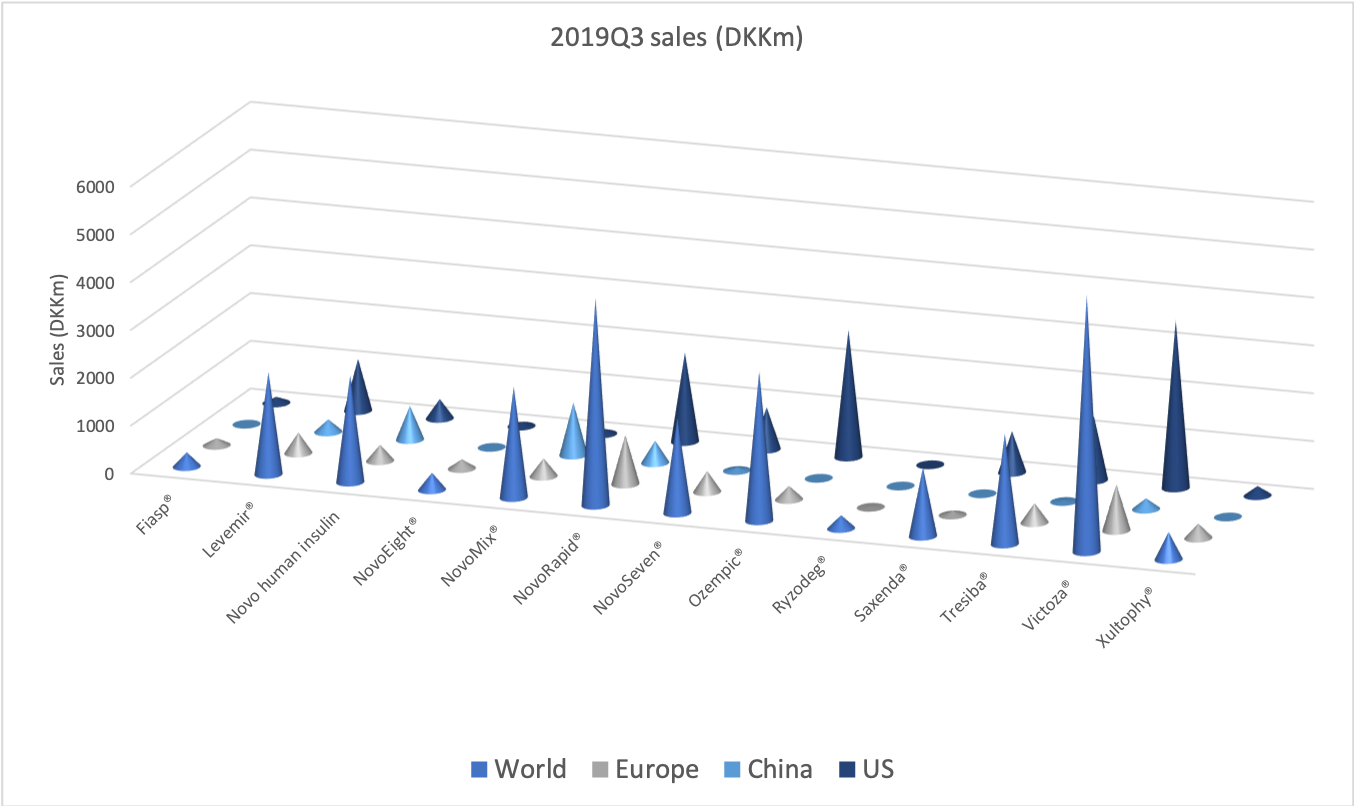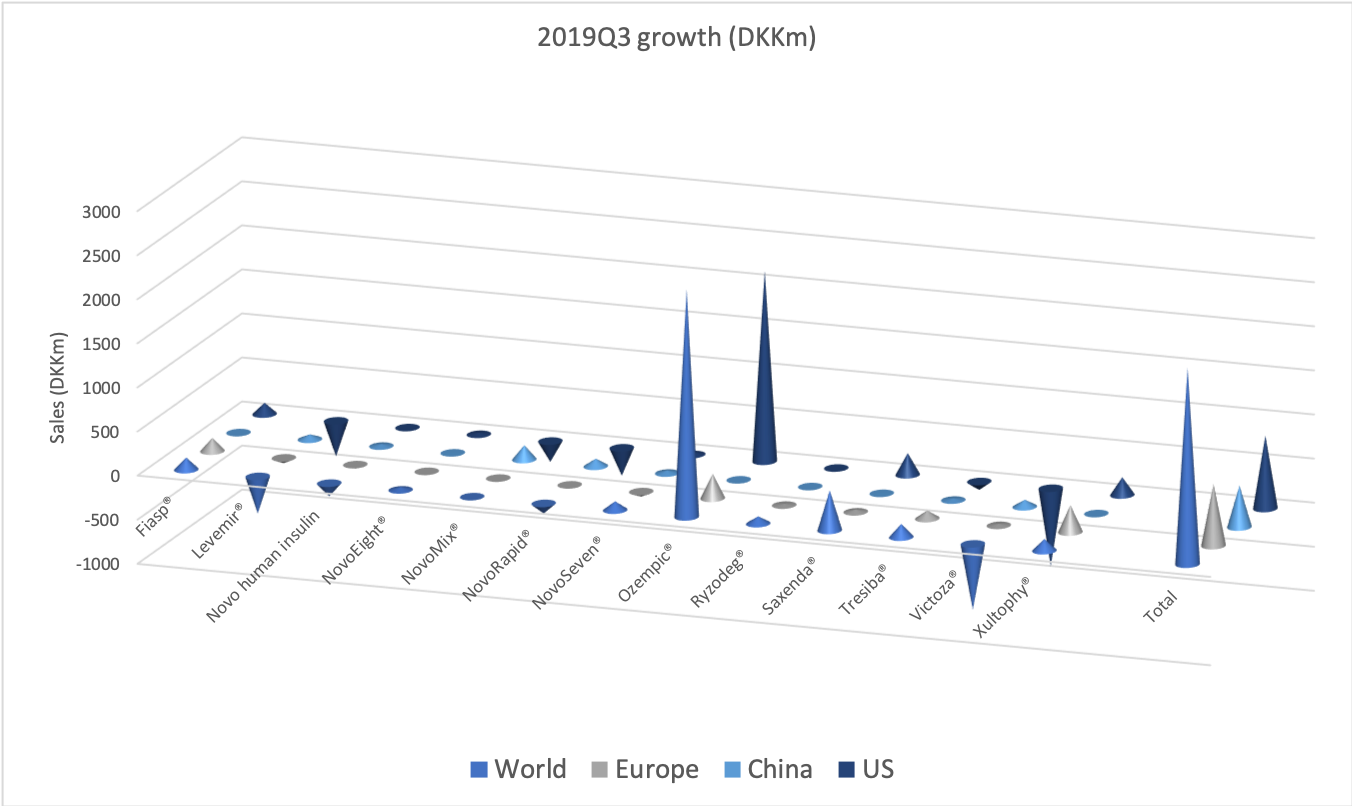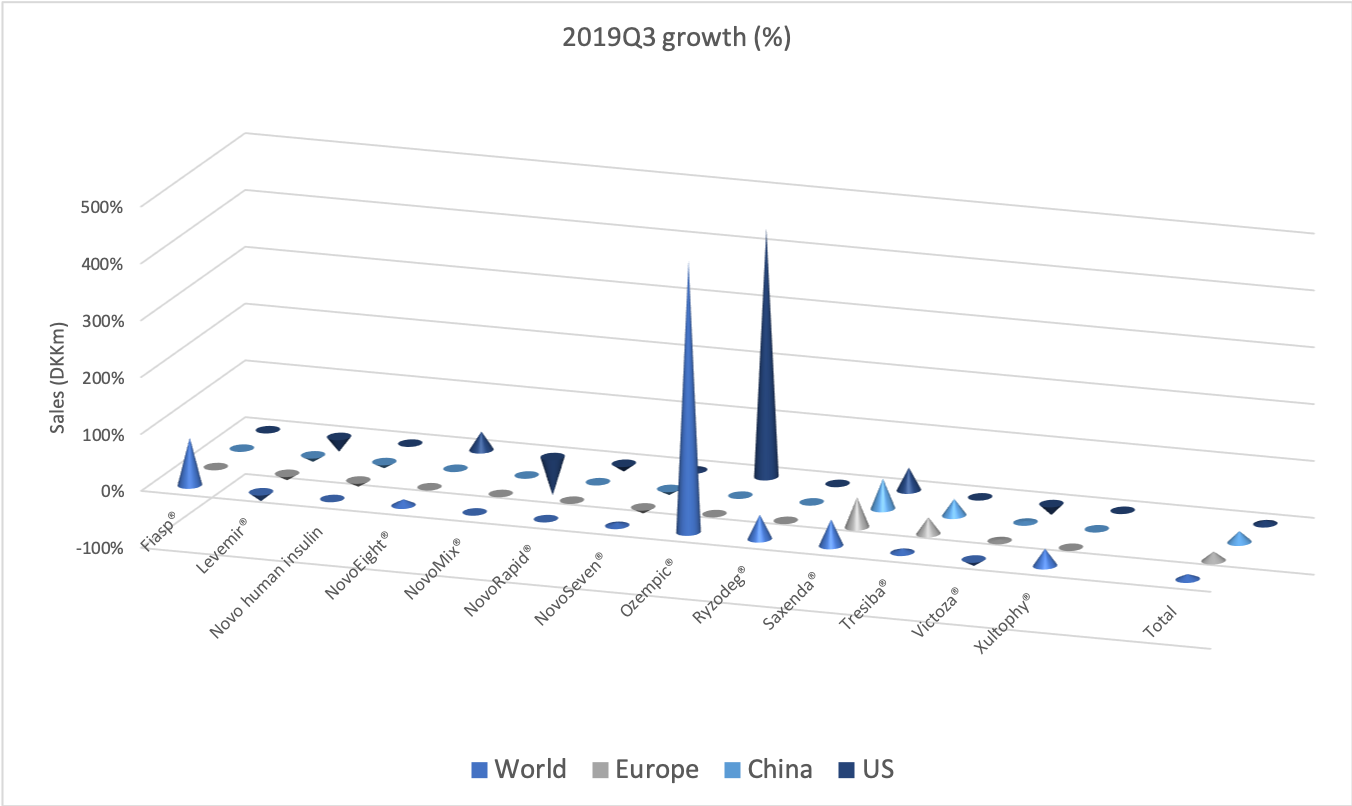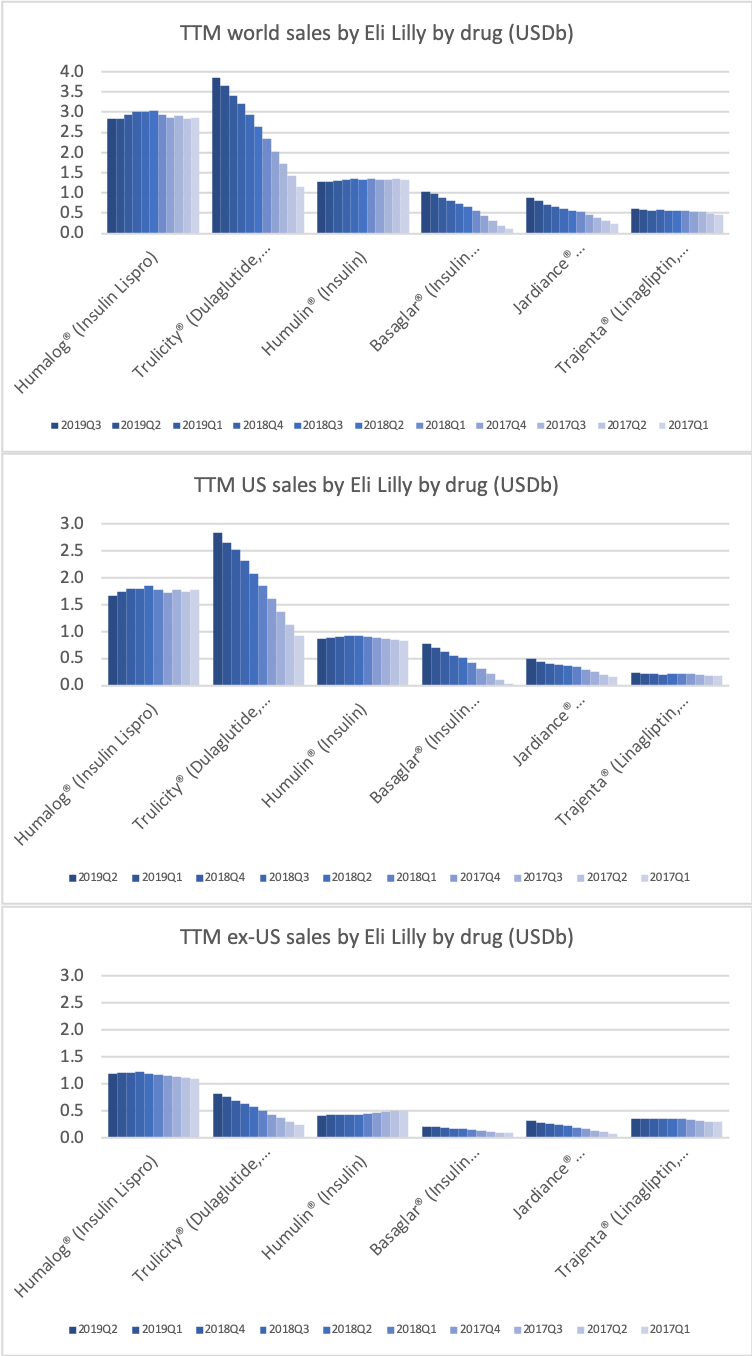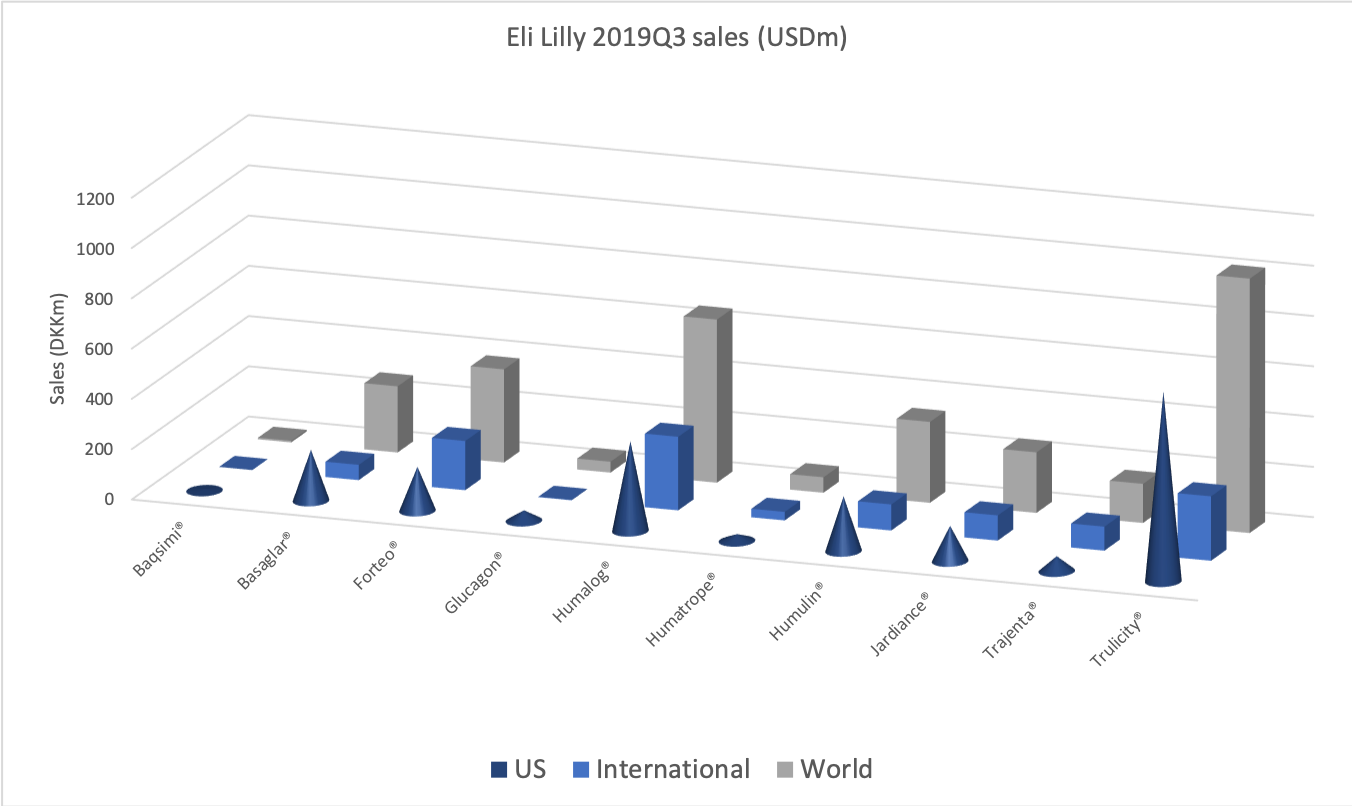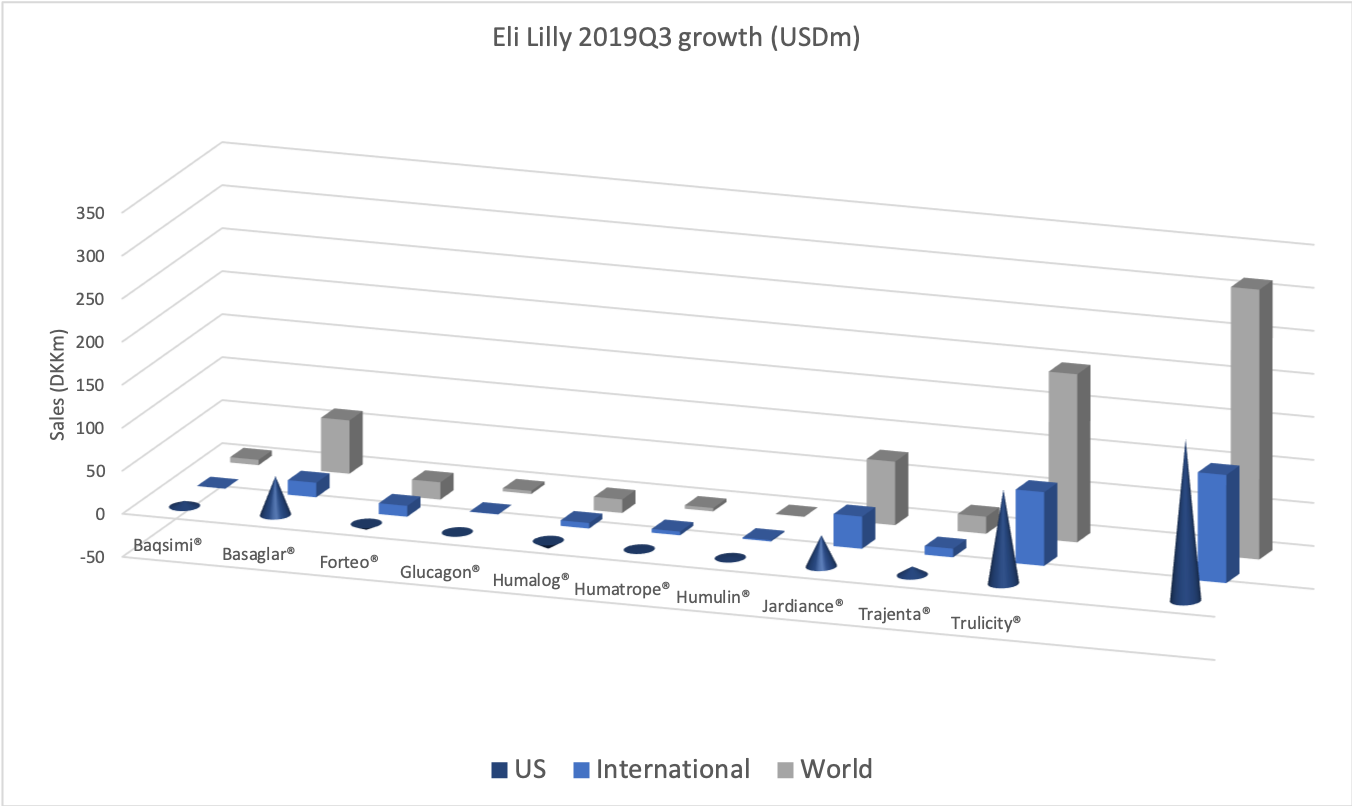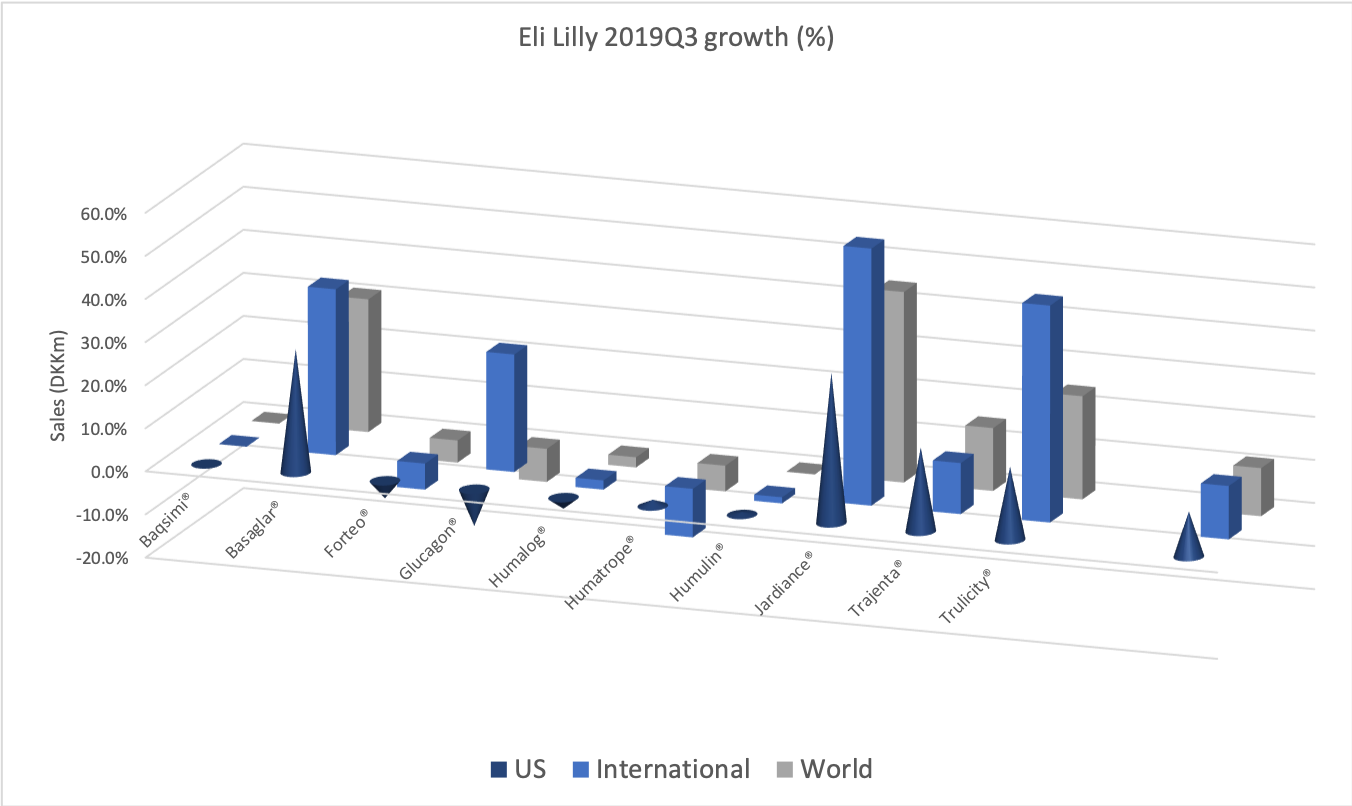 The diabetes market as a whole
Despite the headwinds faced by insulins such as Lantus® and DPP4 drugs such as Januvia® the overall sales of antidiabetic drugs is not declining thanks to the superior GLP1 drugs.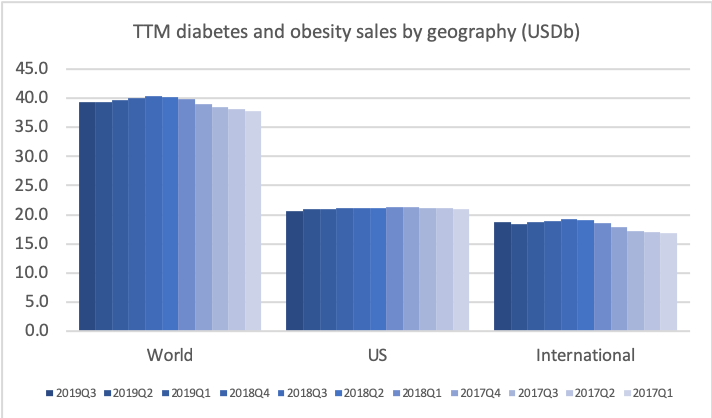 If the current growth rates for GLP1 and insulin continues, then GLP1 could overtake insulin in the US at the end of the 2nd quarter of 2020. It depends on the growth of Ozempic® and Rybelsus® and the pace at which Lantus®, Levemir®, Novorapid®, Humalog® and others continue to decline as they are cannibalised by Basaglar® and Admelog®.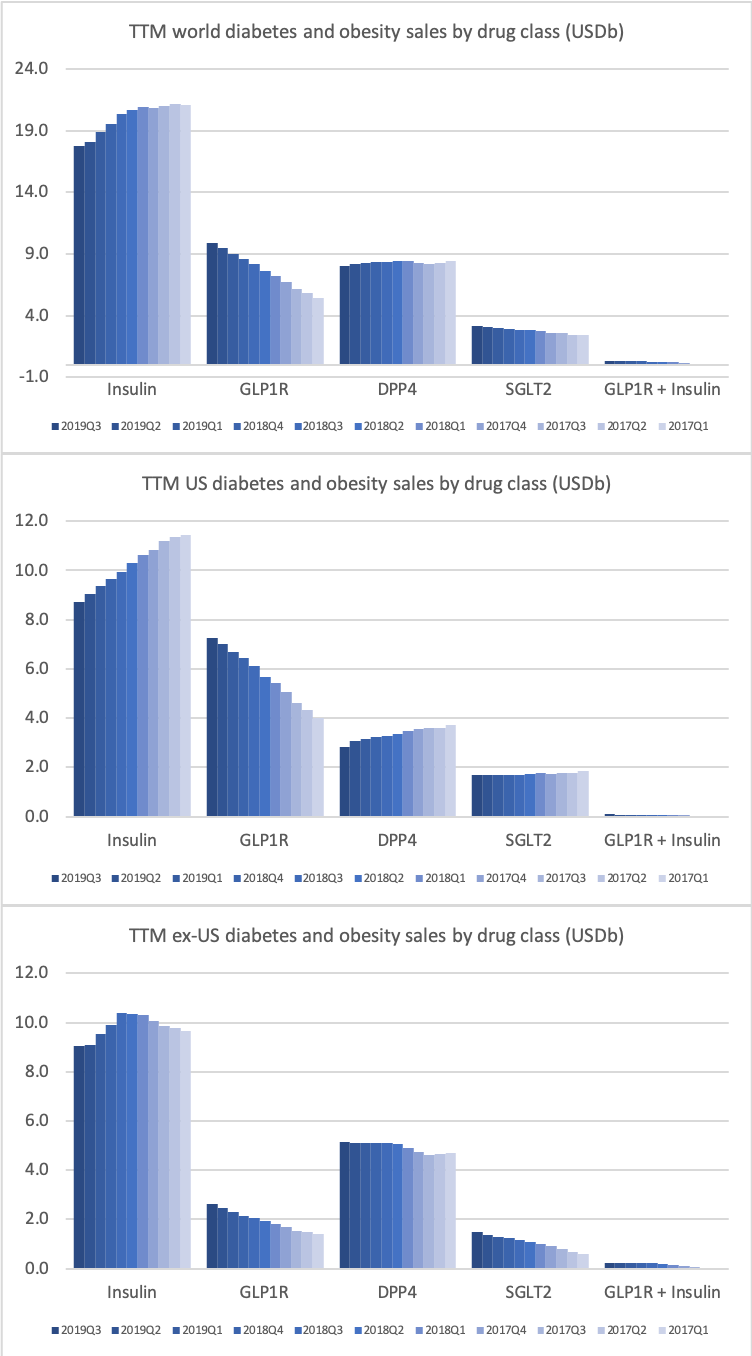 The advantage of GLP1 drugs over insulin is that there is no hypoglycaemic risk and an added benefit is weight loss. The table below compares the different types of anti-diabetic drugs and explains the reversed fortunes of insulin and GLP1 receptor agonists.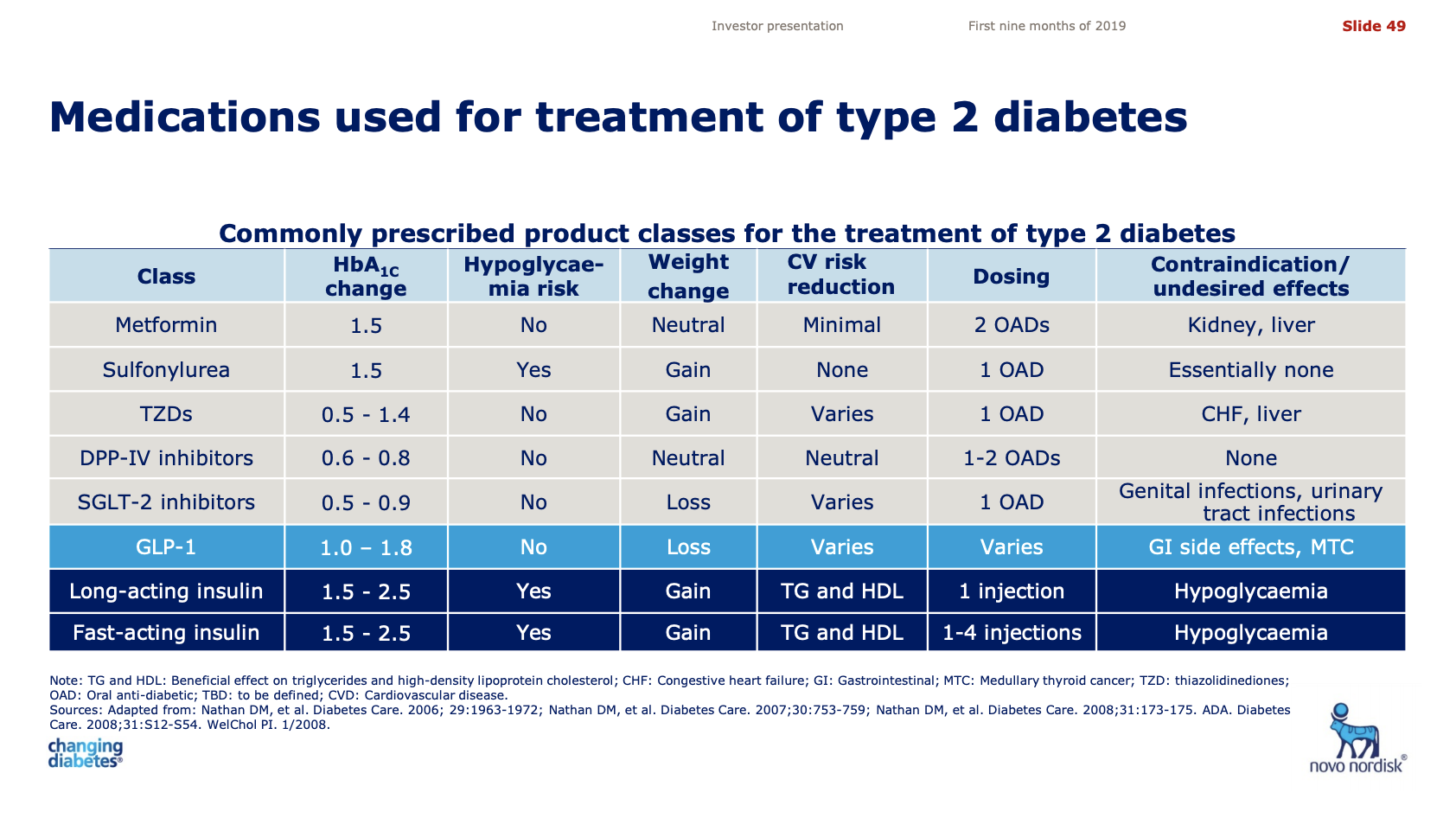 Novo Nordisk and Eli Lilly have been leading the GLP1 revolution and have been rewarded heavily, whereas the diabetes business of Sanofi has suffered and continues to suffer within and outside the US.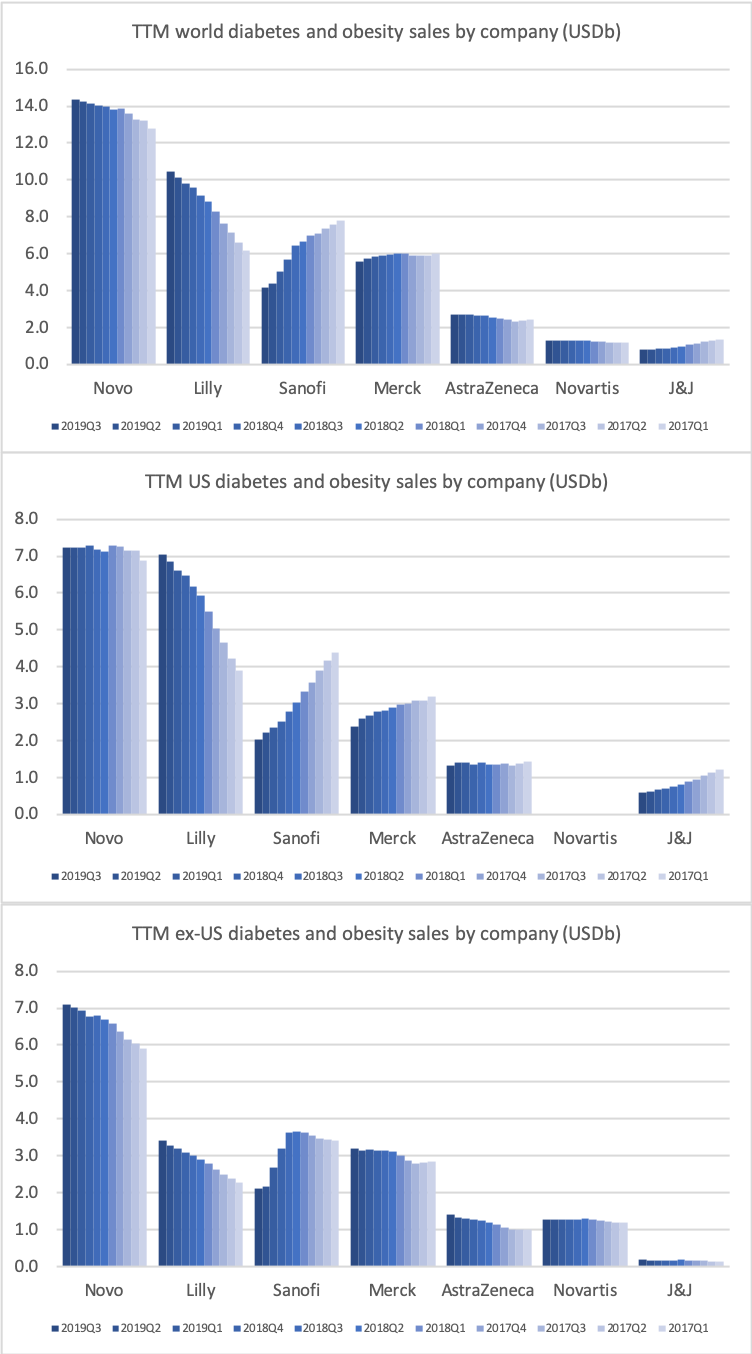 The GLP1 class of drugs have picked up steam in Europe and elsewhere outside the US, but there is still an unmet potential.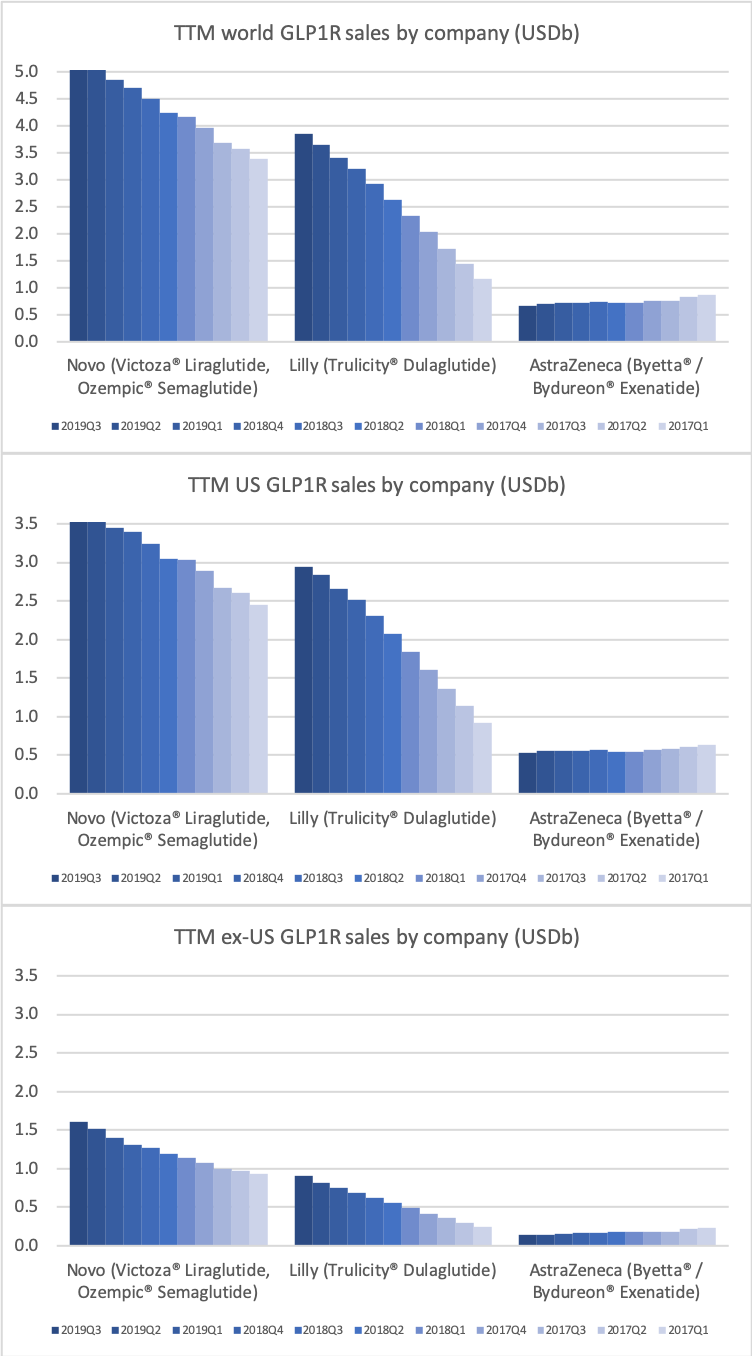 The GLP1 drug Victoza® is being cannibalised by Ozempic®, which is experiencing explosive growth of more than 400% in the US and in the world, which possibly makes it the fastest growing drug in the world in the third quarter.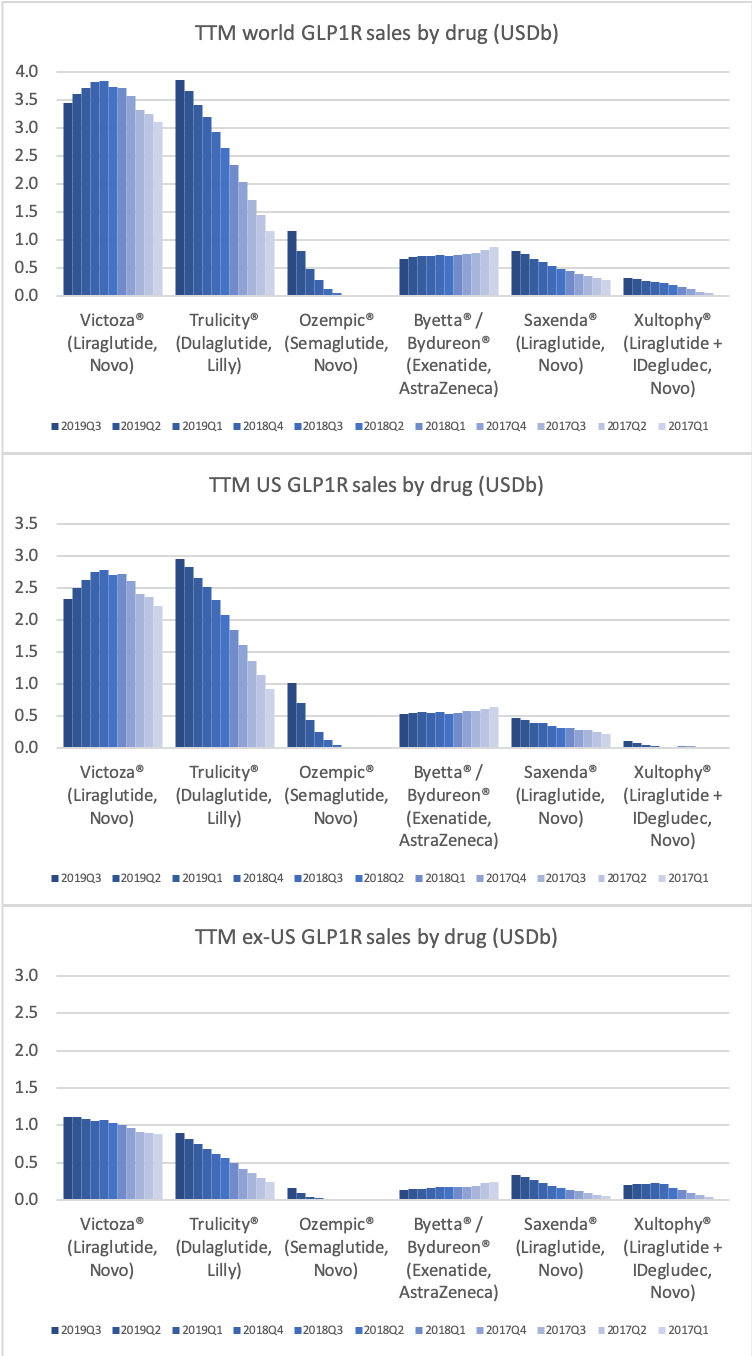 It is the insulin Lantus® being cannibalised by Basaglar®, which is a drag on Sanofi. Tresiba® is the only insulin other than Basaglar® experiencing growth in the US.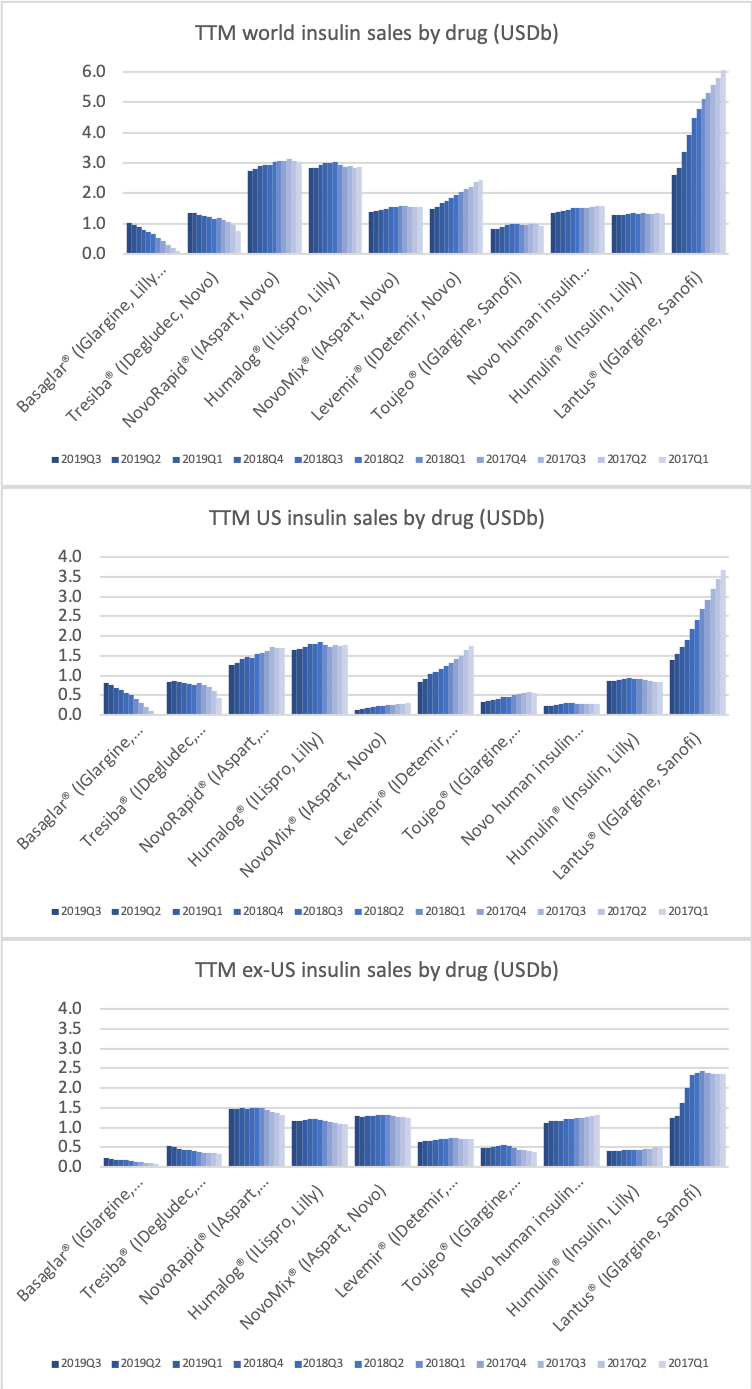 Novo Nordisk might be experiencing increased sales for Tresiba® in the US and their insulin drugs in China, but Levemir® and all of their other insulin drugs are decling in the US, which is not offset by the small sales growth of Tresiba® in the US.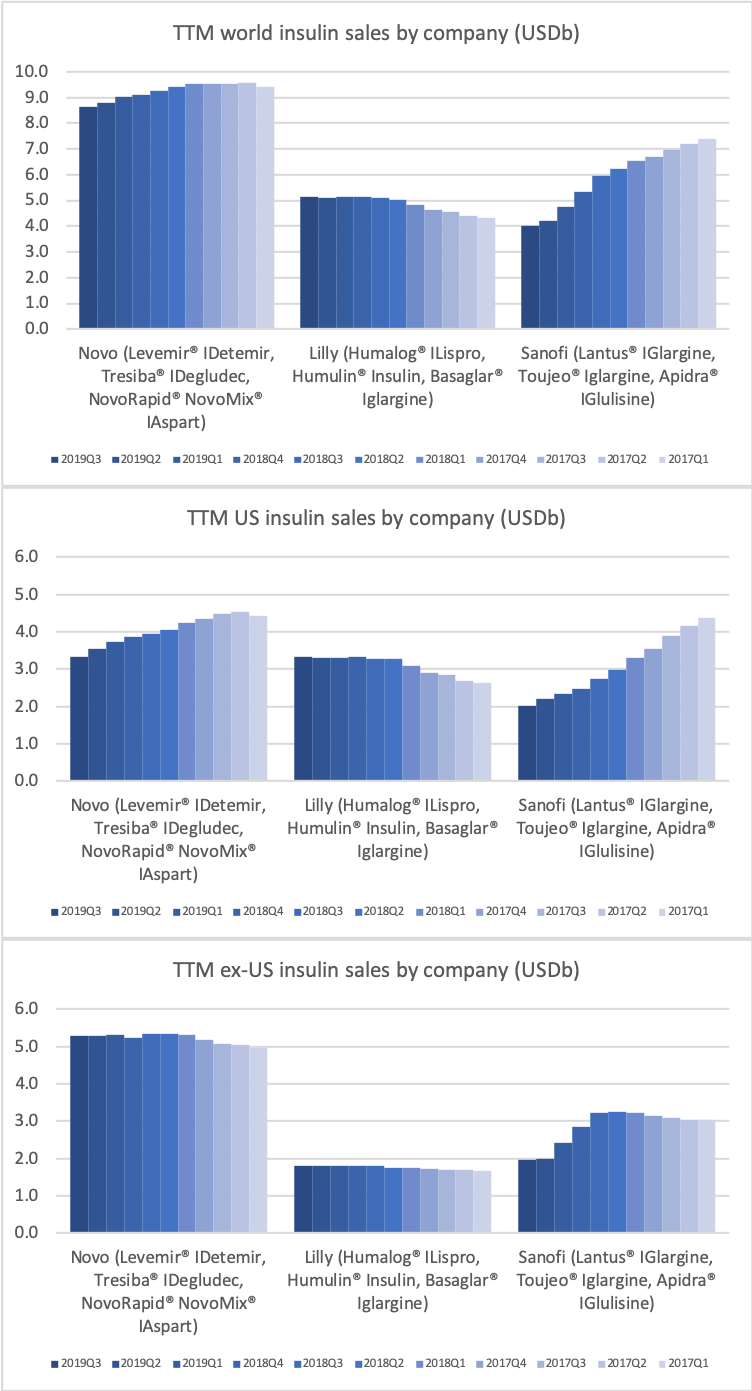 Eli Lilly (and their partner Boehringer-Ingelheim) have seen their diabetes sales further strengthened compared to Novo Nordisk by the presence of the SGLT2 drug Jardiance® in their portfolio, which is competing with Farxiga® from AstraZeneca and Invokana® from J&J. Cardiovascular benefits have been shown for Jardiance® in the EMPA-REG OUTCOME clinical trial and the FDA have in June also granted fast track designation for the treatment of chronic heart failure.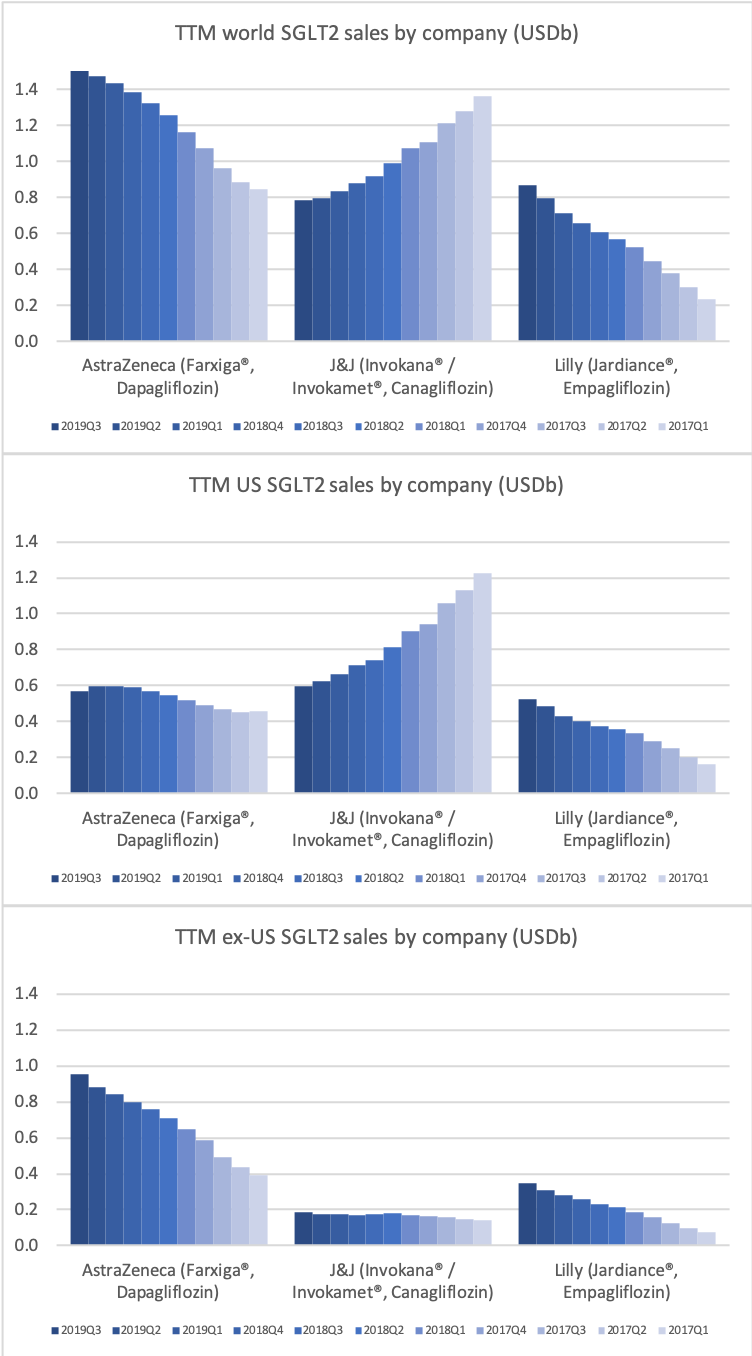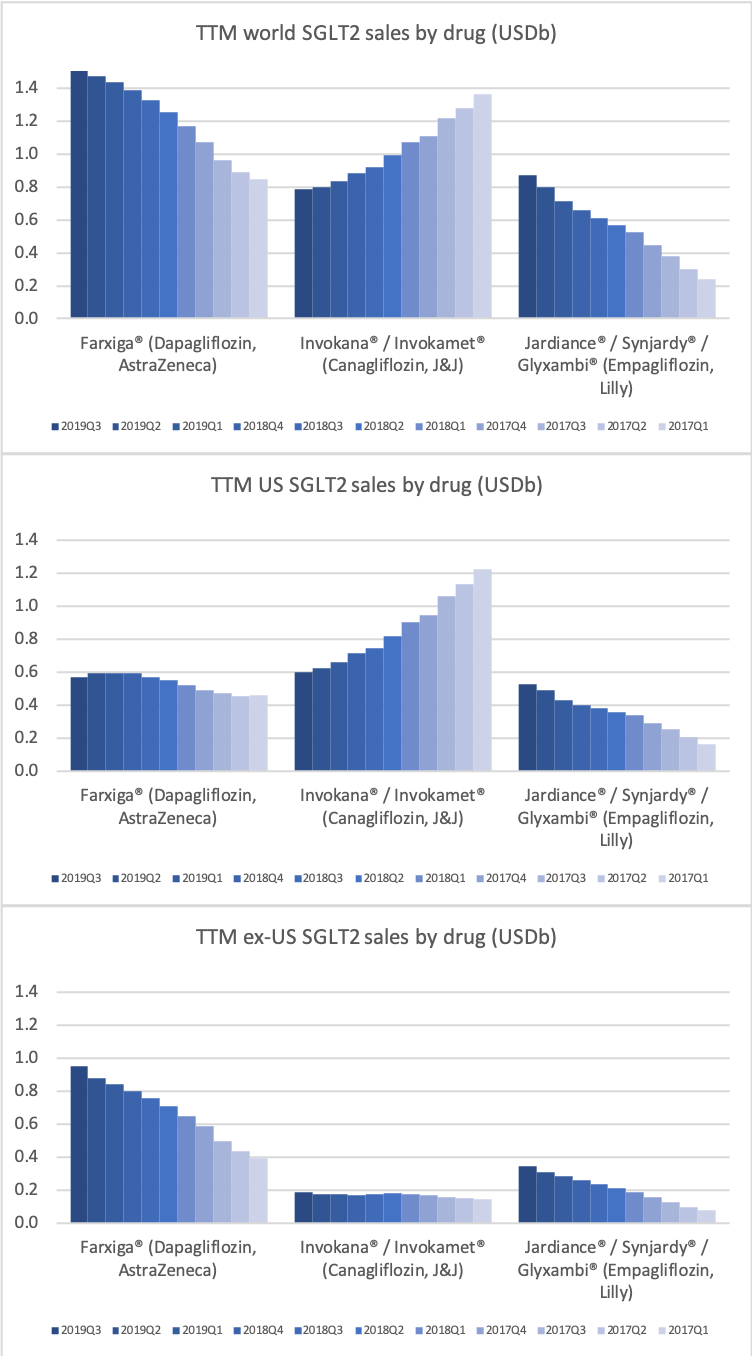 DPP4 drugs are declining in the US, whereas they are experiencing growth outside the US.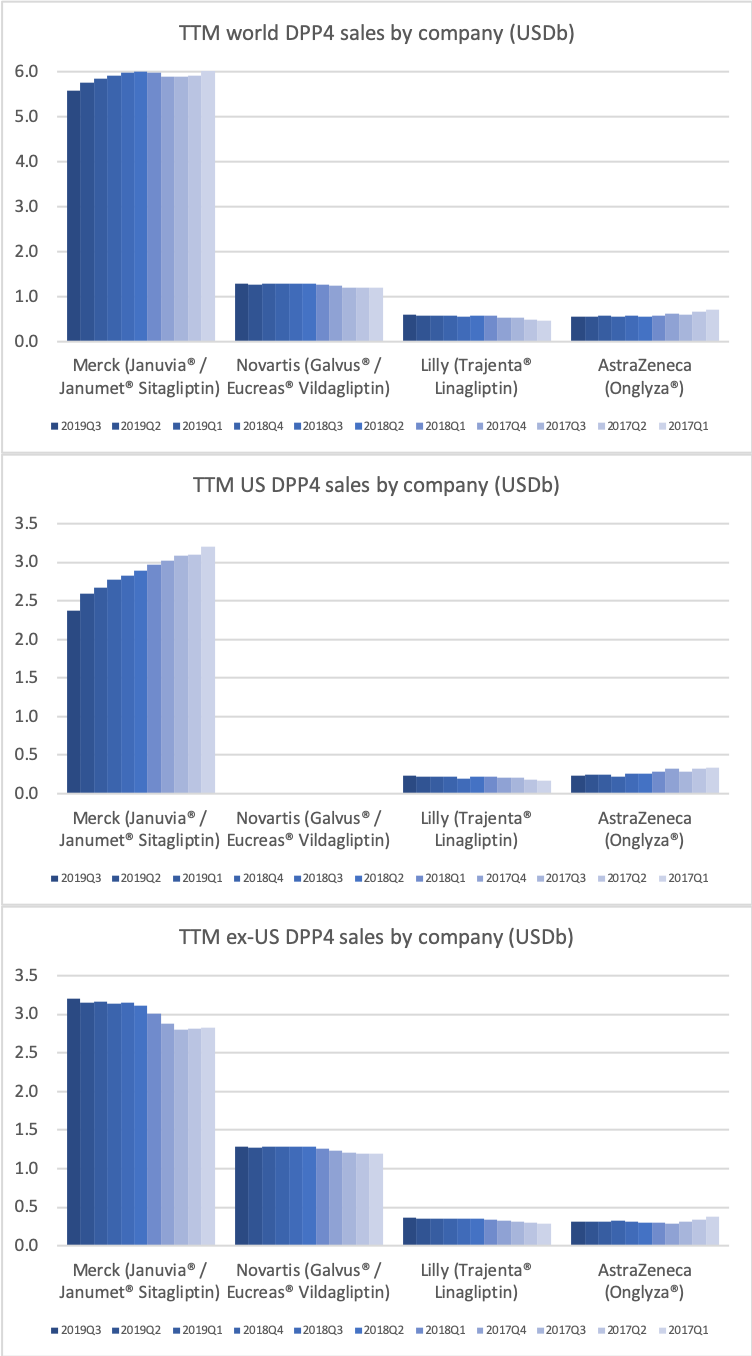 The DPP4 decline in the US is led by Januvia® and Janumet® from Merck, but these two drugs are actually growing slightly outside the US for the time being.
Ozempic® and Jardiance® and the ICER report
The ICER report have found that oral GLP-1 Semaglutide, at estimated net price, is less cost-effective than SGLT-2 competitor Empaglifozin as add-on therapy for type 2 diabetes. CFO Karsten Munk Knudsen and CSO Mads Krogsgaard Thomsen of Novo Nordisk had the following comments to the ICER report.
So the known legislation related to the donut hole, which we have been public about earlier. The impact is 1% on group sales in 2020. And then, of course, it's also important to note that this will have an impact in terms of patient affordability, so the American government, they are actually pushing more cost to patients with this change.

Novo Nordisk CFO Karsten Munk Knudsen on the ICER report during the Q3 earnings call.
First of all, Jo, let's just remind each other of the differences between a classic health economic outcome research analysis taking into account all the big landmark trial data that have emerged over time that typically predict what the societal cost of the burden of diabetic-linked complications will be over decades, 2 decades, 3 decades and so on. And those analysis are the ones that we have done with the impact — metabolic impact of Rybelsus showing that over decades, this is clearly cost effective for society to use the product.

This element is not really integrated in the ICER research, which just looks at the mere data as they are and the metabolic outcomes here and now. But as I understand the report, having not had really time to study it today, it is still the perception that I have that when it comes to sitagliptin and liraglutide, there seems to be cost effectiveness of Rybelsus®. And then it's only when you look at the empagliflozin that they claim that not to be the case. But all that is said then, by the way, the discussions that our American team have ongoing with the PBMs, they're ongoing, and we'll keep you updated as they come to conclusion over time.

Novo Nordisk CSO Mads Krogsgaard Thomsen on the ICER report during the Q3 earnings call.
Pipeline and R&D updates
In addition to the discontinuation by Novo Nordisk of the GLP1 candidate OG2023SC due to improved formulation of oral semaglutide there were other updates to the pipelines.
Novo Nordisk CSO, Mads Krogsgaard Thomsen, had the following comments on the discontinuation of OG2023SC, semaglutide and other injectable incretins.
2023, that relates to the fact that we have seen really nice data. You do recall, Peter, that we had 2 ongoing trials in parallel. One was the enhanced formulations of oral semaglutide, that is completed; and the other one was the new analog 2023. And with the benefits that we've seen vis-à-vis the formulation's impact on bioavailability, we see no need to further develop 2023. So we actually view this as a sign of success of the
strong collaboration between the R&D colleagues and the product supply colleagues who are able to constantly upgrade, you can say, the performance of oral semaglutide.

So on the injectable portfolio of incretin-like projects, if we
start with the most advanced first, that is obviously the combination between semaglutide and the amylin 833 compound. And those data out, as you correctly state, in the first half of next year. And based on what I know from preclinical experiments and the monotherapy over 7 weeks with amylin compound, they should be hopefully showing really
good weight loss data since this is in obese people is taking place. So we'll get back to that next year.
Then we have two agonists, a triple and a dual agonist ongoing in multiple dosing in Phase Ib, and that is, of course, the GIP/GLP-1/glucagon triple agonist and it's the GIP/GLP co-agonist. And those data are actually available later this year.
And then finally, we're gearing up for using sema, which we perceive to be both the anchor drug in several diseases but also the anchor drug partner in new to-be combination products. And therefore, we are also combining that expectedly with the once-weekly human GIP to optimize the ratio between these 2 incretins in the event that GIP actually turns out to play a role in human biology. That's still a bit uncertain at this point.

Novo Nordisk CSO, Mads Krogsgaard Thomsen, on the Novo Nordisk Q3 earnings call.
Eli Lilly president of Lilly Research Laboratories, Dan Skovronsky, had the following comments on their injectable tri-agonist and oral incretins.
Finally, I'd like to highlight two exciting diabetes programs. With our next generation injectable incretin GIP, GLP, glucagon, tri-agonist or GGG we're testing the hypothesis that adding glucagon to GIP/GLP will have more metabolic activity and stimulate additional weight loss.

The initial Phase 1 study, to study the safety of a single injection in healthy participants and we're now studying multiple doses including dose titration. We expect this program to enter Phase II by late 2020 or early 2021; just like the hurdle for tirzepatide to enter Phase III was a meaningful improvement over Trulicity, the bar here will be a step change over tirzepatide itself.

Additionally, our commitment to oral incretins has continued to increase as we advanced programs through development we seek to improve upon administration or efficacy. Our first oral incretin program which we licensed from Chugai last year is a small molecule non-peptide agonist of GLP-1 that entered Phase 1 earlier this year.

Our initial focus will be on pharmacokinetics with the expectation that it should be meaningfully better than a peptide as well as the pharmacodynamic response, which we should see even in Phase 1, this molecule could enter Phase 2 in early 2021; in addition to this approach, we're also pursuing dual GIP and GLP-1 receptor agonist peptides for oral delivery. These programs, which are designed to give tirzepatide like efficacy with a once-a-day oral peptide administration are also progressing preclinically and should enter Phase 1 next year. We look forward to tracking the progress of these assets over the coming years and we'll share additional pipeline updates on our next earnings call.

President of Lilly Research Laboratories, Dan Skovronsky, on the Eli Lilly Q3 earnings call.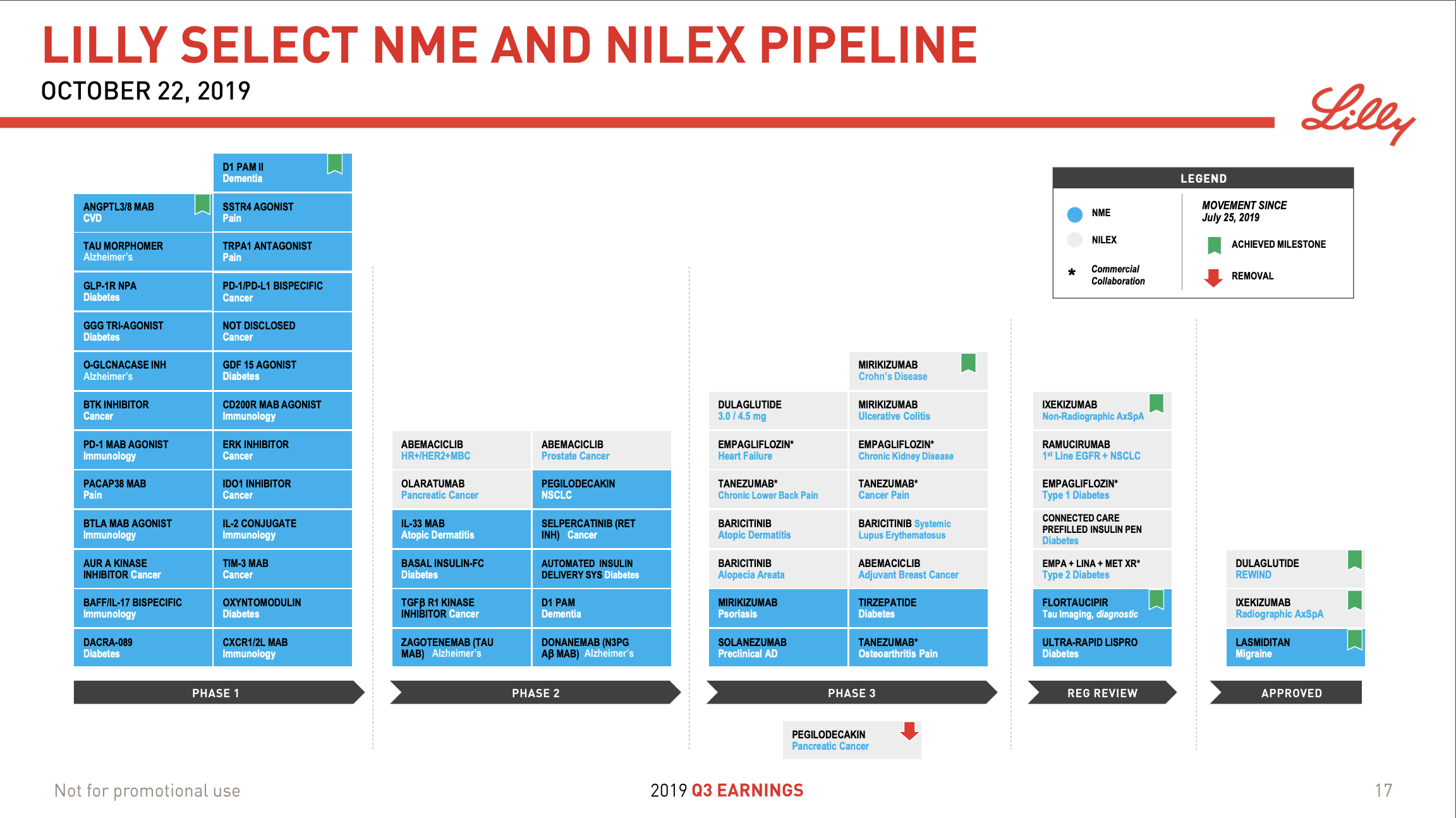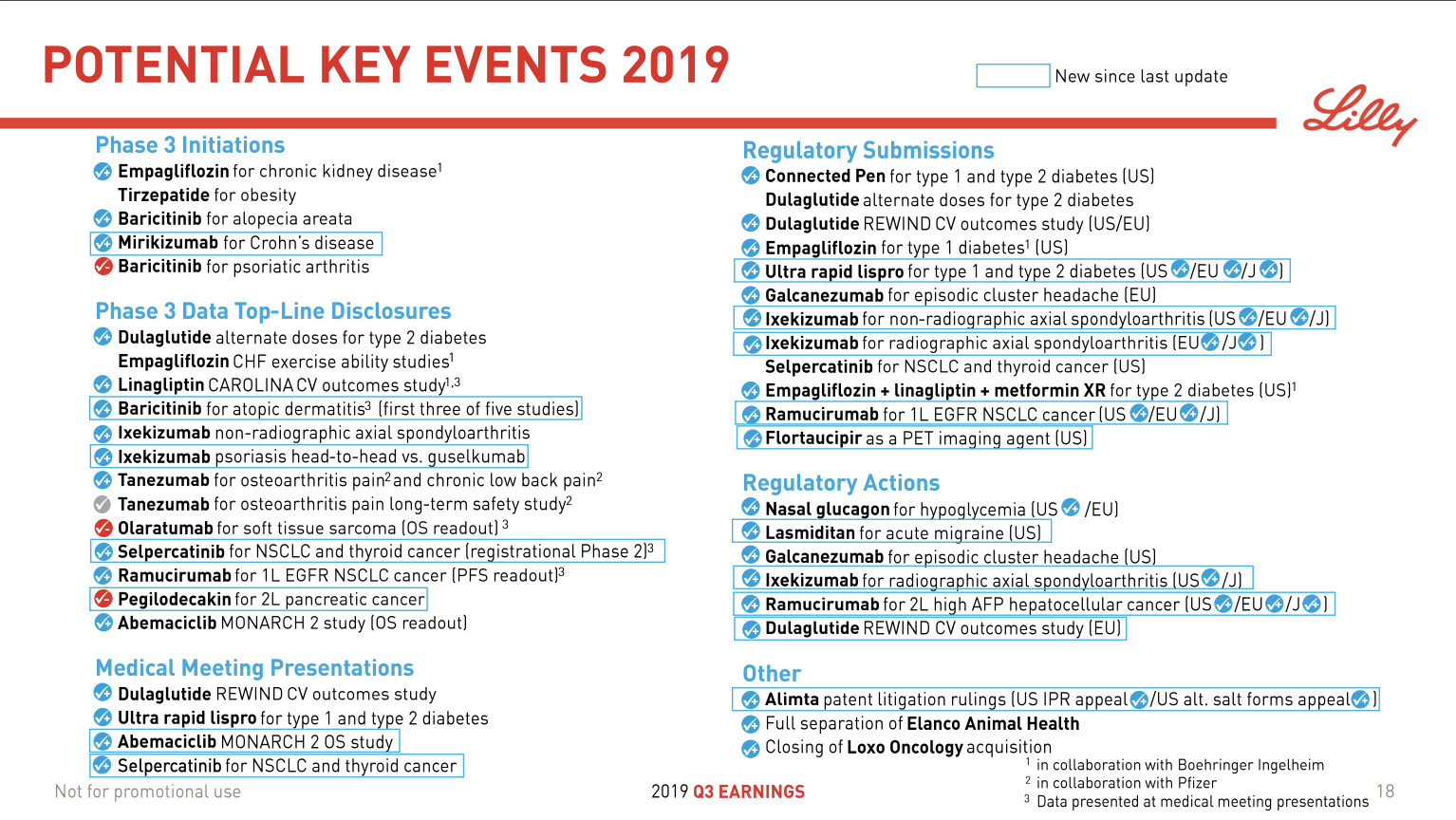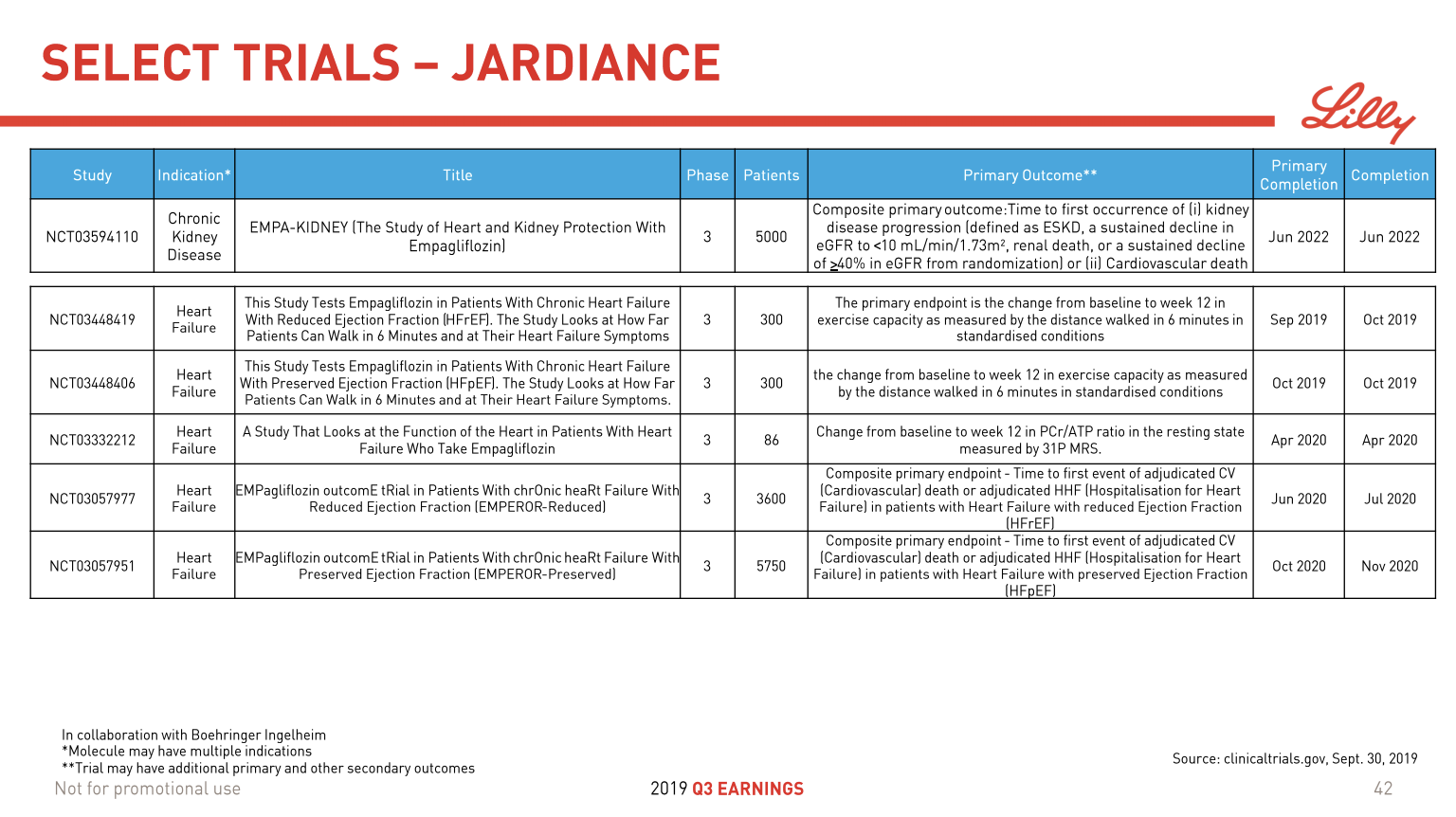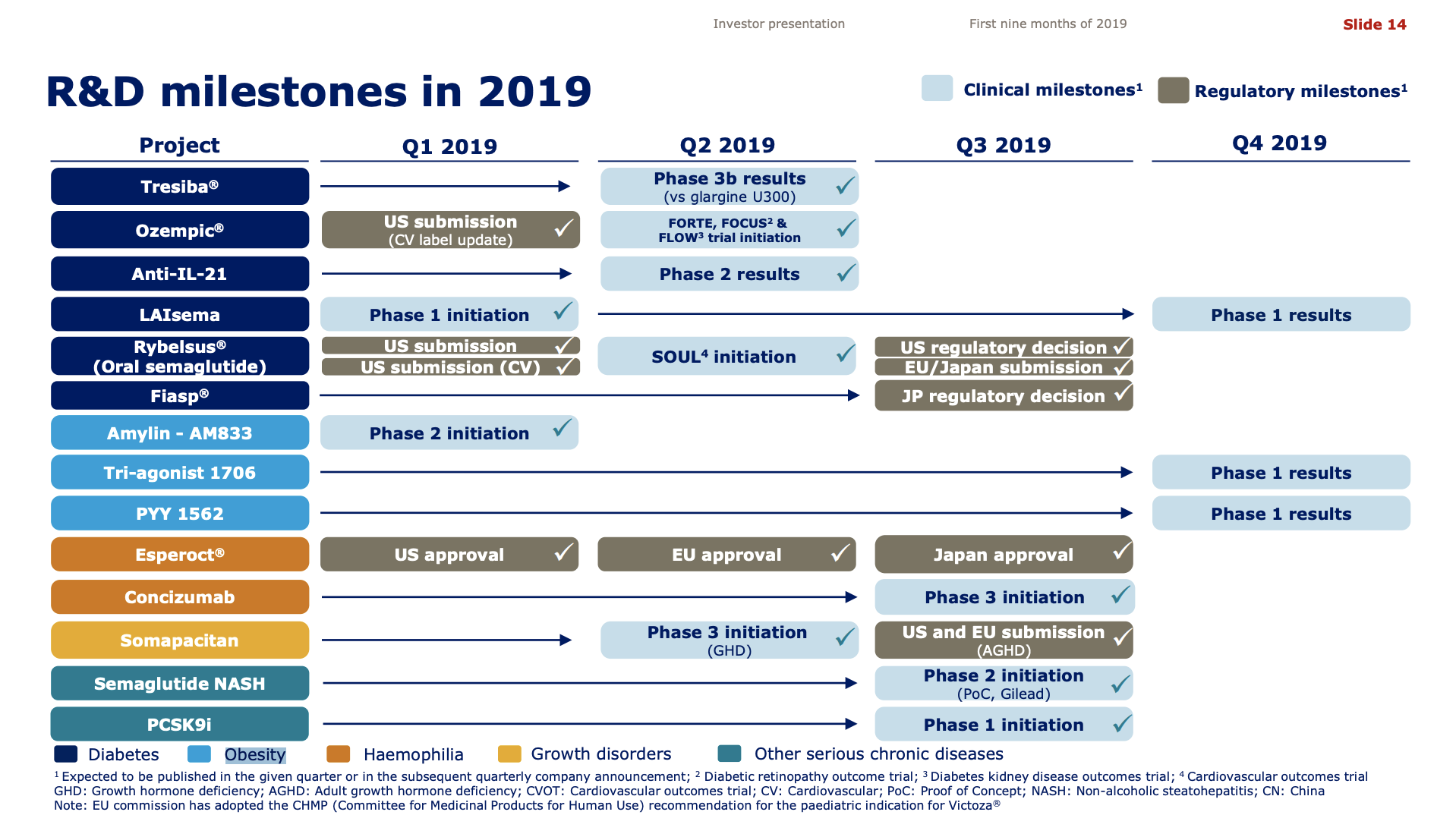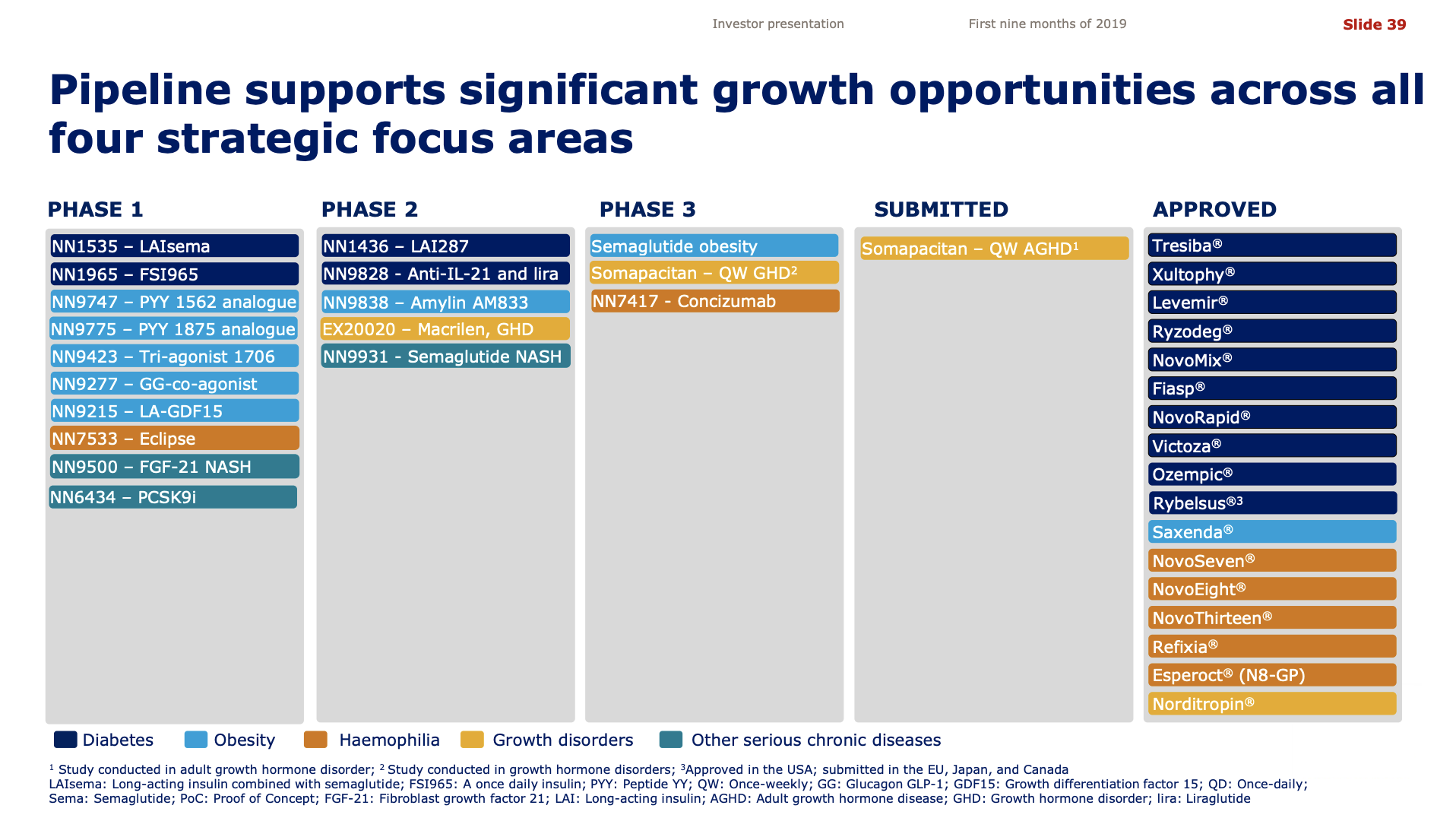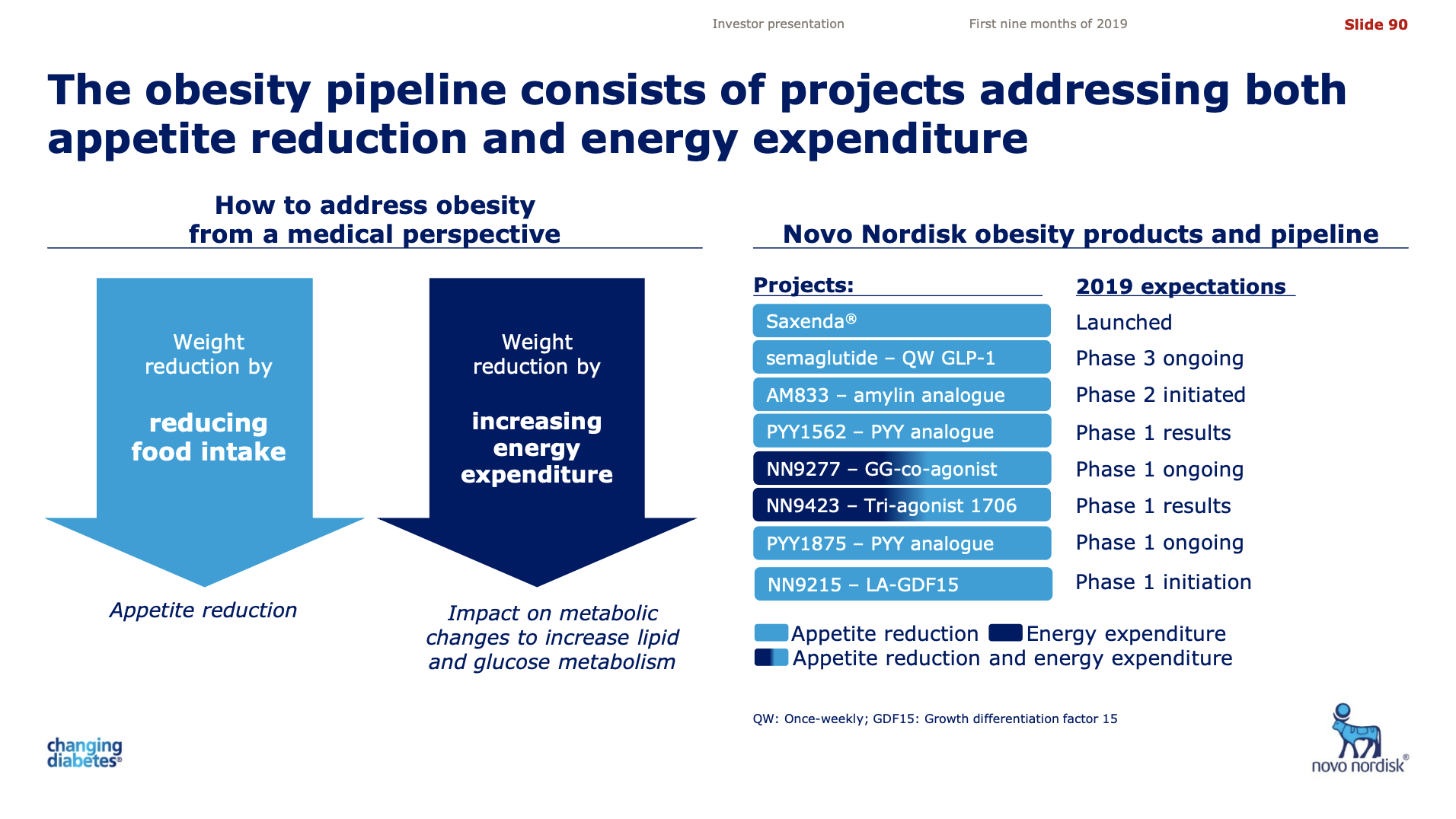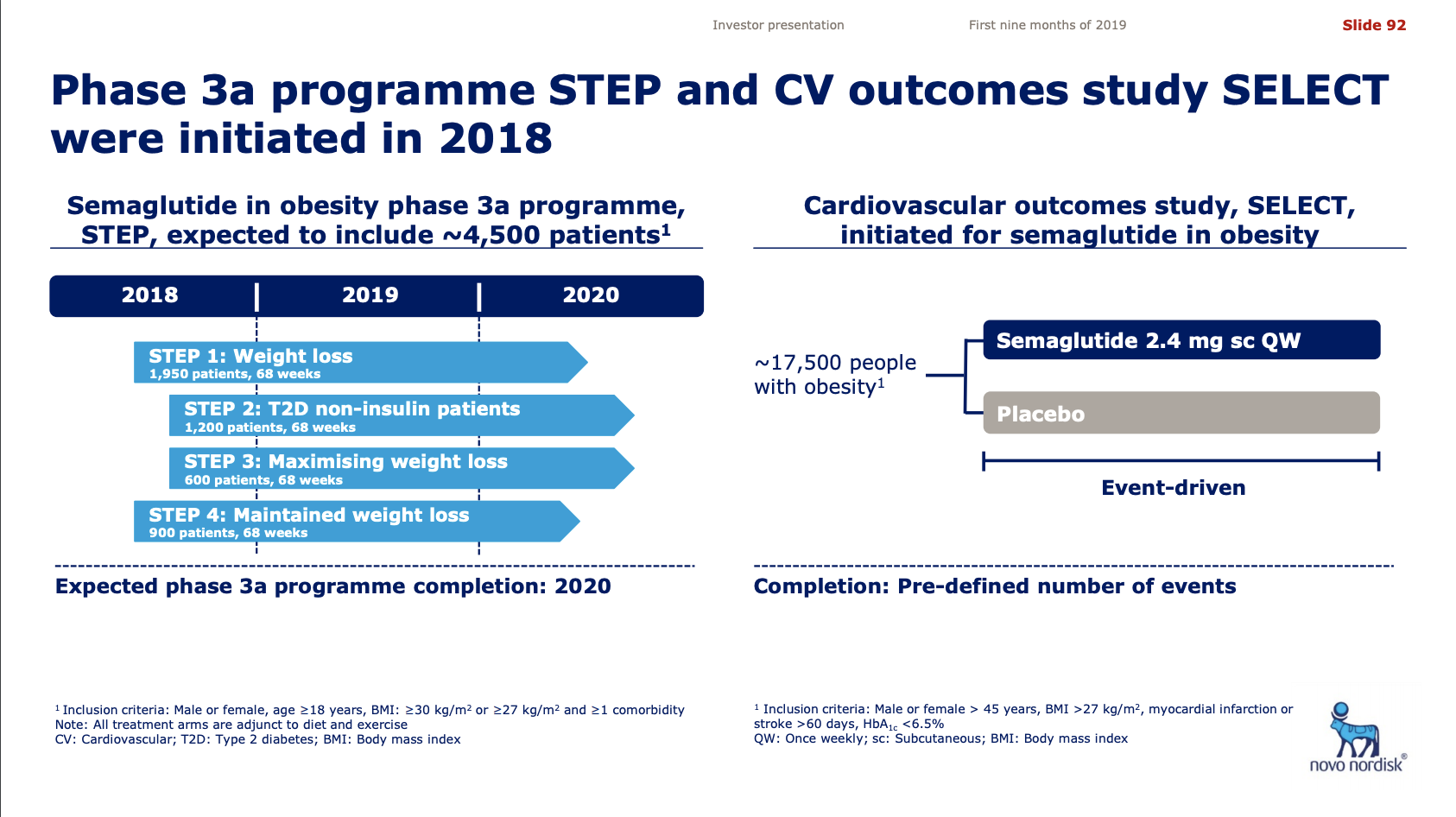 Press releases
Novo Nordisk – Novo Nordisk's operating profit increased by 11% in Danish kroner and by 5% at constant exchange rates (CER) in the first nine months of 2019
Eli Lilly – Lilly Reports Strong Third-Quarter 2019 Financial Results, Raises 2019 EPS Guidance
Media coverage
Reuters – Novo Nordisk nudges up 2019 sales outlook as new drugs excel
Bloomberg – Novo CEO Jorgensen on Biopharma, Insulin Prices, Innovation
Reuters – Sales of Eli Lilly diabetes drug Trulicity fall short, shares drop