Novo Nordisk continues to succeed in the GLP-1 space with semaglutide (Ozempic®, Rybelsus® and Wegovy®).
Highlights of the quarter include initiation of phase 3a trials with oral semaglutide in obesity and ziltivekimab in cardiovascular disease. Novo Nordisk now has late stage clinical trials in all of their therapy areas.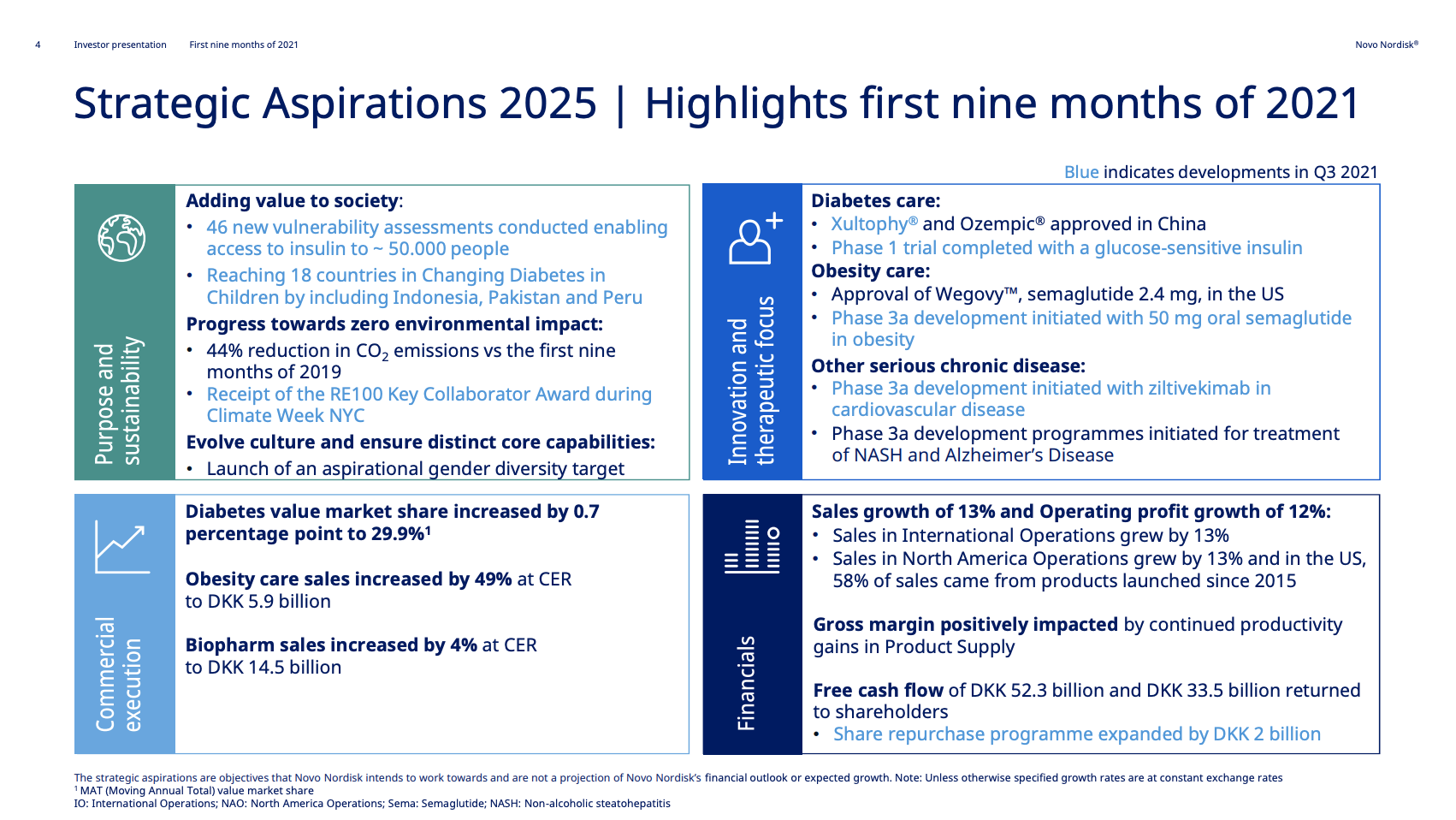 Ozempic® continues to be one of the fastest growing drugs in the world. It was approved in China in May 2021, but is still outsold by Victoza® there, whereas it is the best selling GLP-1 for Novo Nordisk in all other markets.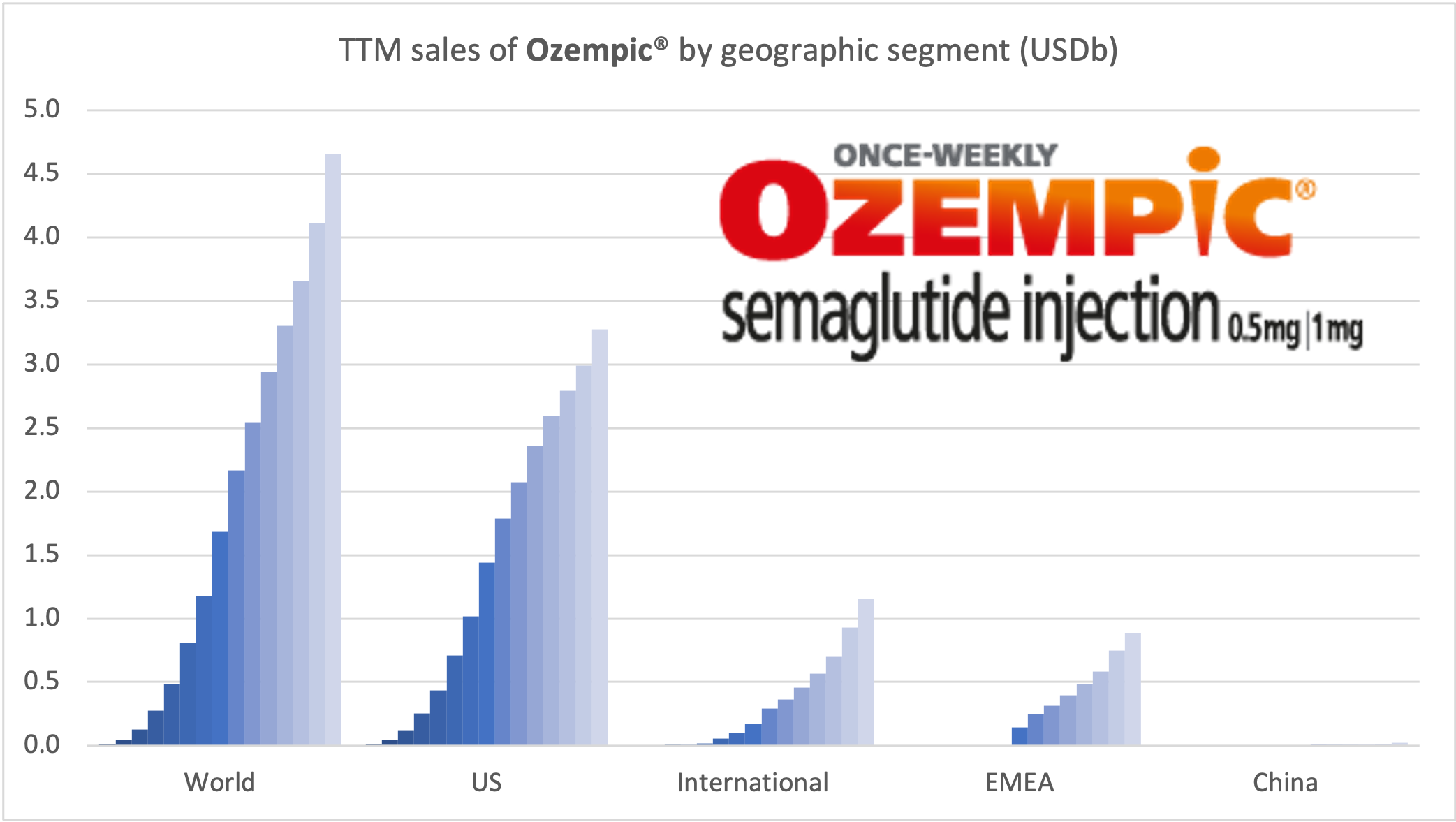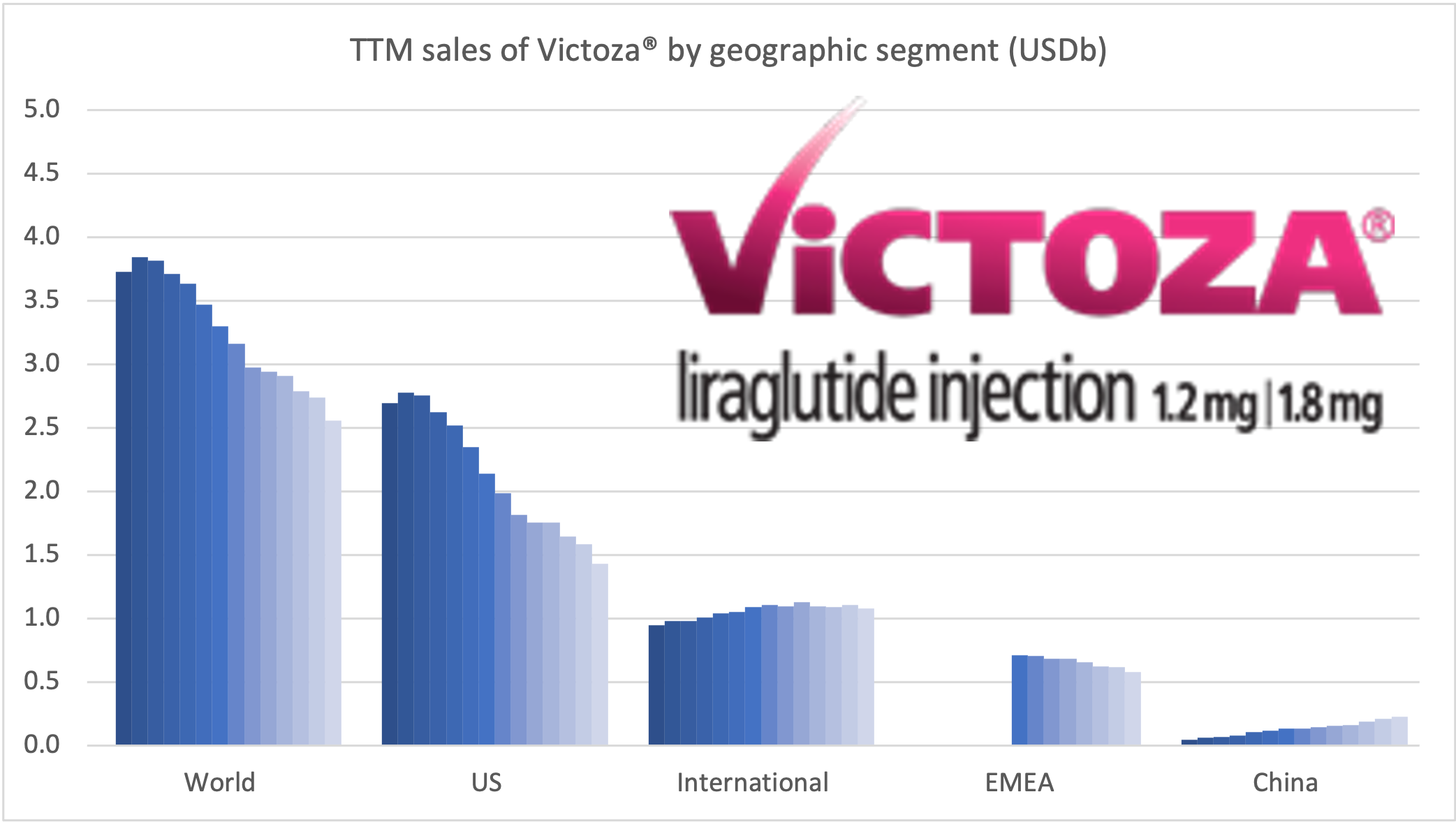 Rybelsus® was approved in the EU in April 2020, but it is yet to pick up momentum there. Sales in the US have reached DKK 1,199 (USD 189M).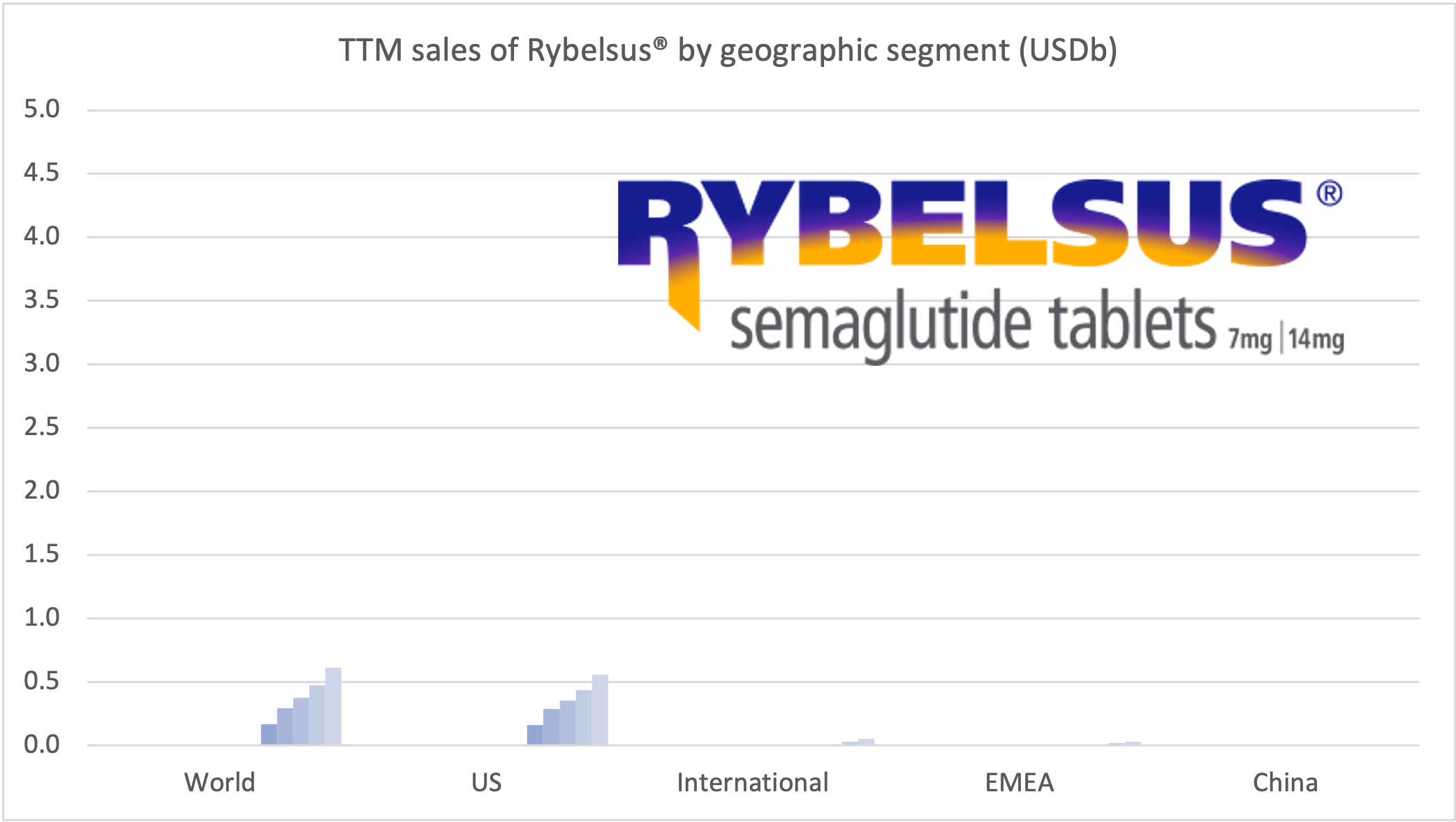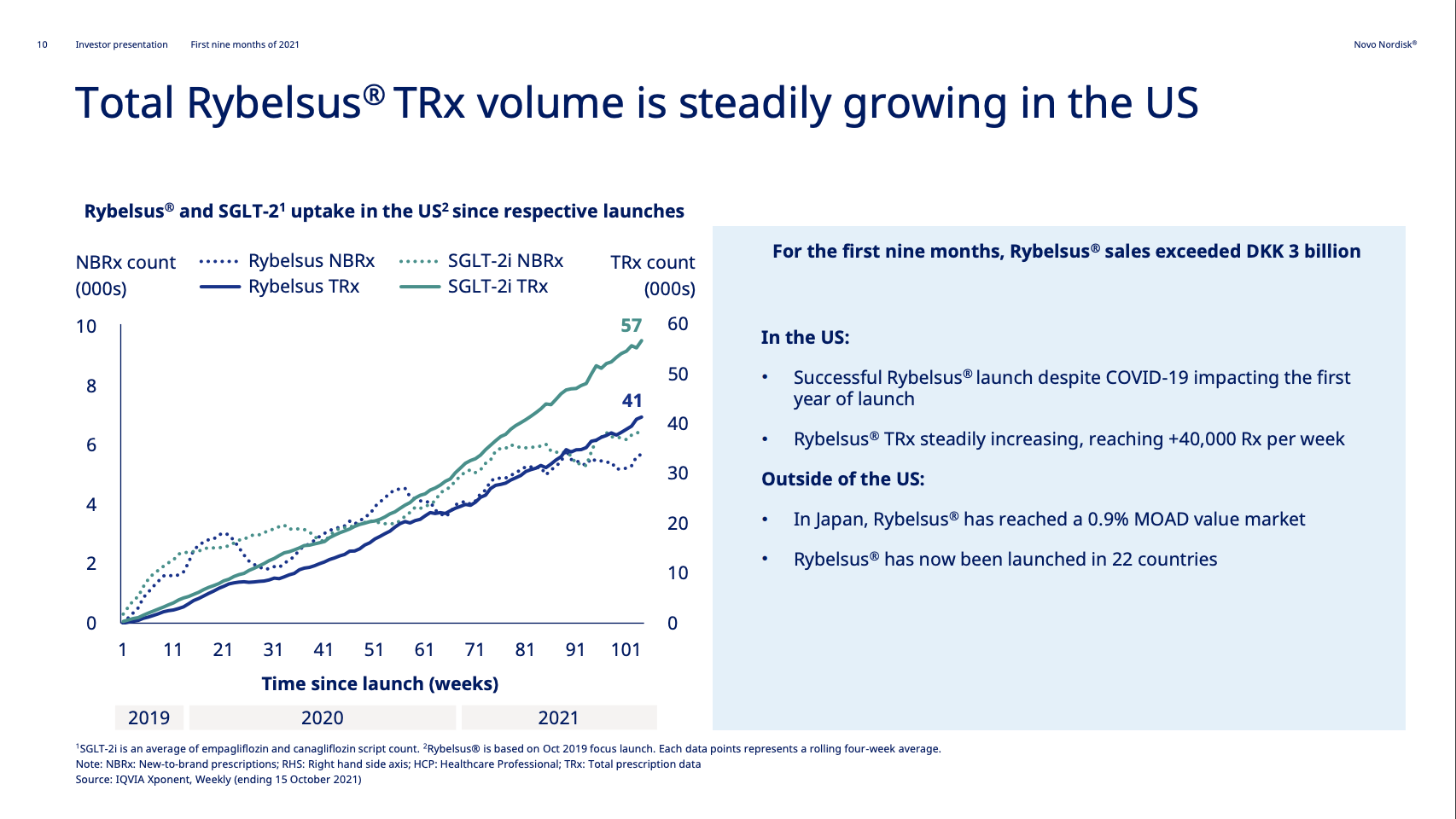 Wegovy® has experienced an excellent launch with ~17k prescriptions 19 weeks after launch. There are currently production bottlenecks. The CEO hopes for supply to catch up with demand by early 2022. The CEO encourages competition to grow the obesity category. Reported sales are currently lumped together with Saxenda®, but a sales breakdown will be made in 2022 according to the CEO. The STEP5 clinical trial results were released, in which Wegovy® demonstrated significant and sustained weight loss in two-year study in adults with obesity.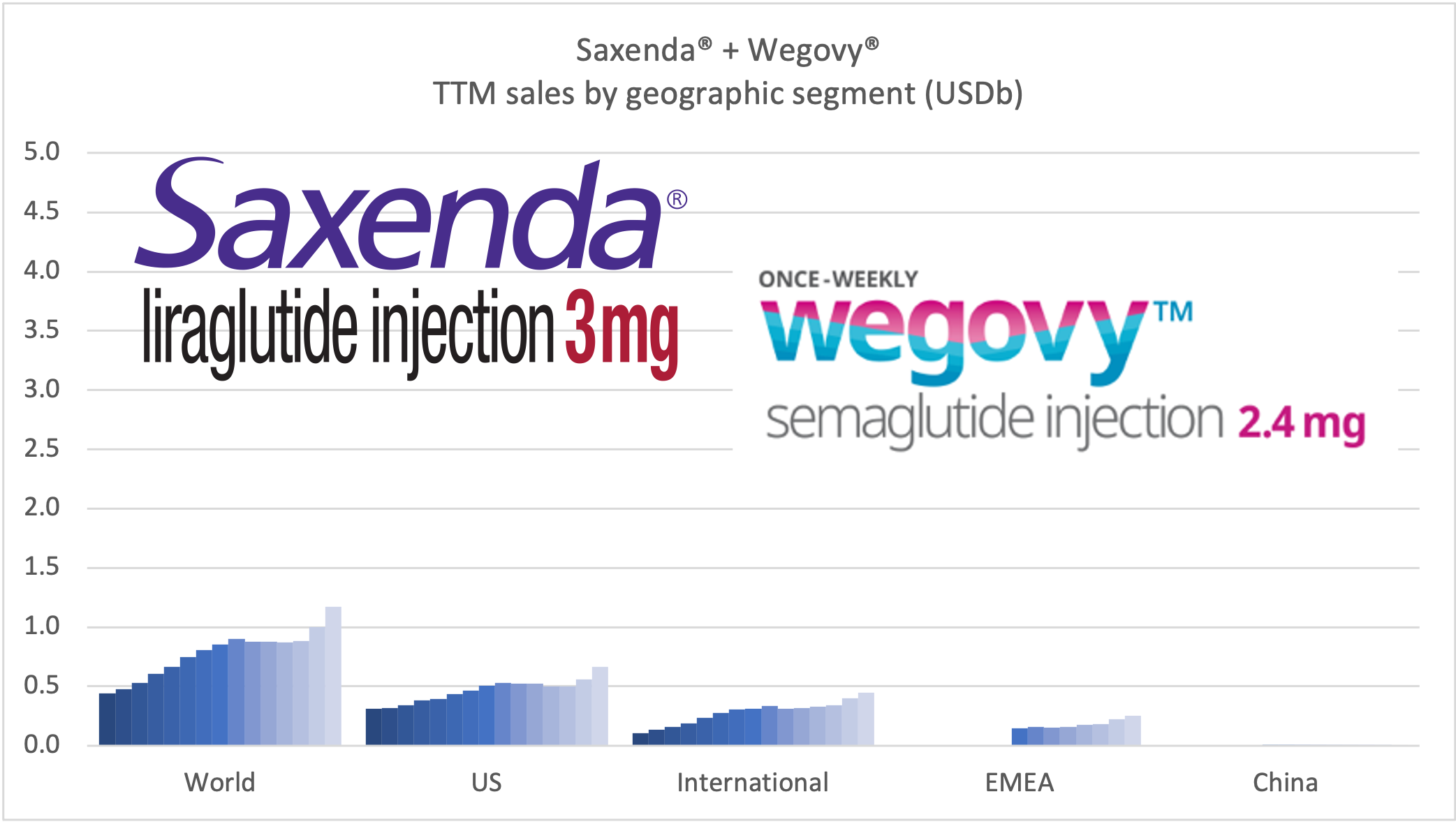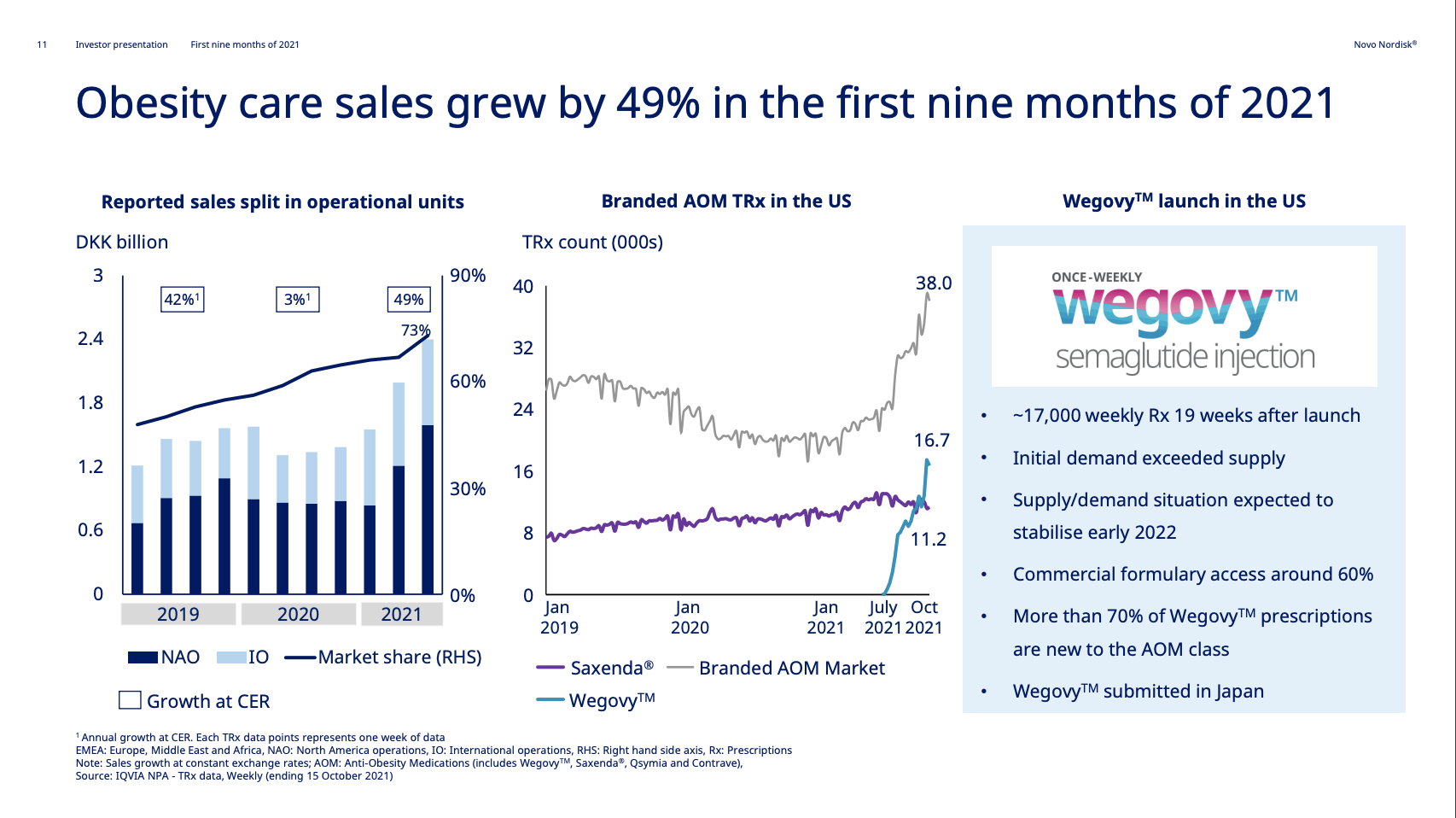 Tresiba® is growing in all markets except the US. The growth is happening at the expense of Levemir®. Looking at the US implosion of insulin sales this might lead one to question, whether there is a particularly bright future for glucose sensitive insulin (phase 1) and once-weekly insulin icodec (phase 3a).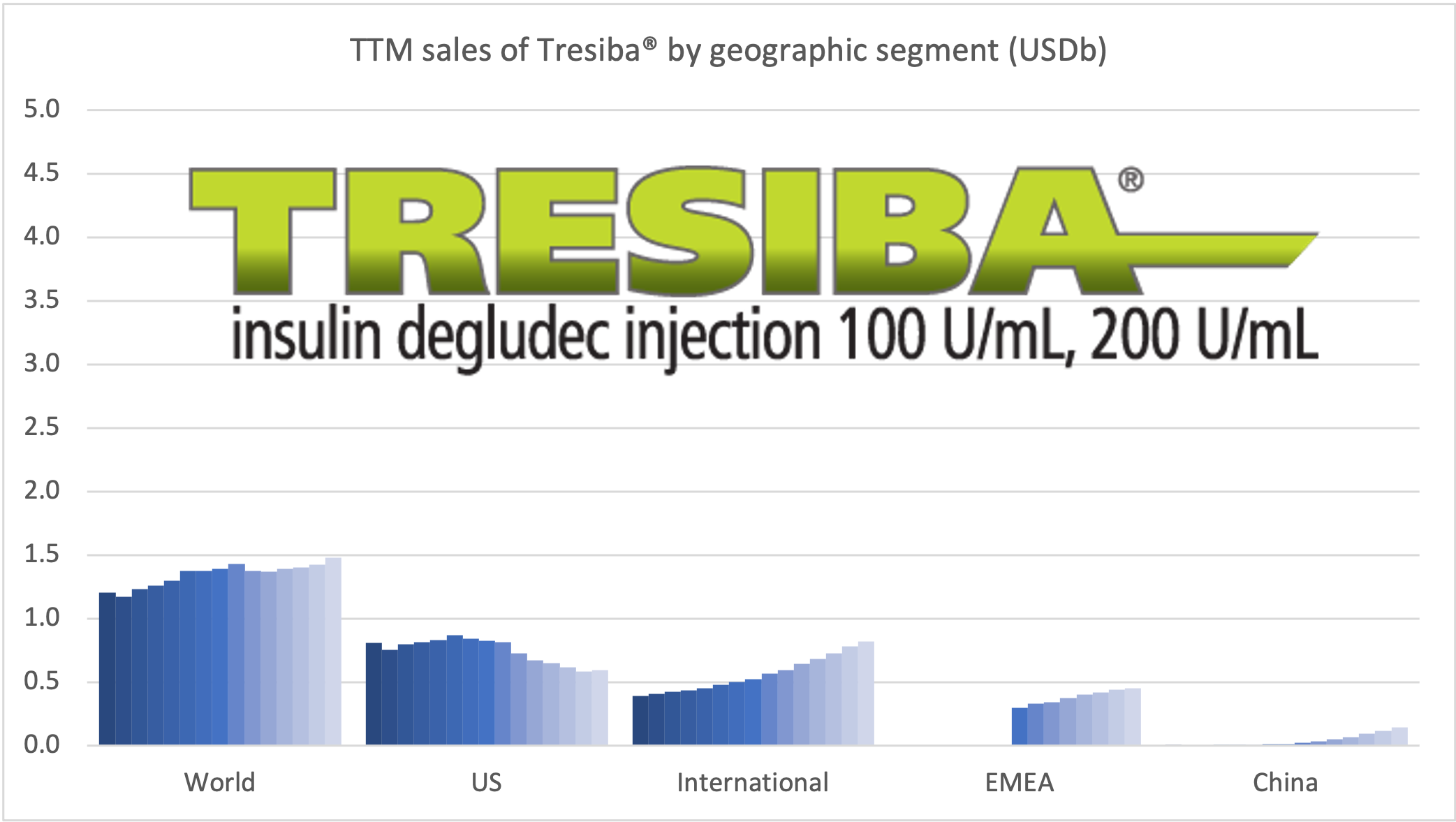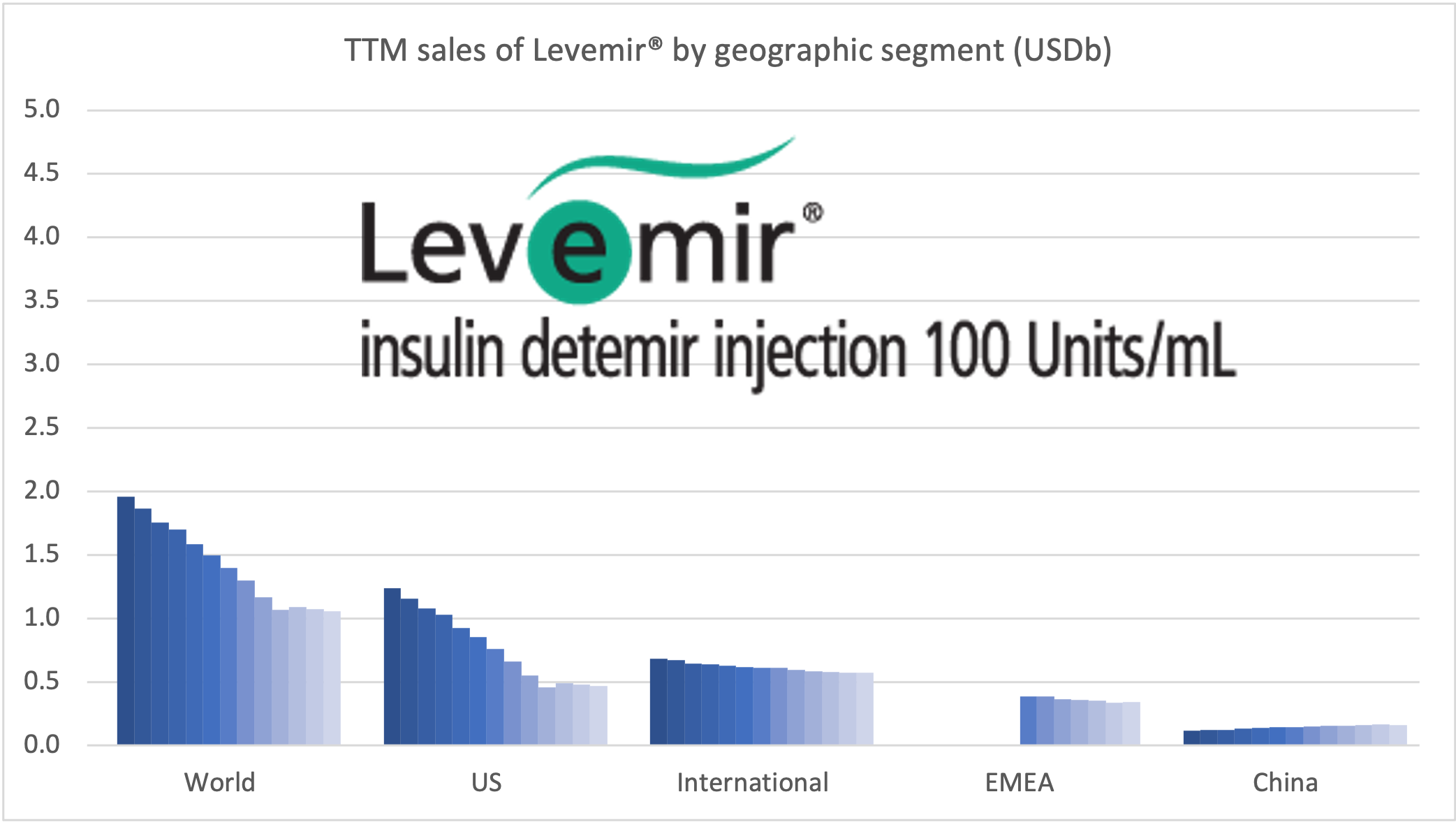 Pipeline
With initiation of two phase 3 programs within obesity and other serious chronic diseases, Novo Nordisk now has ongoing late-stage clinical trials within all of its therapy areas. The new phase 3 trials are the OASIS I trial (NCT05035095) for oral semaglutide in obesity and the ZEUS trial (NCT05021835) for Ziltivekimab.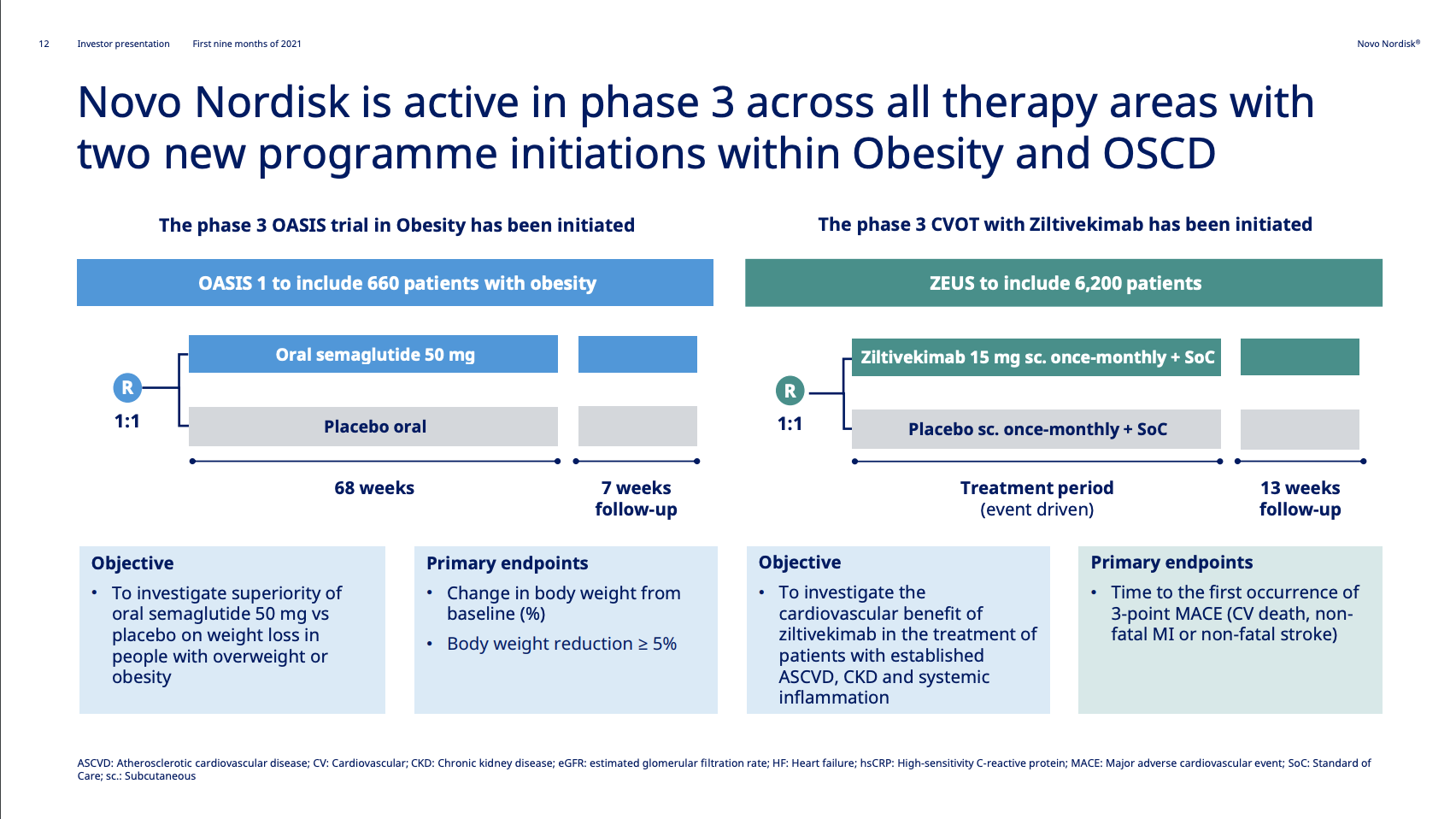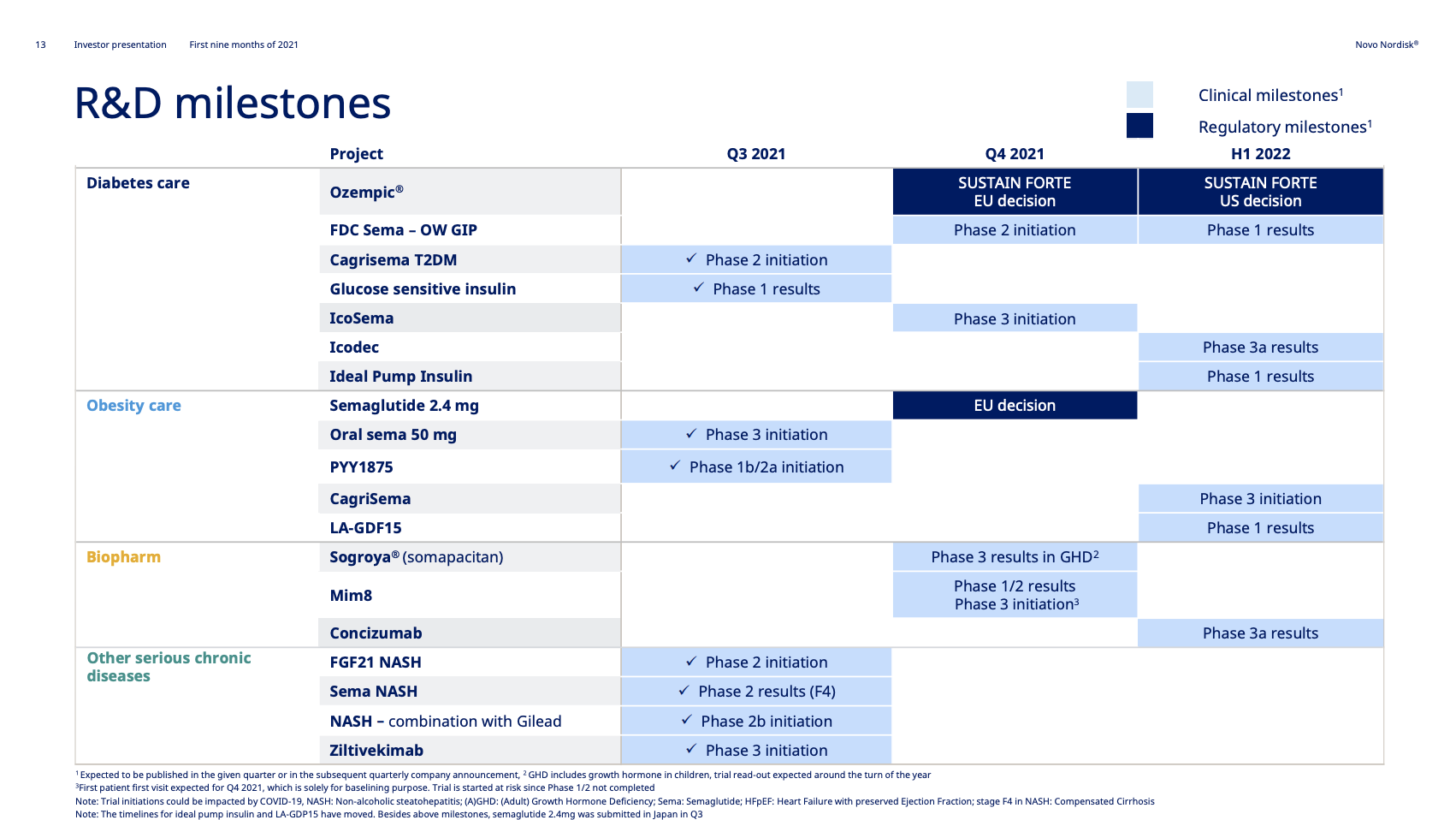 Ziltivekimab
Novo Nordisk acquired Ziltivekimab from Corvidia Therapeutics in 2020 to expand their presence in cardiovascular disease.
The ZEUS clinical trial (NCT05021835) is a research study to look at how Ziltivekimab works compared to placebo in people with cardiovascular disease, chronic kidney disease and inflammation.The study is conducted to see if ziltivekimab reduces the risk of having cardiovascular events (for example heart attack and stroke) in people with cardiovascular disease (CVD), chronic kidney disease (CKD) and inflammation.
It follows the completion of the phase 2 RESCUE trial. The aim is to have at least one CVD product approved and launched between 2024 and 2028.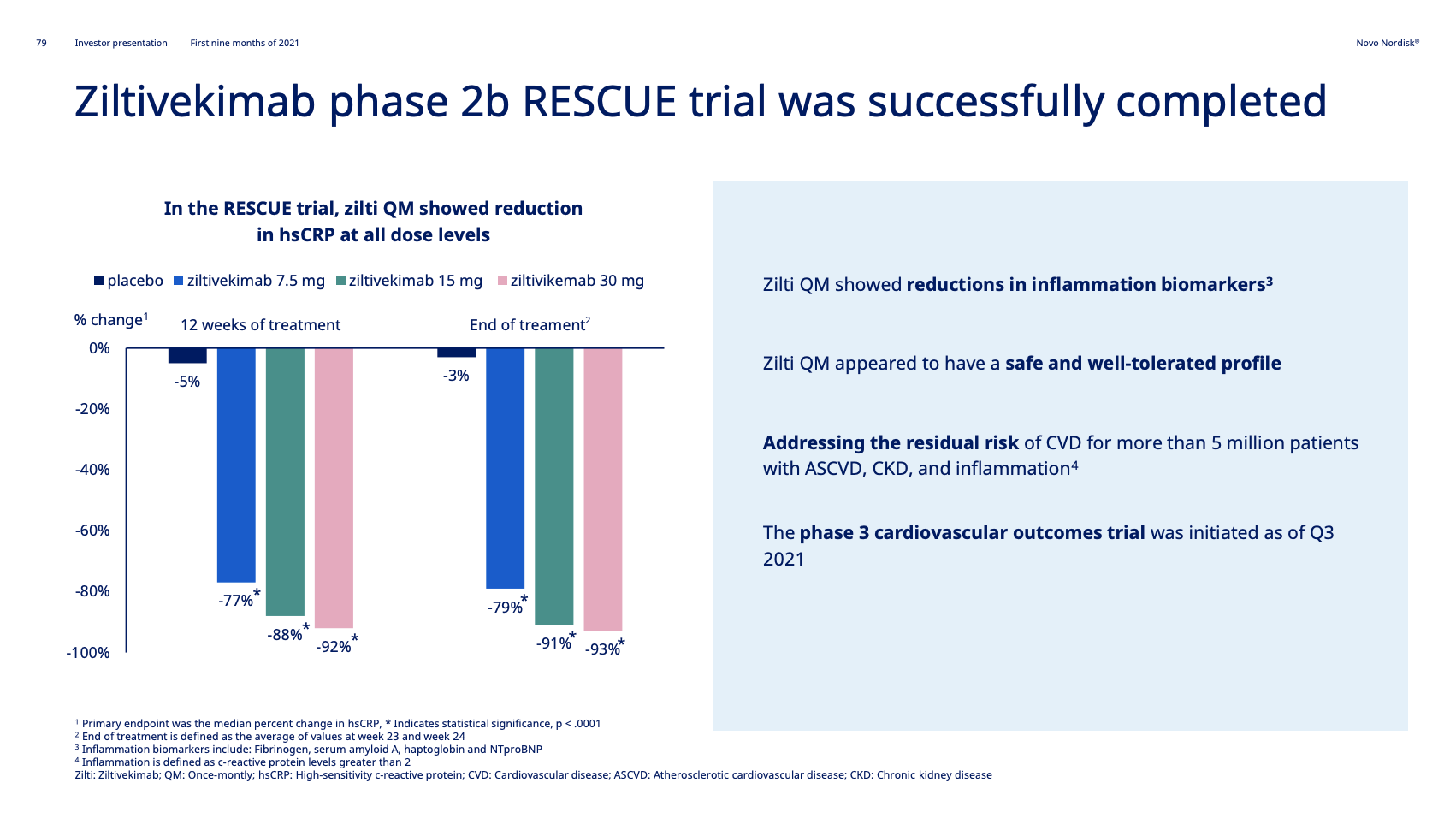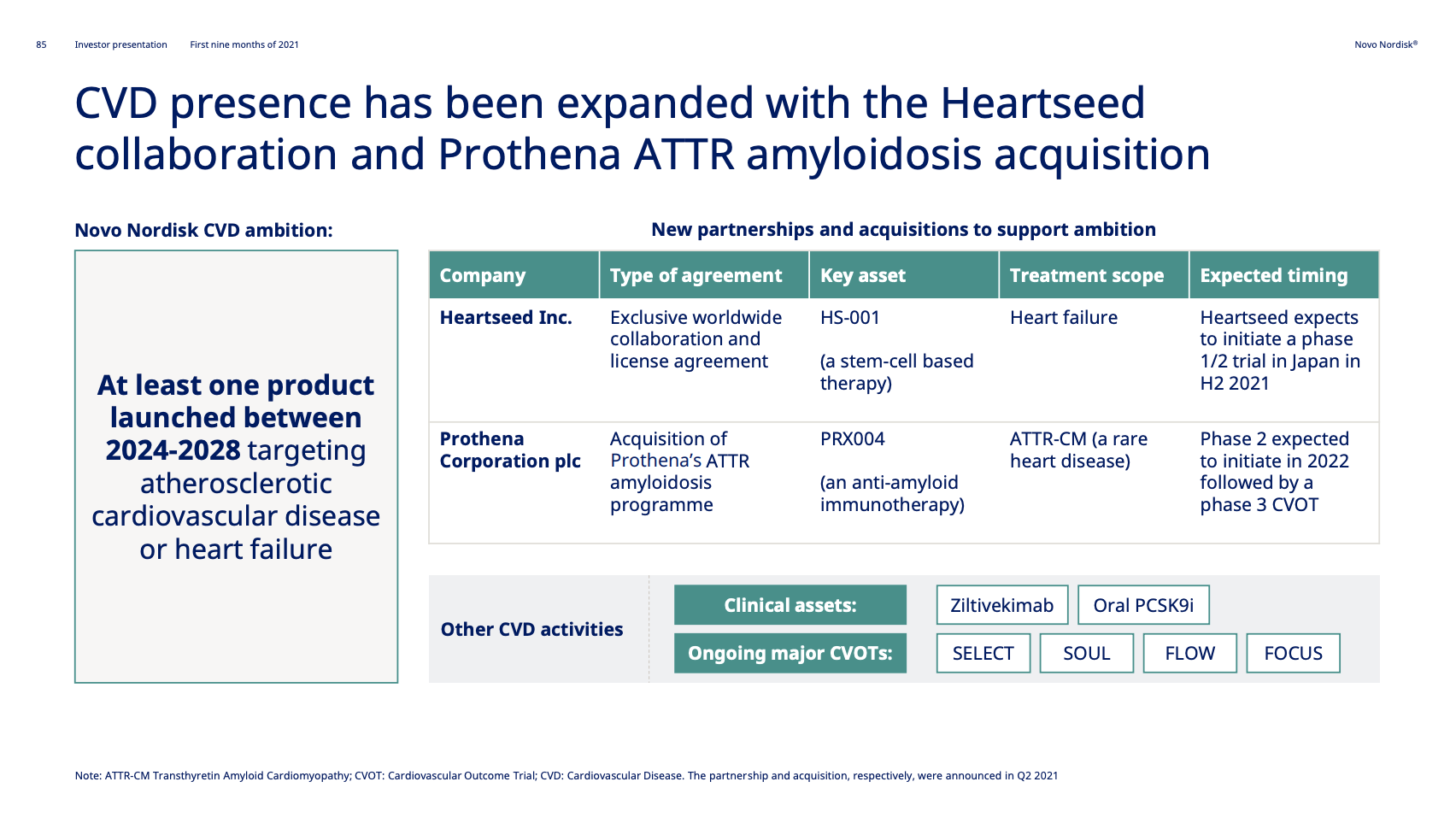 Oral semaglutide in obesity
The OASIS I trial (NCT05035095) investigates oral semaglutide in terms of weight loss in overweight individuals. The trial has an estimated completion date in H1 2023 just like the SURMOUNT-4 study (NCT04660643) of Tirzepatide in obesity from Eli Lilly. Semaglutide would be the first oral GLP1 in obesity.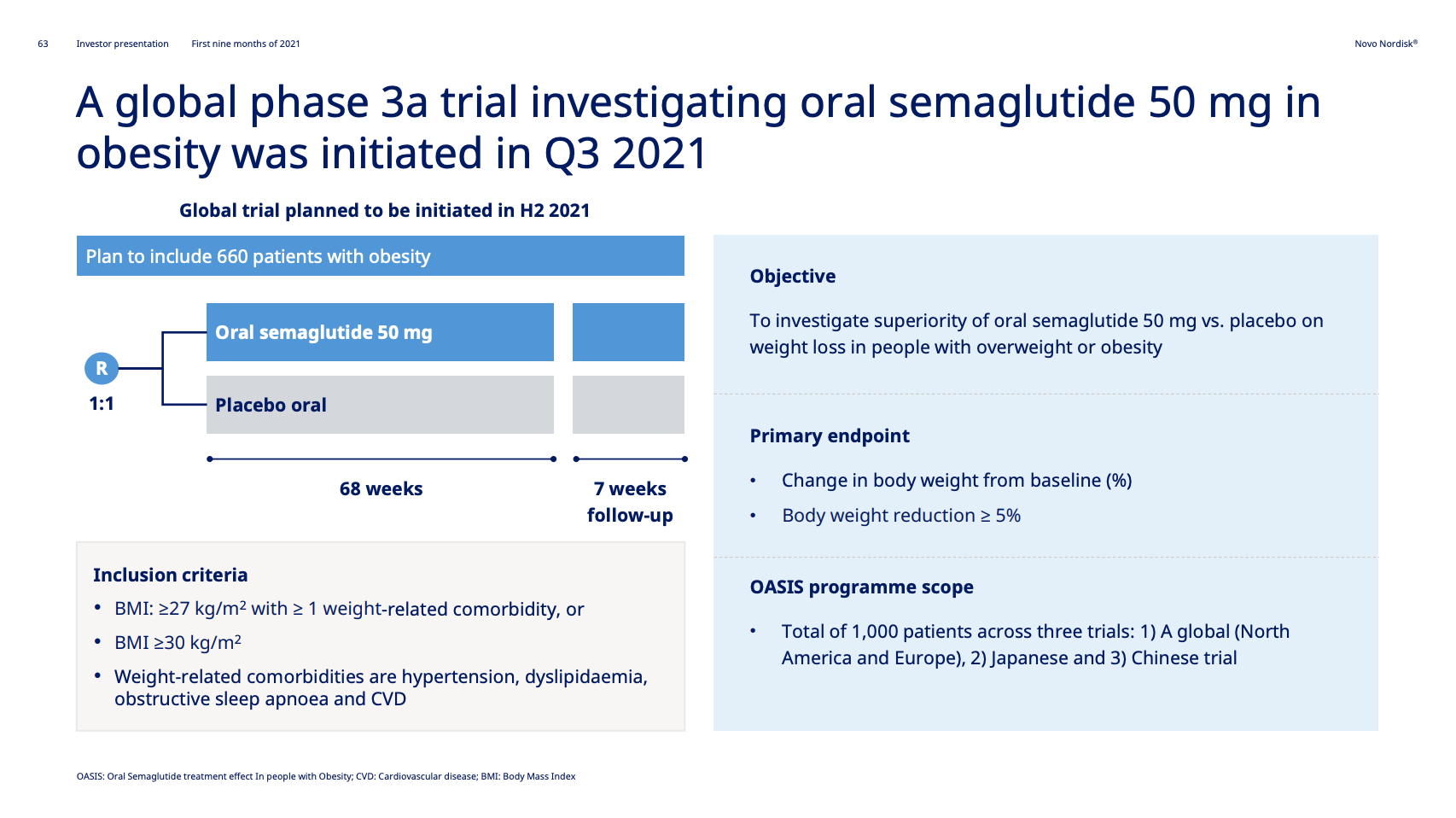 Competition
Jardiance® from Boehringer Ingelheim and Eli Lilly is the best selling SGLT2 drug and has recently shown consistent cardio-renal benefits in adults with heart failure.
Tirzepatide from Eli Lilly was shown in March in the SURPASS-2 study (NCT03987919) to achieve superior A1C and body weight reductions compared to injectable semaglutide in adults with type 2 diabetes. FDA and EMA approval and launch is expected in 2022. A priority review is expected 8 months after submissions.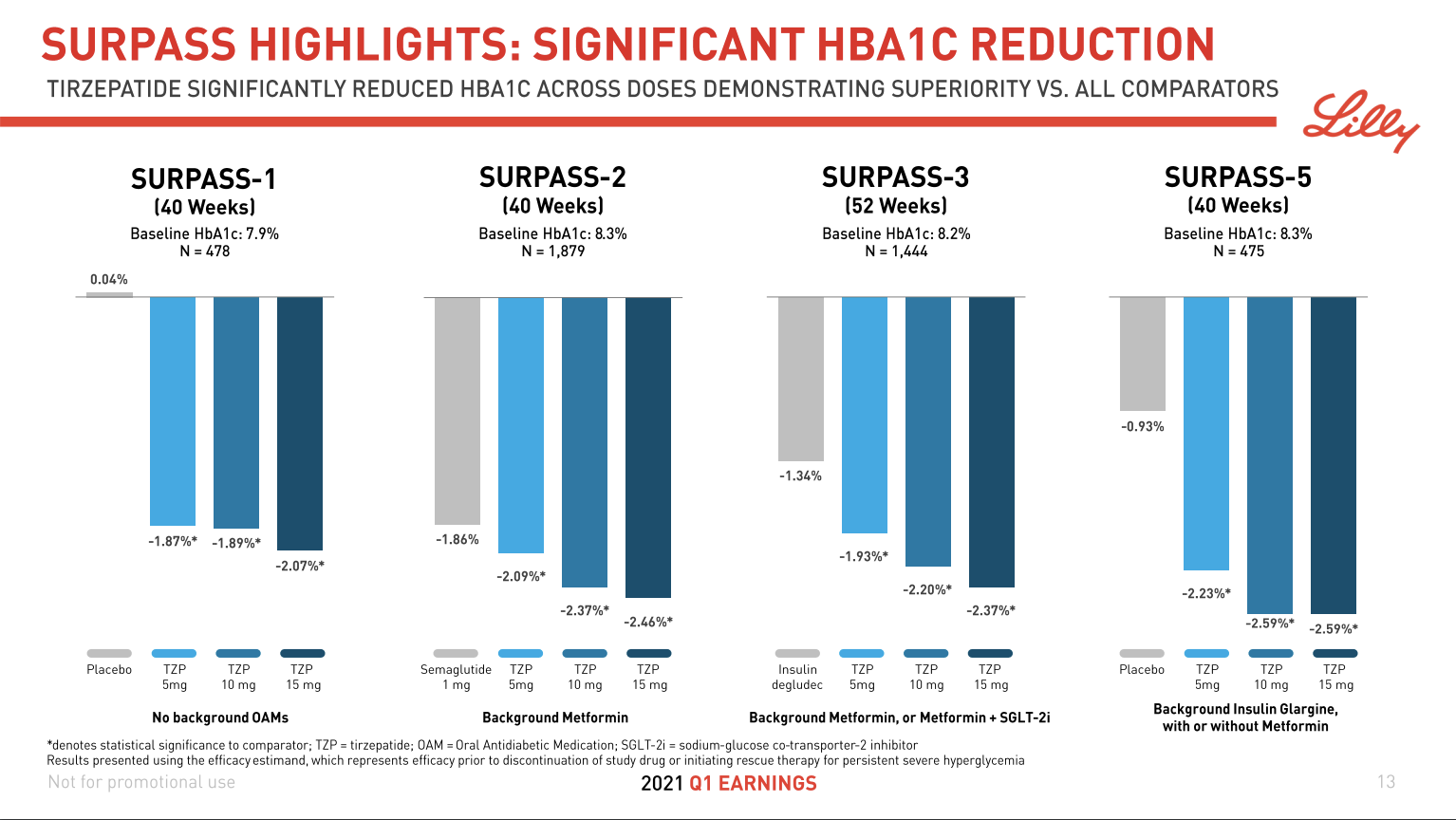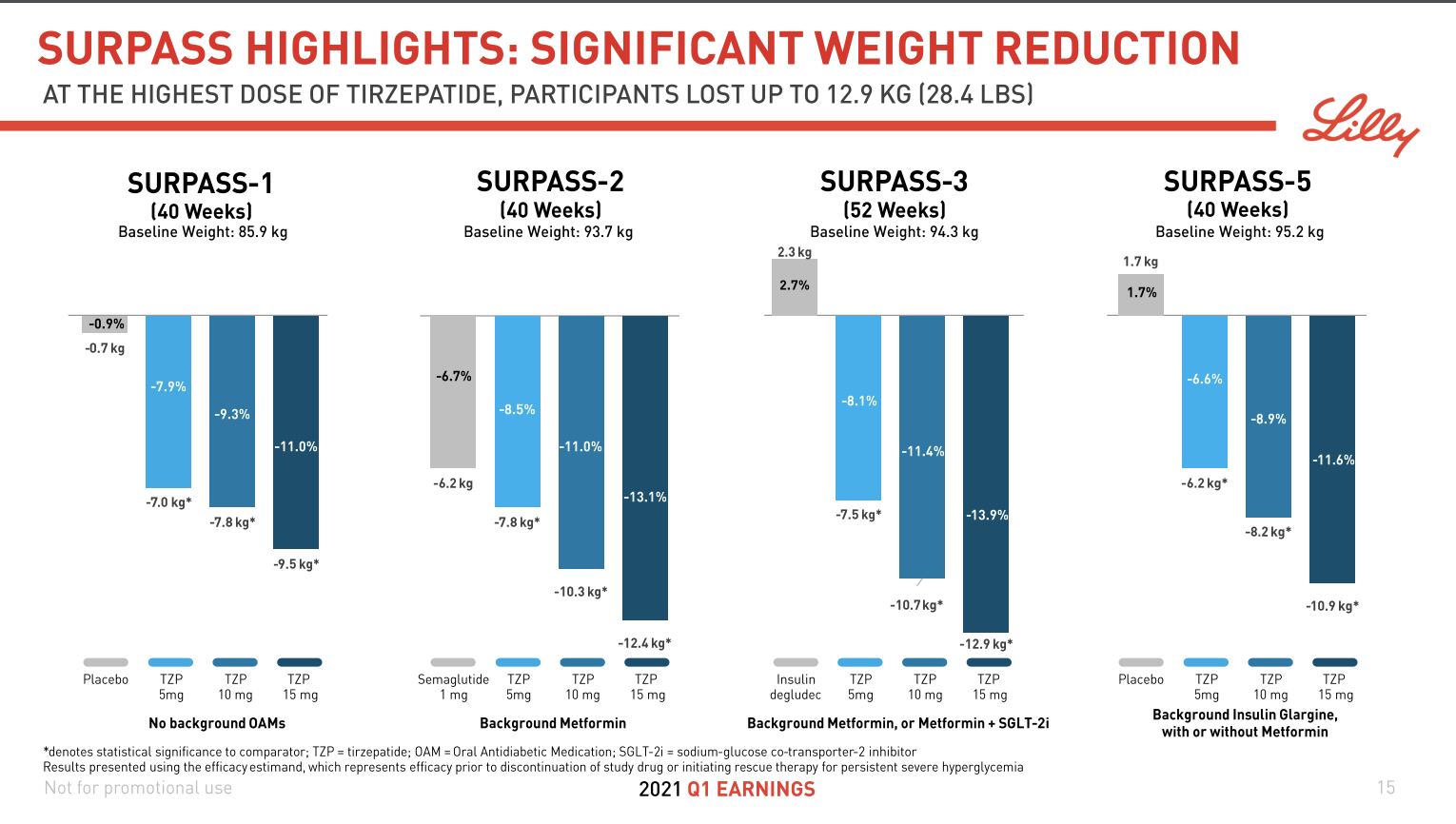 Danuglipron (PF-06882961) in type 2 diabetes is a small molecule drug (SMD) and GLP1 receptor agonist. It is being developed by Pfizer and phase 1 results have been published.
Links
Transcript at fool.com.
Blog post on previous quarter.
Reuters summary of the quarter.
Appendix
Sales of anti-diabetic drugs by geography for Novo Nordisk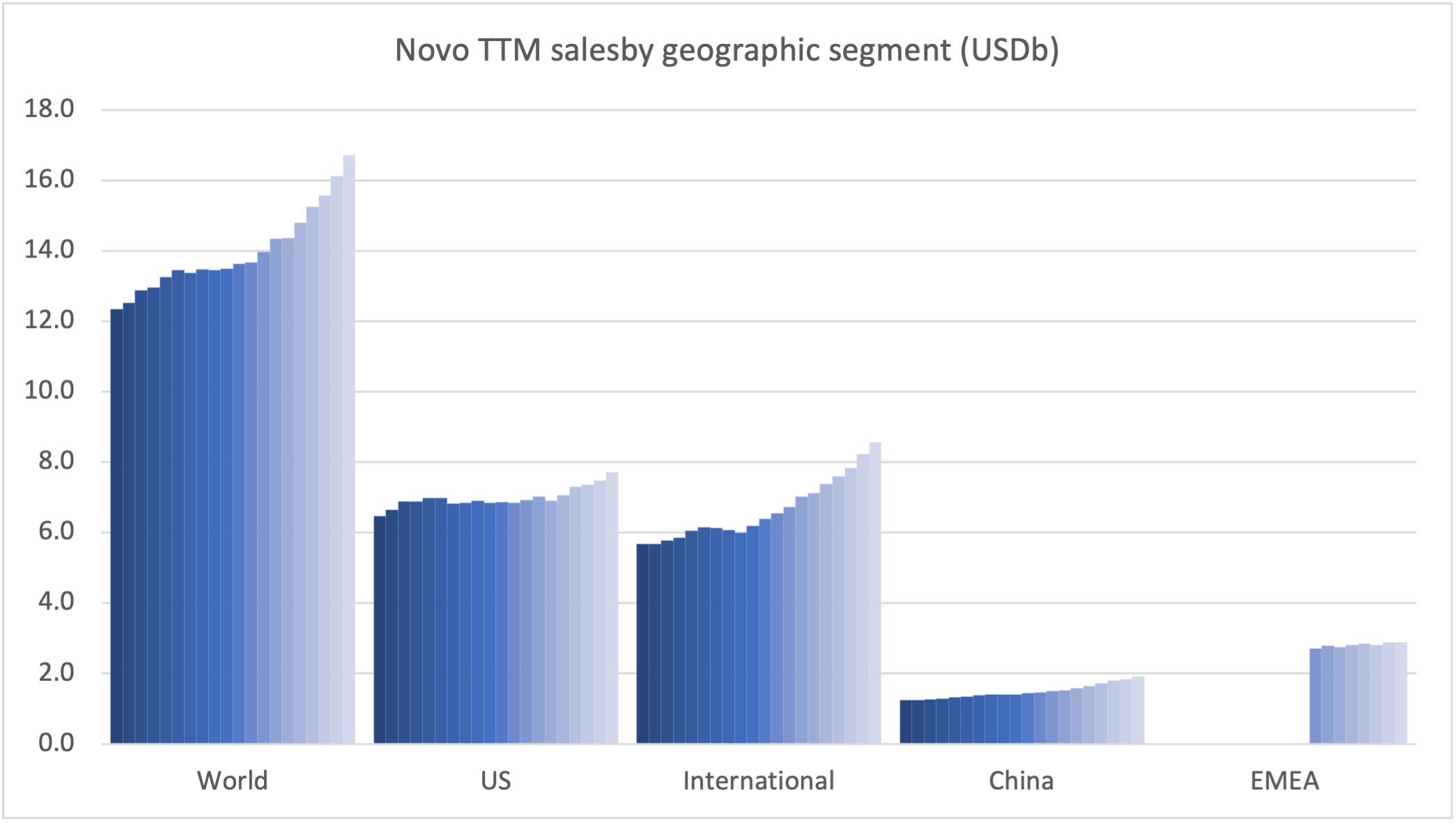 Sales of anti-diabetic drugs across companies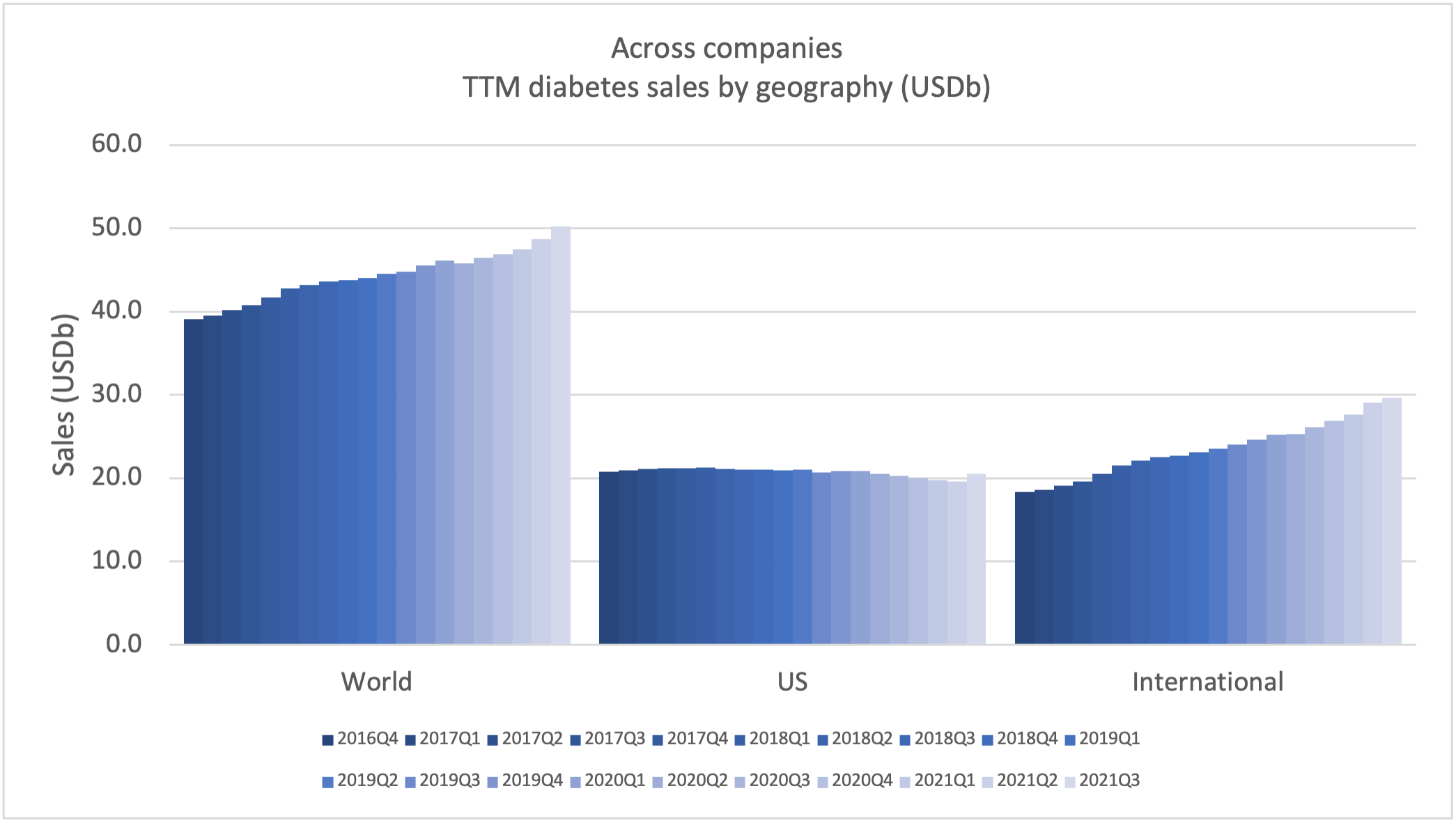 Sales of anti-diabetic drugs by class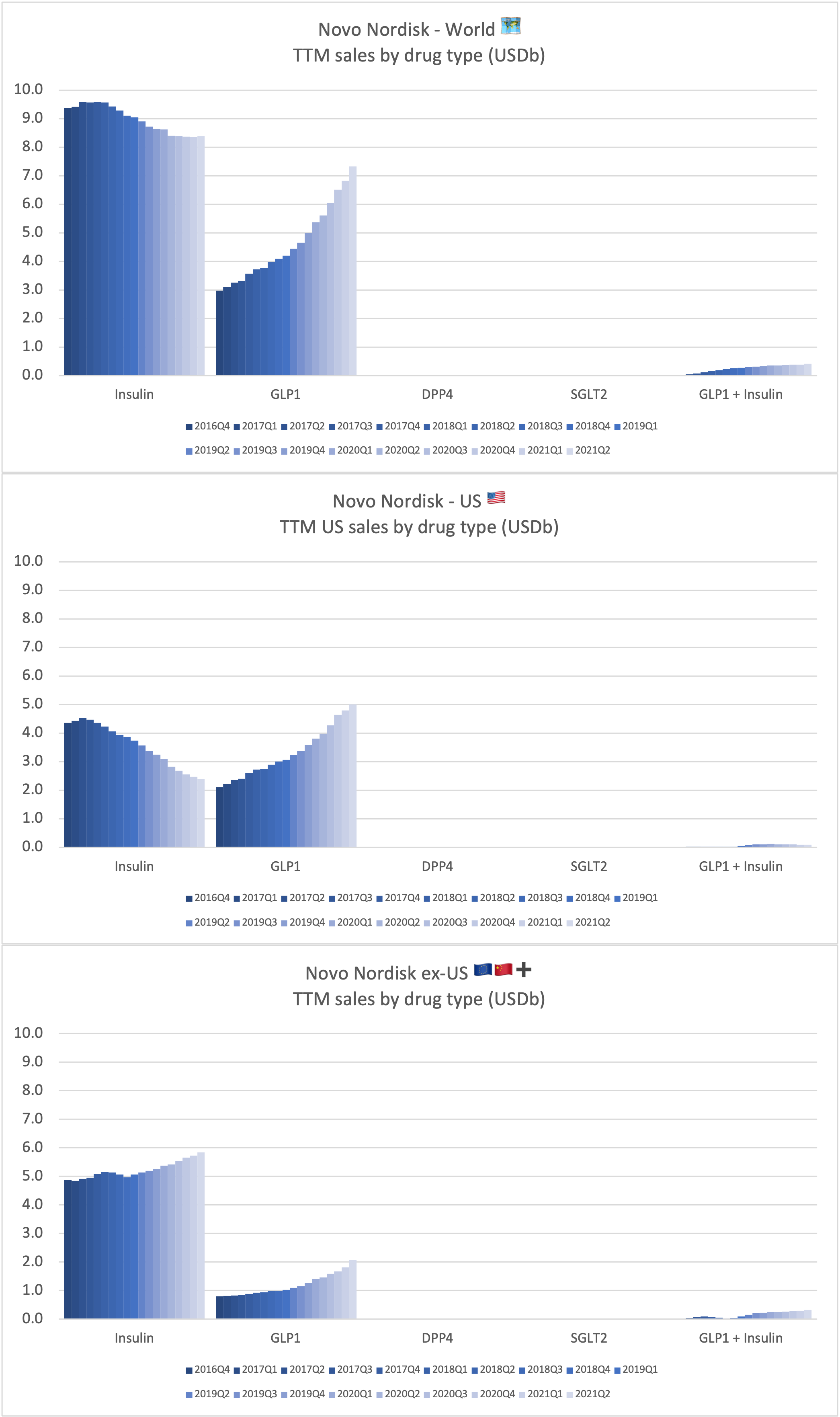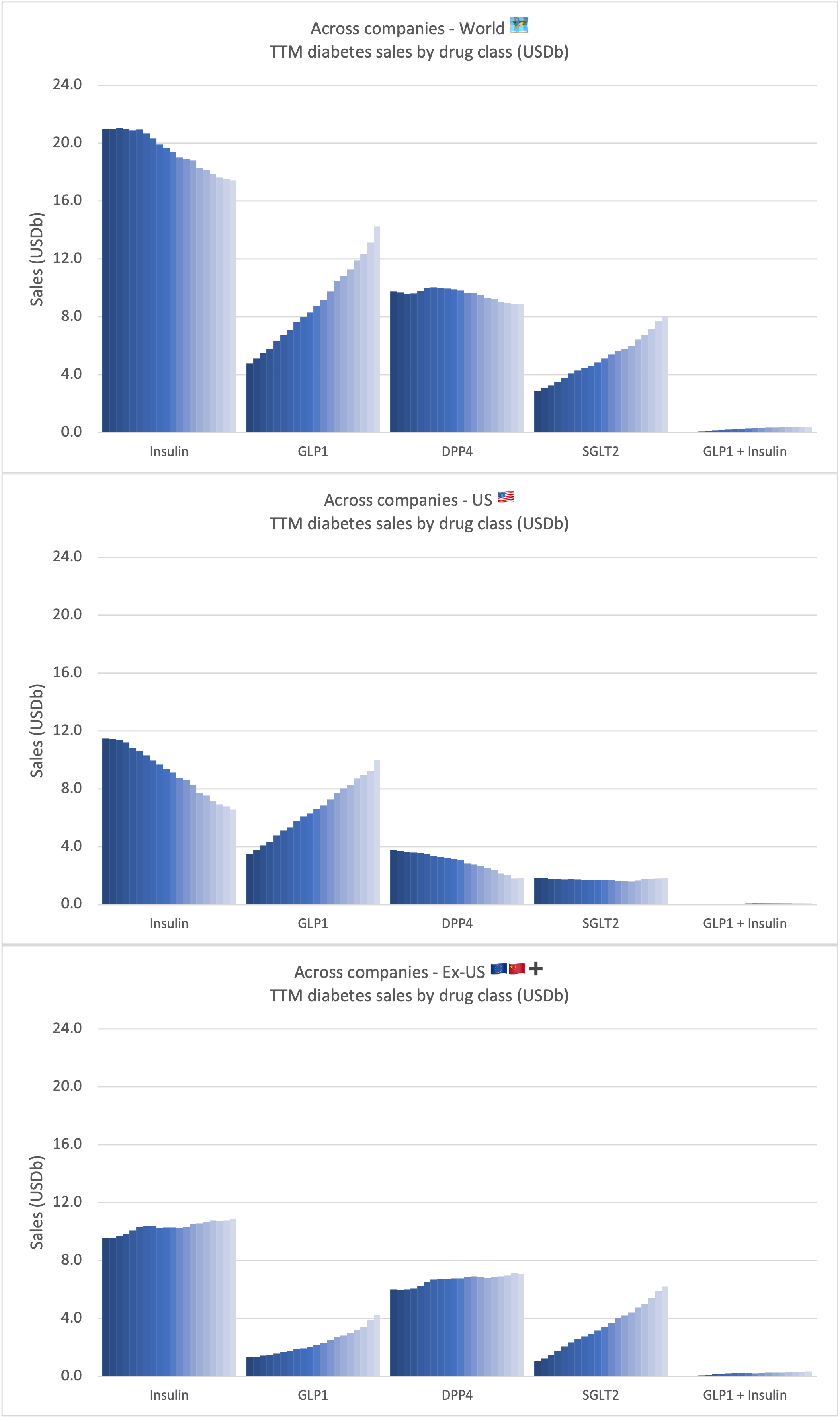 Sales of anti-diabetic drugs by company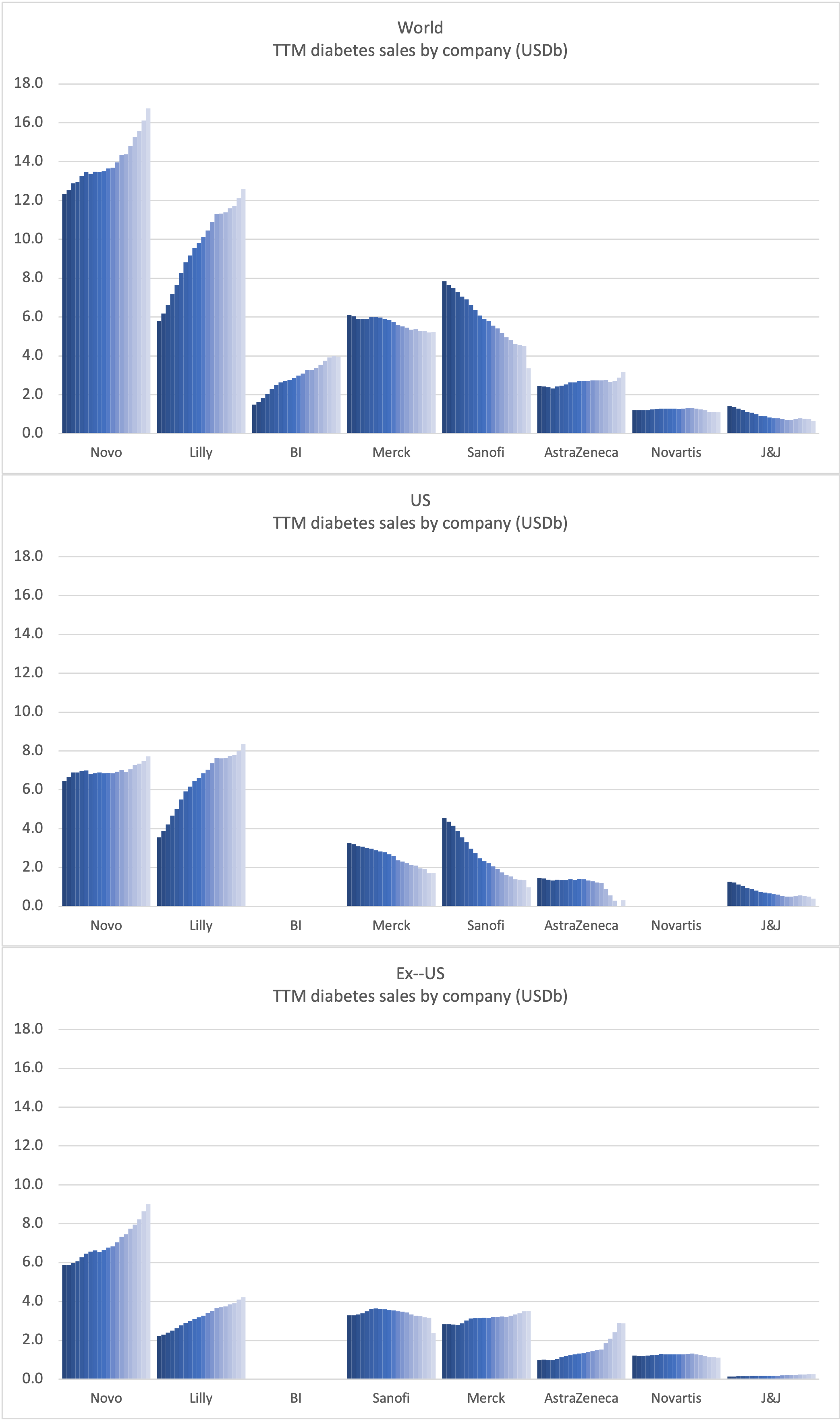 Sales of drugs for Novo Nordisk

Sales of best selling anti-diabetic drugs across companies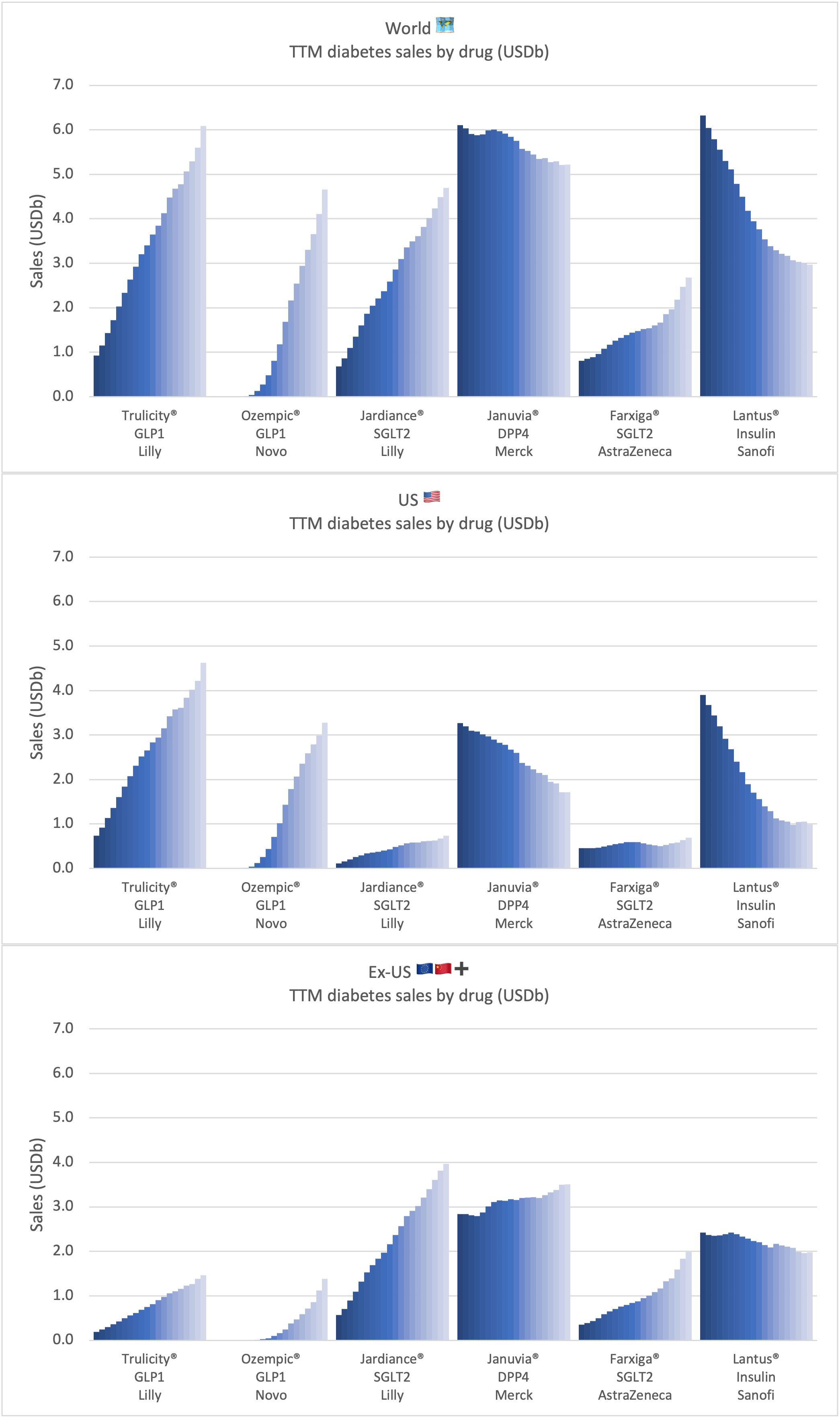 Sales of anti-diabetic and anti-obesity GLP1 by drug across companies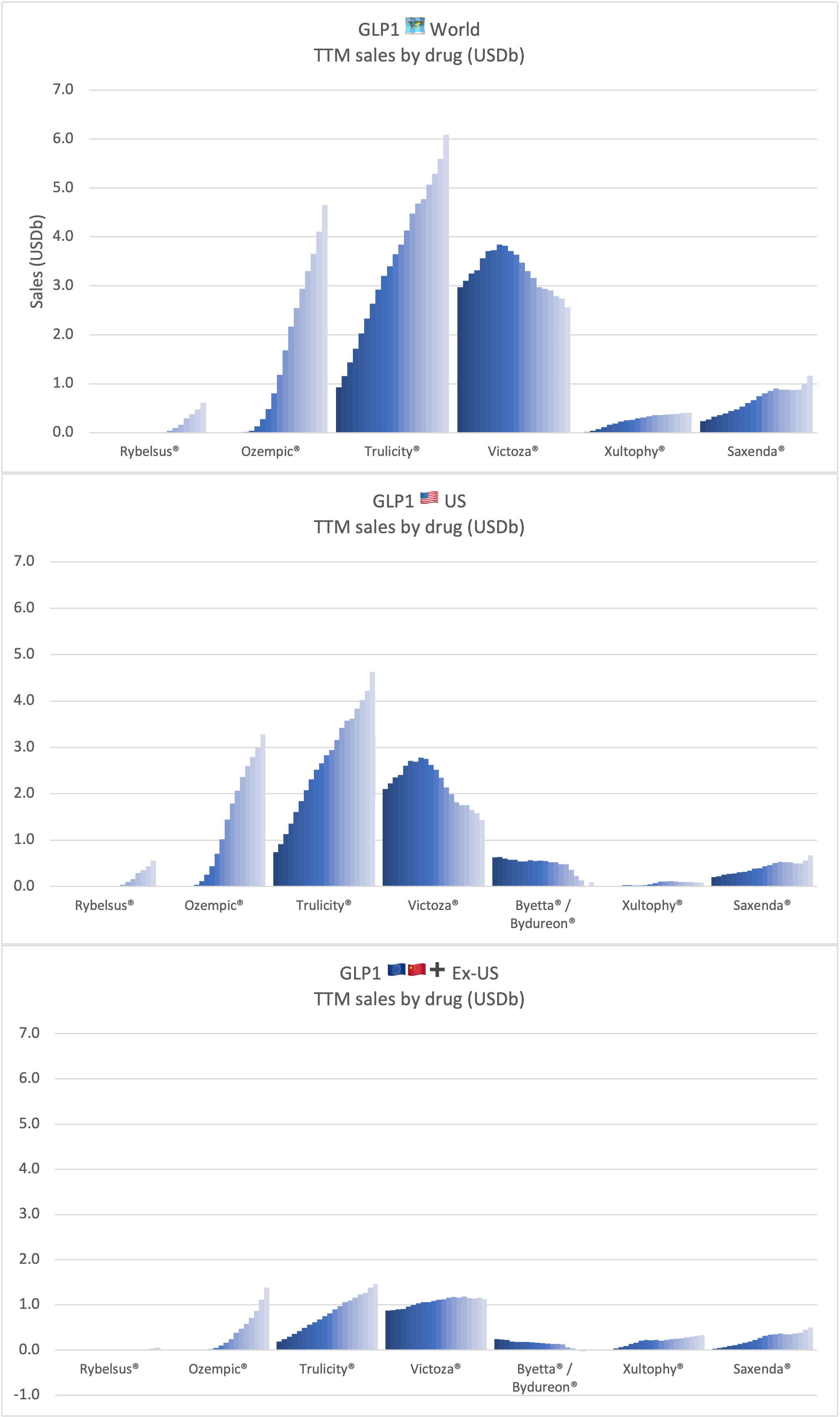 Sales of anti-diabetic and anti-obesity GLP1 drugs by company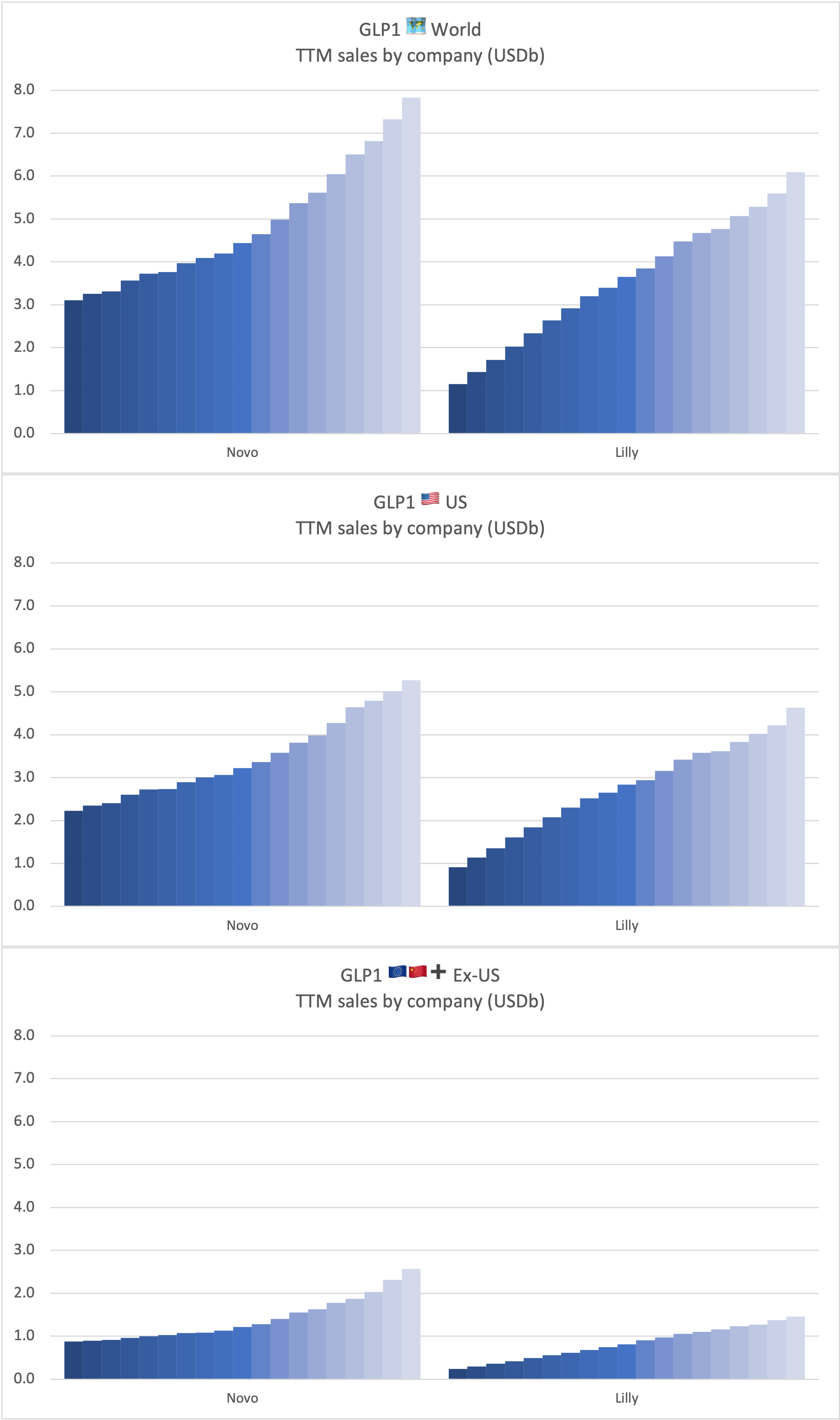 Sales of insulin by drug across companies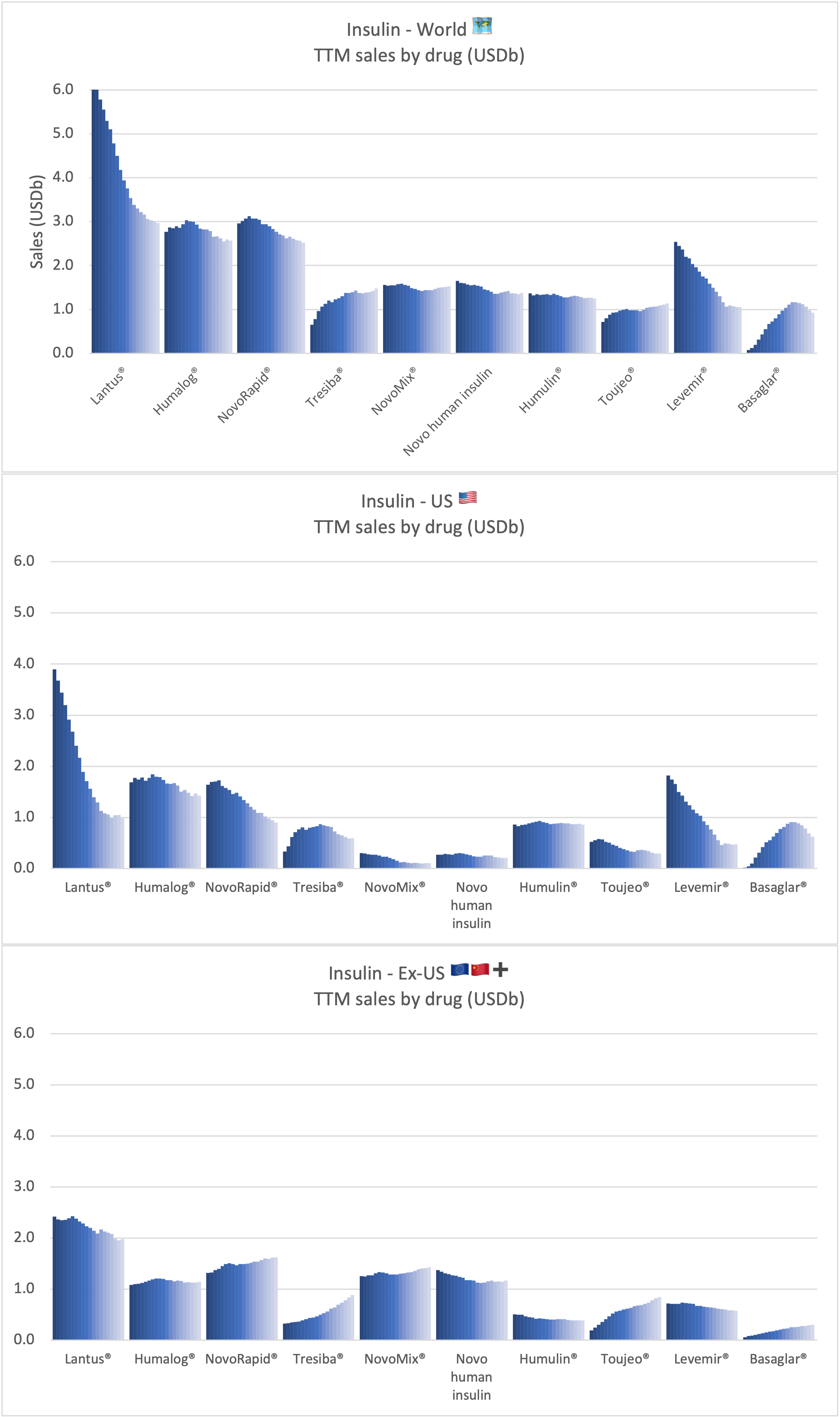 Sales of insulin by company