Anti-diabetic oral GLP1 drug Rybelsus® (semaglutide) received FDA approval on September 20th and 70%-80% of patients are not coming from other injectables.
GLP1 drug segment is growing led by the weekly injectable anti-diabetic drug Ozempic® (semaglutide) approved for CV risk reduction in the US.
Revenue in US diabetes segment is flat due to declining revenue of the daily injectable GLP1 drug Victoza® (liraglutide) and insulins such as Levemir®.
Growth of sales and operating profit expected to be 3-6% and 1-5%, respectively.
Shares fairly valued for now.
Diabetes
The revenue from anti-diabetic drugs in the US is flat across companies such as Novo Nordisk, Eli Lilly, Merck and Sanofi despite the growth of Ozempic® due to declining sales of Lantus® (insulin glargine from Sanofi), Victoza® (GLP1 liraglutide from Novo Nordisk), Levemir® (insulin detemir from Novo Nordisk), Januvia® (DPP4 sitagliptin from Merck) and others.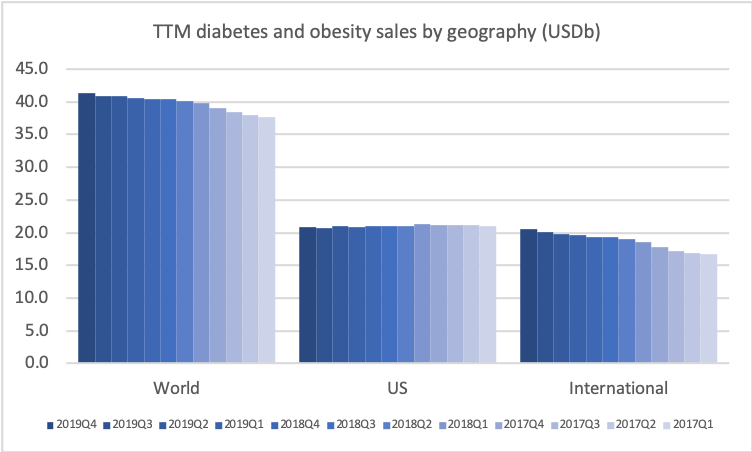 Novo Nordisk still has the leading position in diabetes, but Eli Lilly has gained ground within and outside the US thanks to its GLP1 drug Trulicity®, SGLT2 drug Jardiance® and generic insulin glargine Basaglar®.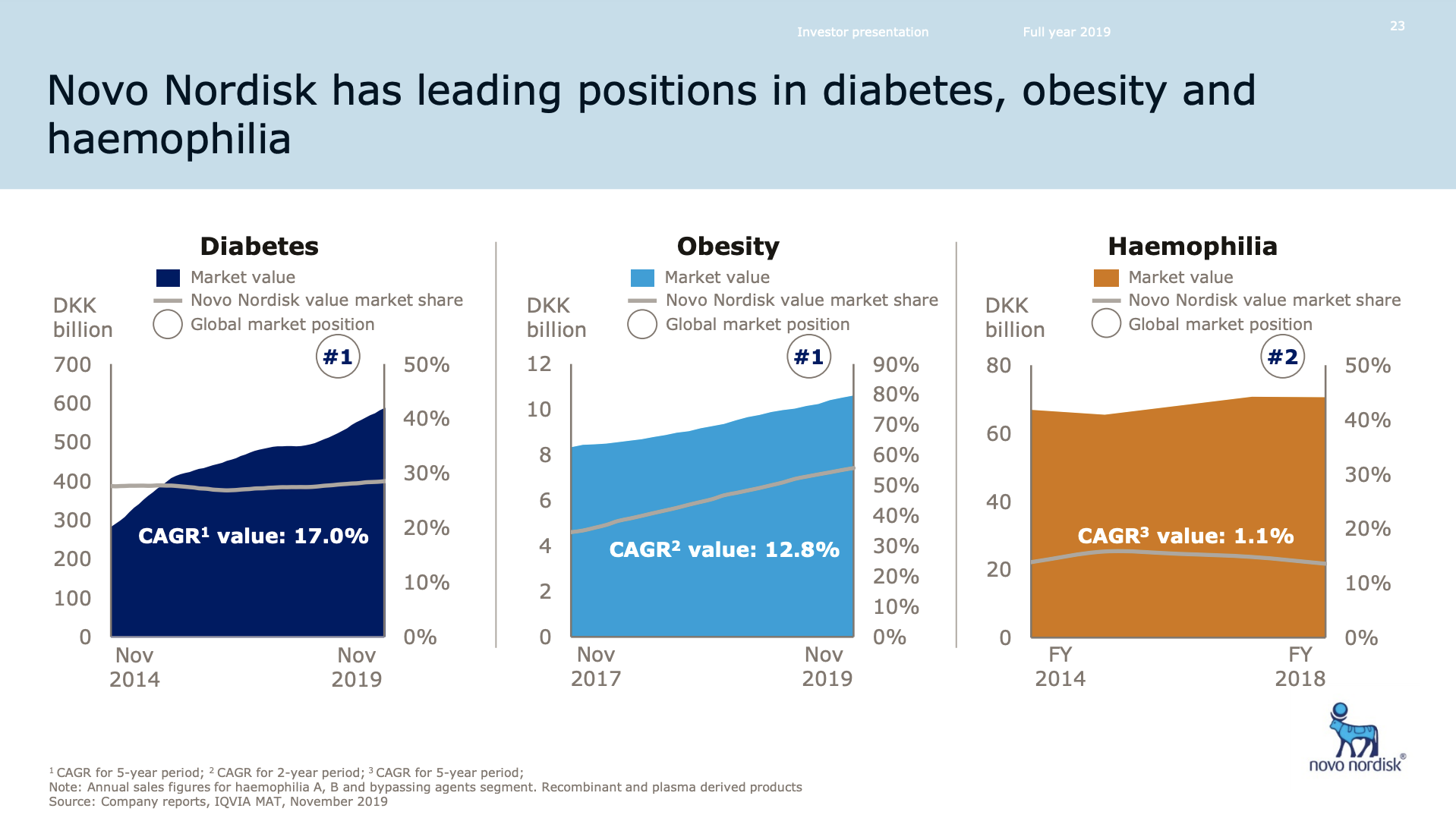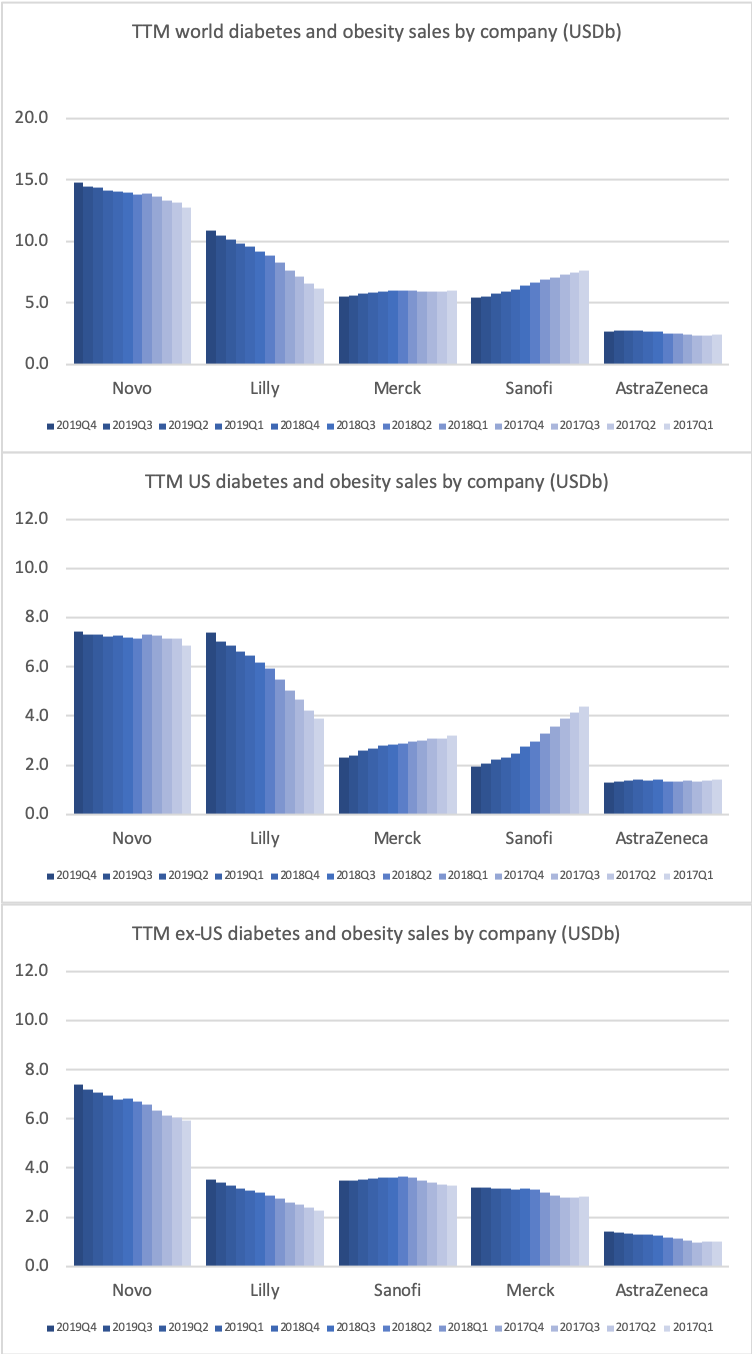 GLP-1
The GLP1 class of drugs in particular are showing strong growth within and outside the US.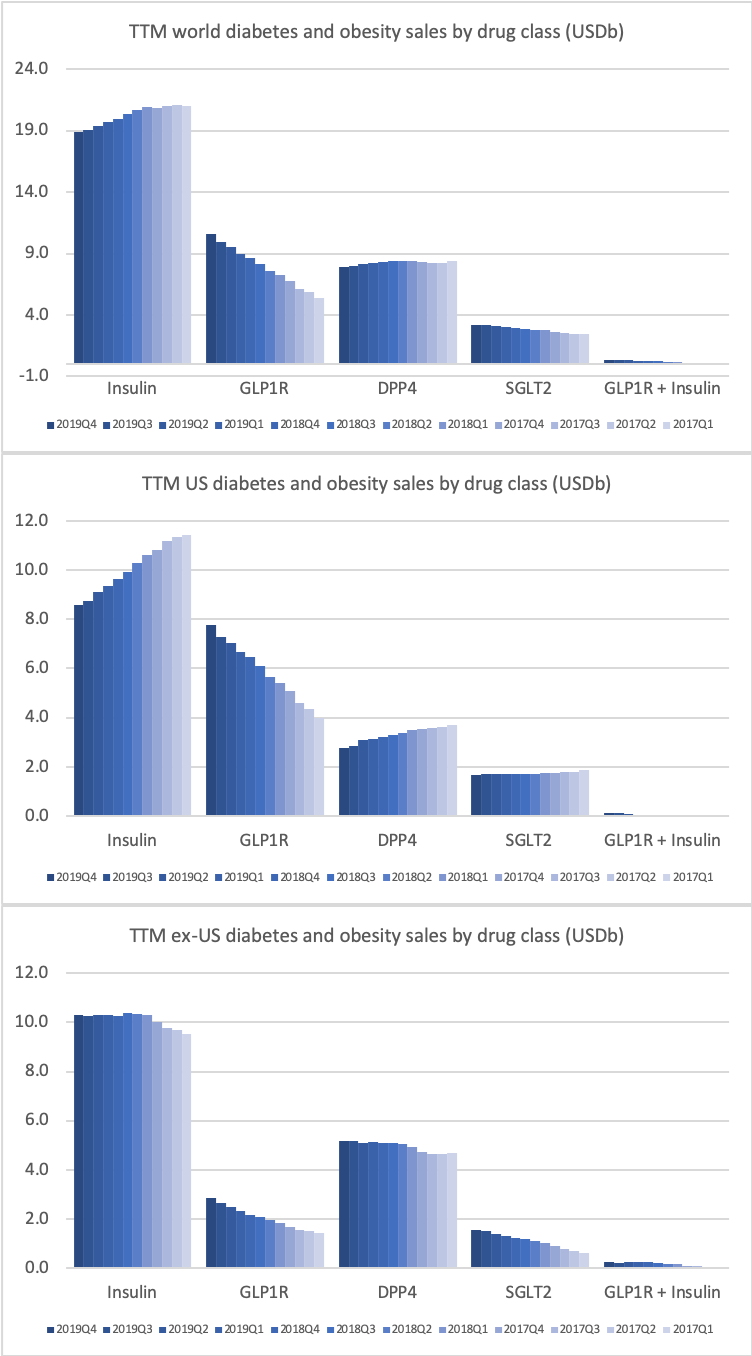 The GLP1 class of drugs (diabetes and obesity) generate more revenue in the US for Novo Nordisk than insulin.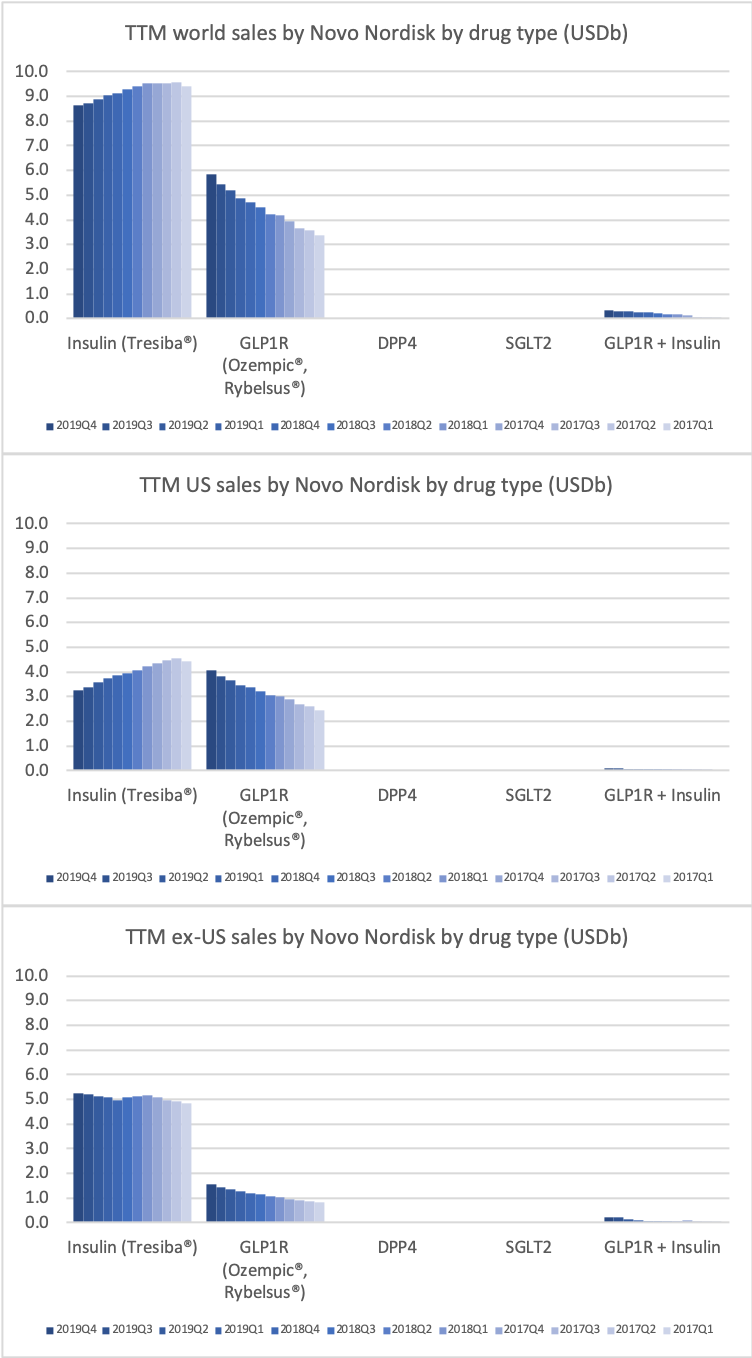 Novo Nordisk leads the GLP1 class within and outside the US.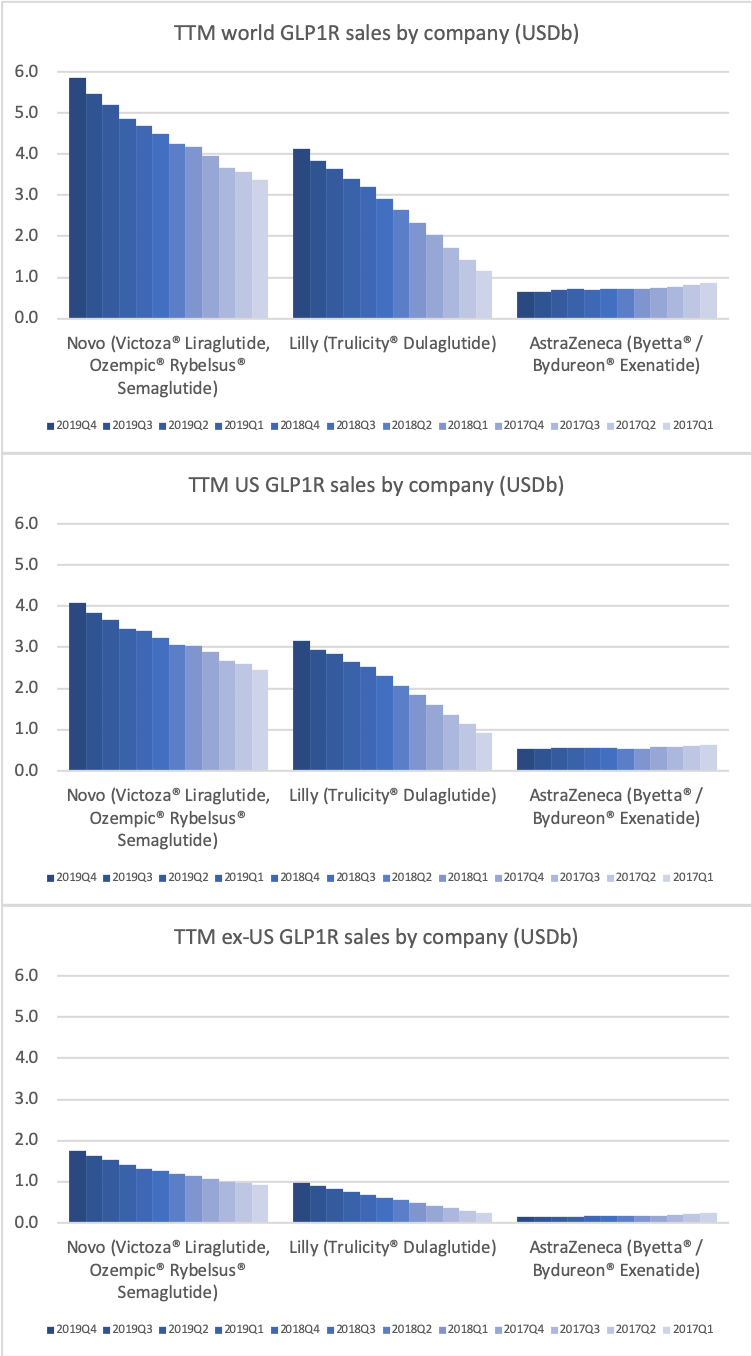 The GLP1 leadership position is due to the anti-diabetic drugs Ozempic® (weekly injectable semaglutide) and Rybelsus® (oral semaglutide) as well as anti-obesity drug Saxenda® (liraglutide). Ozempic® is partly cannibalizing Victoza® (daily injectable liraglutide).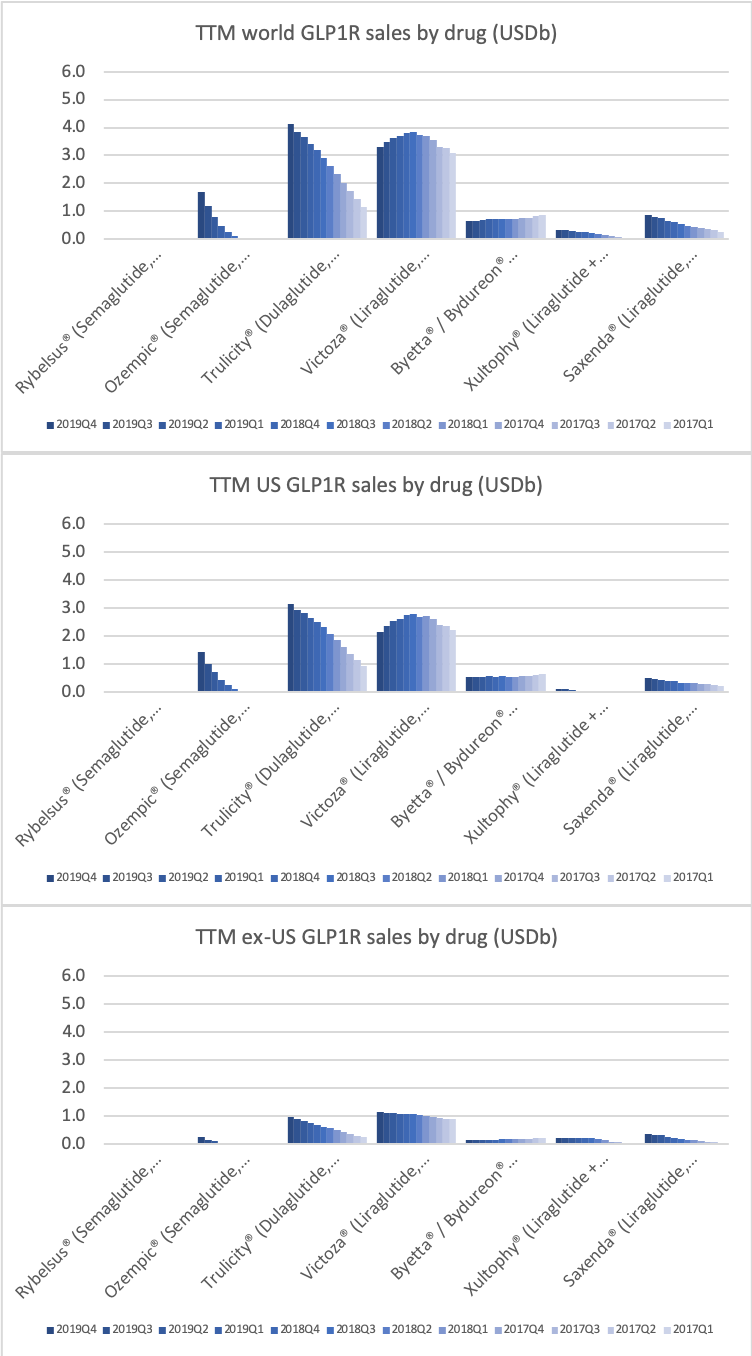 Rybelsus® received FDA approval for the treatment of type 2 diabetes in the US and positive EU CHMP opinion. Ozempic® was approved in the US for CV risk reduction.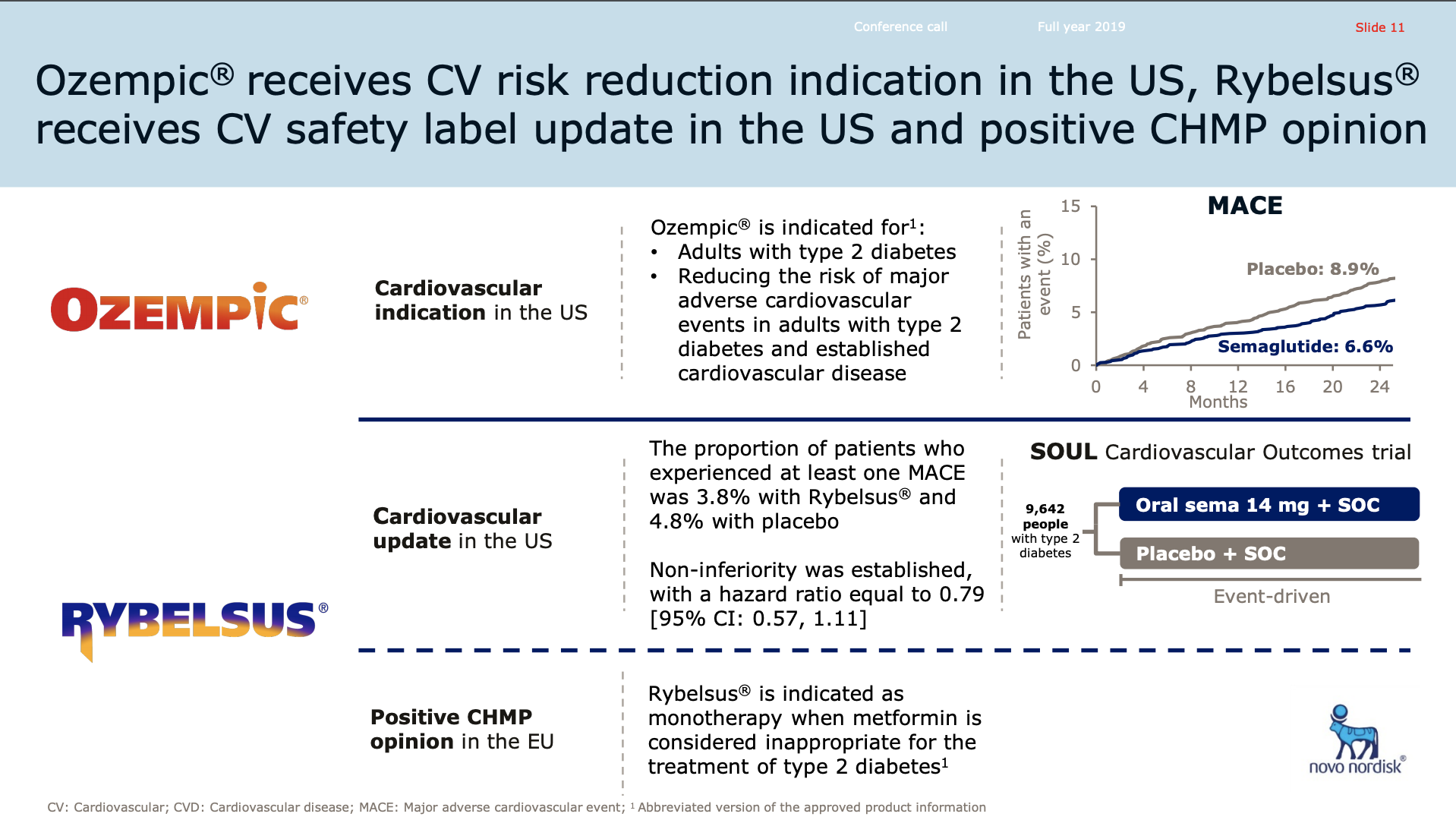 In January, the U.S. FDA approved an Ozempic label expansion to include its use in reducing the risk of major adverse cardiovascular events so-called MACE including cardiovascular death, nonfatal heart attacks, nonfatal strokes in adults with type 2 diabetes and established cardiovascular disease.

The approval was based on the SUSTAIN 6 cardiovascular outcomes trial in which Ozempic reduced the MACE risk by 26% versus placebo, in both cases as addition to standard of care in people with type 2 diabetes and increased cardiovascular risk.

The FDA also updated the Rybelsus label to include additional information from the PIONEER 6 outcomes trial in which Rybelsus demonstrated CV safety with MACE occurring in 3.8% of people on Rybelsus versus 4.8% on placebo treatment.

Last week, the European regulatory authority, CHMP, issued a positive opinion for Rybelsus the first all oral biological treatment for adults with insufficiently controlled type 2 diabetes. The recommendation is for Rybelsus to be indicated as monotherapy when metformin is considered inappropriate as well as in combination with other type 2 diabetes medications.

CSO Mads Krogsgaard Thomsen on Q4 earnings call
Very interestingly it was revealed that the first few Rybelsus® patients are mostly switching from tablets rather than injectables. This could be an indication, that the oral Rybelsus® will not be cannibalizing the injectable Ozempic® the same way the weekly-injectable Ozempic® has and is cannibalizing the daily-injectable Victoza®.
What we see with Rybelsus® is that the primary number of this are coming from patients that are not previously on injectable medication. So that means to the tune of between 70% and 80% of the patients sourcing a source from either the naive patients, metformin patients, SGLT-2 or DPP-4. So that is a relatively big change compared to what we saw with Ozempic® by the time of launch where was exactly the opposite initially. So that confirms the expected positioning of Rybelsus® in the market so far, but it's still early days of course.

Camilla Sylvest – EVP and Head, Commercial Strategy and Corporate Affairs on the 2019Q4 earnings call
Japan could become the 2nd best market behind the US for Rybelsus®, because of the low penetration of injectables in Japan.
Japan I think is the second largest single-country opportunity for us in Rybelsus® if we can get it right after U.S. It's predominantly an oral market as you know. Injectables are only I think 14% of the market. So of course, we are very excited about the introduction of Rybelsus® there.

Maziar Doustdar – EVP, Head of International Operations on the 2019Q4 earnings call
Ozempic® was one of the fastest growing drugs in the US and in the world in 2019. Its sales are on pace to exceed those of Victoza® in 2020.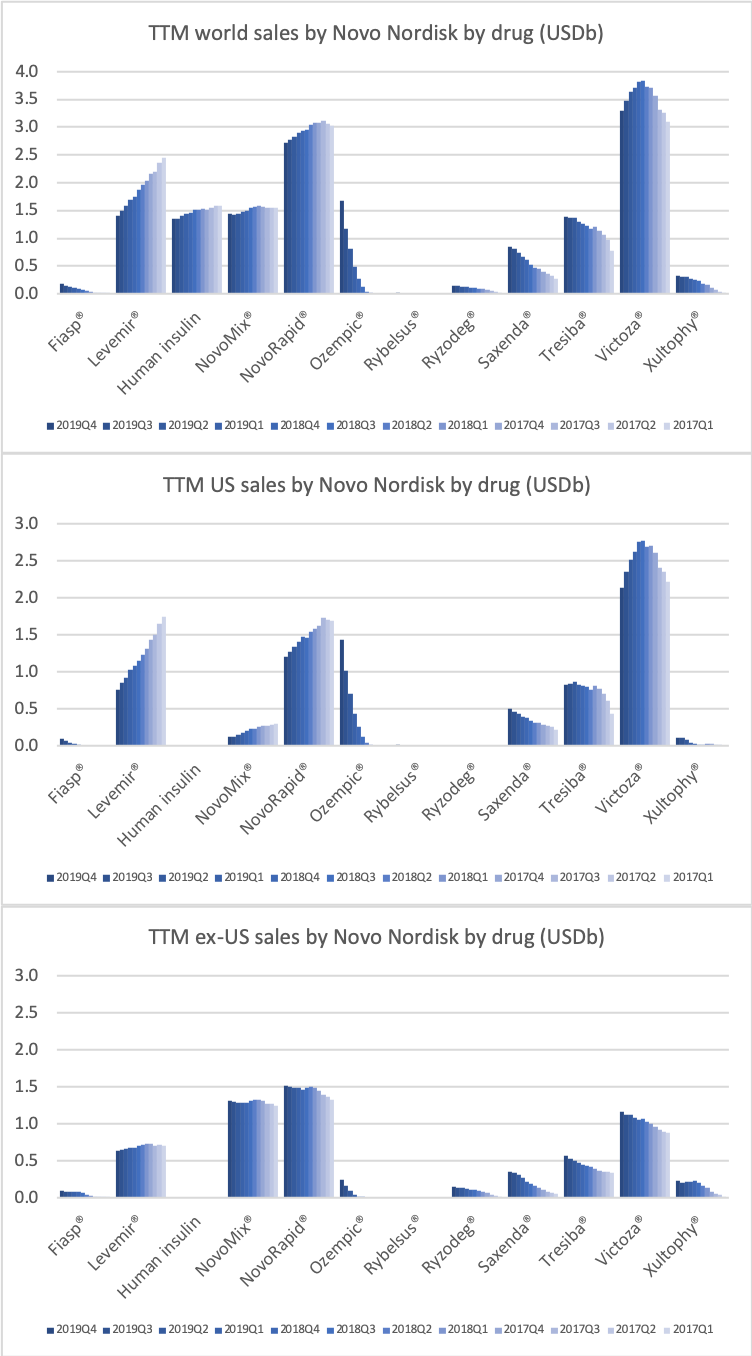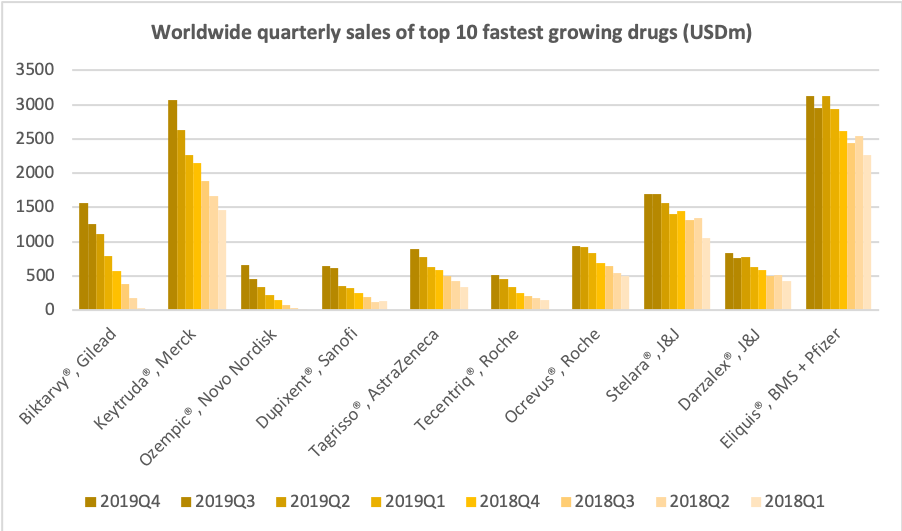 Victoza® biosimilars might put some pricing pressure on Ozempic®, but they will not hit the market until 2023 following the settlement of the US patent litigation case on Victoza® (liraglutide) with Teva in March 2019.
Insulin
Novo Nordisk still has a leadership position in insulin within and outside the US despite declining revenue in the US.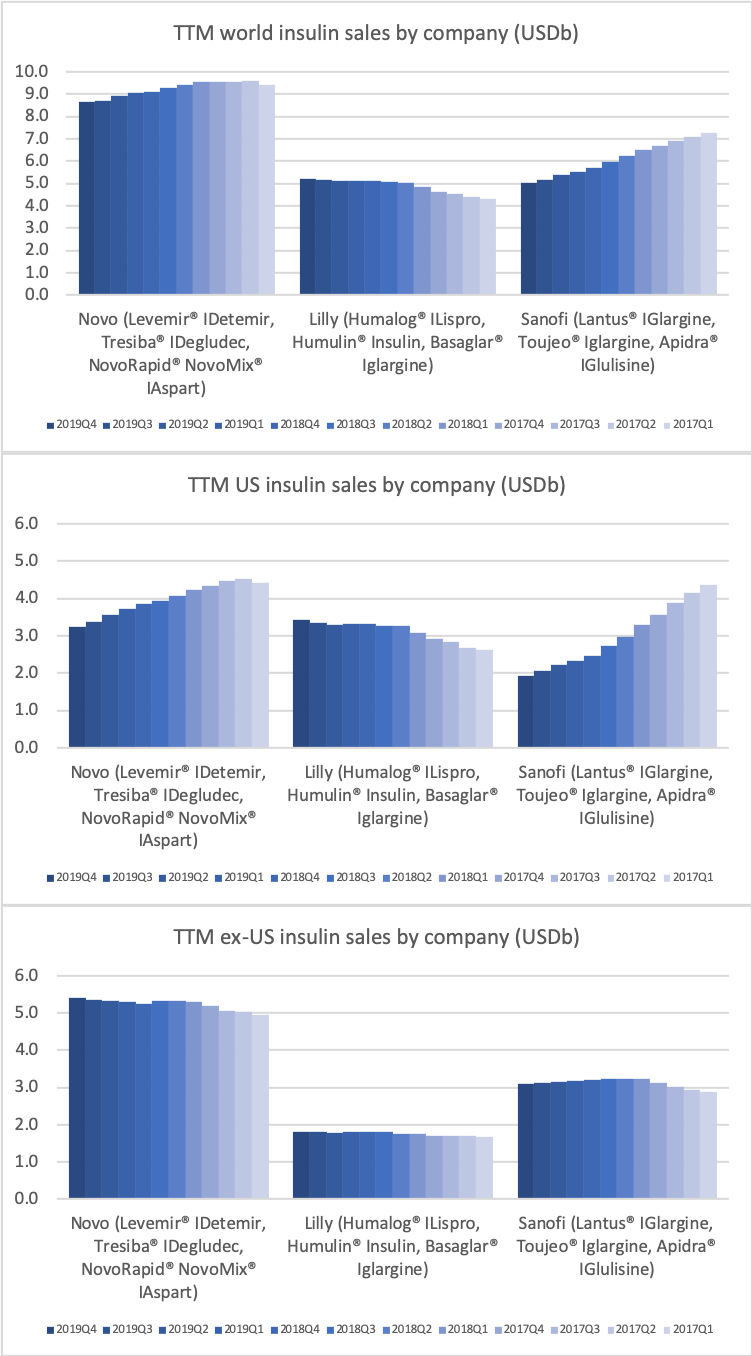 The decline in insulin revenue is led by the once- or twice-daily Levemir® (insulin detemir) in the US, which is facing competition from insulin glargine (Basaglar® from Eli Lilly and Lantus® from Sanofi) and insulin lispro (Admelog® from Sanofi and Humalog® from Eli Lilly). Sales of the once-daily long-lasting insulin Tresiba® (insulin degludec) on the other hand is not deteriorating.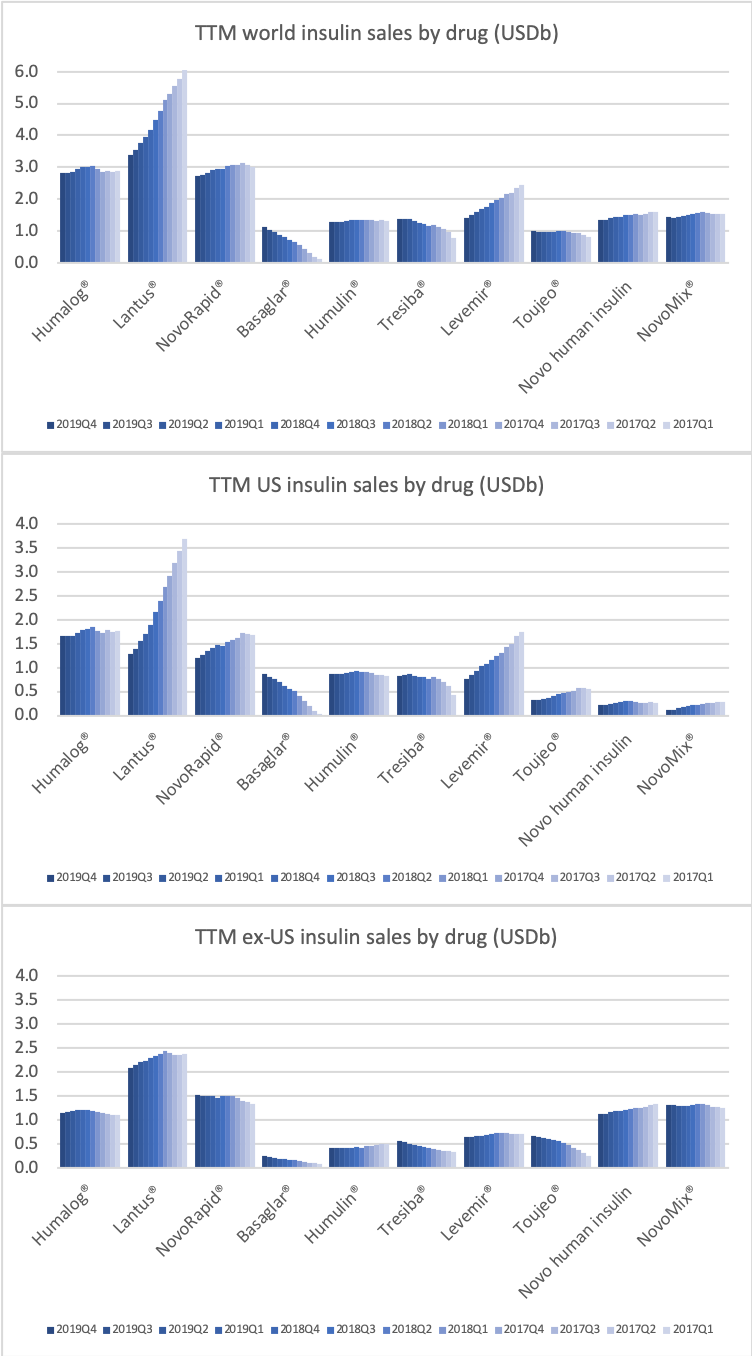 The phase 2 trial of the weekly-injection long acting insulin Icodec (LAI287) was successfully completed. Phase 3 is set to be initiated in the second half of 2020.
How icodec achieves its very smooth profile hinges upon the enhanced albumin binding in the circulation.

CSO Mads Krogsgaard Thomsen on the 2019Q4 earnings call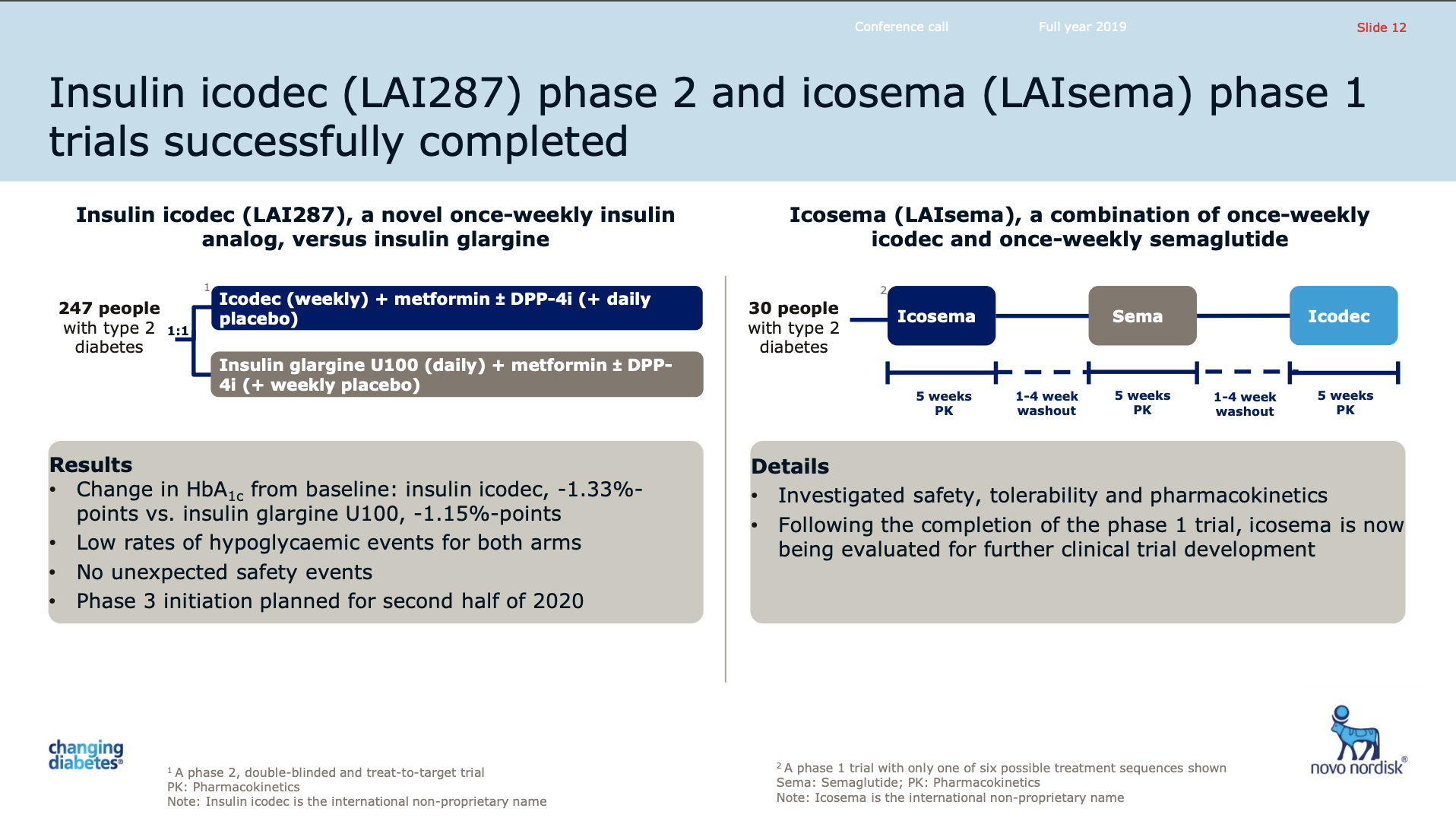 Obesity
Saxenda® (liraglutide) has developed into a best-selling anti-obesity drug.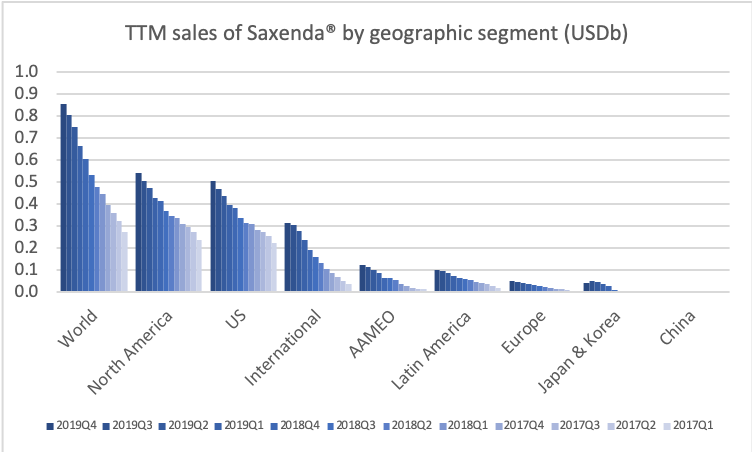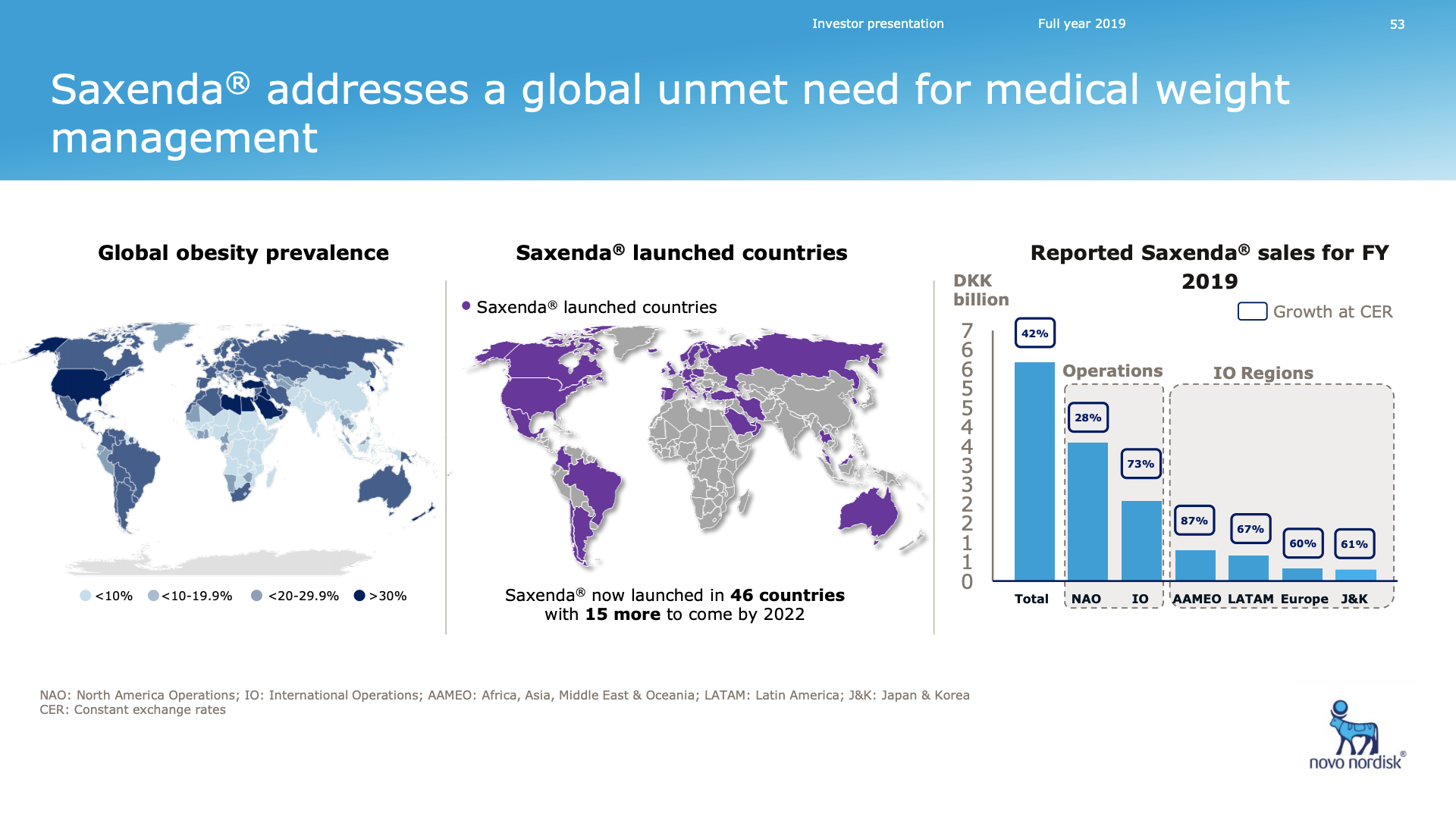 Novo Nordisk looks set to dominate the obesity space in the first half of the decade following pipeline abandonment by Sanofi (GLP1R/GIPR/GCGR agonist SAR441255) and Novartis (ACVR2B targeting mAB BYM338/Bimagrumab). Results from the phase 2 trial on the once-weekly amylin analogue AM833 is expected this year. So are results from a GDF15 analog in phase 1. Most importantly semaglutide obesity phase 3 results are due mid-2020. A phase 2 obesity trial has already shown weight loss for semaglutide exceeding that of liraglutide (Saxenda®). The diabetes trials SUSTAIN and PIONEER also showed weight loss for semaglutide.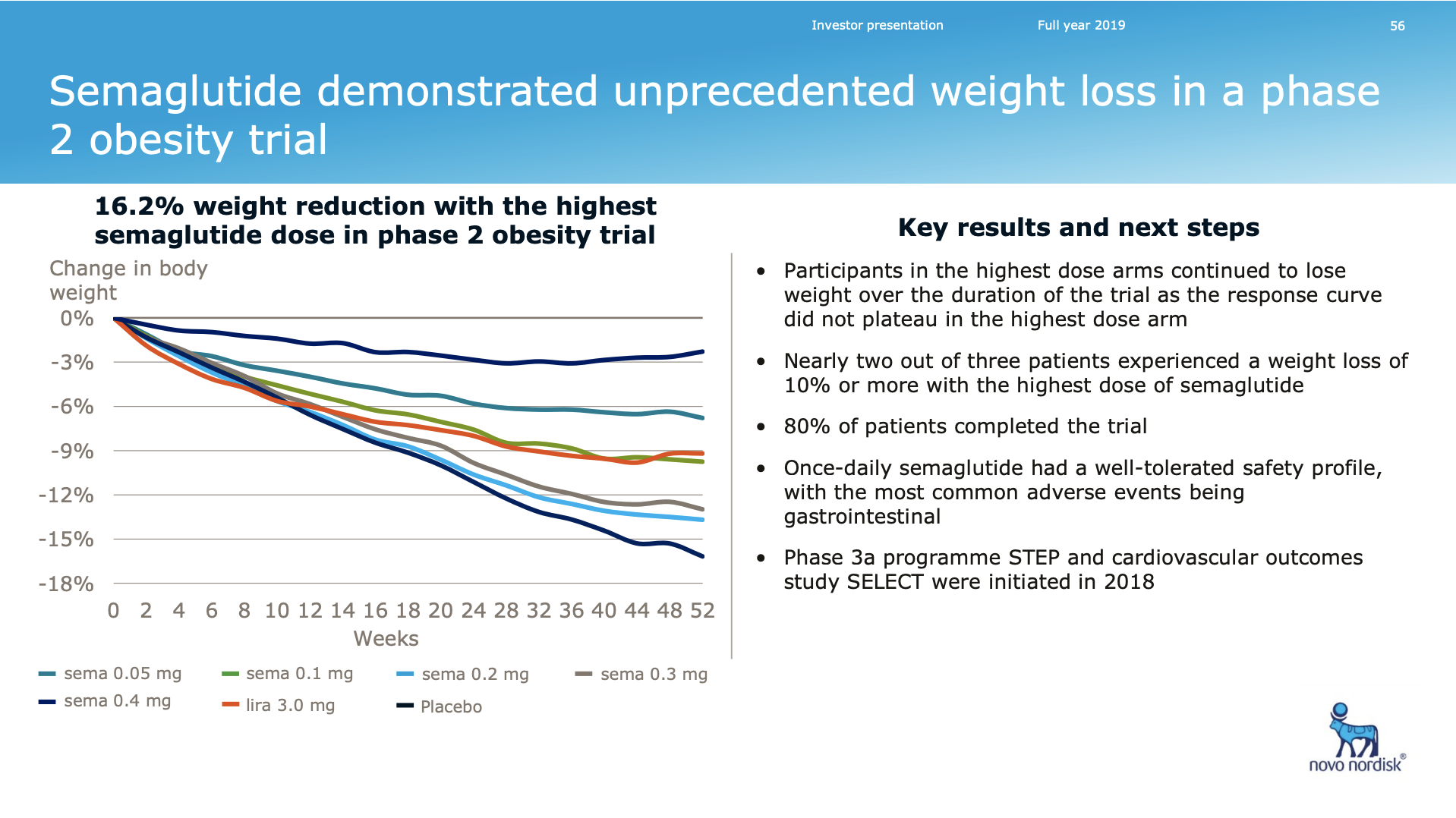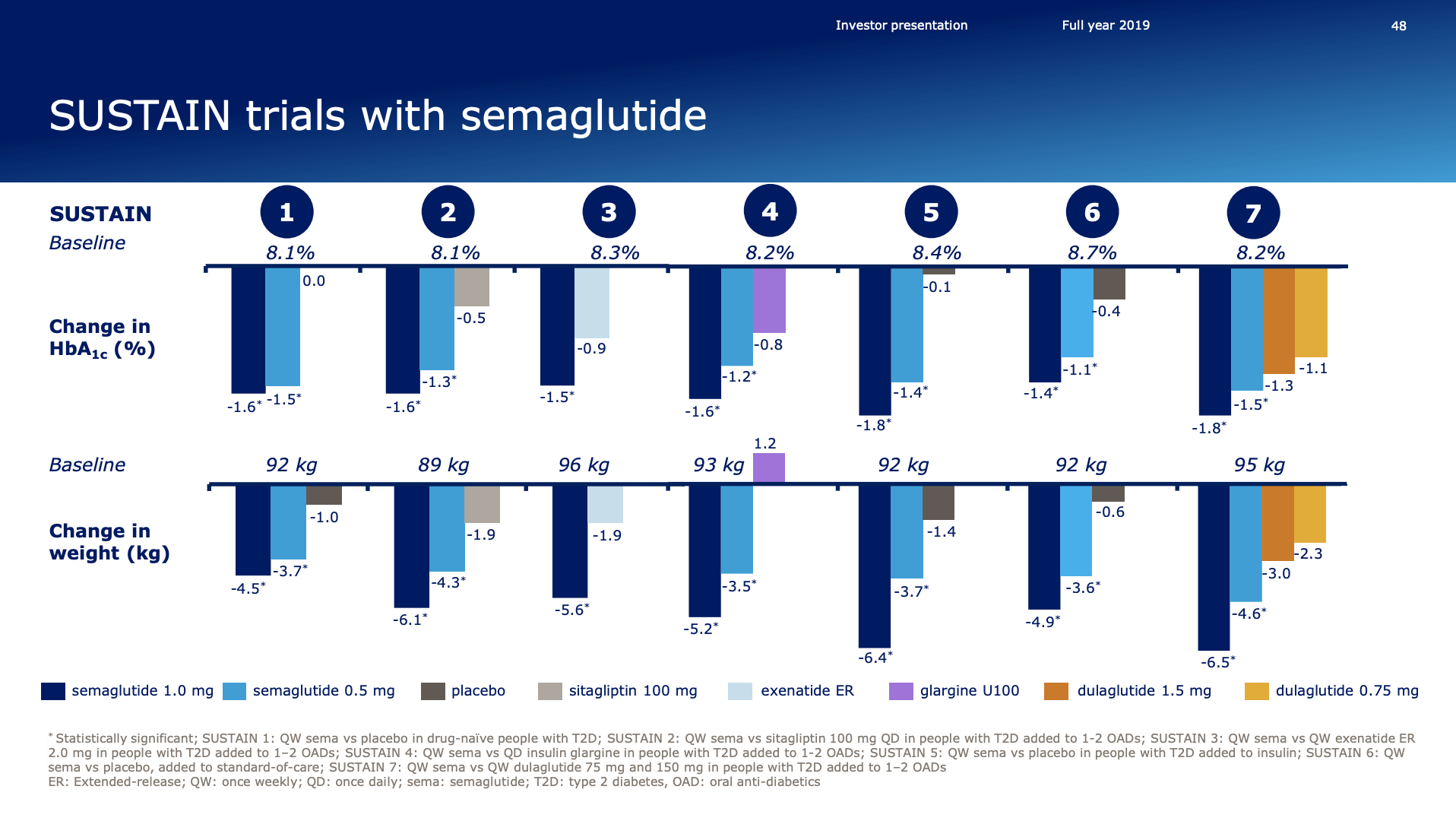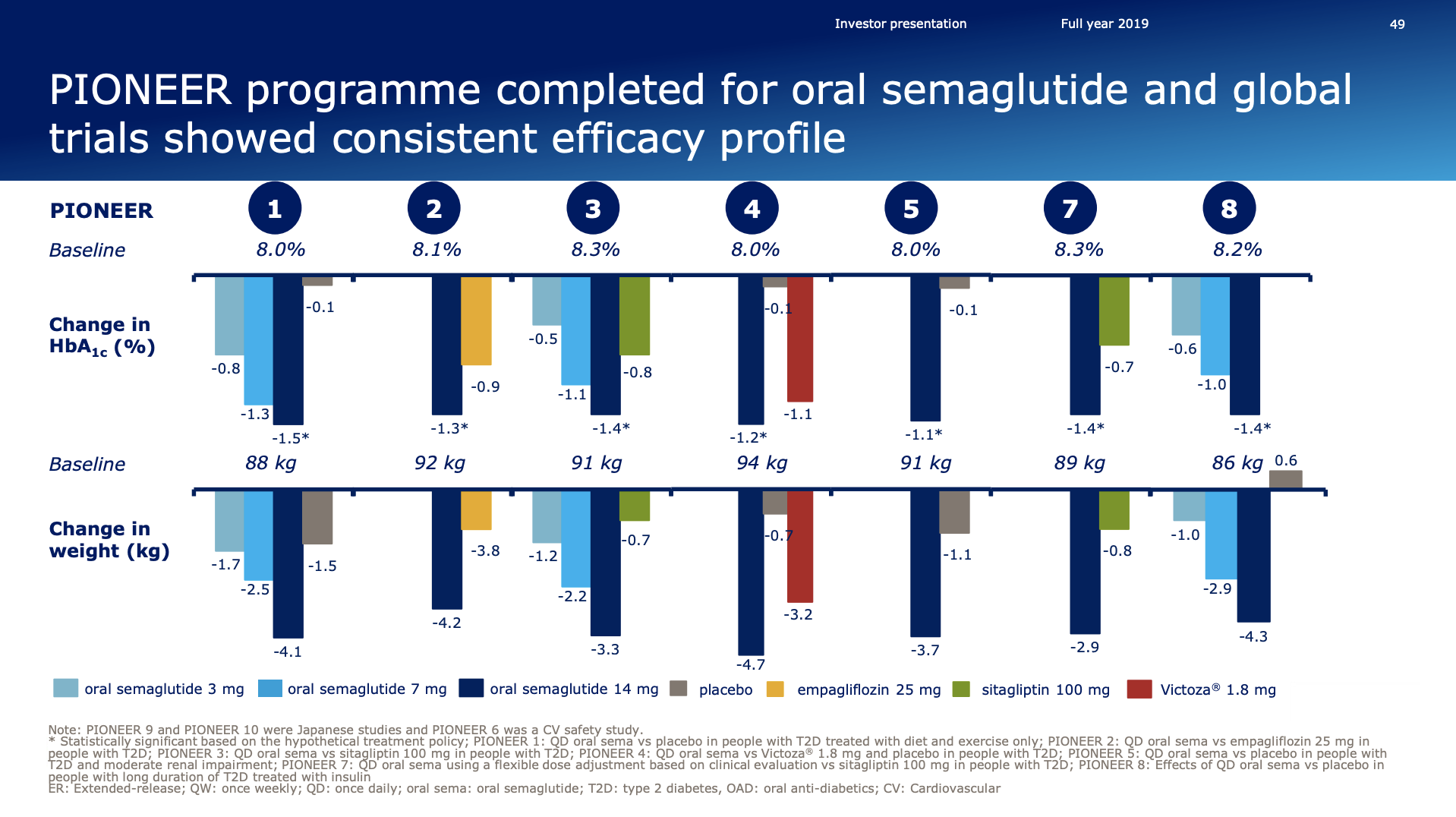 Haemophilia
NovoSeven® is the best selling drug in the biopharma portfolio with annual sales exceeding a billion US dollars.
Revenue from NovoSeven® is not declining despite rejuvenated competition in the space.
On NovoSeven®, years back we guided that we would expect to lose maybe potentially 50% of the business. Consistently, we've seen since the launch of Hemlibra® that that erosion is slower than what we had expected.

CEO Lars Fruergaard Joergensen on the 2019Q4 earnings call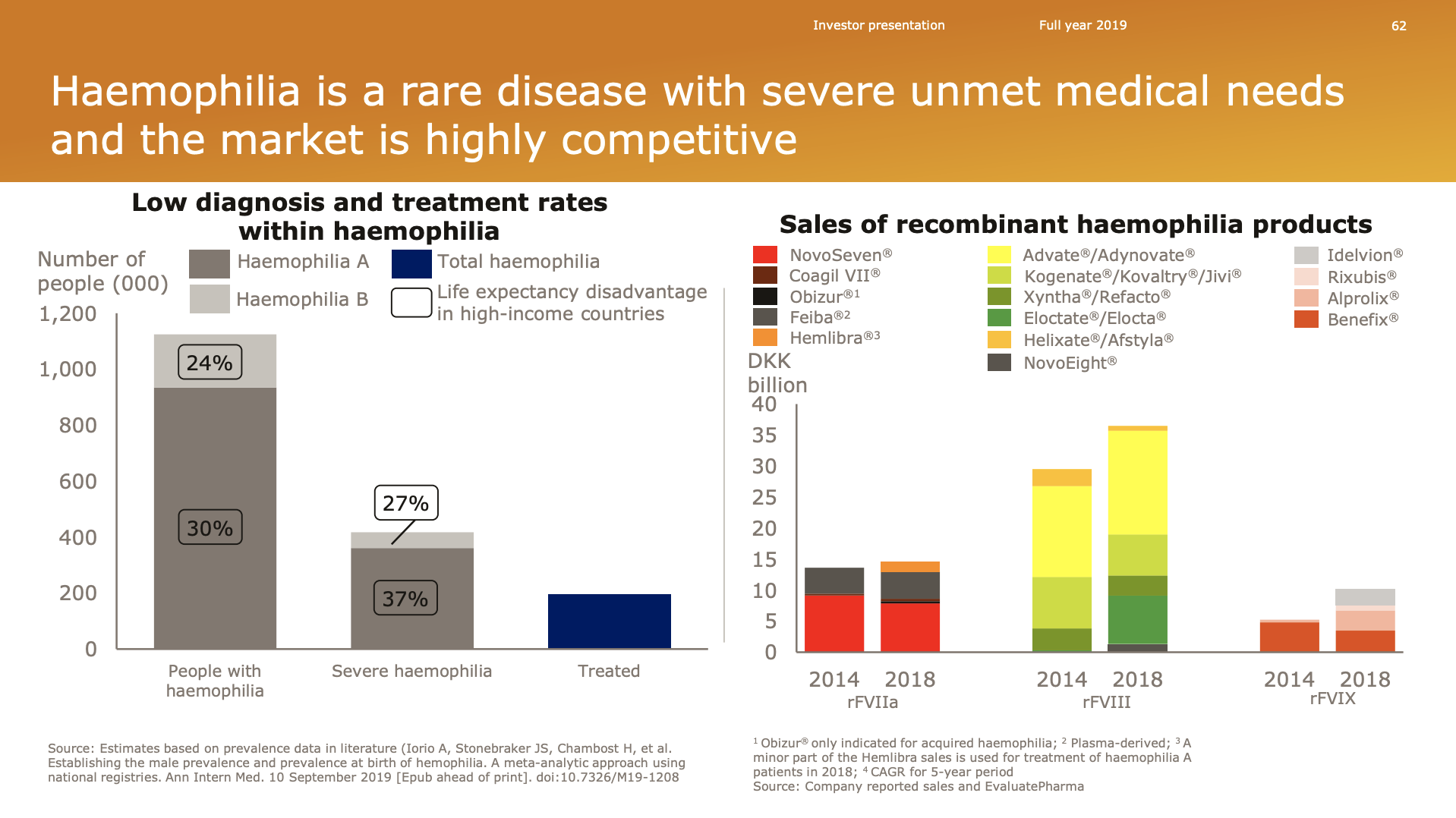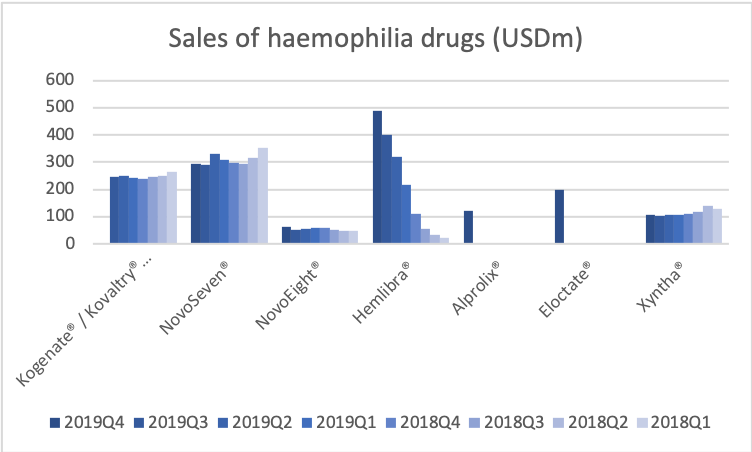 Novo Nordisk has two phase 3 trials (NCT04083781 and NCT04082429) on the antibody Concizumab (NN7417) of the tissue factor pathway inhibitor (TFPI).
Another anti-TFPI is Marstacimab (PF-06741086) from Pfizer ($PFE), which has two ongoing trials (NCT03363321 and NCT03938792).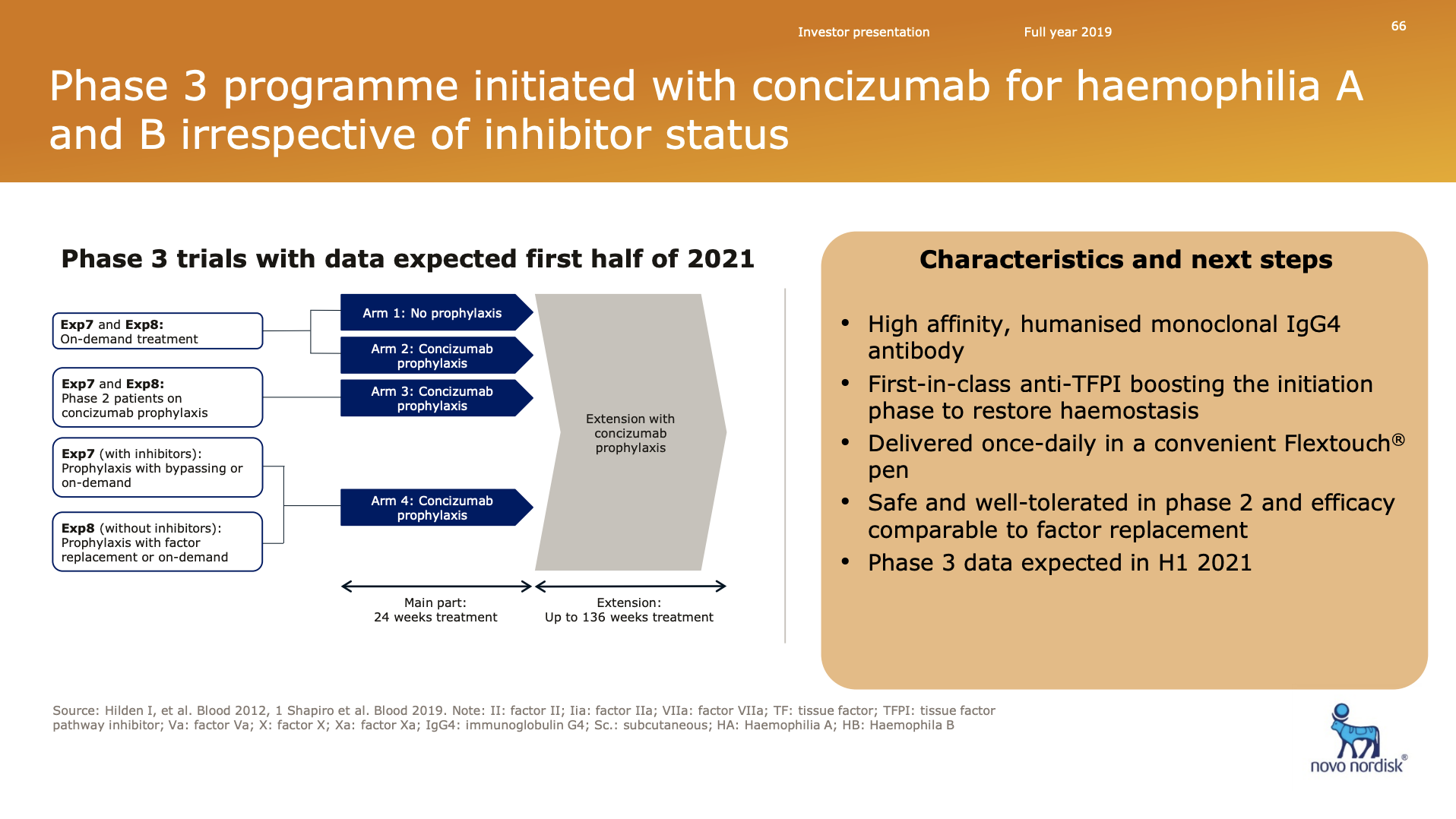 Furthermore bluebird bio in October 2019 entered into a research agreement with Novo Nordisk to develop in vivo genome editing candidates for haemophilia.
Biomarin ($BMRN) is also working on a gene therapy for the treatment of haemophilia (BMN270); e.g. NCT03370913.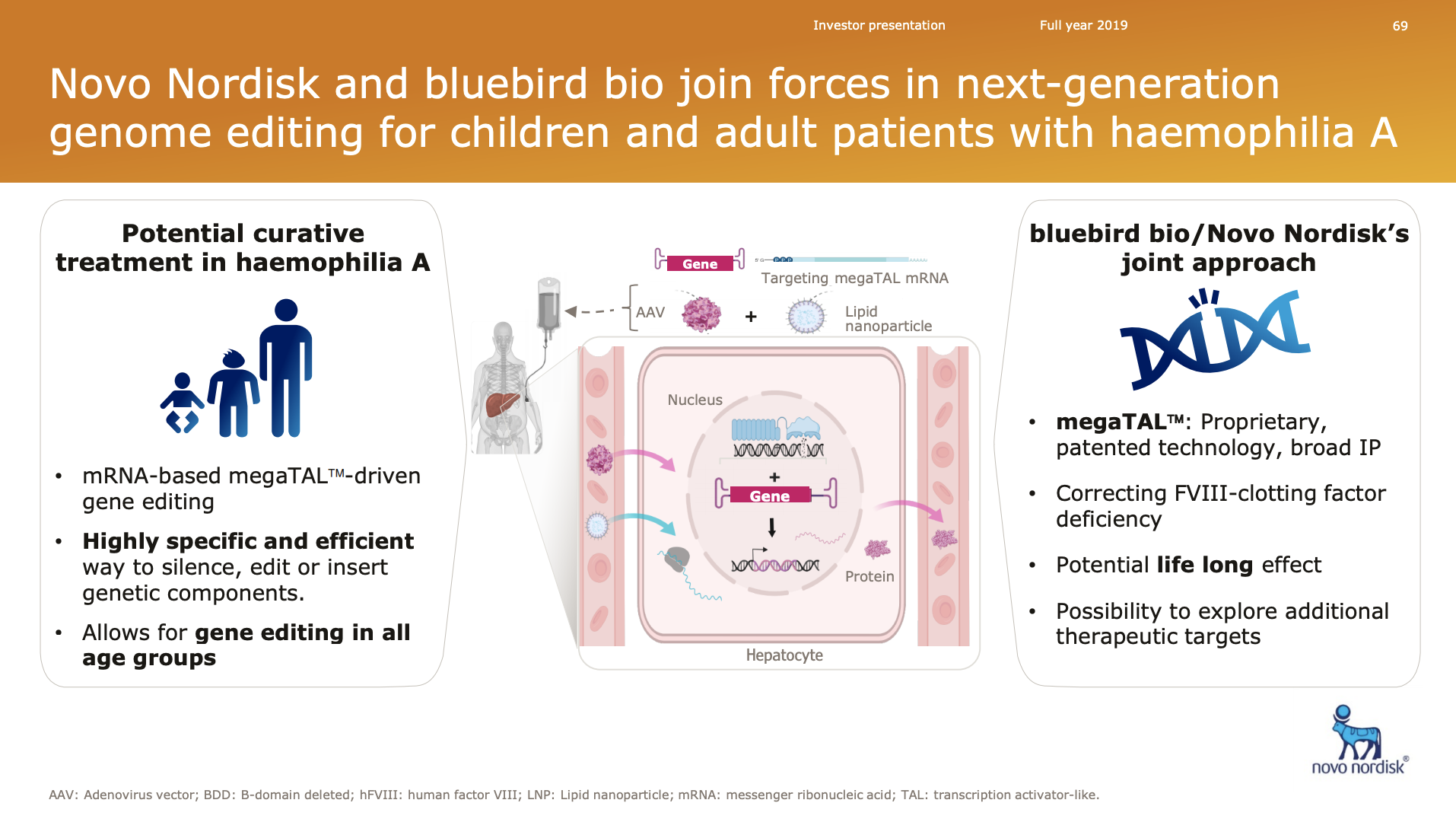 Valuation and comparison with peers
Novo Nordisk has better operating margins than its peers due to better gross margins and lower R&D spending.
Novo Nordisk was trading at attractive multiples during the winter 2017/2018 due to uncertainty about future growth rates. Now the stock seems more fairly valued given the expected single digit growth rates going forward.
Appendix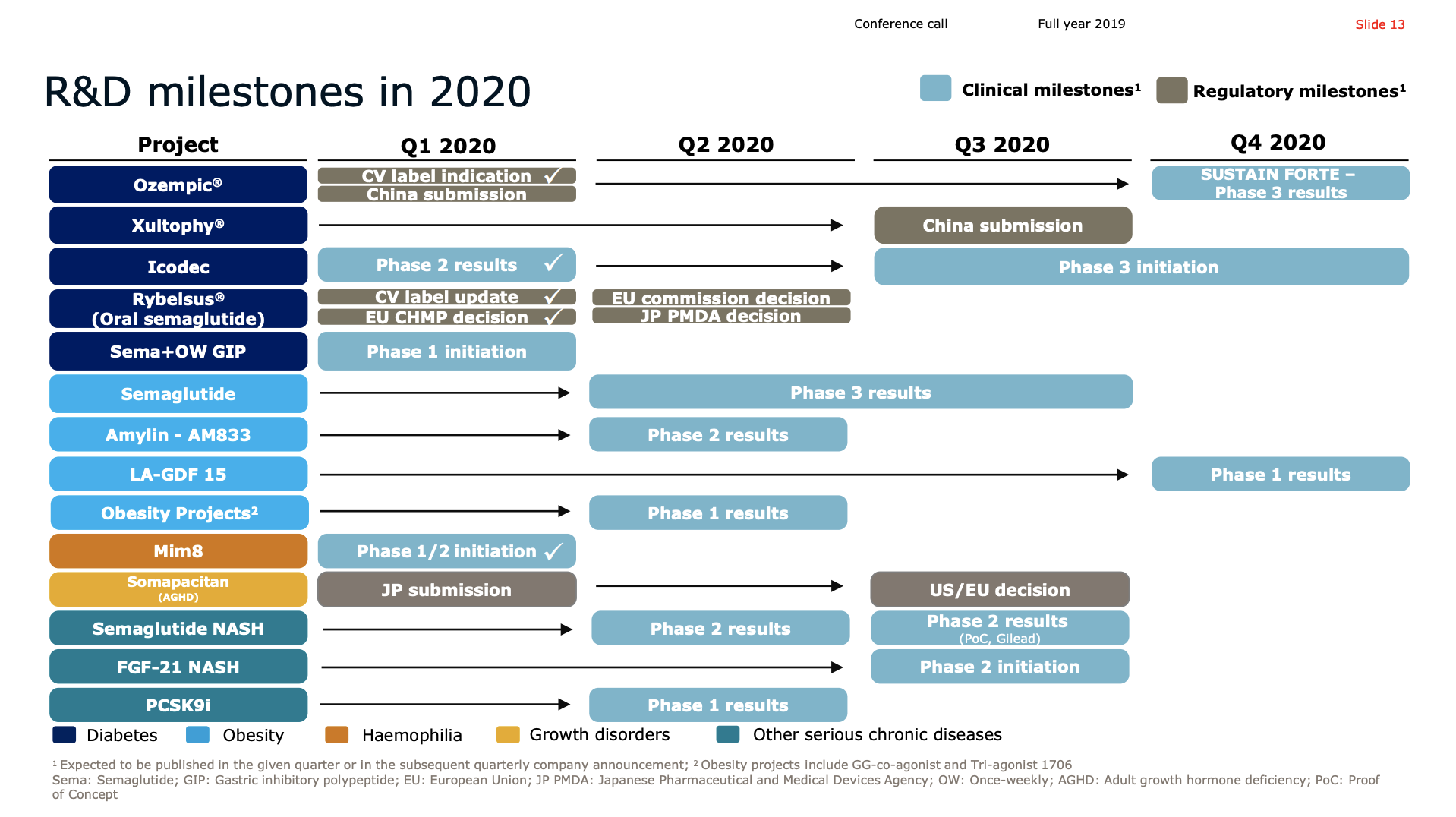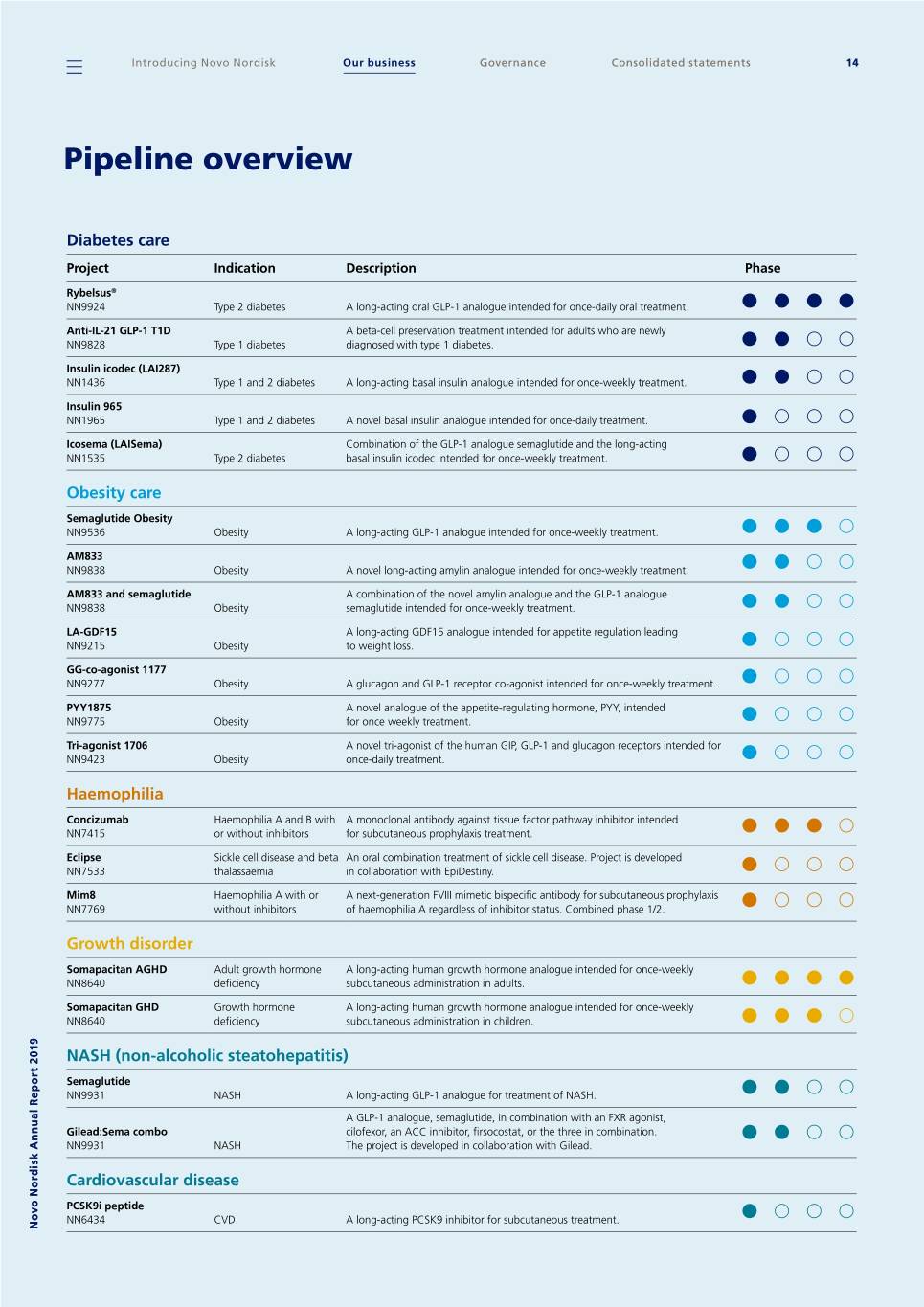 References
2020-02-05 Reuters – Novo Nordisk sees slower 2020 growth with U.S. insulin prices pressured
2020-02-05 GlobesNewswire – Novo Nordisk's operating profit increased by 11% in Danish kroner and by 6% at constant exchange rates (CER) in 2019
2020-01-30 EMA – First oral GLP-1 treatment for type 2 diabetes
2020-01-30 GlobesNewswire – Rybelsus® (oral semaglutide) recommended for approval for the treatment of adults with type 2 diabetes by the European regulatory authorities
2020-01-16 GlobesNewswire – Ozempic® approved in the US for CV risk reduction in people with type 2 diabetes and established CVD
2020-01-16 PR Newswire – FDA approves Ozempic® for cardiovascular risk reduction in adults with type 2 diabetes and known heart disease, updates Rybelsus® label
2019-11-18 Dicerna – Dicerna and Novo Nordisk Enter Agreement to Discover and Develop RNAi Therapies for Liver-Related Cardio-Metabolic Diseases
2019-10-09 bluebird bio – bluebird bio and Novo Nordisk Enter into Research Agreement to Develop in vivo Genome Editing Candidates for Haemophilia and Other Severe Genetic Diseases
2019-10-01 Noom – Novo Nordisk and Noom to partner around digital health solutions to help people with obesity lose weight and keep it off
2019-09-20 FDA – FDA approves first oral GLP-1 treatment for type 2 diabetes
2019-09-20 GlobeNewswire – Rybelsus® (semaglutide tablets), the first GLP-1 in a tablet approved in the US
2019-09-16 Medtronic – Medtronic and Novo Nordisk Enter Agreement to Provide Integrated Digital Solutions for People with Diabetes
Clinical Trials
NCT04083781 – Novo Nordisk – Research Study to Look at How Well the Drug Concizumab Works in Your Body if You Have Haemophilia With Inhibitors (explorer7)
NCT04082429 – Novo Nordisk – Research Study to Look at How Well the Drug Concizumab Works in Your Body if You Have Haemophilia Without Inhibitors (explorer8)
NCT03363321 – Pfizer – PF-06741086 Long-term Treatment in Severe Hemophilia
NCT03938792 – Pfizer – Study of the Efficacy and Safety PF-06741086 in Adult and Teenage Patients With Severe Hemophilia A or B
NCT03987919 – A Study of Tirzepatide (LY3298176) Versus Semaglutide Once Weekly as Add-on Therapy to Metformin in Participants With Type 2 Diabetes (SURPASS-2) – https://clinicaltrials.gov/ct2/show/NCT03987919
NCT04184622 – A Study of Tirzepatide (LY3298176) in Participants With Obesity or Overweight (SURMOUNT-1) – https://clinicaltrials.gov/ct2/show/NCT04184622
NCT04153929 – A Study to Test Whether Different Doses of BI 456906 Are Effective in Treating Adults With Type 2 Diabetes. – https://clinicaltrials.gov/ct2/show/NCT04153929
NCT03591718 – A Study to Test Different Doses of BI 456906 in Patients With Obesity – https://clinicaltrials.gov/ct2/show/NCT03591718