Novo Nordisk is with the exception of the postponement of new clinical trials mostly unaffected by COVID-19. Sales in Q1 were however positively affected by stock piling of insulin. Growth continues to be spearheaded by Ozempic®, whereas Victoza® and Levemir® in the US continue to lead the decline. Rybelsus® revenue totaled DKKb 229 in the US in Q1. Rybelsus® was approved for the treatment of adults with type 2 diabetes in the EU on April 4th.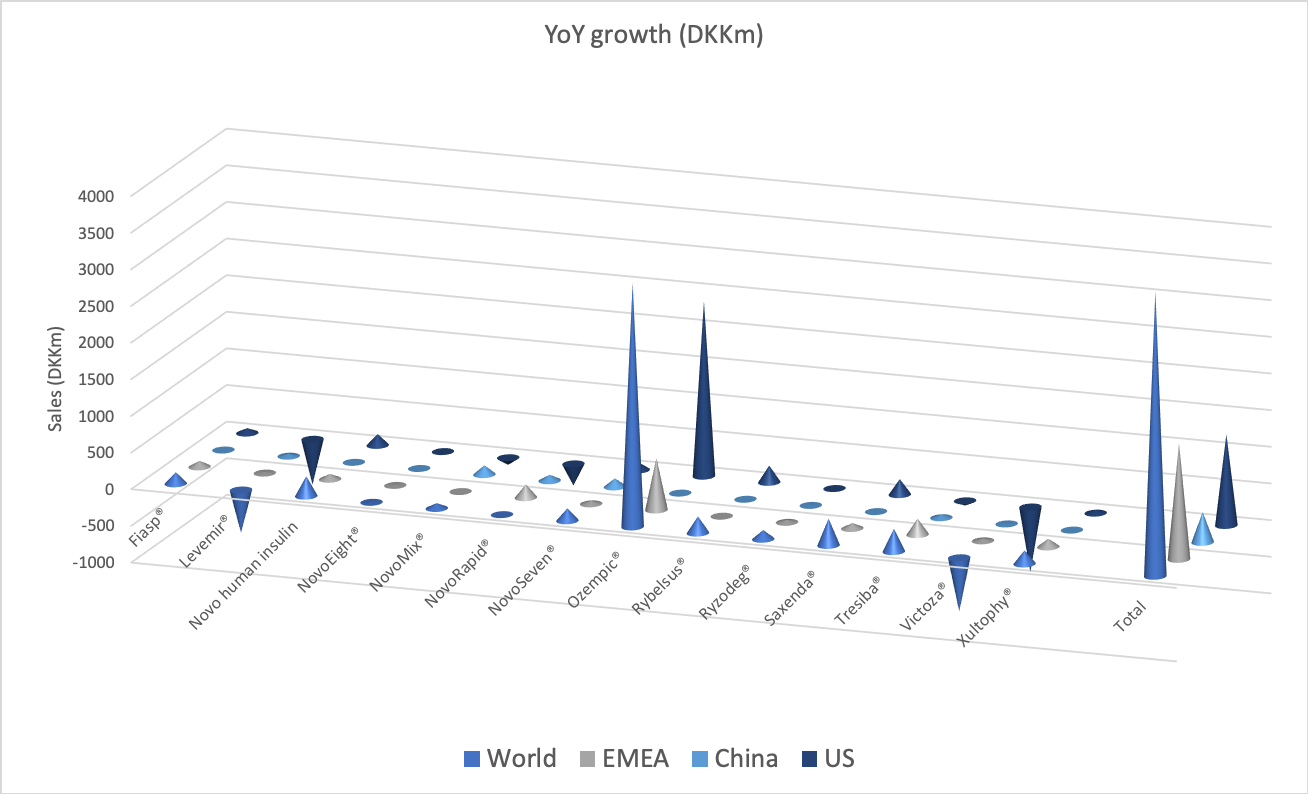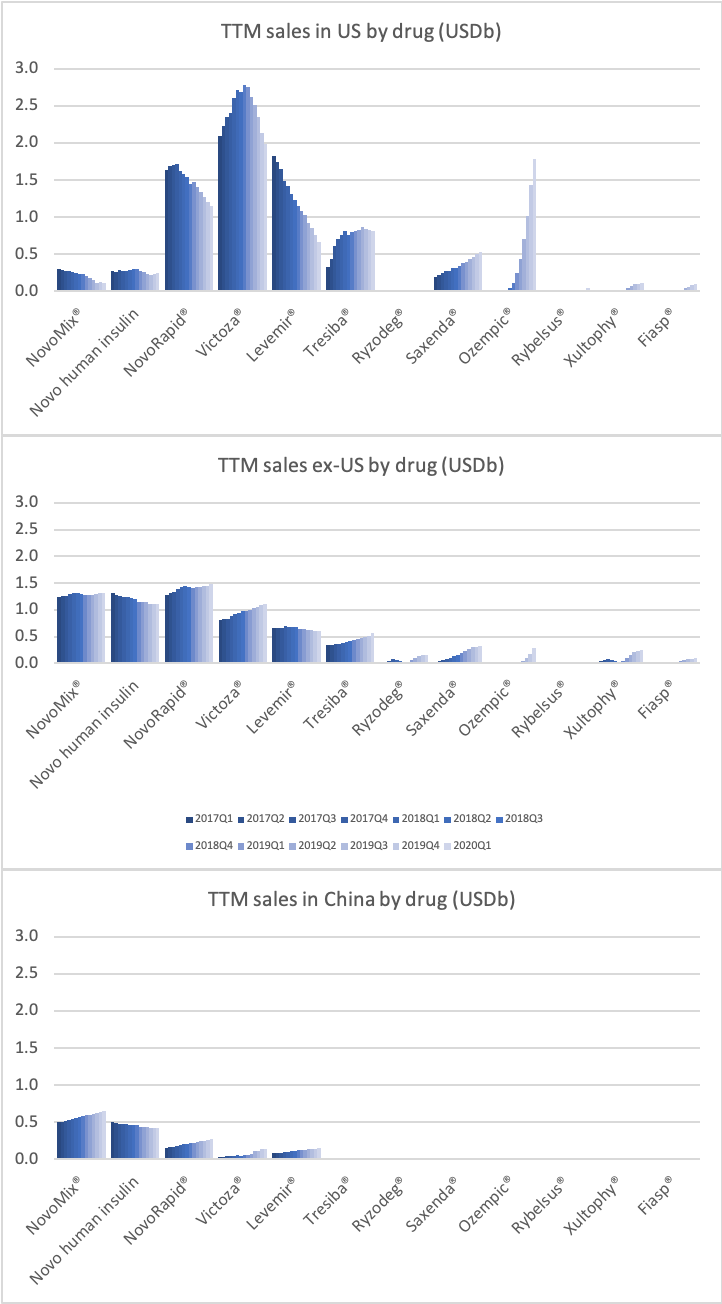 Novo Nordisk is experiencing positive GLP1R growth in the US due to Ozempic® and despite of Victoza®. Negative growth for insulin is led by Levemir®.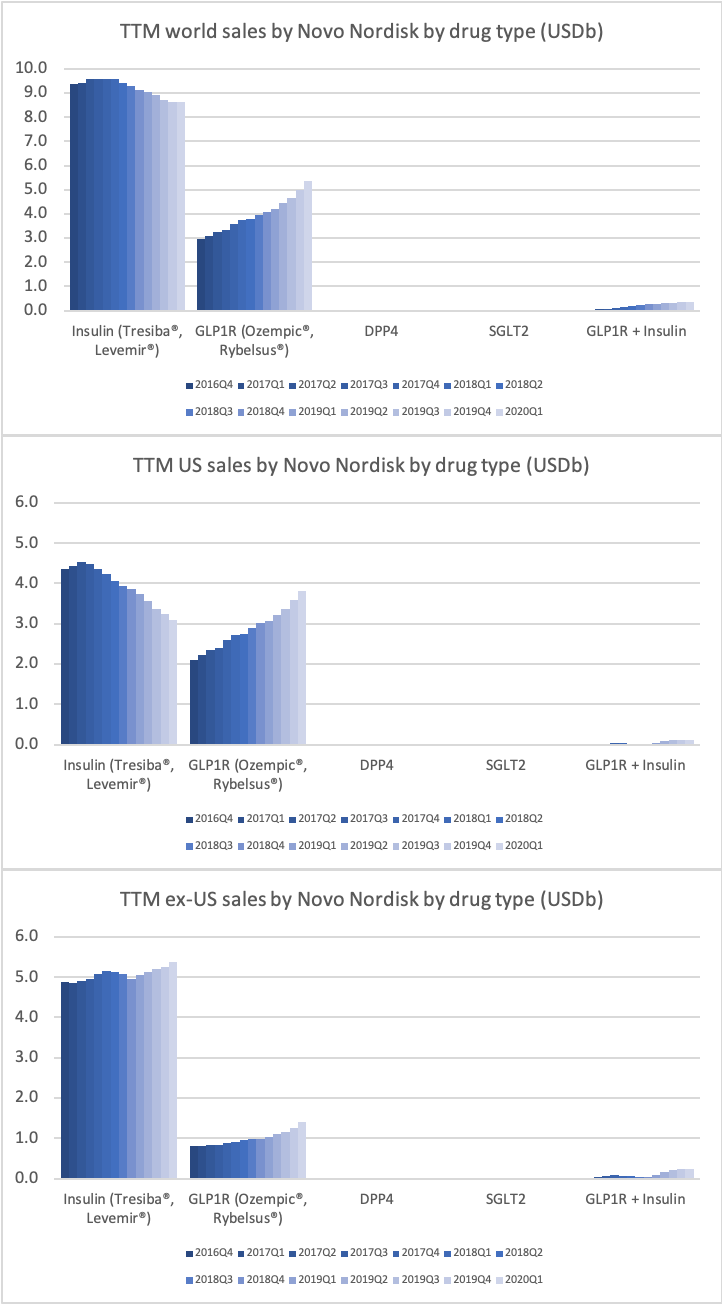 GLP1R
Novo Nordisk and Eli Lilly are both experiencing GLP1R growth in the US thanks to Ozempic® and Trulicity®, whereas Victoza® is declining.
Obesity
Saxenda® for the treatment of obesity is also growing within and outside the US.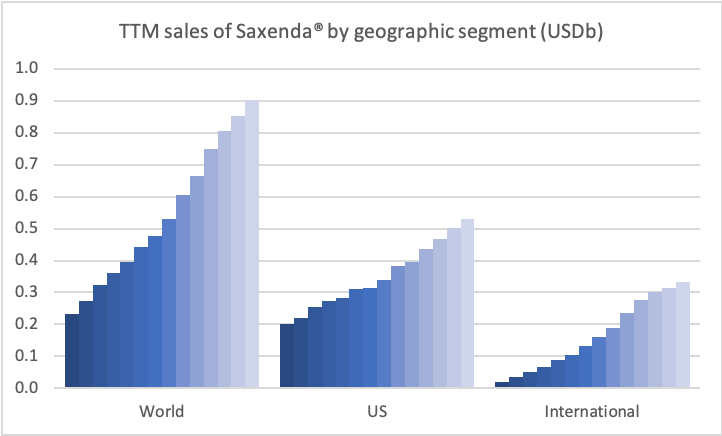 Eli Lilly has the dual GIP/GLP1 receptor agonist Tirzepatide (LY3298176) in phase 3 for diabetes (SURPASS) and obesity (SURMOUNT1 / NCT04184622), but it has gastrointestinal issues such as nausea, diarrhea and vomiting. The cardiovascular risk outcome trial (NCT04255433) is set to start this year.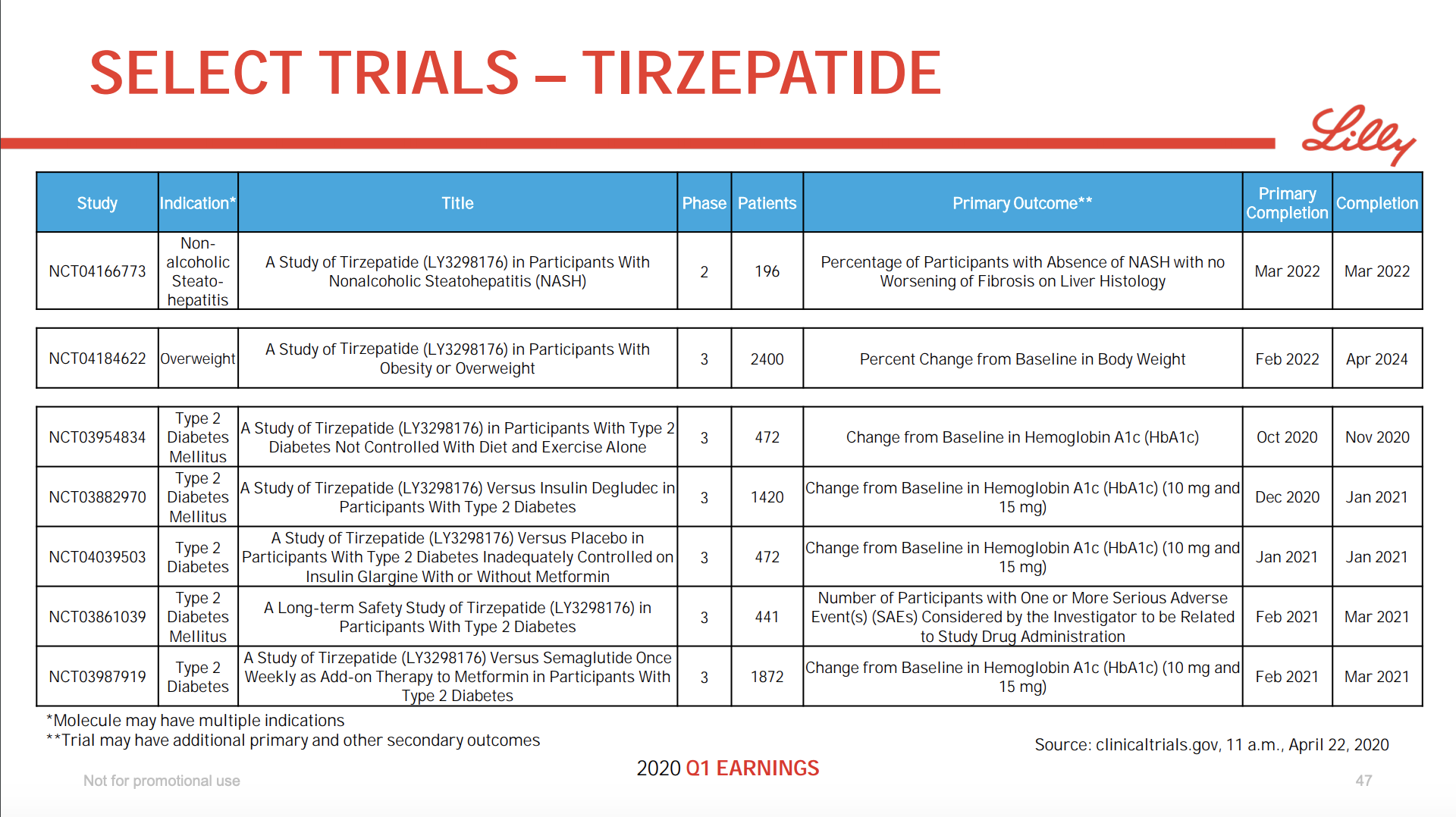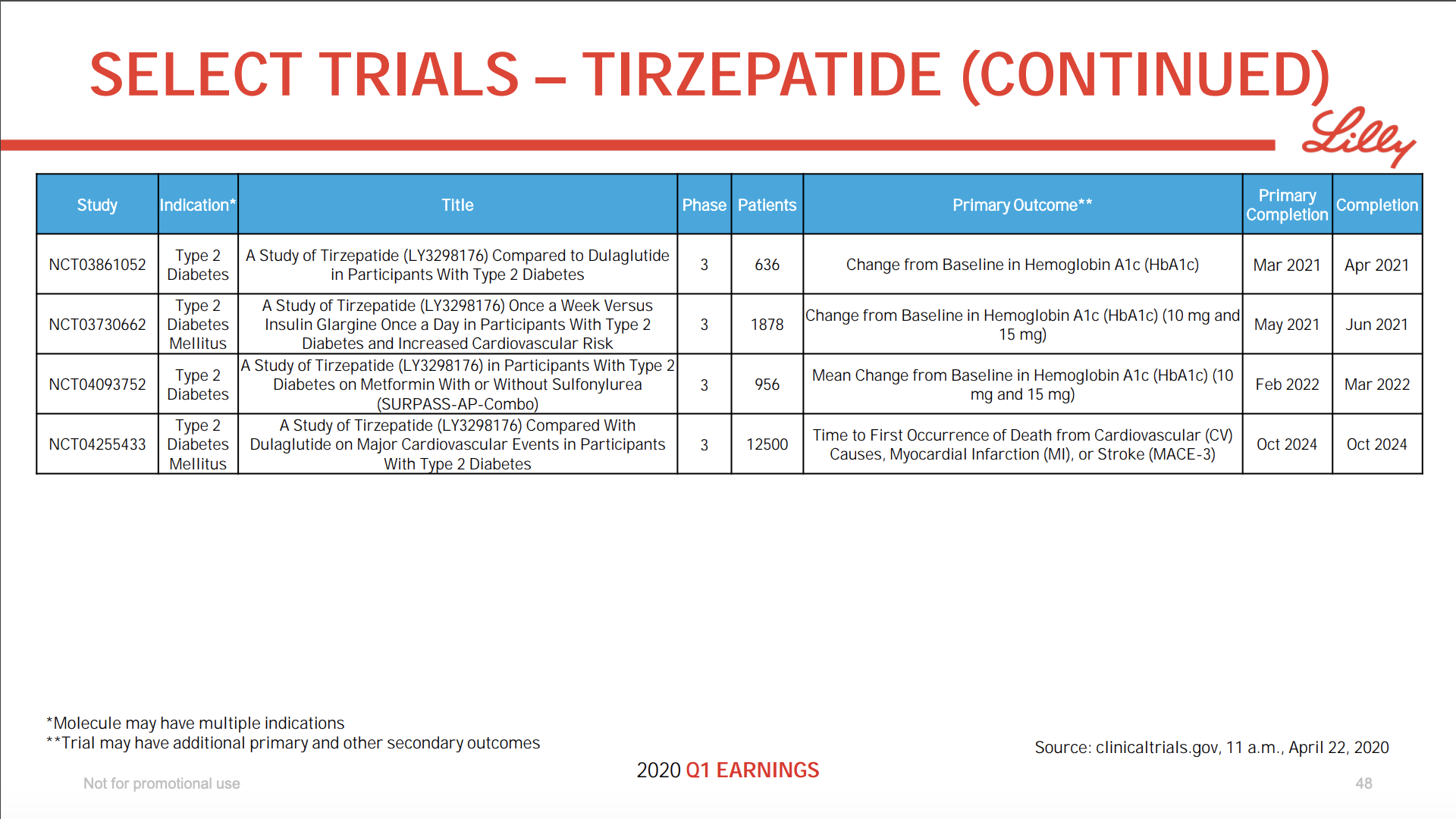 Novo Nordisk has semaglutide for obesity in phase 3 (STEP). Results are expected in Q2 for STEP1 (NCT03548935), STEP2 (NCT03552757), STEP3 (NCT03611582) and STEP4 (NCT03548987) and later this year for STEP6 (NCT03811574). Results from the cardiovascular outcome trial SELECT (NCT03574597) is not expected until 2024.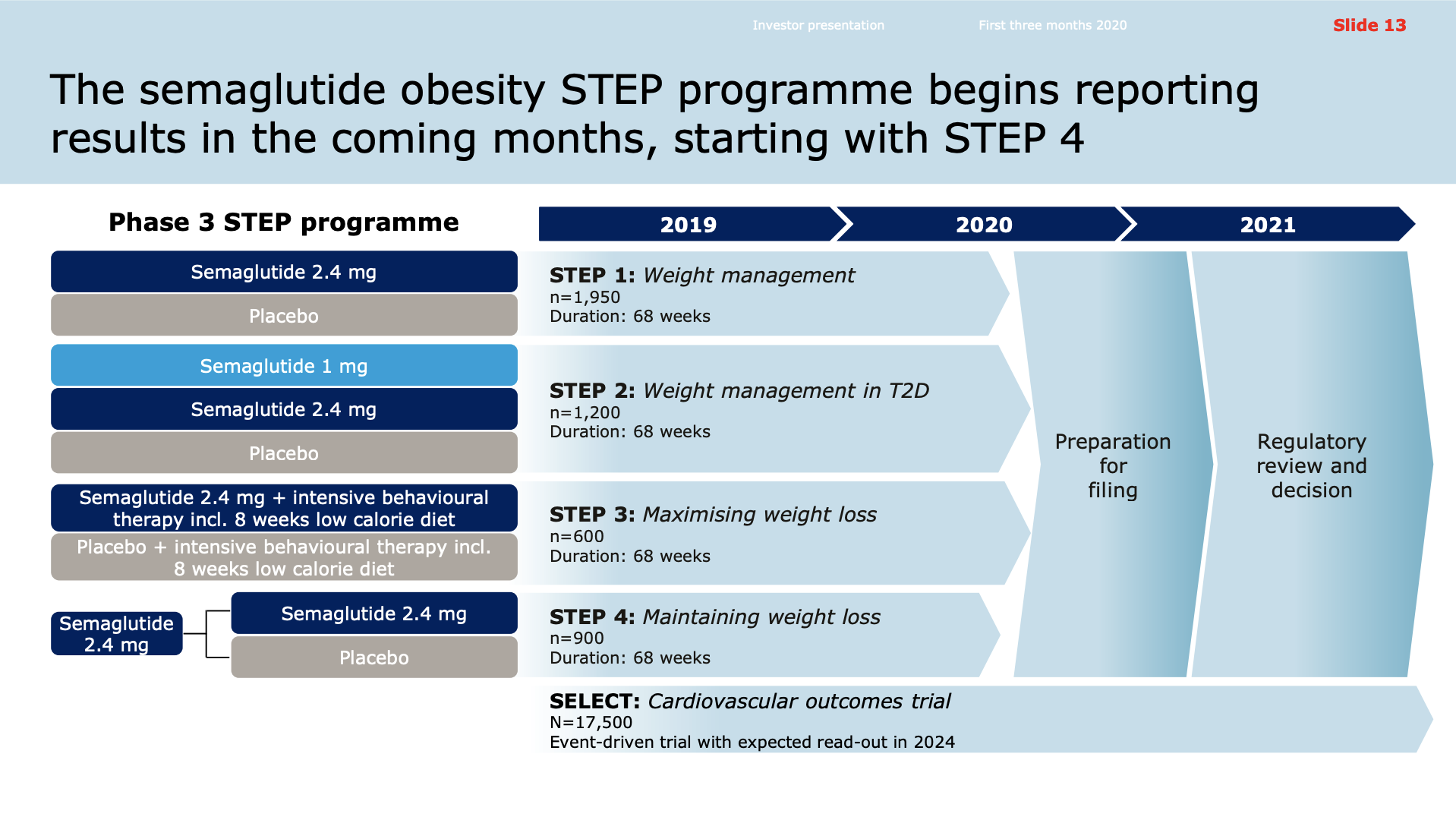 Insulin
Insulin is declining in the US led by Levemir® from Novo and Lantus® from Sanofi. Tresiba® (daily injection) is holding its ground in the US. Novo Nordisk has long acting Insulin Icodec (weekly injection / LAI287) in phase 2. The initiation of phase 3 could be affected by COVID-19.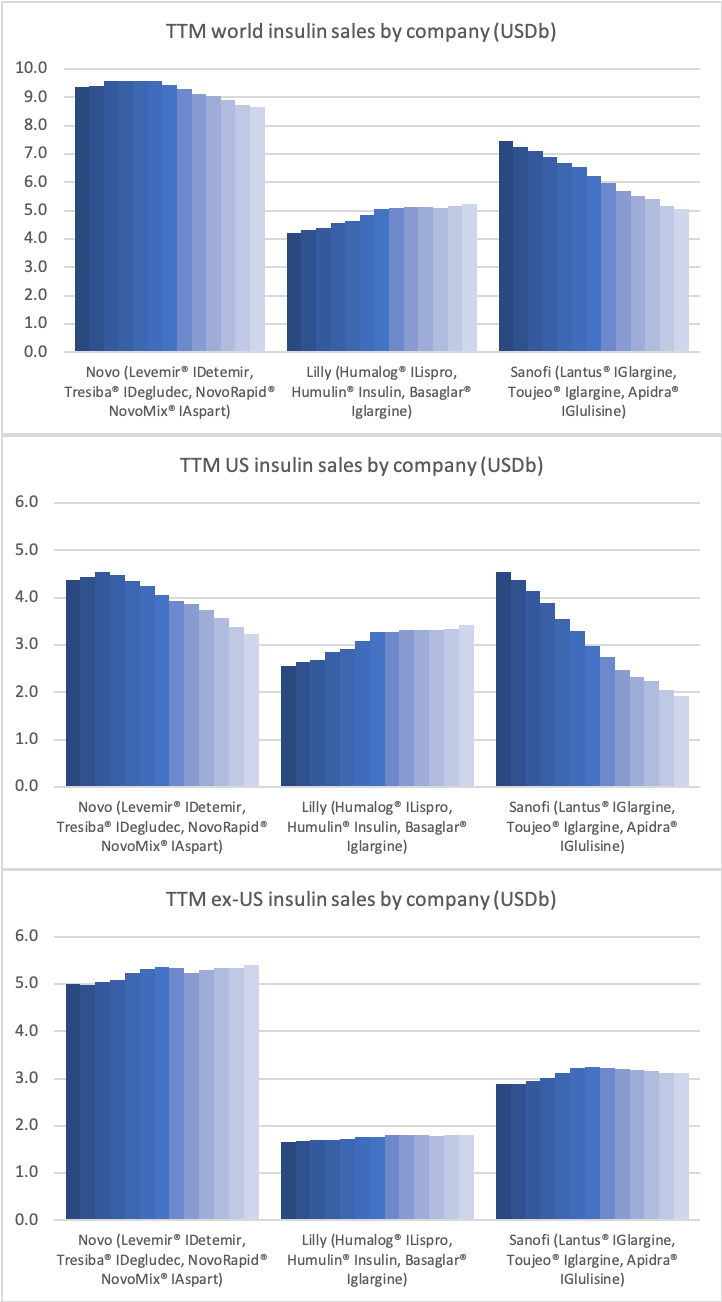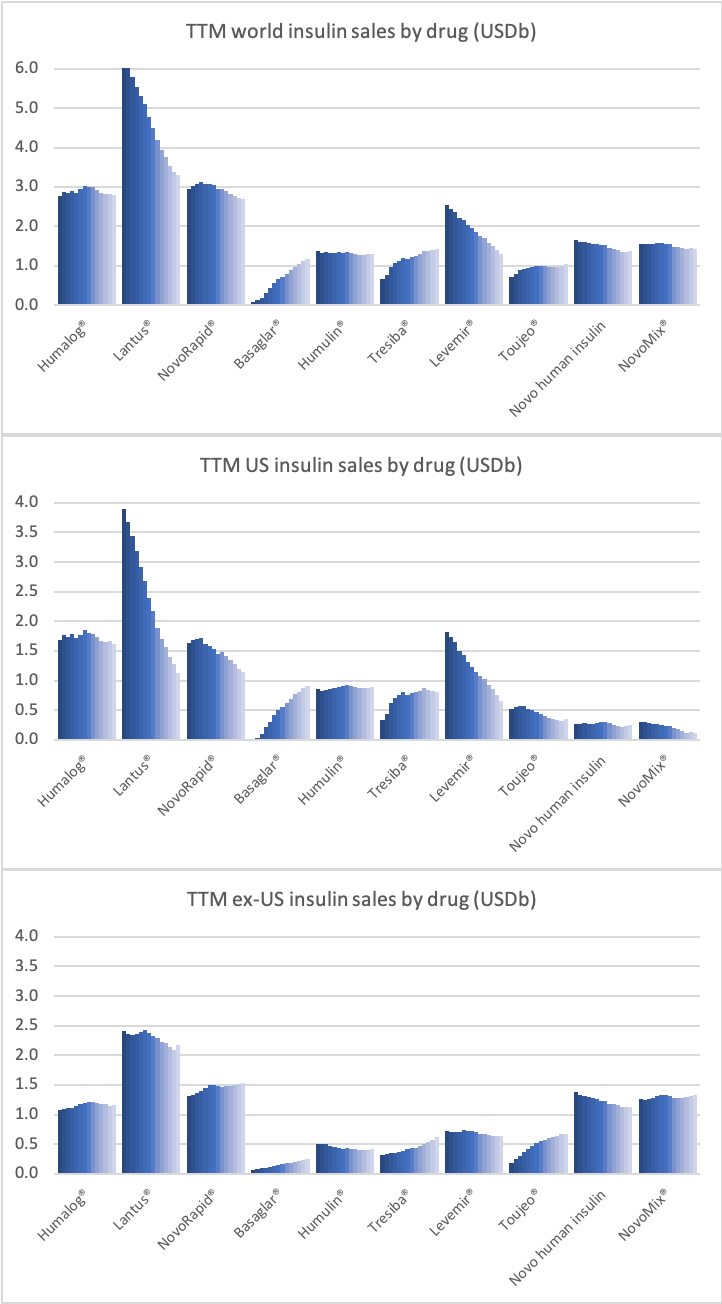 Appendix
Bloomberg – Novo Nordisk Joins Other Drugmakers With Gains on Virus Stockpiling
Reuters – Novo Nordisk's drug sales boosted by virus-related stockpiling
Bloomberg – Novo Nordisk CEO on Earnings, 2020 Outlook, Coronavirus
Early Rybelsus® uptake further supports GLP-1 NBRx and TRx market leadership in the US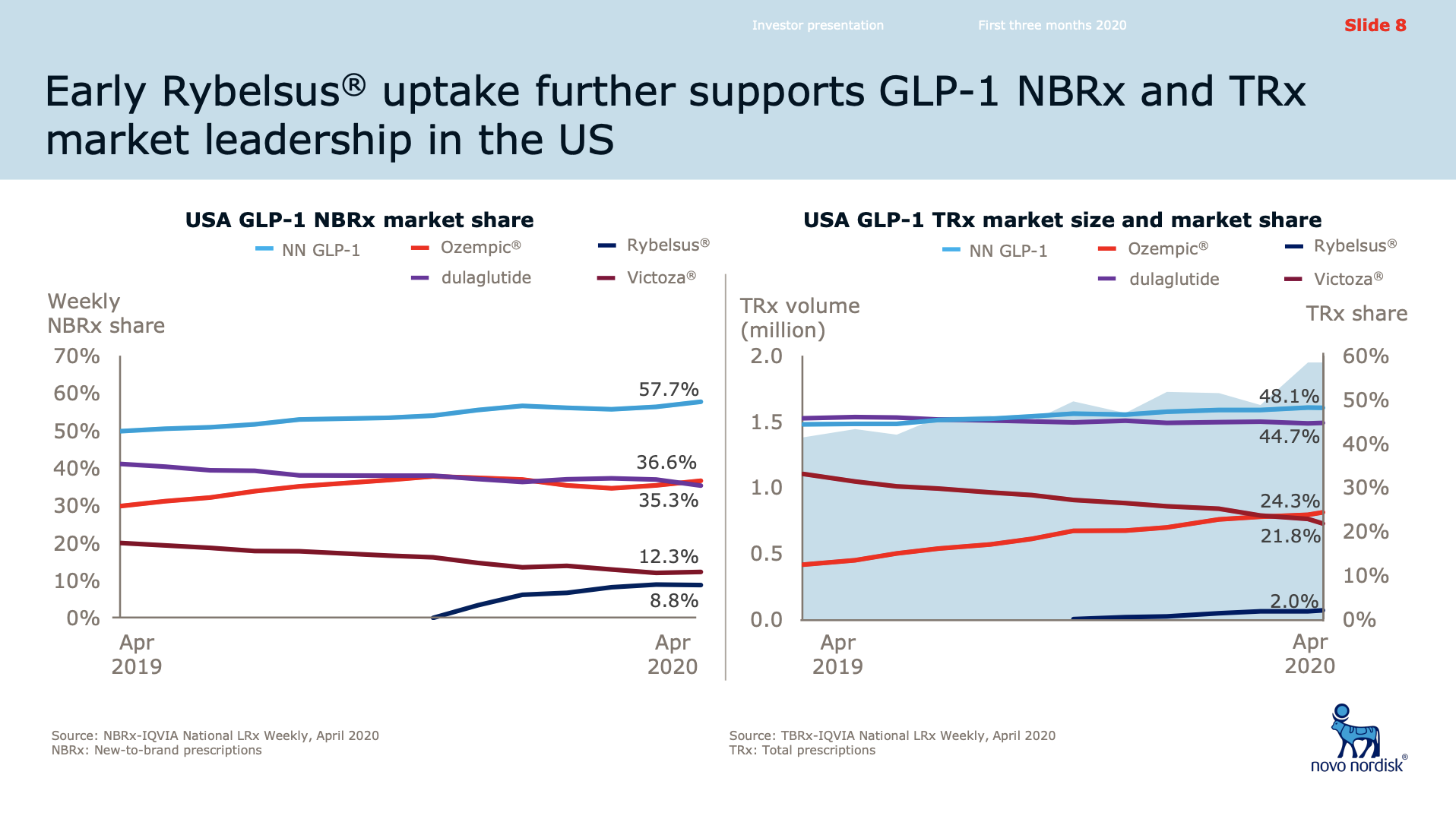 Novo Nordisk experiences growth among the GLP1R class of drugs, but this is offset by the decline of insulin in the US.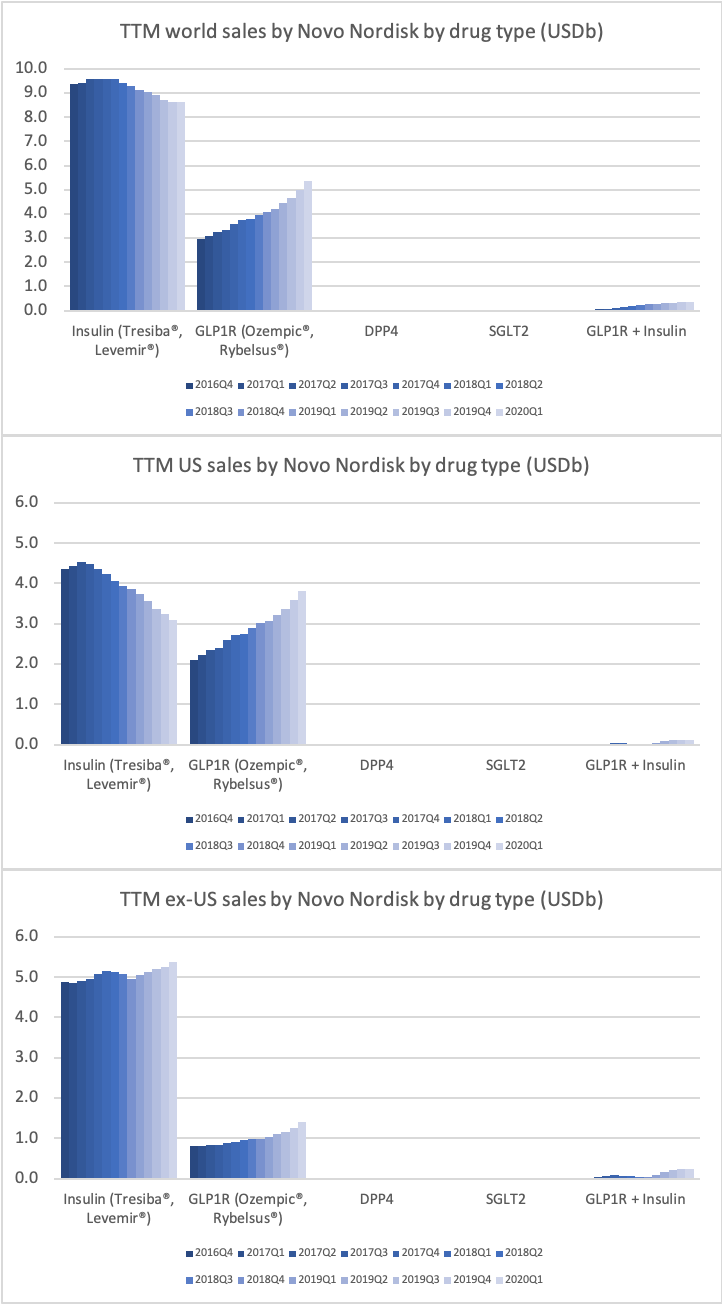 The diabetes world market as a whole across companies and across drugs is growing outside the US.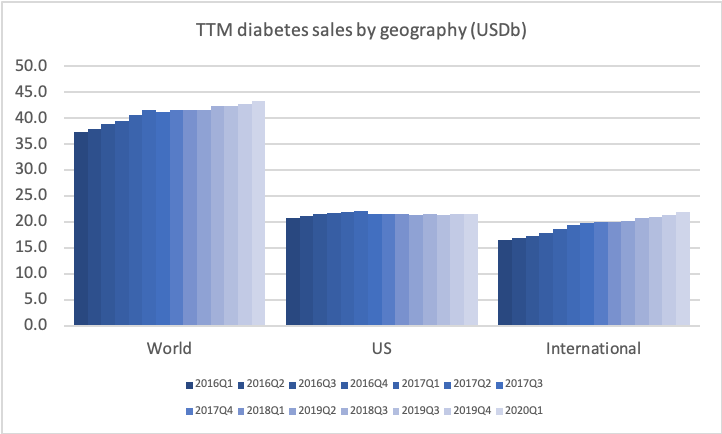 Growth of the sale of anti-diabetic drugs is experienced by Eli Lilly within and outside the US and by Novo Nordisk outside the US, whereas Merck, Sanofi and AstraZeneca are all declining in the US.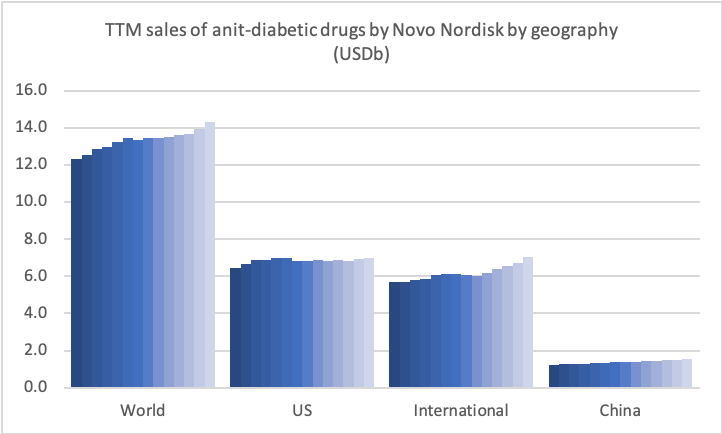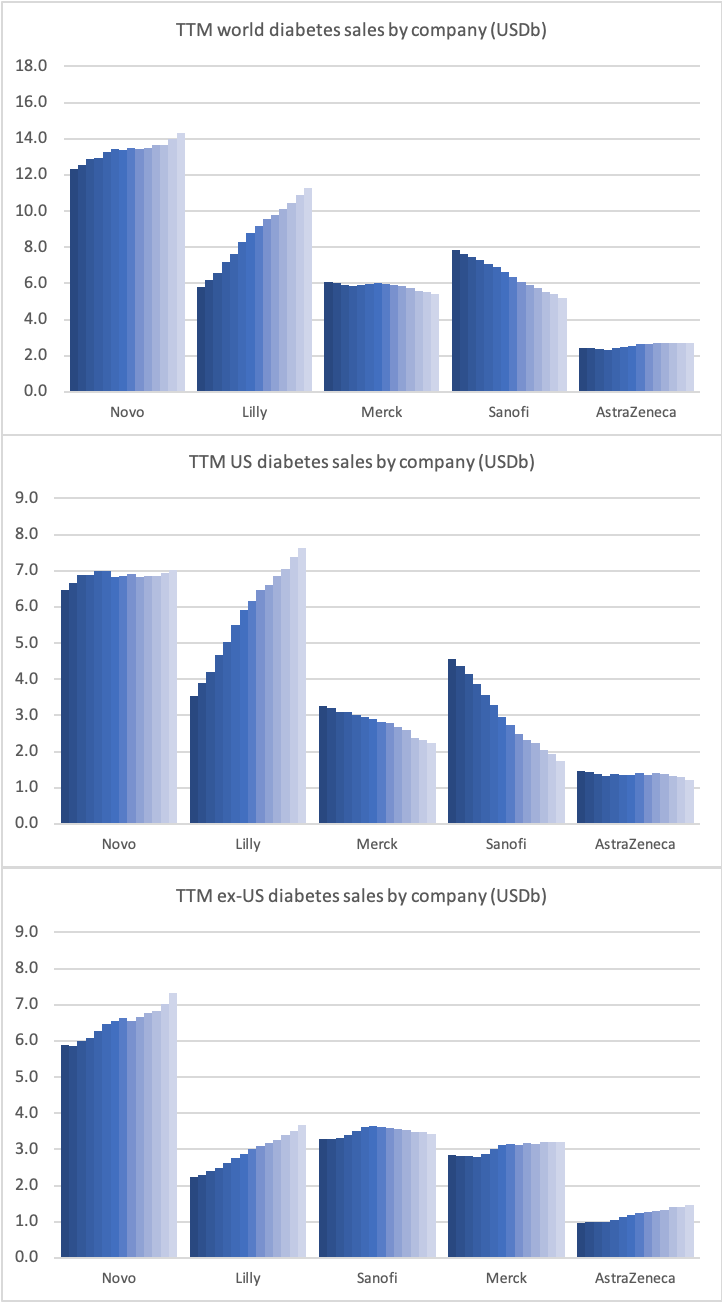 The GLP1R drug class (e.g. Ozempic® from Novo) is growing in the US, whereas insulin (e.g. Lantus® from Sanofi), DPP4 (e.g. Januvia® from Merck) and SGLT2 (e.g. Invokana® from J&J) are all declining in the US.