Best selling drugs
Once more Humira® from AbbVie is the best selling drug of the quarter ($4,837M) despite headwinds in Europe from biosimilars Amgevita®, Amsparity®, Halimatoz®, Hefiya®, Hulio®, Hyrimoz®, Idacio® and Imraldi®. In the US Humira® will in 2023 lose market exclusivity to the biosimilars Amjevita®, Cyltezo®, Hyrimoz®, Hadlima®, Abrilada® and Hulio®. AbbVie upon acquisition of Allergan has become less dependent on the patent expiration of Humira®.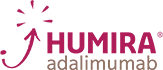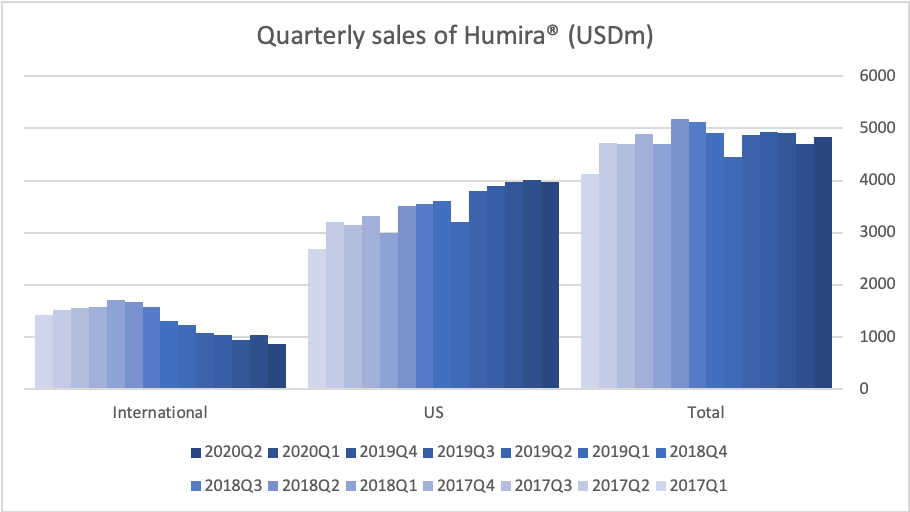 Keytruda® from Merck continues to receive FDA approvals and could perhaps be the best selling drug in the world before the end of next year.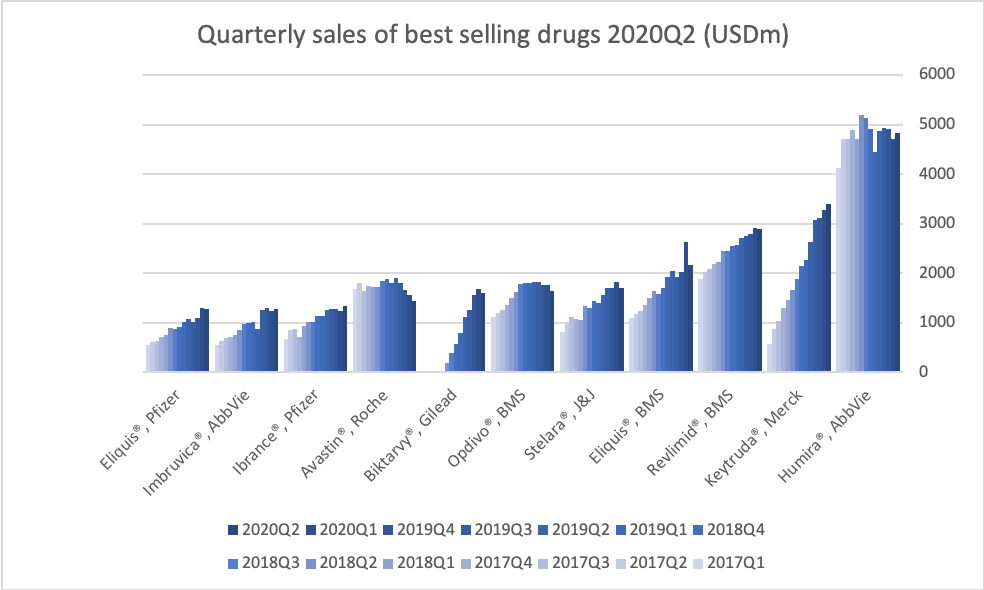 The best selling antidiabetic and antiviral drug is still the GLP1 receptor agonist Trulicity® (dulaglutide) from Eli Lilly and Biktarvy® from Gilead Sciences, respectively. The combined sales of the GLP1 receptor agonists Ozempic® (once weekly subcutaneous semaglutide) and Victoza® (once daily subcutaneous liraglutide) from Novo Nordisk however exceed that of Trulicity®.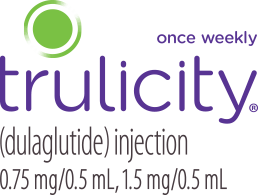 Biktarvy® is currently the best selling oral drug ($1604M). In the future it could perhaps be the antidiabetic drug Rybelsus® (semaglutide) from Novo Nordisk. The antidiabetic drugs Januvia® and Janumet® from Merck reached combined annual peak sales of approximately $6B. The GLP1 receptor agonist semaglutide is a peptide, but it is available as a tablet (Rybelsus®) thanks to advances in oral peptide therapeutics.
Below the best selling drugs are visualized by company and by therapeutic area and vice versa.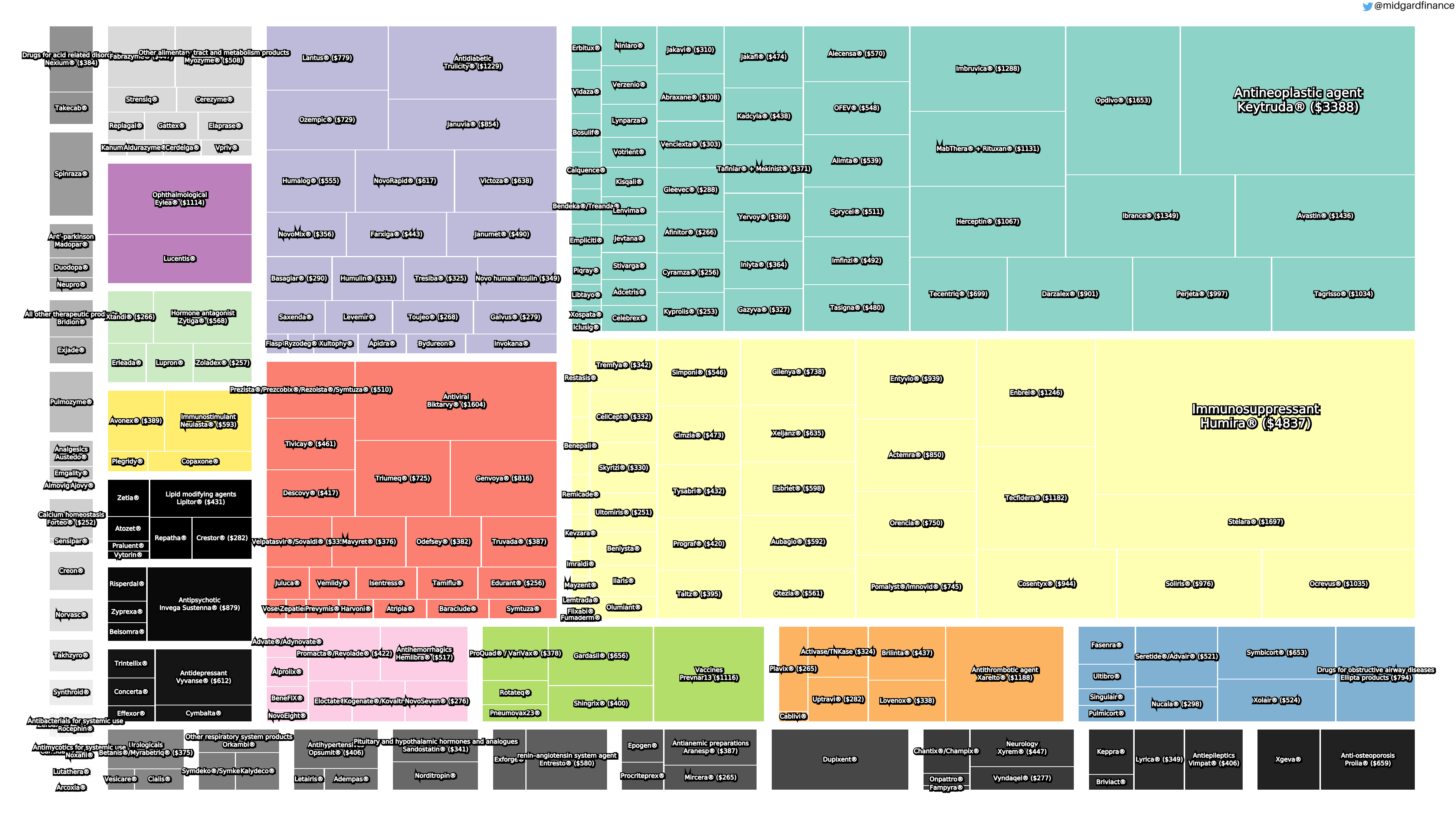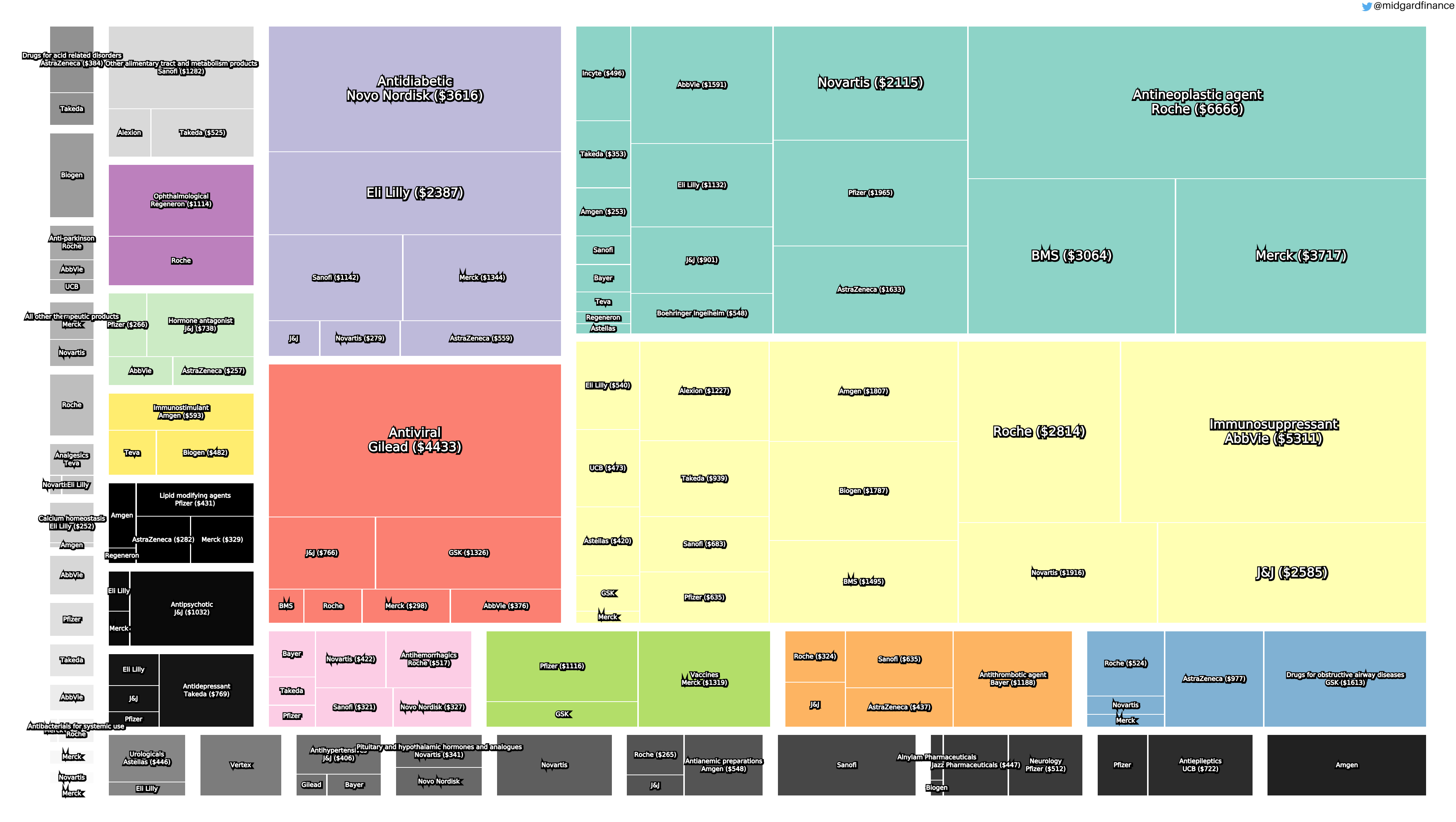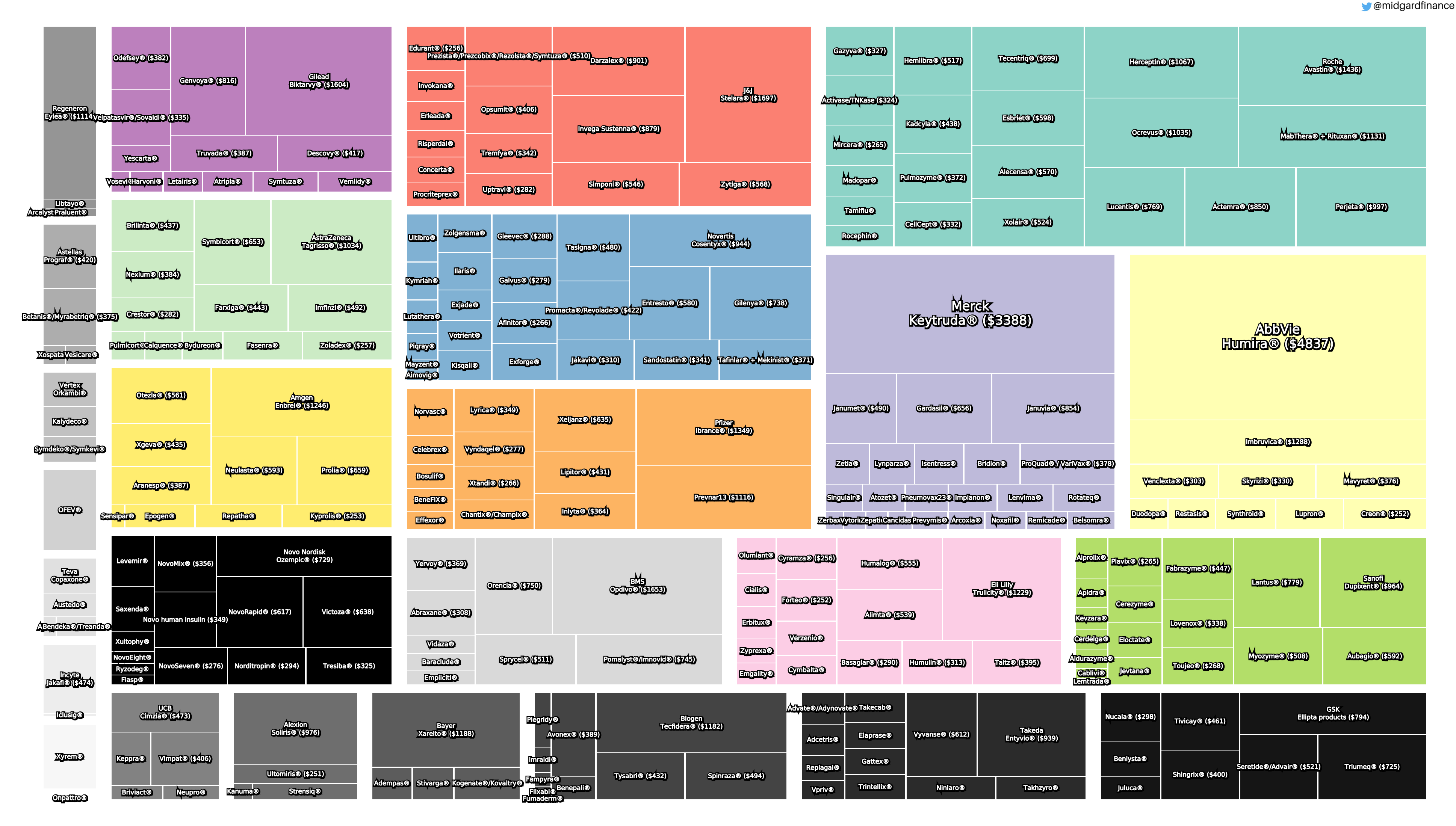 Fastest growing drugs
The fastest growing drug value wise is the triple combination drug Trikafta®/Kaftrio® (ivacaftor+tezacaftor+elexacaftor) from Vertex Pharmaceuticals for the treatment of cystic fibrosis, which was approved by the FDA less than a year ago and by the EMA less than three months ago, followed by Keytruda® from Merck, Biktarvy® from Gilead Sciences, Dupixent® from Sanofi and Ozempic® from Novo Nordisk.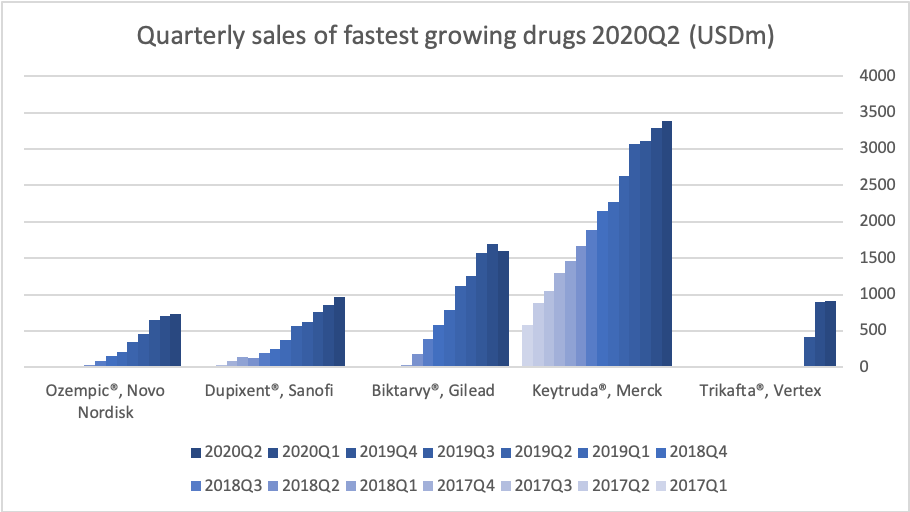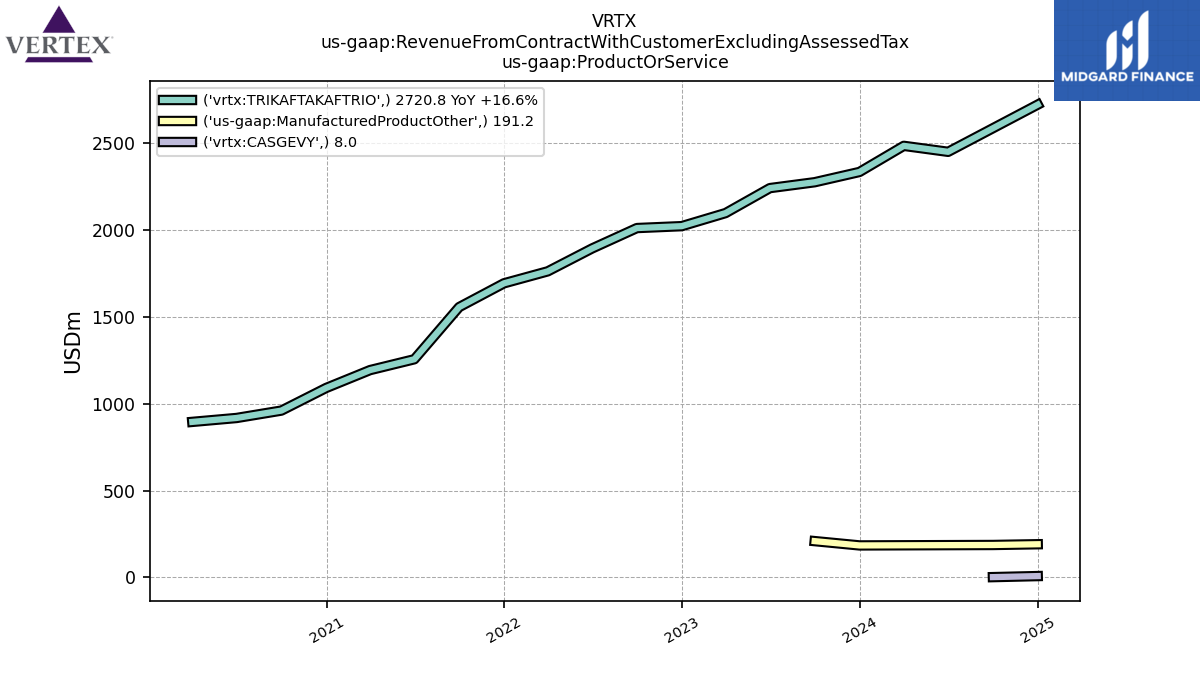 Ozempic® is the fastest growing drug percentage wise (~108%) followed by Venclexta® from AbbVie (~79%) and Dupixent® (~71%).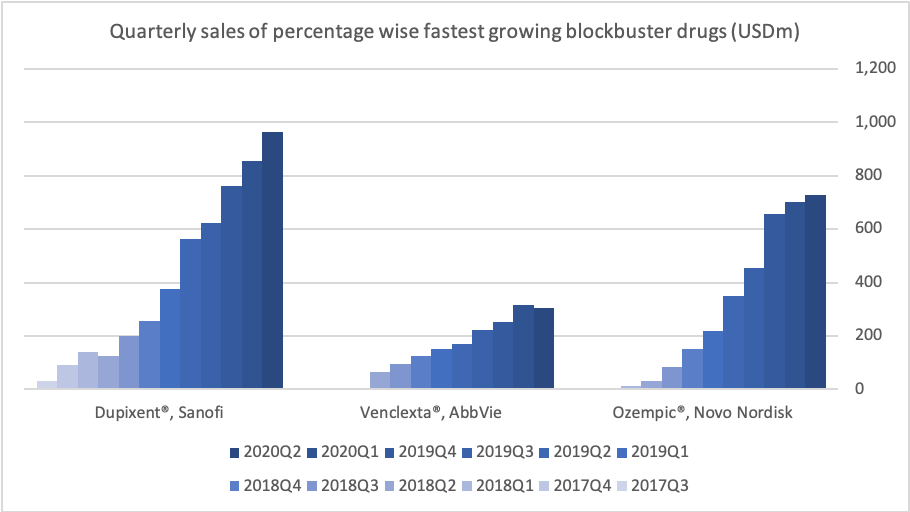 The details on semaglutide as a subcutaneous (Ozempic®) and oral (Rybelus®) antidiabetic drug and the clinical trials as an antiobesity drug are covered in different blog posts on Novo Nordisk.