Diabetes rivals Eli Lilly and Novo Nordisk and their smaller diabetes competitors such as Sanofi, Merck, AstraZeneca and Johnson & Johnson have all released their Q3 results. Below is a summary of Novo and Lilly and their shared therapeutic area diabetes and their shared drug class GLP1.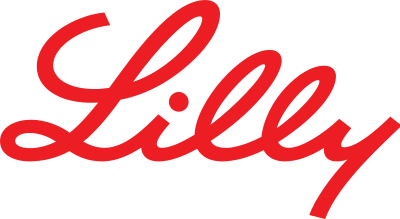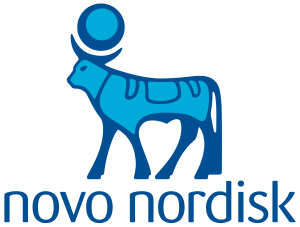 GLP1 receptor agonists come with the HbA1c advantages of insulin as shown by the SUSTAIN studies, but without the risk of hypoglycemia and without the side effects of SGLT2 inhibitors and DPP4 inhibitors, and with the added benefit of weight loss and weekly injection (Ozempic® from Novo) or no injection at all (oral semaglutide from Novo).
[expand title="Click for the results of the Novo SUSTAIN studies"]


[/expand]
GLP1 is now recommended as the first injectable medication by the American Diabetes Association (ADA) and the European Association for the Study of Diabetes (EASD). Subcutaenous GLP1 is the superior drug class and is the reason both companies experienced growth as per the quarterly earnings releases:
Novo: Novo Nordisk's operating profit decreased by 6% in Danish kroner and increased by 2% in local currencies in the first nine months of 2018
Lilly: Lilly Delivers Solid Third-Quarter 2018 Results, Revises EPS Guidance
The earnings releases from the two companies created a few headlines:
Novo Reuters: Upbeat sales lift Novo Nordisk as drugmaker weathers U.S. pricing pressure
Novo Bloomberg: Novo Nordisk Winning in Rivalry With Lilly, CEO Says
Lilly Reuters: Trulicity leads mixed third quarter for Lilly; shares sink
Lilly Bloomberg: Eli Lilly's Big Picture Justifies Its Lofty Valuation
Both companies and the FDA also sent out some notable press releases during the 3rd quarter and prior to their Q3 earnings releases:
[expand title="Click for the press releases in chronological order"]
Lilly 05nov2018: Trulicity® (dulaglutide) demonstrates superiority in reduction of cardiovascular events for broad range of people with type 2 diabetes
Lilly 05nov2018: Initial results from EMPRISE real-world evidence study show Jardiance® was associated with reduced risk for hospitalization for heart failure compared with DPP-4 inhibitors in people with type 2 diabetes with and without cardiovascular disease
Novo 26oct2018: Oral semaglutide demonstrates statistically significant reductions in HbA1c and body weight in people with long duration of type 2 diabetes treated with insulin [PIONEER 8]
Lilly 2018oct04: Lilly's Investigational Dual GIP and GLP-1 Receptor Agonist Shows Significant Reduction in HbA1c and Body Weight in People With Type 2 Diabetes
Novo 2018oct02: People with diabetes may achieve improved glycaemic control with Tresiba® versus glargine U100, without an increase in hypoglycaemia
Lilly 2018sep26: Chugai and Lilly Enter into a License Agreement for Oral GLP-1 Agonist, OWL833
FDA: FDA warns of serious genital infection linked to certain diabetes drugs
Novo 2018aug20: Oral semaglutide provides superior HbA1c and weight reductions versus placebo in people with type 2 diabetes and renal impairment in the PIONEER 5 trial
Novo 2018aug17: Novo Nordisk acquires Ziylo Ltd to accelerate its development of glucose responsive insulins
[/expand]
Both companies are seeing growth in the US in their GLP1 receptor agonist class of drugs; i.e. Trulicity® from Lilly and Victoza® and Ozempic® from Novo. Insulin sales in the US are declining led by Lantus® from Sanofi, which is facing competition from generic insulin glargine (Basaglar®) from Lilly.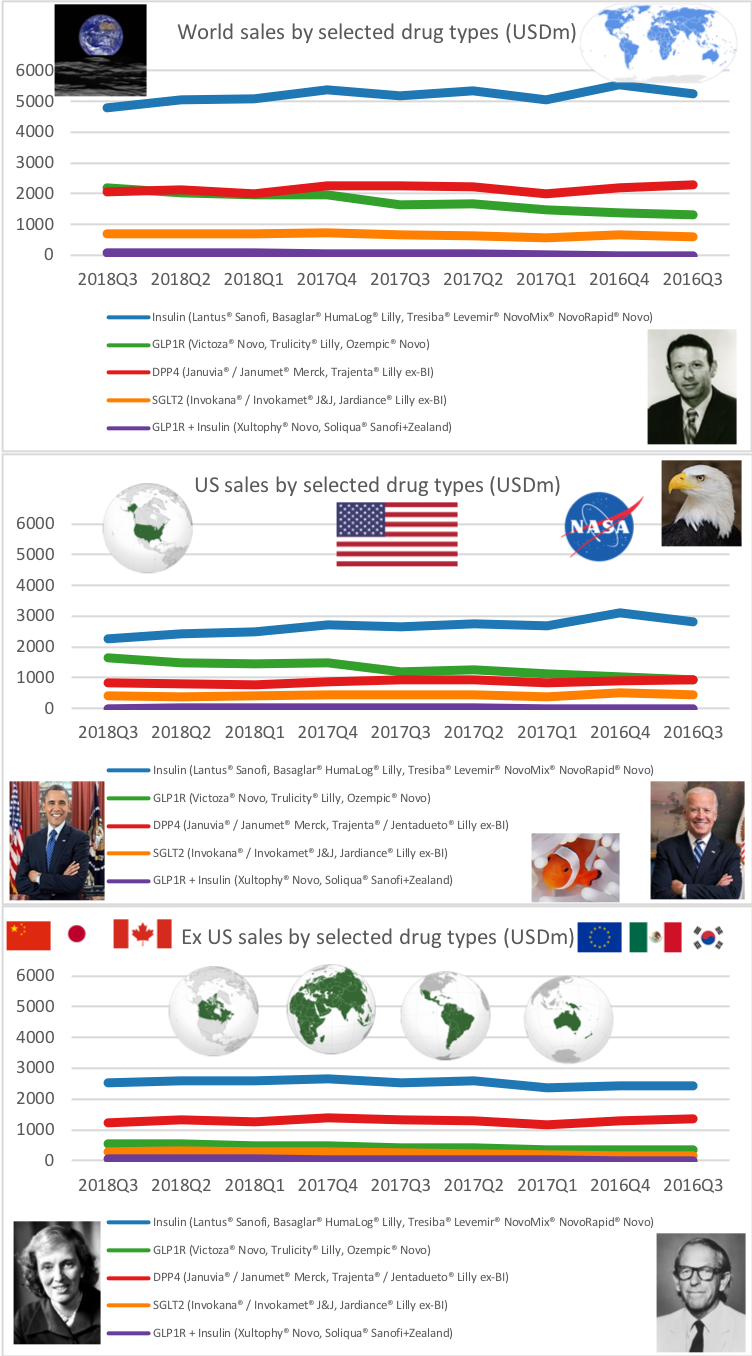 Lilly is the only company seeing growth in the US due to their GLP1 receptor agonist Trulicity®, their analog of insulin glargine Basaglar® and their SGLT2 inhibitor Jardiance®. Lantus® from Sanofi is losing market share to Lilly and their insulin glargine analog (Basaglar®). Novo is experiencing a sales decline in insulin in the US, but this is offset by GLP1s Victoza® and Ozempic®.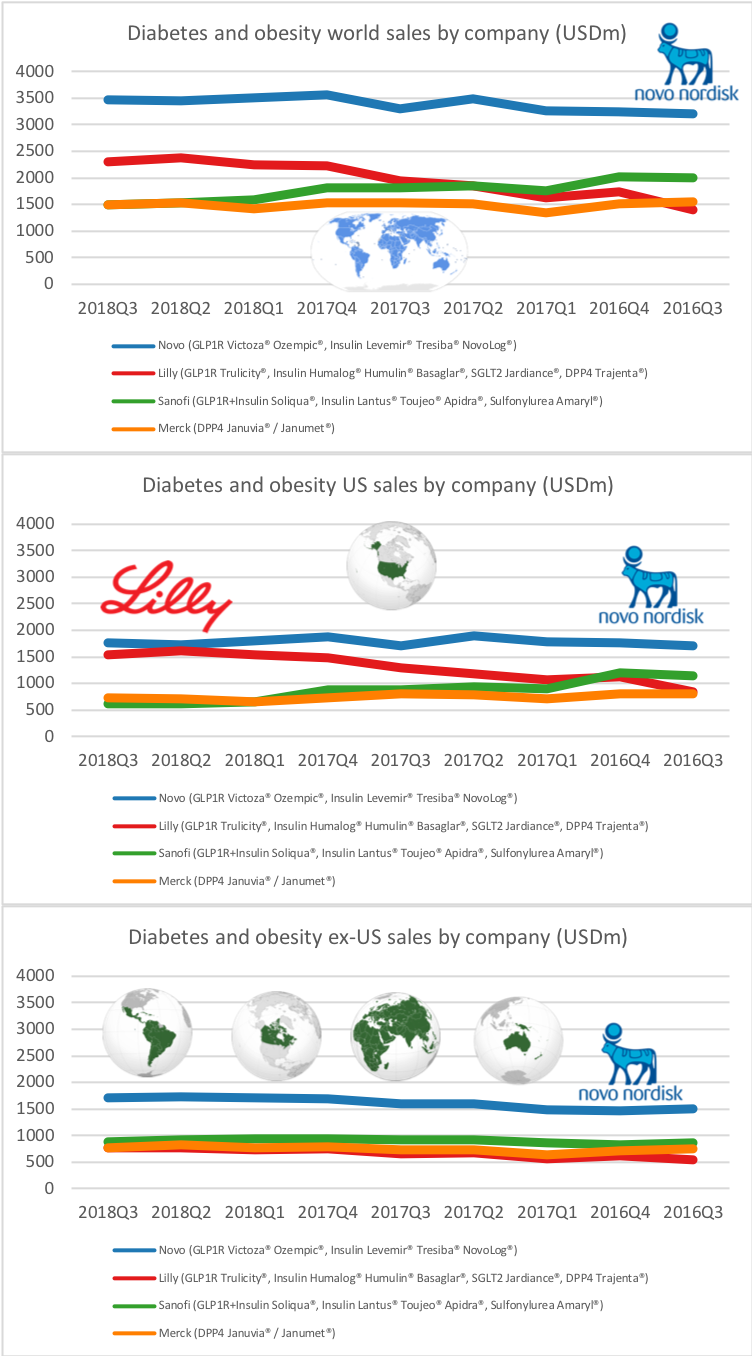 Insulin
Insulin sales in the US are down; especially Lantus® from Sanofi in the US after Lilly launched their generic version of insulin glargine (Basaglar®), but Novo is also taking a beating.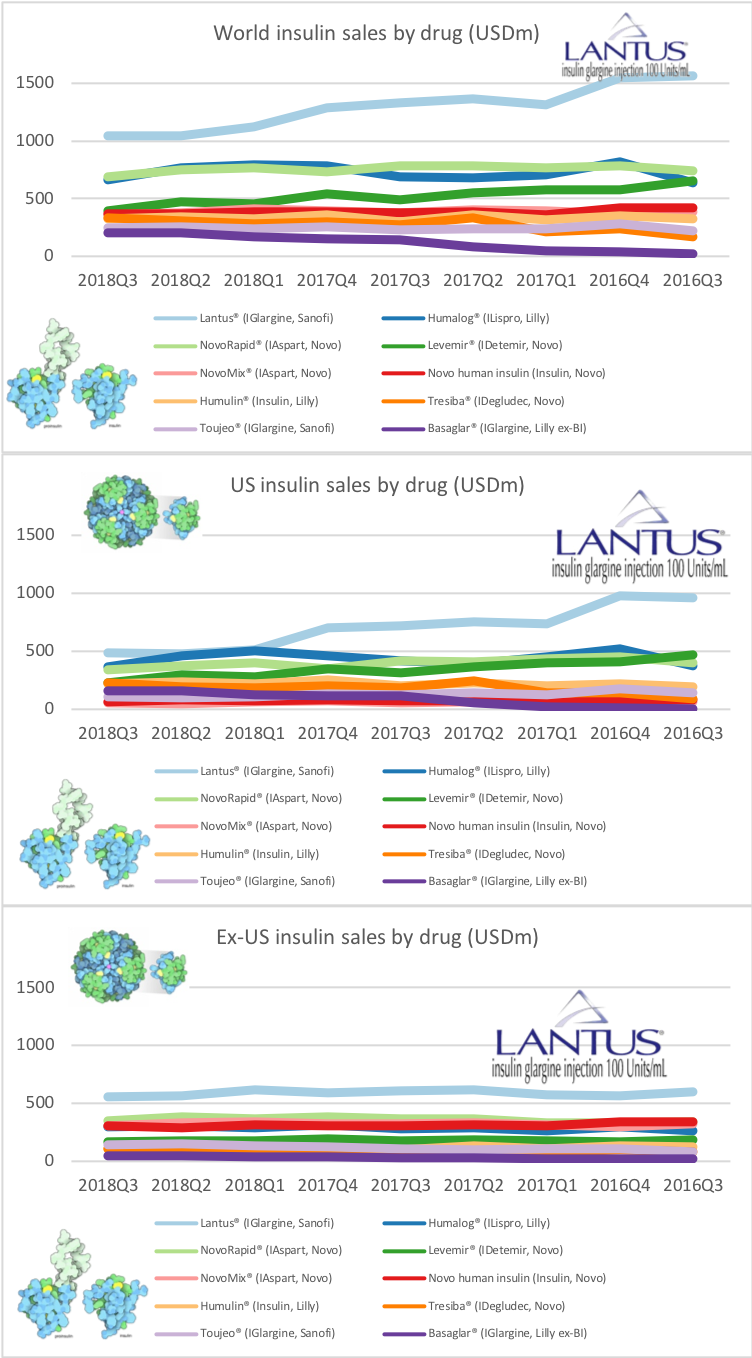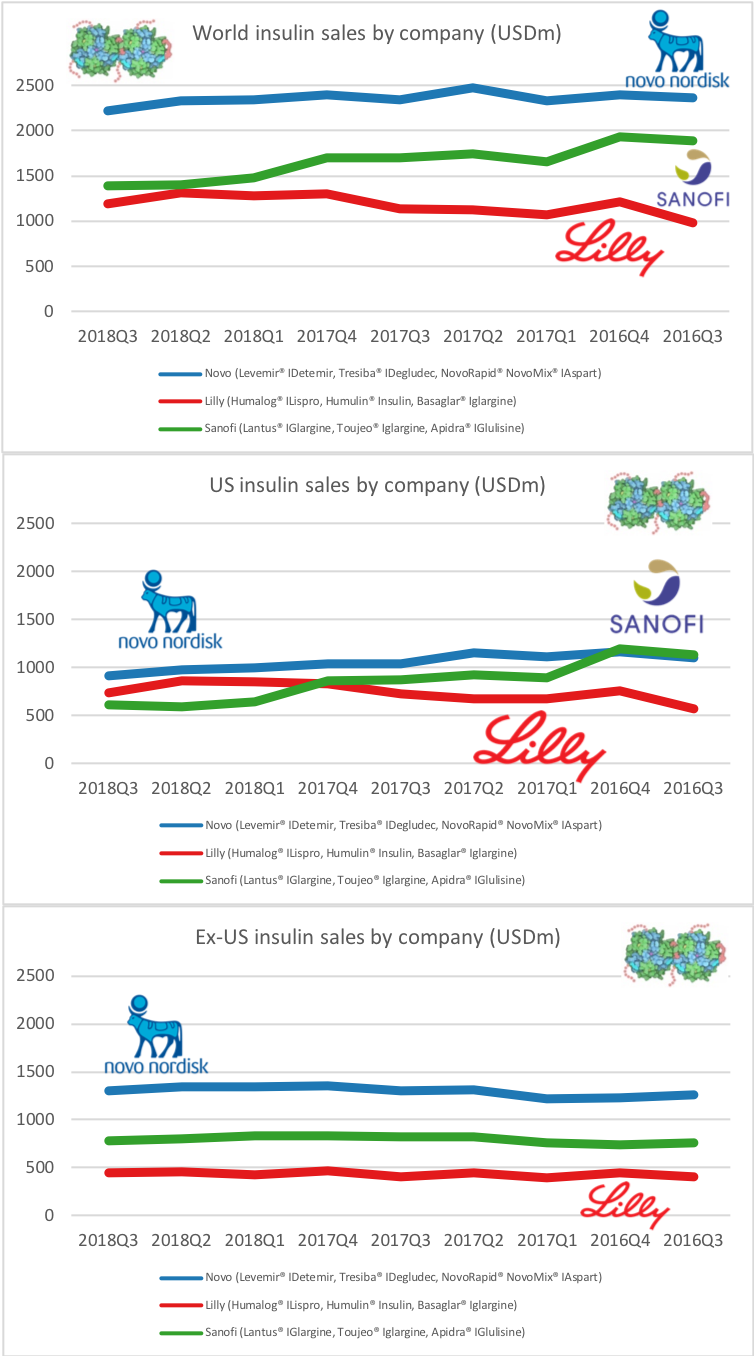 GLP1
GLP1 sales are up in the US led by Trulicity (weekly injection) from Lilly and Victoza® (daily injection) and the newly launched Ozempic® (weekly injection) from Novo.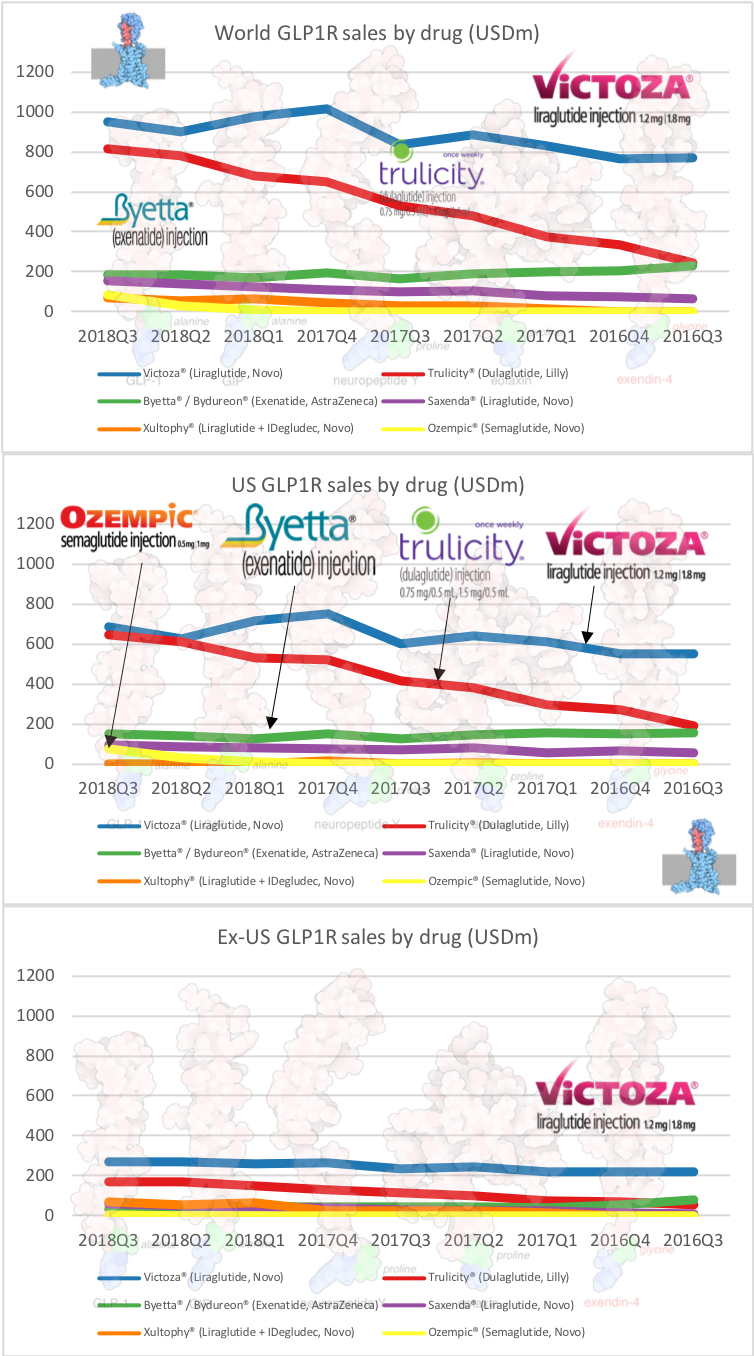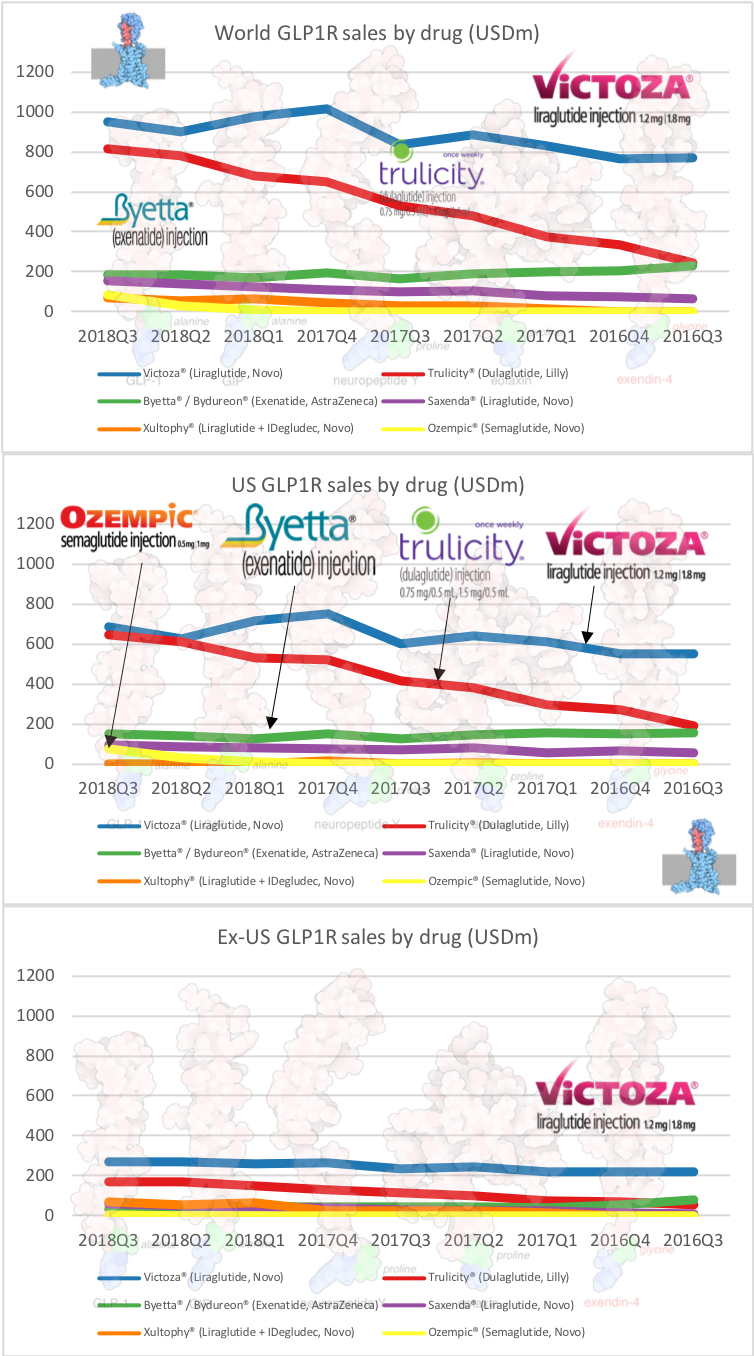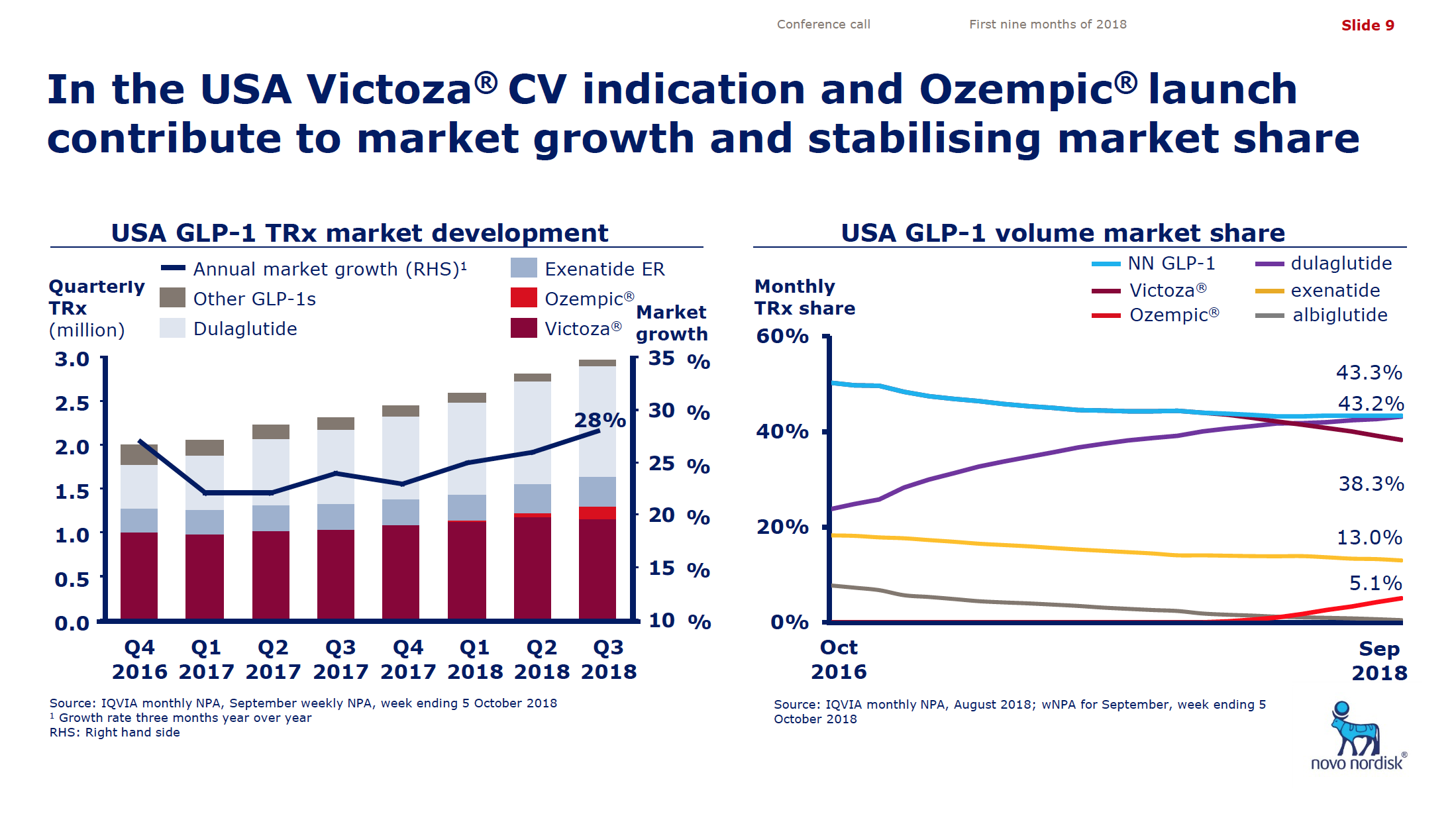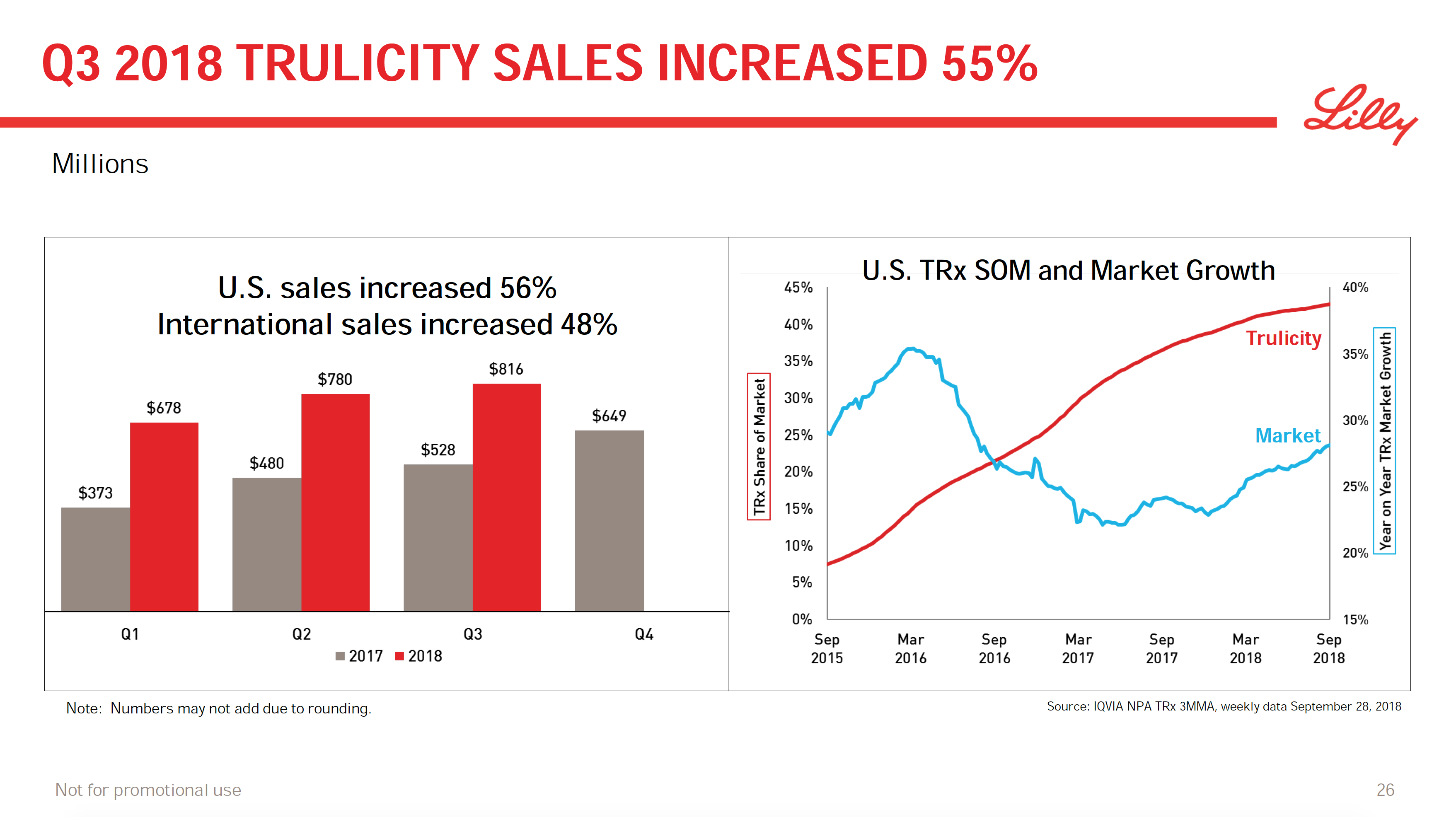 DPP4
Sales of DPP4 inhibitors such as Januvia® and Janumet® from Merck are flat and have been overtaken by GLP1 receptor agonists Merck still holds the vast majority of the DPP4 market share in the US.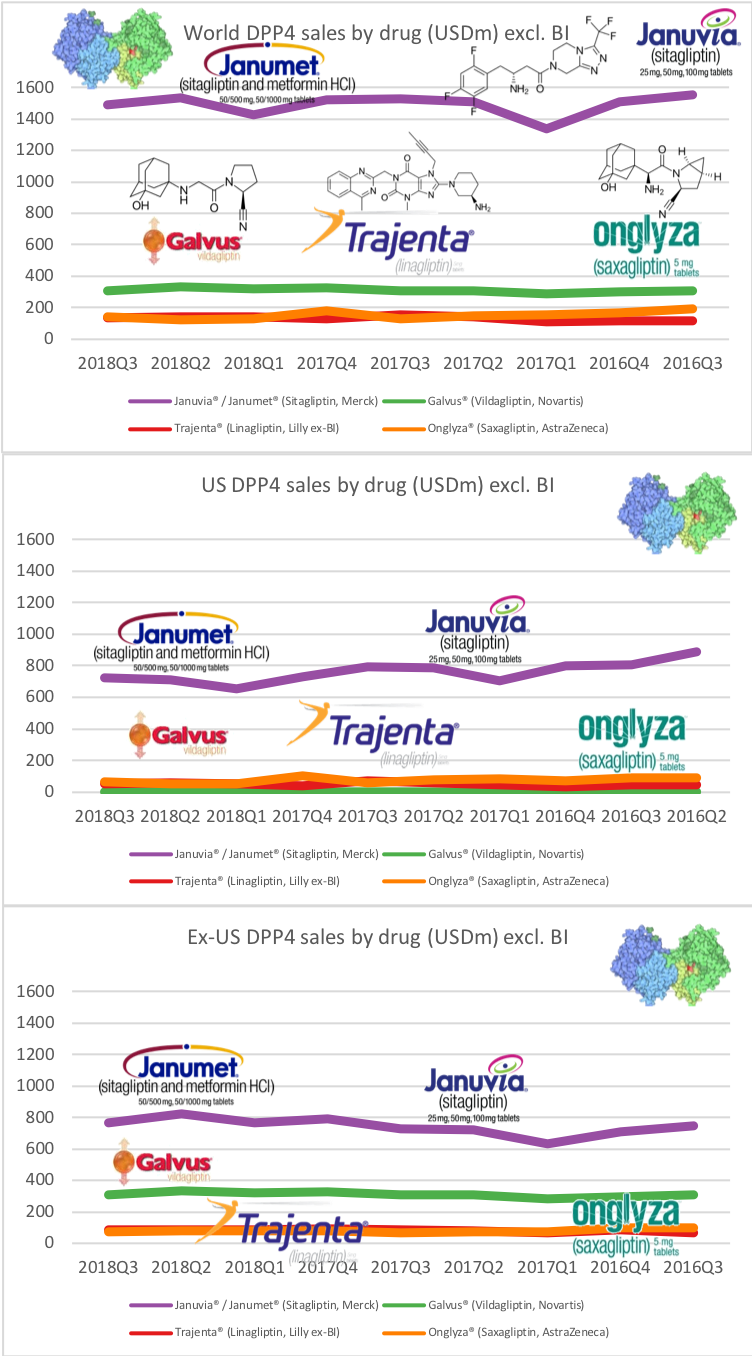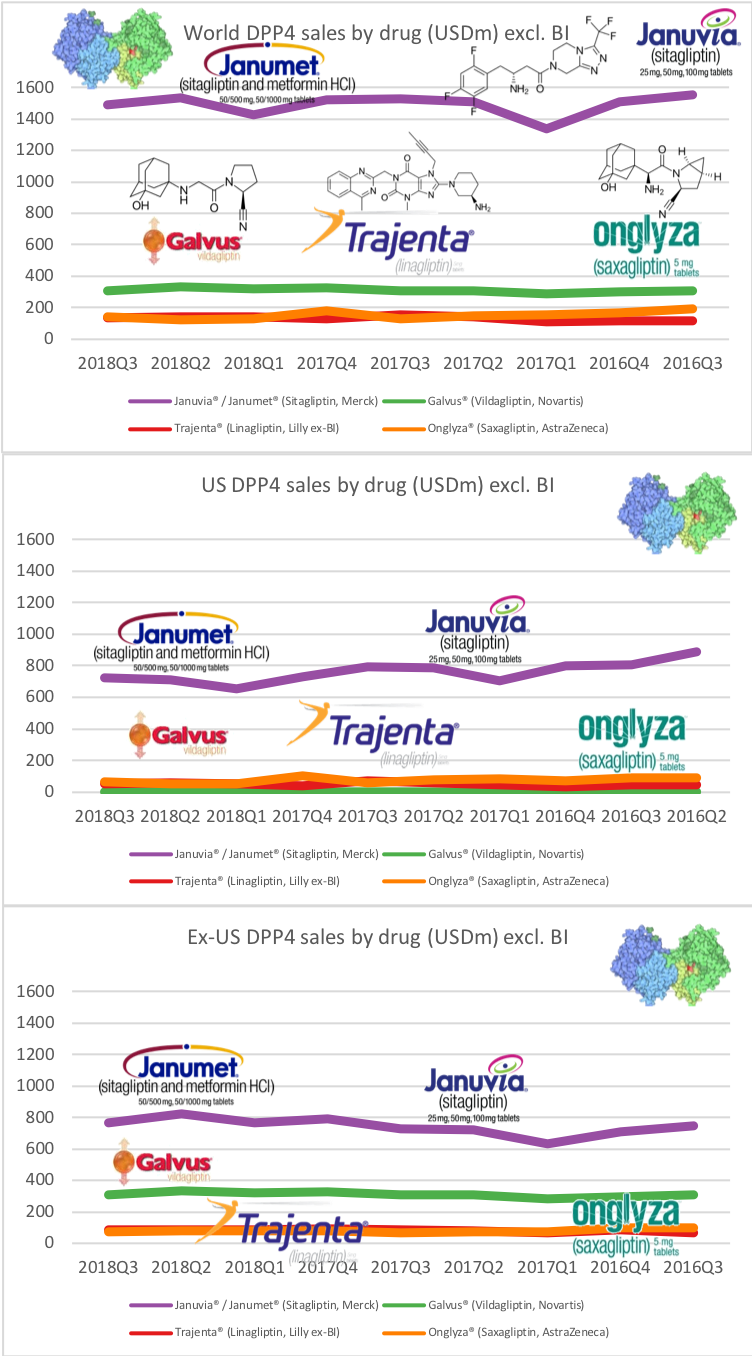 SGLT2
Sales of the SGLT2 inhibitor Invokana® from J&J continues to deteriorate, whereas Farxiga® from Astra and Jardiance® from Lilly displays growth within and outside the US. Unlike GLP1 receptor agonists the combined sale of SGLT2 inhibitors are mostly flat.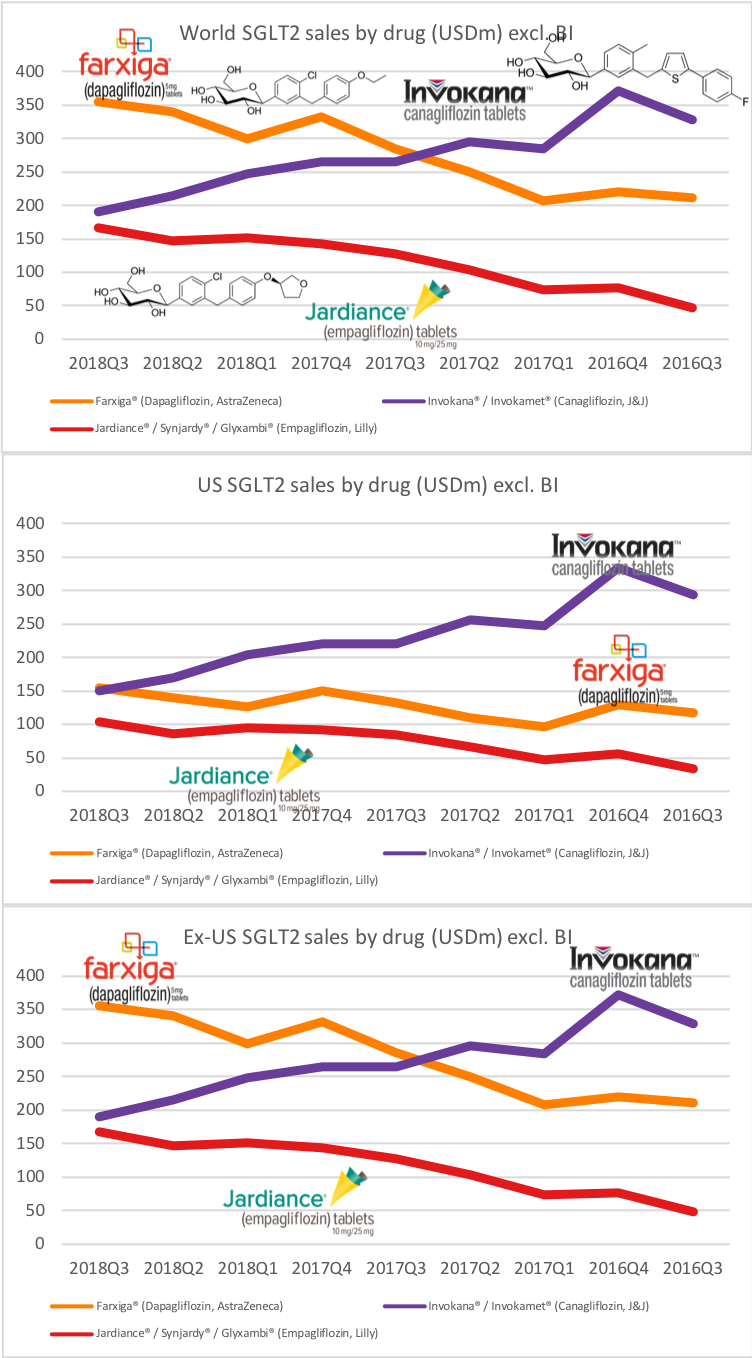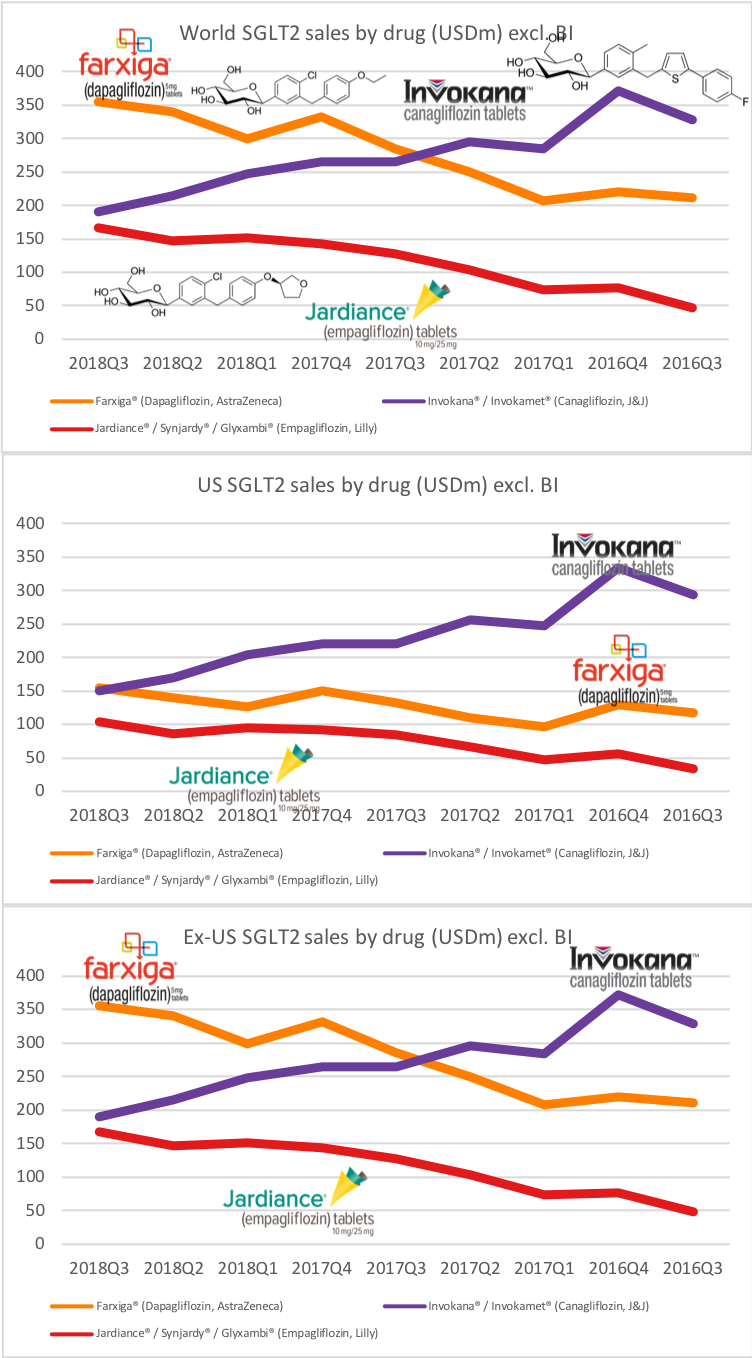 Novo
Novo Nordisk continues to see insulin sales slide (Levemir® being overtaken by Tresiba® in the US), but Victoza® continues to grow despite a loss of market share in terms of prescriptions to Ozempic®. The patent on insulin aspart (NovoRapid® and NovoMix®) has expired and that on insulin detemir (Levemir®) will expire in 2019, so Novo will have to rely on subcutaneous and oral GLP1 for growth going forward.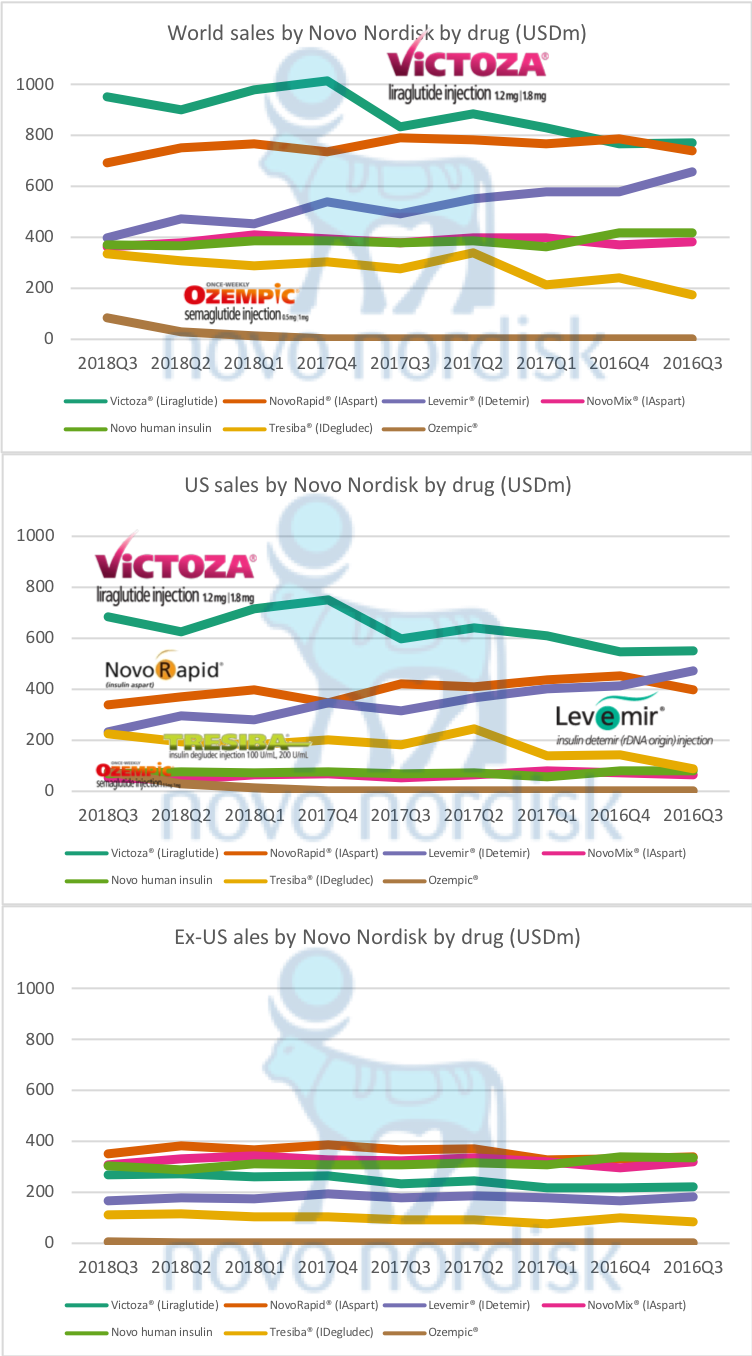 Lilly
Eli Lilly is seeing continued growth for their GLP1 Trulicity® within and outside the US. Sales of Humalog® were down in the US, which management tried to explain. Humalog® (insulin lispro) will probably face competition from Sanofi and Admelog® going forward. Basaglar® (insulin glargine) continues to grab market share from Sanofi and their Lantus® in the US. The SGLT2 inhibitor Jardiance® is also showing continued growth unlike Invokana® from J&J.
[expand title="Click for an excerpt from the Lilly Q3 transcript regarding Humalog sales"]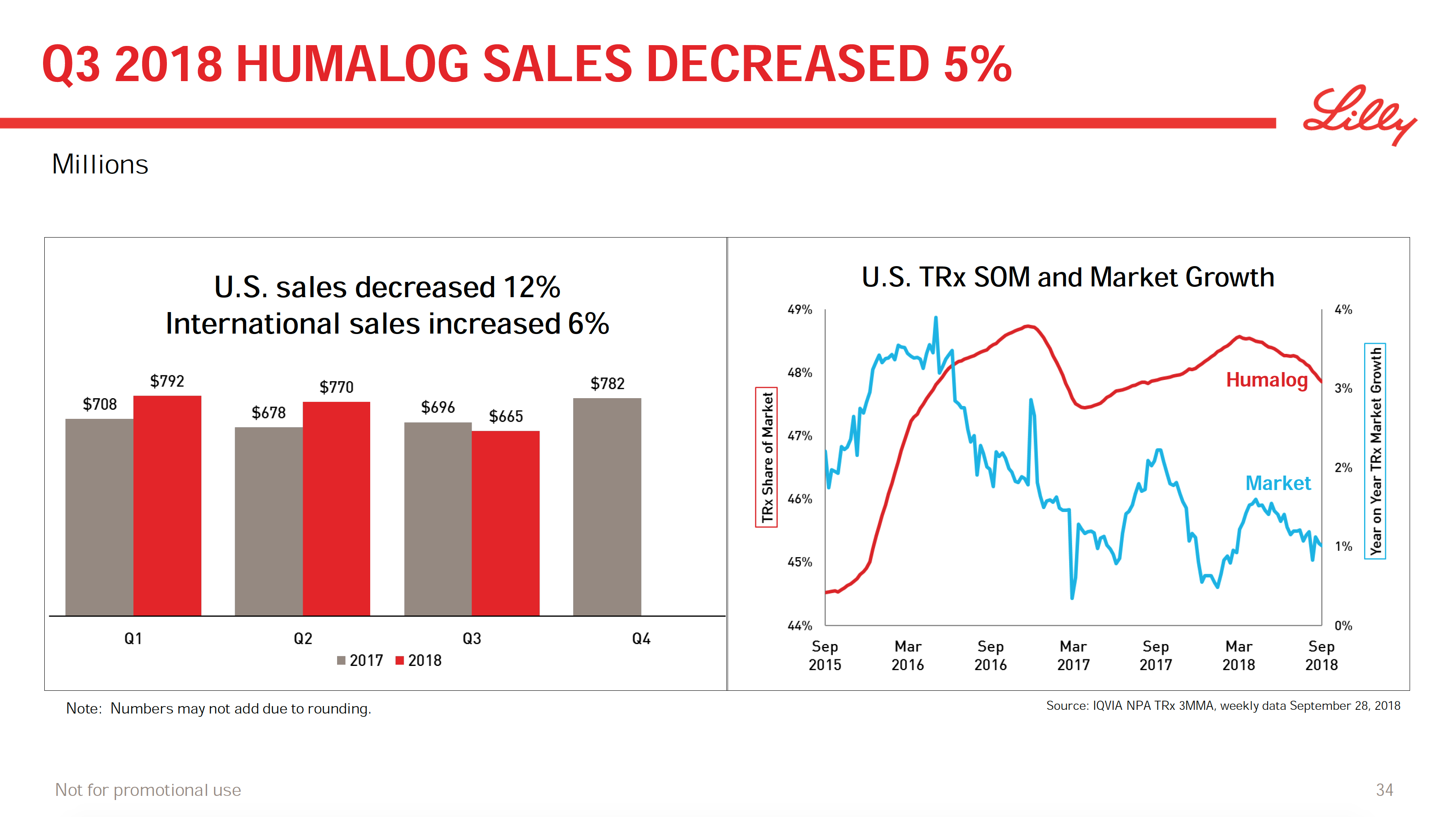 Related to Humalog and Basaglar on the overall diabetes portfolio, first, I think we're very pleased with the overall volume growth when it comes to the diabetes portfolio.

Clearly when it comes to Humalog, we did see a 14% price decline vis-a-vis Q3 of 2017. Just to provide maybe a little more color on this, we are seeing in a favorable segment mix about 8 points of that 14. Patient affordability is impacted in the insulin portfolio. That's another 4 points. And then we had a unfavorable property (22:24) adjustment as a comparator to last year's quarter.

Maybe to provide and try to be a little more instructed, yes, we do see a lot of volatility with Humalog. It is better to look at this product on a year-to-date basis. And when we look at it on a year-to-date basis, I think the trend that we basically see is mid-single digit erosion on price.
[/expand]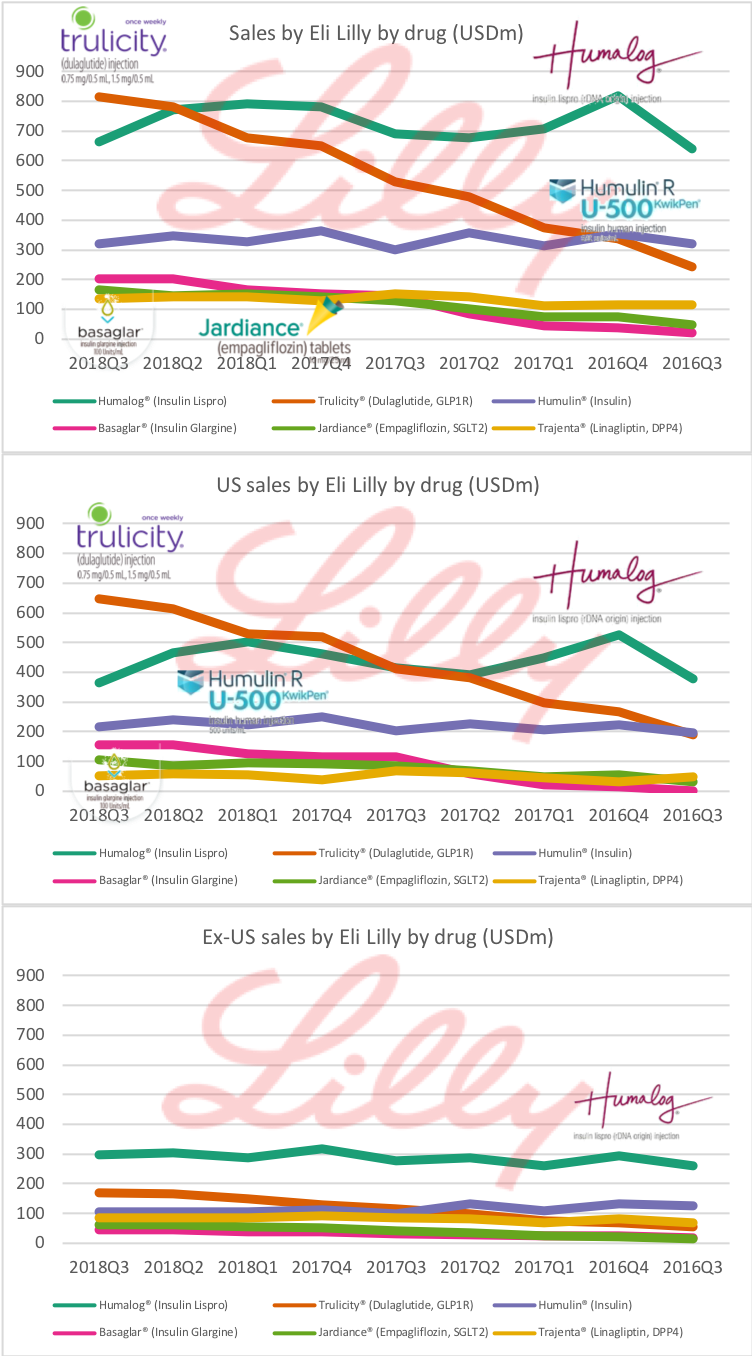 The future
Some of the interesting drugs in the pipelines of the two companies are the dual GLP1/GIP agonist LY3298176 (tirzepatide) from Lilly and the oral GLP1 NN9023 from Novo.
The CSO of Novo Nordisk (Mads Krogsgaard Thomsen) did shine a bit of light on the oral GLP1 NN9023 during the earnings call:
[expand title="Click for an excerpt from the Novo Q3 transcript regarding NN9023″]
Yes. So the analogue 2023 is based on the original research on the series of compounds that led to semaglutide not supposed to exhibit greater efficacy per se than Sema, because it's not really been possible to identify any GLP-1s that do so. However, it's been optimized for oral exposure, that basically means that you can deliver lower oral dosing level achieve the same degree of exposure of the body or alternatively, you can go to the same doses with oral Sema and achieve a higher degree of exposure and hence a higher degree of efficacy.

So what analogue 2023 enables is one of two things: either higher efficacy, implying that it could be developed for obesity, could be developed for NASH, could be developed for high efficacy in type two diabetes; or you can match oral Sema as we know today and that would lead to a reduction in the cost of goods sold. And all of that we'll know a lot more about next spring when we report the data both from this trial and from the second-generation oral semaglutide tablet formulation. They're reporting approximately at the same time.

Vis-a-vis, the FDA and the CV discussions, we are essentially have had very constructive dialog with the agency, where basically they are confirming that we have promising data with the SUSTAIN 6, however they need some kind of confirmation before we can have a CV indication for Ozempic and that confirmation can actually come in the form of either a bridging study even with an oral route of administration of semaglutide such as the so-called oral trial.

Or in the best of all worlds, if the PIONEER 6 trial designed only to show safety were to in the upside scenario, provides signs of efficacy i.e., improved cardiovascular performance, then of course, that dialog will be held with the FDA. So that's where we stand today, planning for ORALSO trial, but eagerly awaiting PIONEER 6 data. Thank you very much.
[/expand]
The president of Lilly Diabetes (Enrique A. Conterno) revealed just a small amount of details regarding the dual GLP1/GIP agonist tirzepatide (LY3298176) and the upcoming SURPASS studies:
[expand title="Click for an excerpt from the Lilly Q3 transcript regarding tirzepatide"]
Yeah. So as we've shared as part of tirzepatide's Phase 3 program, we are planning to study three maintenance doses at 5, 10 and 15 mg.

I think what we've learned is that we should titrate in smaller increments and over time. As we've shared, we have a titration study that we intend to share the details next year. But clearly we've learned a lot from the study in terms of what are the optimal titration schedules.

We are planning aggressively when it comes to starting this trial and starting enrollment. So you'll be hearing more when it comes to our trial for Type 2 diabetes soon.

As far as REWIND, I don't want to speculate on the particular indication that we will get. But clearly, this is important for the class in that it confirms what other GLP-1s have shown when it comes to seeing benefit.

And, I'm sorry, I cannot resist, but I heard Novo Nordisk's call. And they also mentioned that GLP-1s were not all the same, and I think we agree with them.
[/expand]
Final comments
Based on valuation Novo Nordisk currently seems to be a better option than Eli Lilly.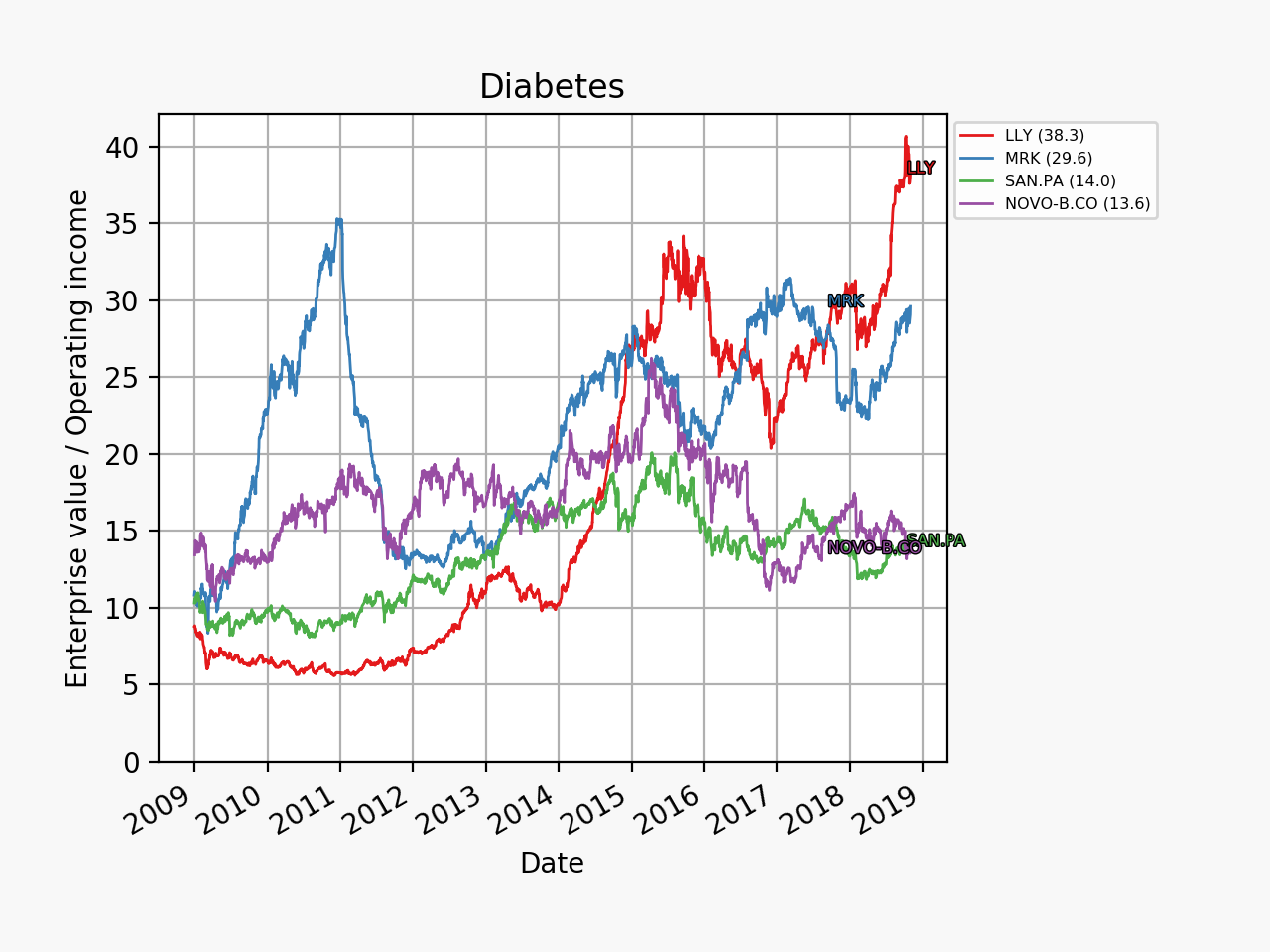 The best years of both companies are probably ahead of them given the current and future prevalence of diabetes and obesity around the world.