Teva announced the FDA approval of their migraine drug Ajovy® (Fremanezumab) – a mAB CGRP inhibitor – in a press release on September 21st.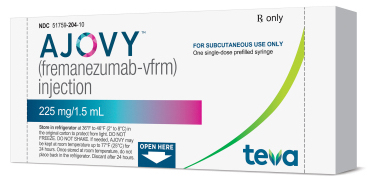 I felt it would be a good time to revisit Teva and migraine drugs, since a lot of things have happened, since their largest ever acquisition of Actavis Generics from Allergan for $40B – announced in July 2015 and closed in July 2016 – and the arrival of their new CEO (Mr. Kåre Schultz) in November 2017; the day before their Q3 results were presented.
Ajovy® and other migraine drugs


Amgen got a headstart with their migraine drug Aimovig® (Erenumab). An advantage of Aimovig® is that it comes with an auto-injector pen, whereas Ajovy® currently doesn't. An advantage of Ajovy® is that it only requires a quarterly injection, whereas Aimovig® requires a monthly injection. Both will be priced at a monthly cost of $575. Aimovig® binds to the CGRP receptor itself, whereas Ajovy® binds to the CGRPs, but both seem to significantly reduce the number of migraine days according to a 2018 meta-analysis. Lots of other mAB migraine drugs are in late stage development and some of them are listed below.
Amgen presented a few slides on May 18th regarding the potential of anti migraine drugs and on September 14th they presented prescription numbers.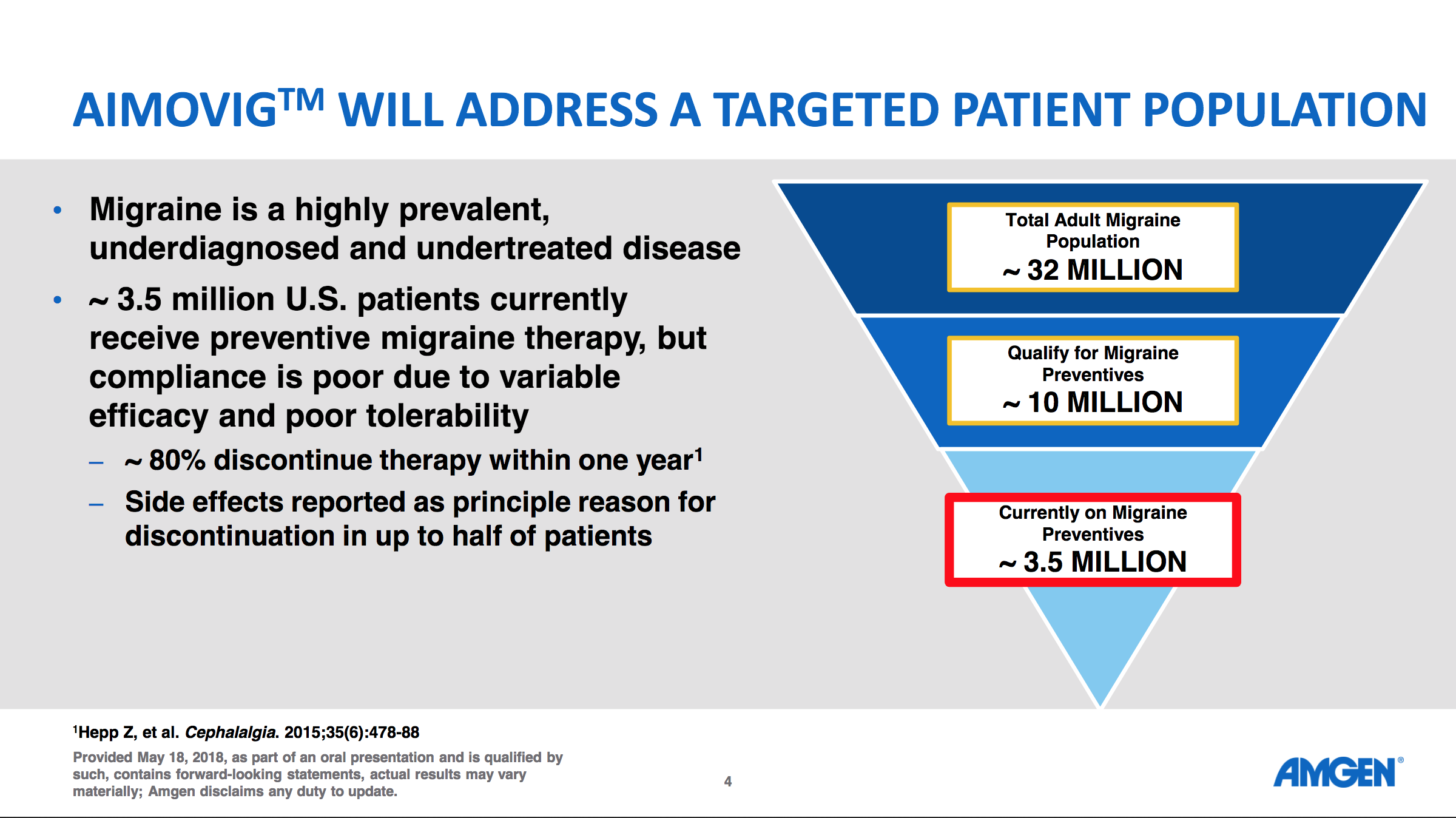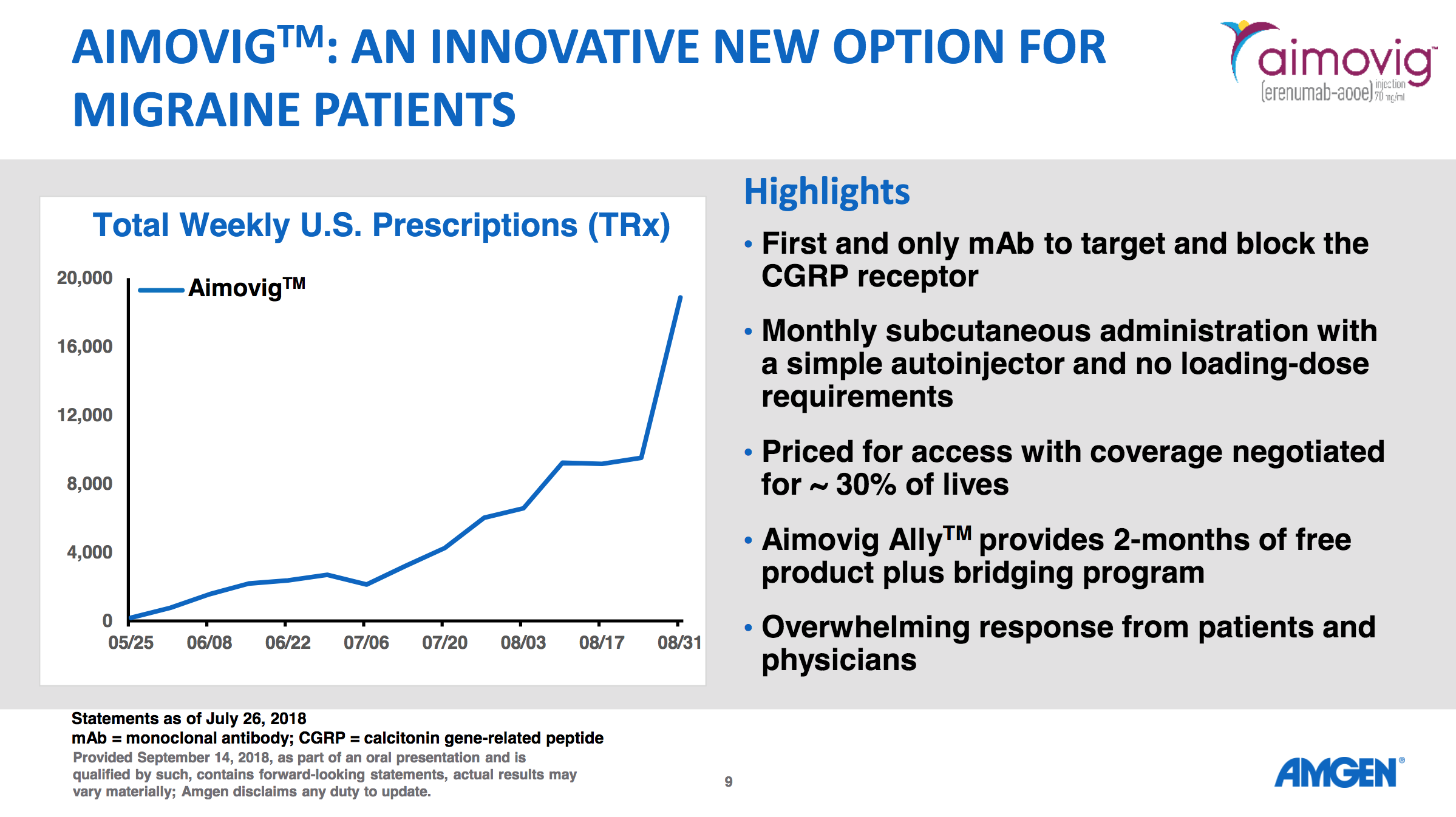 Here are comments from Teva CEO Kåre Schultz on Ajovy® from the Q2 earnings transcript.
And we think that that's a fantastic market. The migraine market is very, very promising. We think there's enormous unmet need. So with a good launch of Ajovy®, their sales will start to accumulate in 2019 and will be meaningful in 2020.
Aimovig® and other migraine drugs were discussed on the Q2 earnings call of Amgen.
[expand title="Click for excerpts from the Amgen Q2 transcript"]
– Let me give you a few examples of some of the newer medicines that we're seeing driving our growth. In the second quarter, we launched Aimovig in the U.S., where it is the first and only CGRP inhibitor approved for migraine prevention. Aimovig also marks Amgen's first entry into a new therapeutic area for us, which is neuroscience. We've been very encouraged by the enthusiastic reception for Aimovig from physicians and especially from migraine patients who have waited a long time for a new treatment option like this.
– Also, in migraine, we expect the data from our proof-of-concept in dose-finding Phase 2 study of our PAC1 antibody for migraine prevention, AMG 301, to be available by the end of the year and presentation at a medical meeting in 2019. There have been a number of recent developments in Alzheimer's disease clinical programs in our industry, so I thought it would be useful to highlight our partnership's ongoing beta secretase inhibitor program and why we have such confidence in our approach.
– Now on to Aimovig, the first and only therapy specifically designed to prevent migraine by targeting and blocking the CGRP receptor. Patients and physicians share our excitement for this new therapy. And, as you know, we set up a hub to assist patients to gain early access to the product while we complete negotiations with payers. This program provides a free two-month trial of Aimovig. We have, in fact, received a large bolus of requests from the Headache Centers of Excellence reflecting the pent-up demand for this innovative new therapy. We're busy working through these requests and expect to see the prescriptions coming through over the coming weeks. Should a patient not be approved by the insurance during this two-month period, we have a bridging program during their negotiations to ensure that patients are not denied drug. Negotiations with payers are progressing well and we have successfully completed contracts to attain coverage for just under 30% of lives already.
[/expand]
Migraine drugs and other pain relief drugs were also discussed on the Q2 earnings call of Eli Lilly.
[expand title="Click for excerpts from the Lilly Q2 transcript"]
Q: And then my second question, just on galcanezumab. The feedback from the Amgen launch in the CGRP space seems to be pretty favorable. I'd just be curious to get your evolving thoughts on, do you think payers are going to cover multiple CGRP agents on par or parity or do you think that they will opt for exclusive contracts out of the gate?
A: As it relates to the assets in the migraine category, you know it is pretty early days here. I understand mostly payers haven't listed the new therapy. We're of course for the guidance in FDA and early conversations with payers about our data and seeking that kind of feedback from them, I could tell you what our strategy is, which is reading broad access to these medications as appropriate and particularly given the population. So, these are mostly commercially insured, working women who are having anywhere between 4 and 20 headaches a month that is our study population, which causes absenteeism, debilitation, lack of ability to predict and schedule and plan, not to mention just the human suffering cost. So, we think employers will be very interested in covering this class. We need to get that message through. It could be a great category for some value and outcomes-based pricing approaches, and we're optimistic long term that the class will have good coverage.
Q: Second question just has to do with the emerging pain, franchise, just to your optimism over that franchise, especially galcanezumab, which seem to have hit some pretty decent data in cluster headache, which is an area where nothing seems to have worked in that area, so just your thoughts on that and lasmiditan, the timing profiling of lasmiditan here in the back half?
A: Finally, on pain, you know we're excited about the pain portfolio, you're seeing data emerge now from tanezumab, we have the data as you mentioned on galcanezumab's of all the Phase 3 in-house. And lasmiditan, we do plan to submit before the end of the year as well. Clearly pain is a huge unmet need in this country. I think you're seeing good interest in the first CGRP antibody launch that we expect that to continue migraines in enormous problem in this country and there are many chronic and episodic sufferers there that we hope to reach with CGRP antibodies, as well as products like lasmiditan, which can relieve acute suffering. So, we're bullish on that category.
[/expand]
Copaxone® and Teva going forward
Teva announced Q2 earnings on August 18th. Revenue is still declining due to Copaxone® competition from Mylan and Momenta and due to price pressure on generic drugs in the US.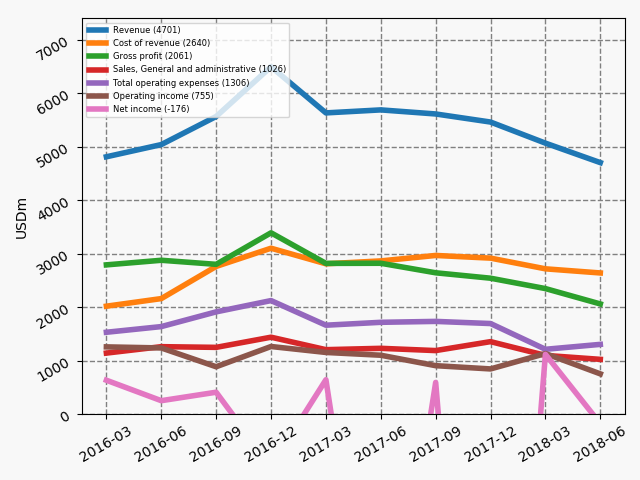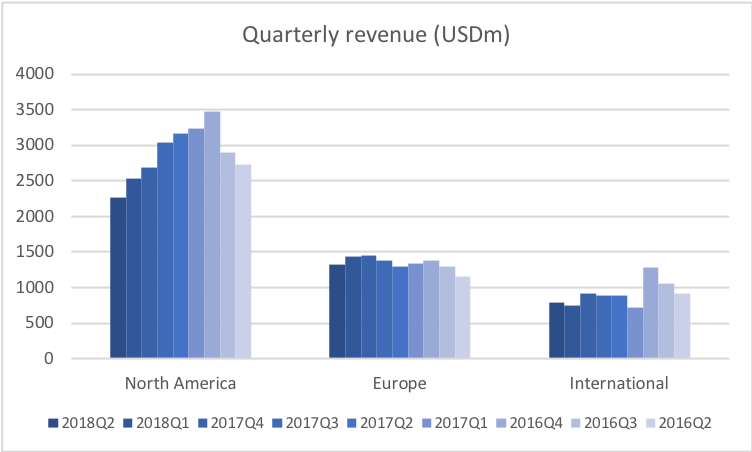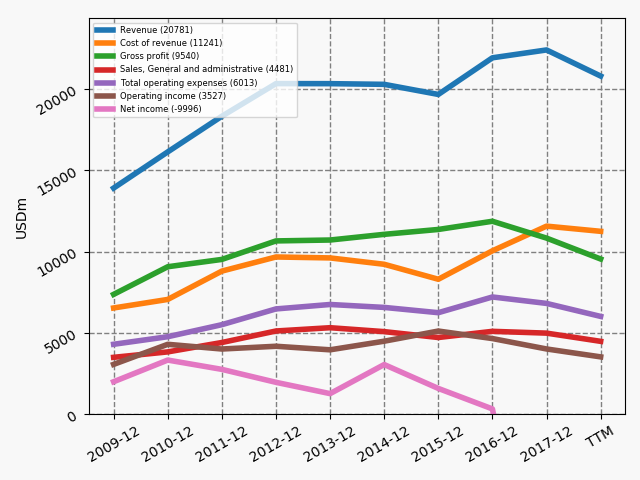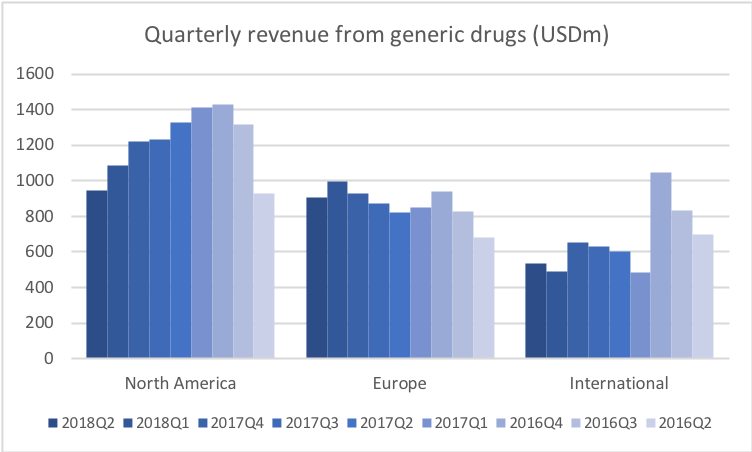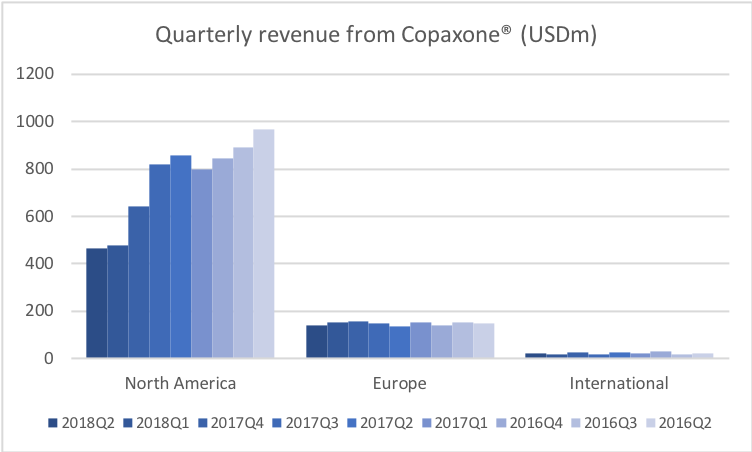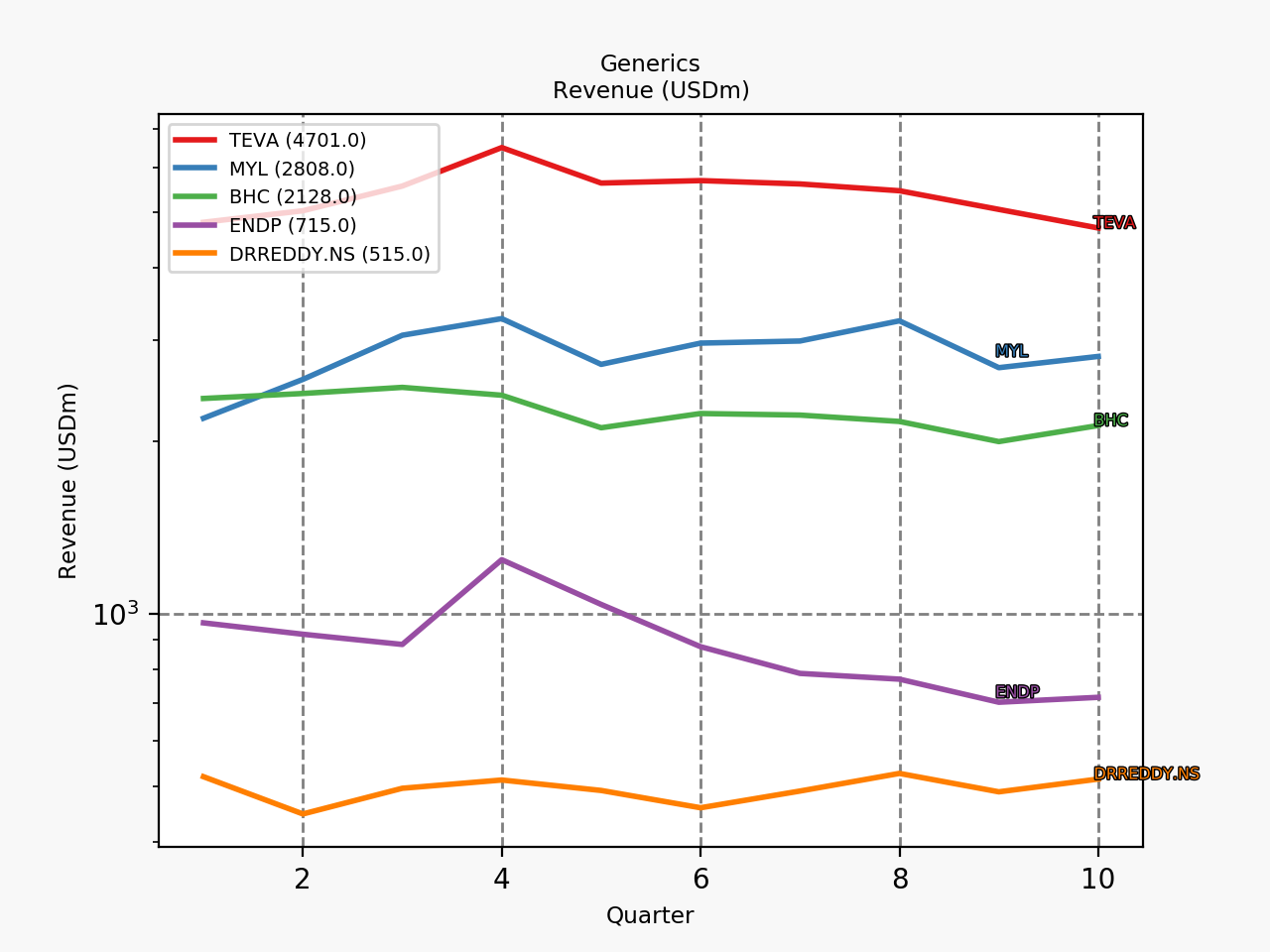 The Teva CEO during the Q2 earnings call commented that the revenue will probably start growing in 2019.
[expand title="Click for comments from the Teva CEO"]
– That's what I tried to explain, that I think that we are probably hitting the bottom of the valley, or the trough, whatever you want to call it, in 2019. And then based on the dynamics that Copaxone® is not dropping so much anymore because a big chunk of it is gone by then, and that Ajovy® is picking up, Austedo® is picking up, then I expect us to see positive momentum on sales from 2020.
– So if we think about the margin overall and what can be done, you could say longer term after 2019, then first of all, we have to realize that in 2019 there's continued pressure on the margin from the fact that Copaxone® is reducing in sales and the fact that we don't really see meaningful big sales of Ajovy® yet coming in and compensating for that. Of course, longer term there's a better gross margin on Ajovy® and on Austedo® than there is in on the bulk of our business. So longer term that will affect the margin in a positive way.
[/expand]
Revenue from Copaxone® (Glatiramer acetate) in the US is still declining, but the prescription volume seems stable at 85%. Mylan decided in Q3 to cut the price of their generic version by 60% and their CEO commented on the move during their Q2 earnings call on August 8th.
[expand title="Click for comments from the Mylan CEO"]
Market uptake of our Glatiramer Acetate Injection is a prime example of supply chain tactics capping generic utilization at 15% when two substitutable products have been available for nearly a year. Last year we launched our Glatiramer Acetate with a traditional approach. And for nearly nine months we worked within the system to increase access to no avail.

More recently, we've taken unconventional steps to increase access. If these steps do not prevail, we will make further moves to do our part where we can to reinstate the necessary balance between innovation and access, as this balance has historically been the one aspect of the pharmaceutical industry to simultaneously drive trillions in savings while ensuring patient access to medicine.

Our experience with Copaxone is representative of the perverse incentives embedded in the current system. Even after substantially lowering the price of our product, the supply chain chooses a higher priced alternative. This provides evidence that the business of healthcare feeds on higher prices, frequently putting system interest ahead of patients.

Rest assured, we will continue to be vocal about measures to improve the current environment.
[/expand]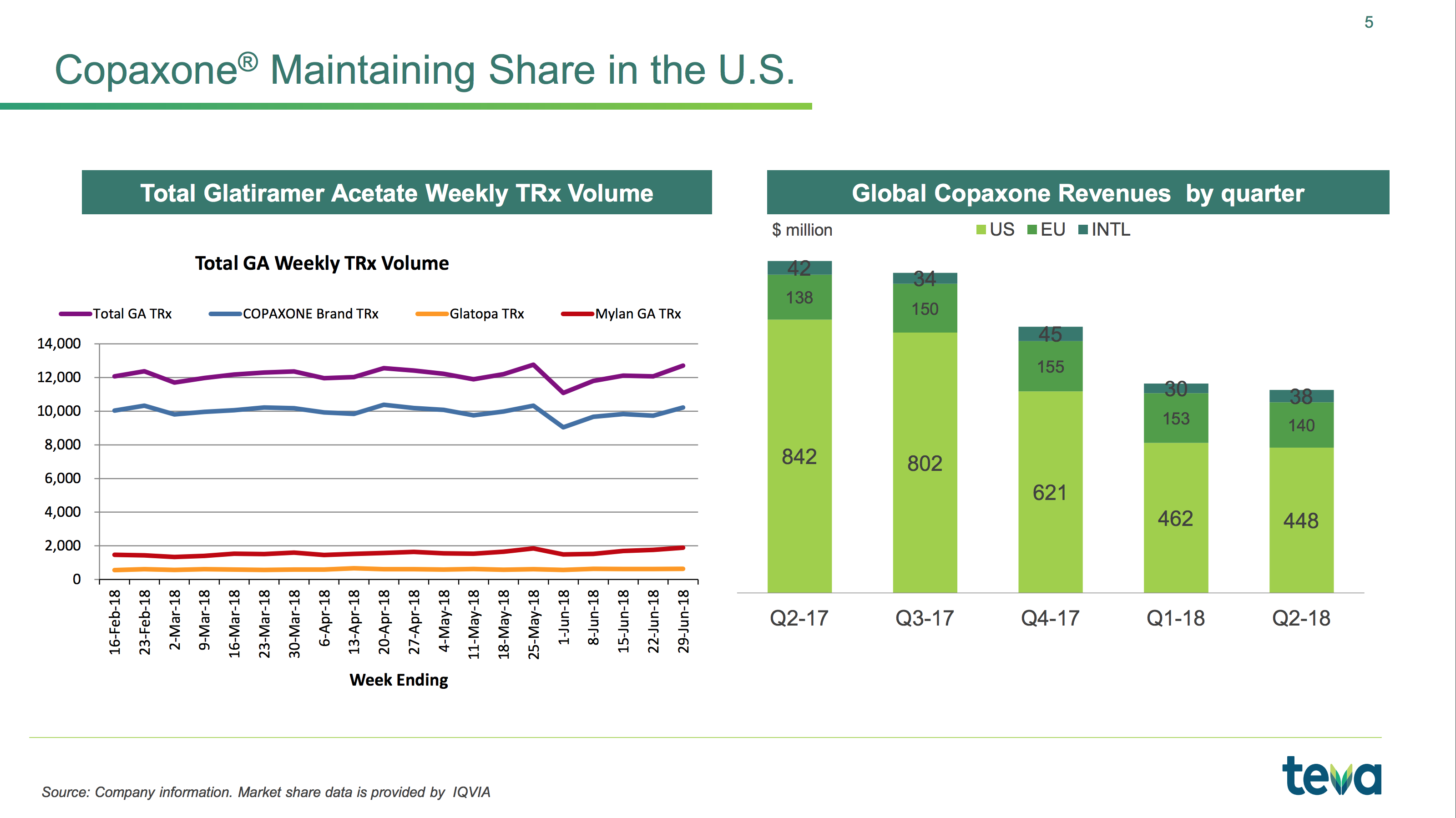 The price pressure on generic drugs in the US is still ongoing and margins are still somewhat anaemic, but 1) Teva as measured by a P/S multiple is not overpriced historically and relative to its peers, 2) annual cost savings of no less than $3B will have been achieved by the end of 2019 and 3) Teva has economies of scale to achieve the best margins in the industry.